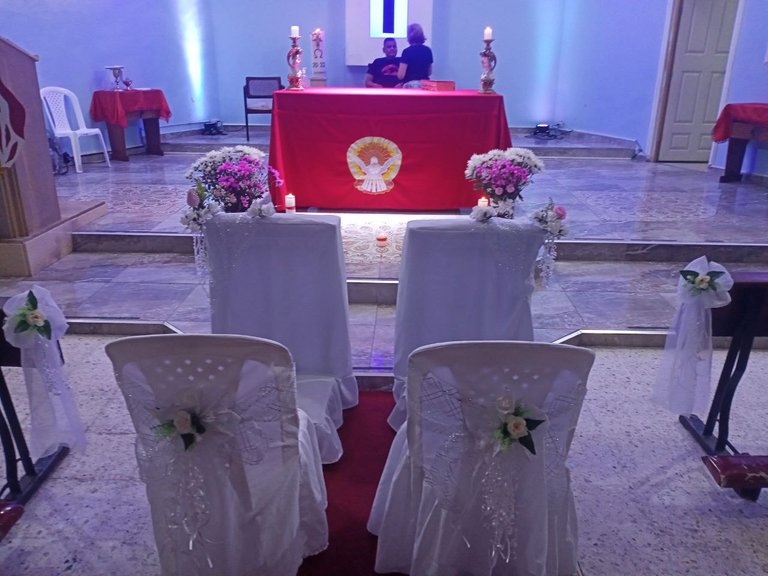 ---
English
Good morning beautiful community to all of you a blessed morning, today I want to share with you the elaboration of decorations for weddings to decorate the church, handmade, you can do them yourself and you save money, for nobody it is a secret that for Any decoration that we want to make simpler implies an investment of money and when it comes to that, many times it is cheaper for us to make the decorations ourselves at home, so here I present the step by step to make them.
Spanish
Buenos días hermosa comunidad para todos ustedes una bendecida mañana, hoy quiero compartir con ustedes la elaboración de adornos para matrimonio para decorar la iglesia, hechos a mano, tu misma o tu mismo los puedes hacer y economizas dinero, para nadie es un secreto que para cualquier decoración que queramos hacer por mas sencilla implica una inversión de dinero y cuando de ese se trata muchas veces nos sale mas económico hacer los adornos nosotros mismos en casa así que aqui les presento el paso a paso para elaborarlos.
---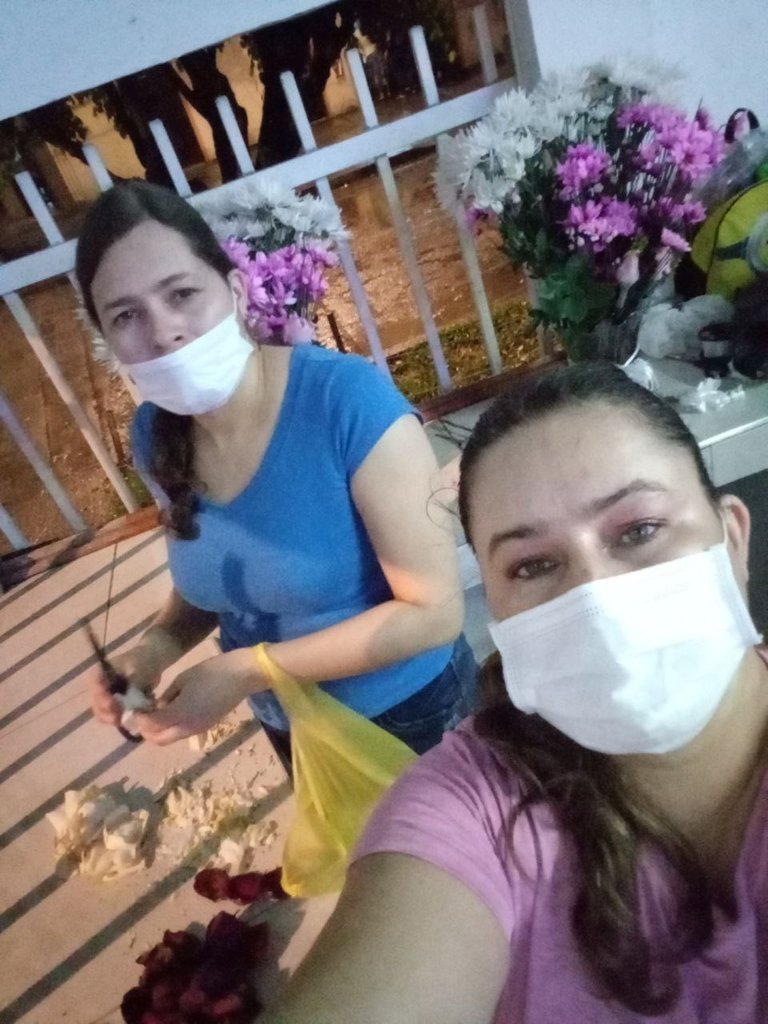 ---
Mi querida hermana , mi ayudadora para los eventos es un gran apoyo para mi.
My dear sister, my helper for events is a great support for me.
---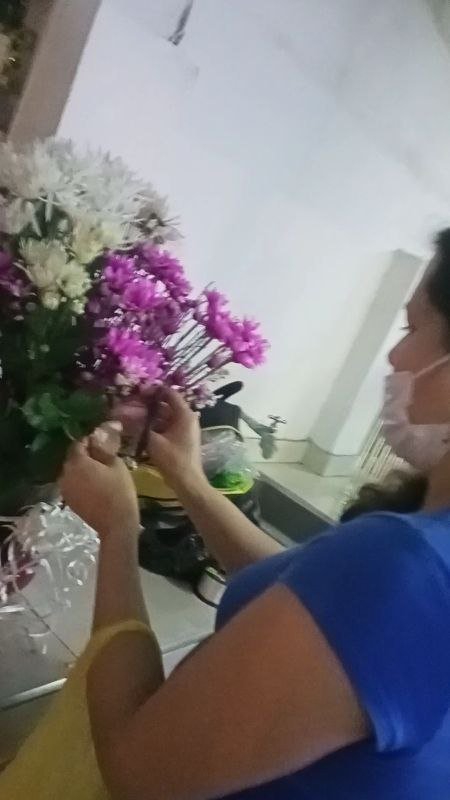 ---
Ella como siempre pendiente del mas mínimo detalle.
She as always attentive to the smallest detail.
---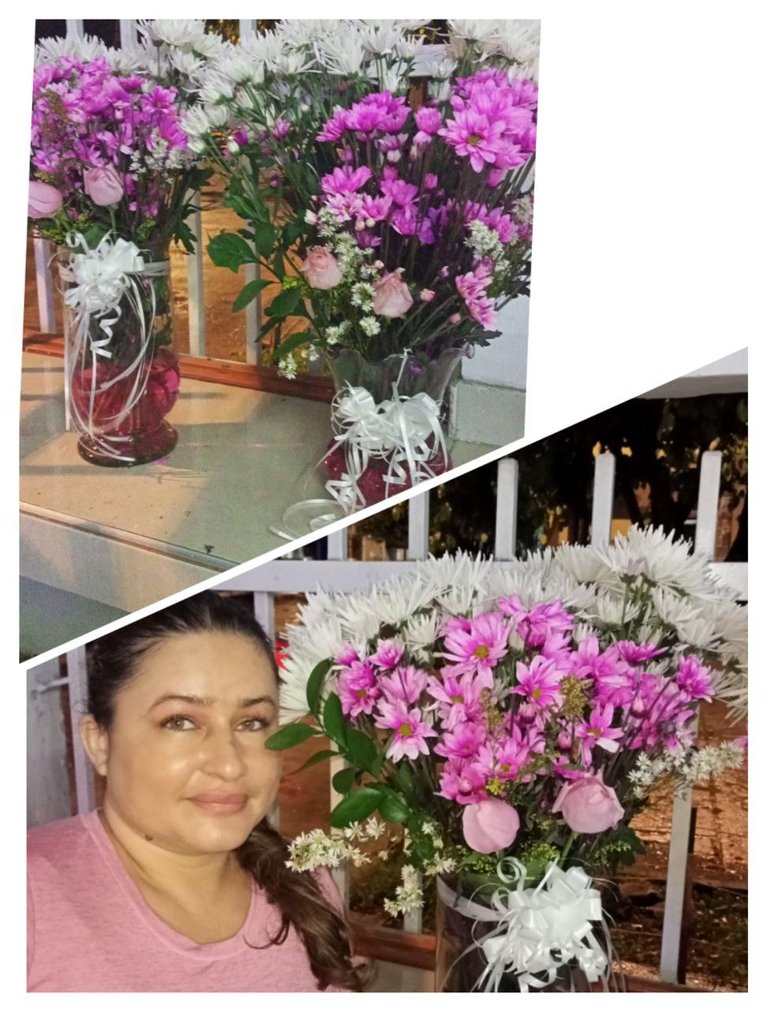 ---
Unas lindas flores hacen parte de la decoración de la iglesia ,que no se te olvide ese detalle ya que muchas veces vivimos de suposiciones que a ultima hora nos traerían muchos contratiempos, lo dijo por que la pareja que me contrato para decorarles la iglesia pagaron un dinero por la ceremonia y pensaron que en ese presupuesto estaba incluido la alfombra y las flores cosa que no era así y les toco a ultima hora conseguirlos.
Some beautiful flowers are part of the decoration of the church, do not forget that detail since many times we live on assumptions that at the last minute would bring us many setbacks, he said it because the couple who hired me to decorate the church paid a money for the ceremony and they thought that the carpet and the flowers were included in that budget, which was not the case and they had to get them at the last minute.
---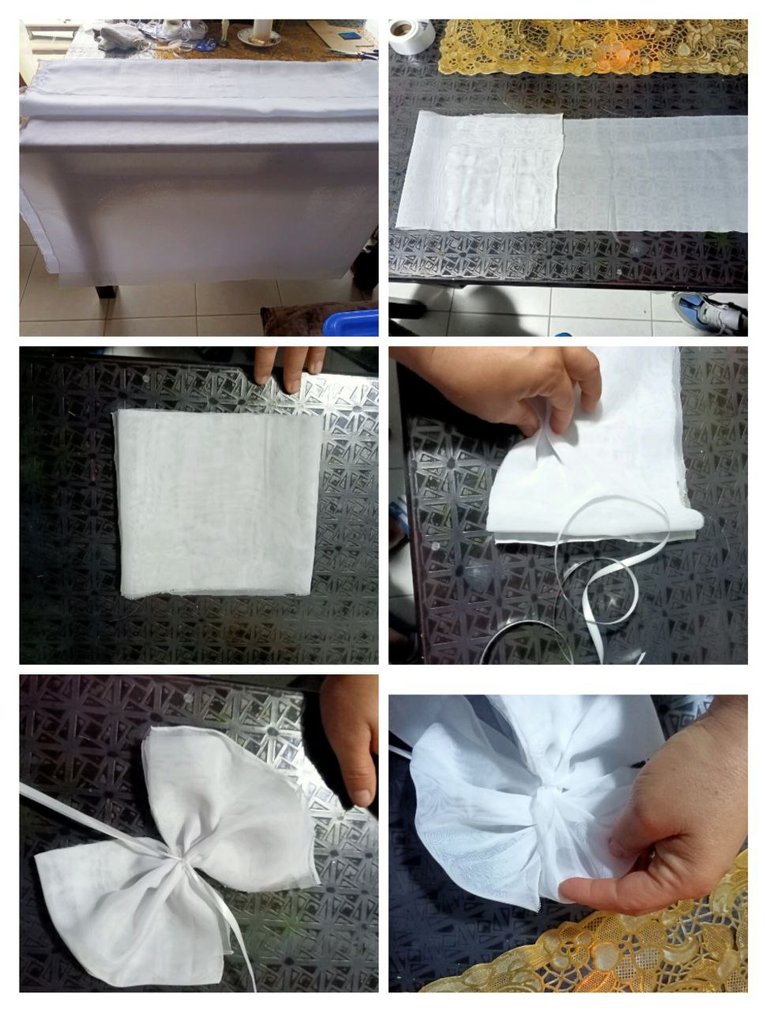 ---
Con 3 metros de velo suizo salen 24 adornos para colocar en las sillas de la iglesia y las sillas de los novios.
Como primera medida cortamos las tiras de 12 centímetros de ancho, la doblamos en tres como haciendo un rollo pero teniendo en cuenta que queden del mismo tamaño, luego pellizcamos en la mitad hasta llegar al otro extremo, anudamos con cinta de papel y abrimos los cuatro pétalos tratando de hacer un circulo.
With 3 meters of Swiss veil, 24 decorations come out to place on the chairs of the church and the chairs of the bride and groom.
As a first measure, we cut the strips 12 centimeters wide, we fold them in three as if making a roll but taking into account that they remain the same size, then we pinch in the middle until we reach the other end, we knot with paper tape and we open the four petals trying to make a circle.
---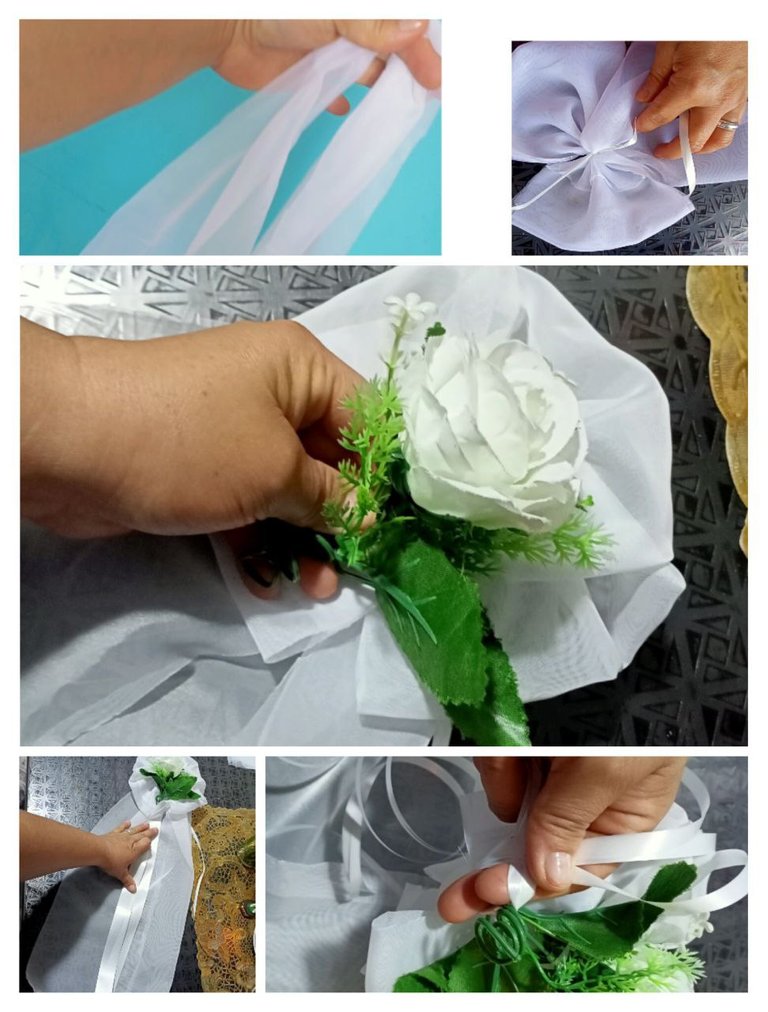 ---
Tomamos una segunda tira de velo suizo y lo anudamos con la misma cinta de papel aseguramos la flor con el mismo alambre del tallo al centro del velo, luego cortamos doble tira de cinta papel y cortamos para sacar ocho tiras y las enroscamos con la punta de la tijera.
We take a second strip of Swiss veil and we tie it with the same paper ribbon, we secure the flower with the same wire from the stem to the center of the veil, then we cut a double strip of paper ribbon and cut to get eight strips and we twist them with the tip of scissors.
---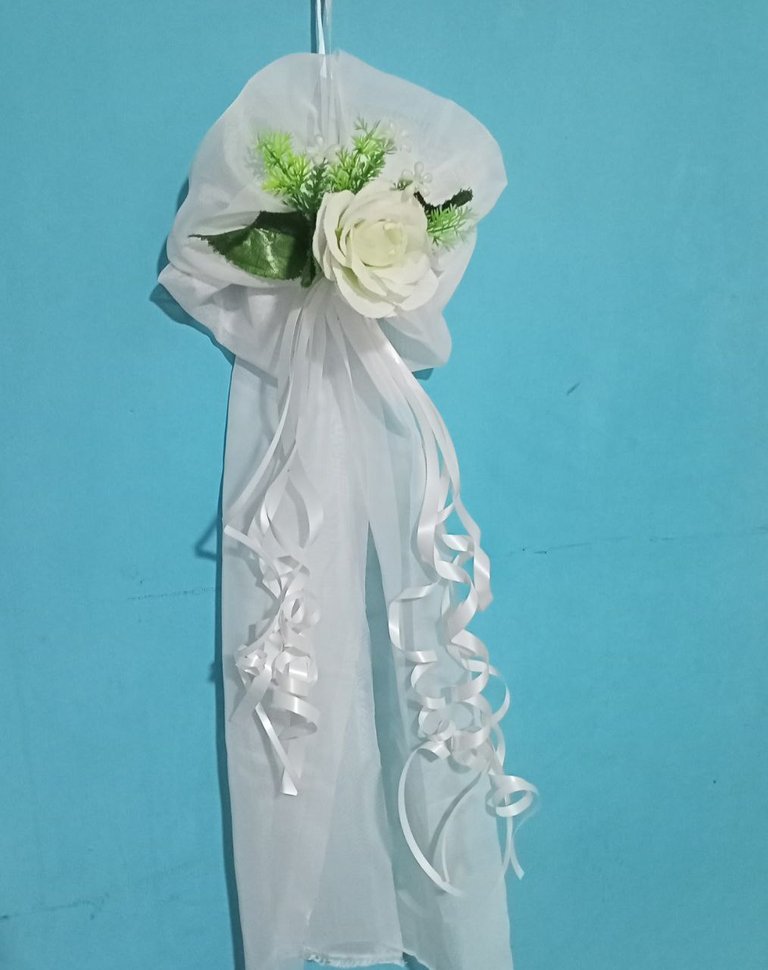 ---
Así quedan nuestros bonitos, sencillos y económicos adornos para las sillas.
This is how our beautiful, simple and cheap decorations for chairs look.
---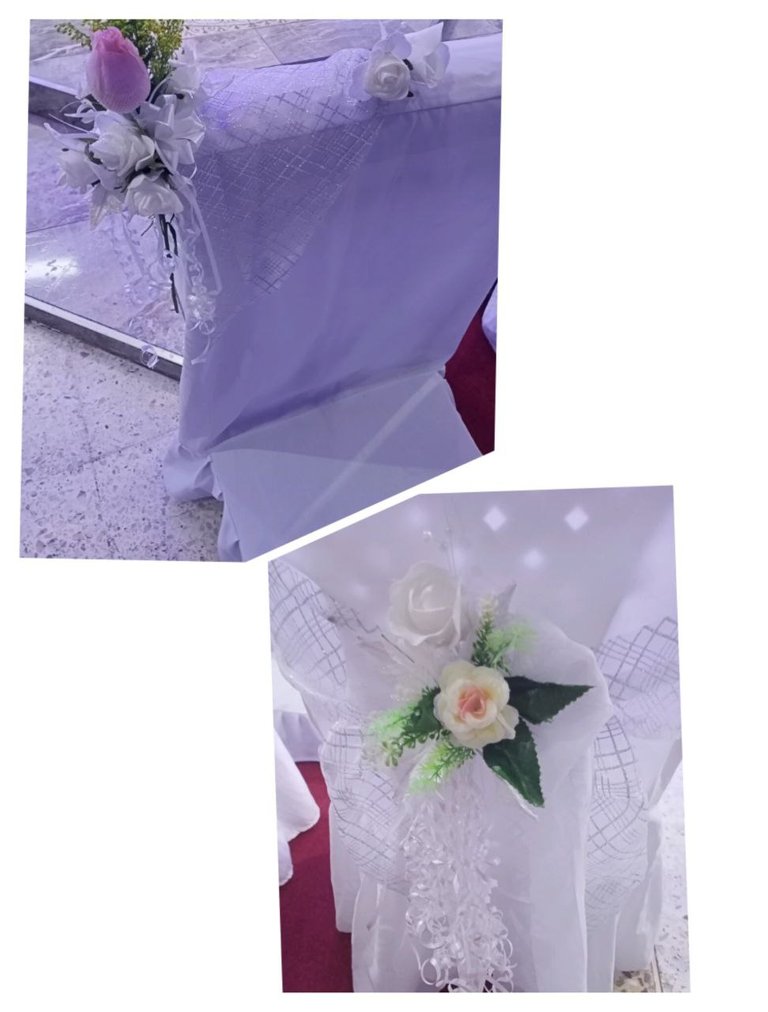 ---
The kneelers and the chairs where the bride and groom would be were dressed in a white dress, I decorated them with a Swiss veil printed with silver stripes, because the bride's dress had this color and I placed flowers in the center and on the side with a bow of paper tape, the chair of both I placed a loop of fabric that completely hugged the chair by the back and placed one of the previous decorations with a white rose and a champagne and light pink color and many rollers of the paper tape.
Los reclinatorios y las sillas donde estarían los novios se vistieron con un vestido blanco, los decore con un velo suizo estampado con rallas plateadas , porque el vestido de la novia llevaba este color y les coloque en el centro y el lateral flores con un moño de cinta papel, la silla de ambos les coloque un laso de tela que abrazaba la silla completamente por el espaldar y coloque uno de los adornos anteriores con una rosa blanca y una color champaña y rosado claro y muchos rulos de la cinta papel.
---
---
Los adornos se aseguran a las sillas con chinches para que queden bien firmes y evitar que el viento y el rose de la ropa delas personas que entren a la iglesia las tumben.
The decorations are secured to the chairs with thumbtacks so that they are very firm and prevent the wind and the rose from the clothes of the people who enter the church from knocking them over.
---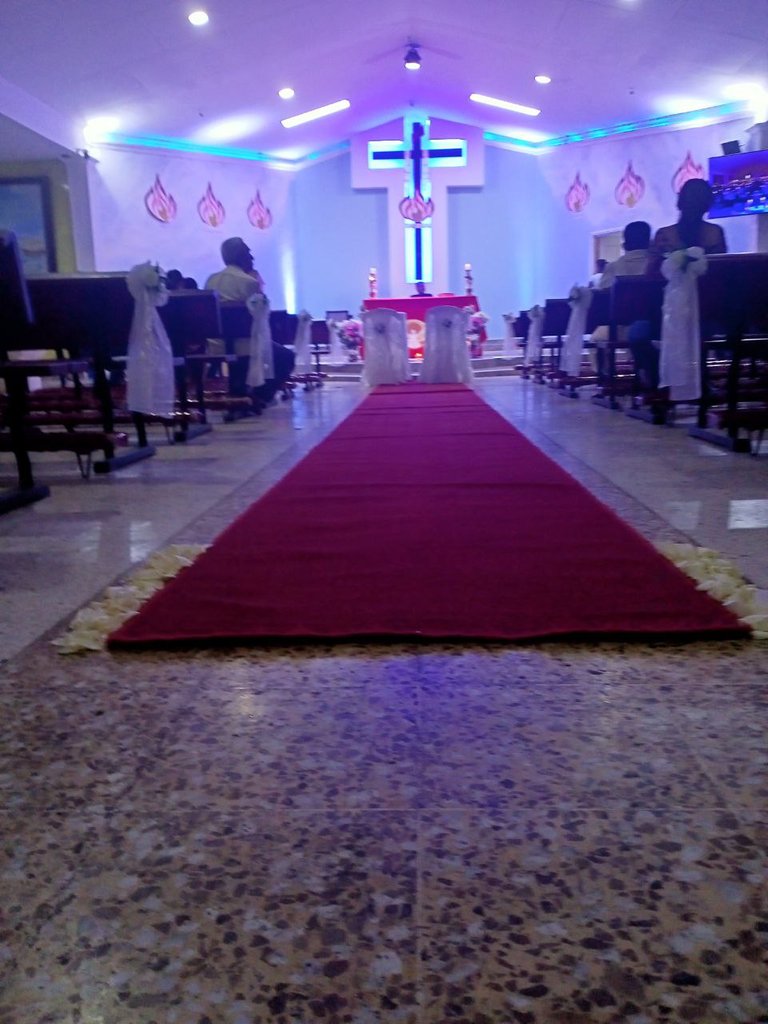 ---
La alfombra se coloca lo mas cerca del altar y sobre ella se acomodan los reclinatorios y las sillas que serán utilizados por los novios y en el otro extremo se adorno con pétalos de rosas a los laterales.
The carpet is placed as close to the altar and on it the kneelers and chairs that will be used by the bride and groom are accommodated and at the other end it is decorated with rose petals on the sides.
---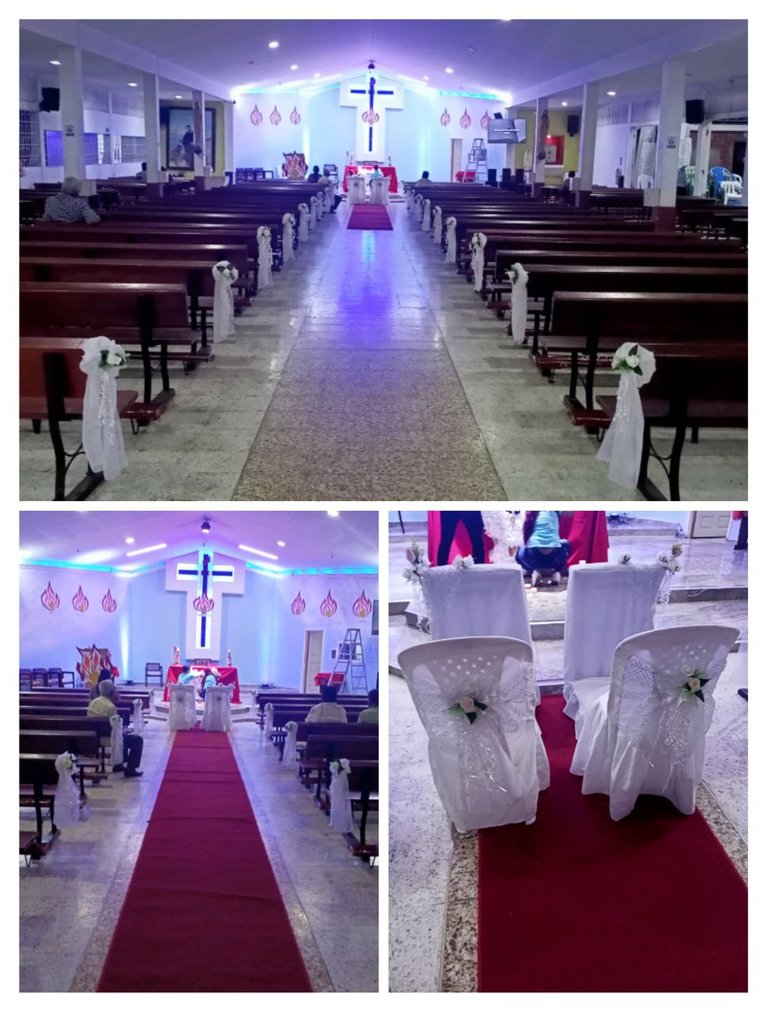 ---
---
The decorations of the chairs were placed interspersed one chair yes and one chair no.
Los adornos de las sillas se colocaron intercaladas una silla si y una silla no.

---
---
#hivediy #diy #spanish #manualidades #crafts #tutorial #posh #english