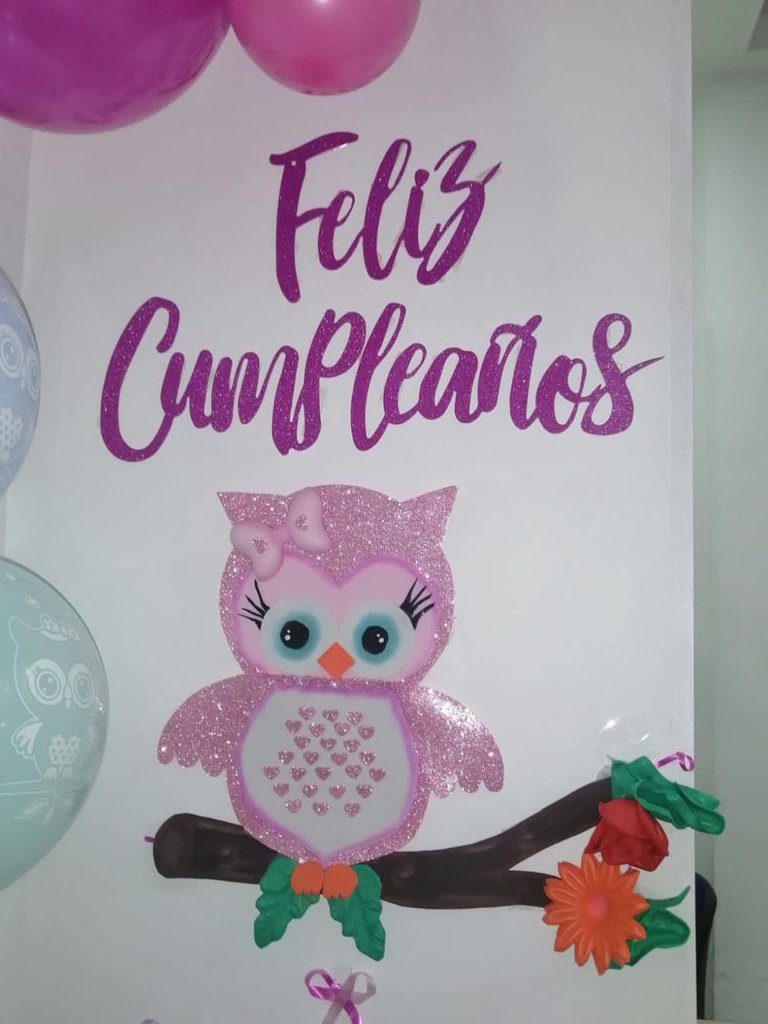 ---
---
Materials - materiales
Fomy de colores rosado escarchado, rosado claro, blanco, negro
naranja, verde, café, rojo, troquel en forma de corazón, pistola de silicona, molde para termo formar de flores , hojas y moño, tijeras, sombras de ojos, pinceles.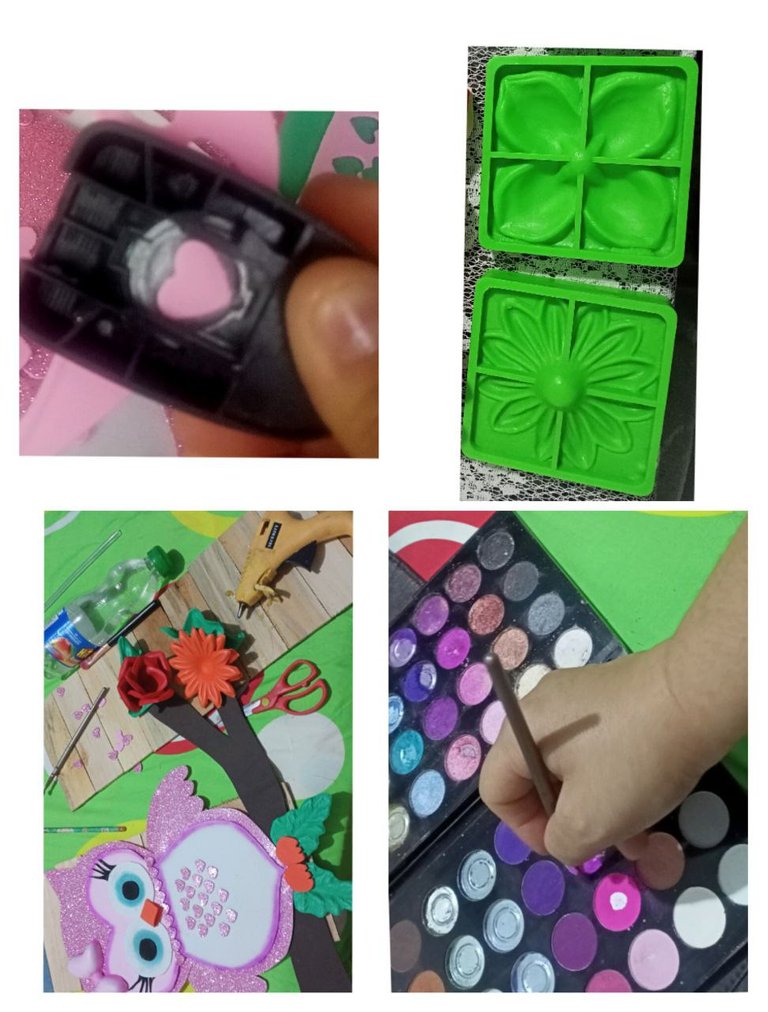 Fomy colors frosty pink, light pink, white, black
orange, green, brown, red, heart-shaped die, silicone gun, mold for thermoforming flowers, leaves and bow, scissors
---
---
English
Good afternoon, beautiful hive family, this afternoon I want to share with you the elaboration of a buha in fomy, this was elaborated to decorate the birthday of an office colleague of my sister, but we could also use it to decorate a grade, decorate a baby shower or decorate the room of our little ones and being the case of having a male child we would create it with fomy of other colors. The honoree was delighted since she is fascinated by owls. She recounts with great joy that they mean a lot to her, since when she was little on a farm that her grandparents had, she used to see owls very frequently and particularly they were made in a tree that was planted. in front of the window of his room as he grew up he learned that they represent wisdom, intelligence, serenity, tranquility and harmony. To complement the decoration, brightly colored balloons and other balloons with owl prints were inflated.
Spanish
Buenos tardes, hermosa familia de hive esta tarde les quiero compartir la elaboración de una buha en fomy, esta fue elaborada para decorar el cumpleaños de una compañera de oficina de mi hermana, pero también la podríamos utilizar para decorar un grado, decorar un baby shower o decorar el cuarto de nuestros pequeños ya siendo el caso de tener un hijo varón lo crearíamos con fomy de otros colores. la homenajeada quedo encantada ya que le fascinan las buhas ella relata con mucha alegría que para ella significan mucho ya que cuando era pequeña en una finca que tenían sus abuelos ella solía ver los buhos con mucha frecuencia y particularmente se hacían en un árbol que estaba plantado al frente de la ventana de su cuarto a medida que fue creciendo aprendió que ellos representan sabiduría, inteligencia , serenidad, tranquilidad y armonía. para complementar la decoración se inflaron globos de colores llamativos y otros globos con estampas de buha.
---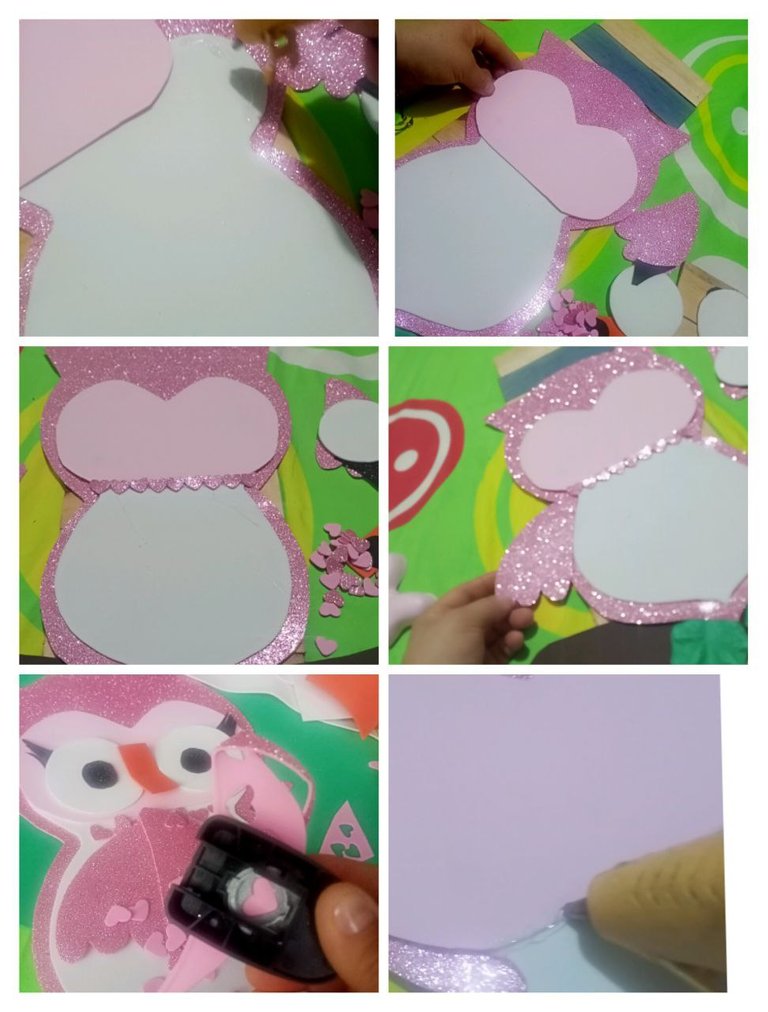 ---
Let's take the foam the color that we like, in my case I used the colors that I had to take advantage of the material that I already had in stock at home, this time I did it without molds, take a sheet of pink frosted foam and cut it in the shape of an owl , with light pink foam I made the base where the circles that will be the eyes go with white foam, I made two smaller black circles for the pupil of the eye and I also cut the eyelashes with the same black foam, with the frosty pink foam I made the two wings, to hide the union of the pink foam and the white foam that is part of the owl's stomach, I made hearts of frosted pink foam and glued them with hot silicone.
Tomamos el fomy el color que nos guste , en mi caso utilice los colores que tenia para aprovechar el material que ya tenia en existencia en casa, esta vez lo hice sin moldes, tome una lamina de fomy escarchado rosado y lo corte en forma de buha, con fomy rosado claro hice la base donde van los círculos que serán los ojos con fomy blanco, hice dos círculos mas pequeños de color negro para la pupila del ojo y también corte las pestañas con el mismo fomy negro, con el fomy escarchado rosado hice las dos alas, para disimular la unión del fomy rosado y el fomy blanco que hace parte del estomago de la buha hice corazones de fomy rosado escarchado las pegue con silicona caliente.
---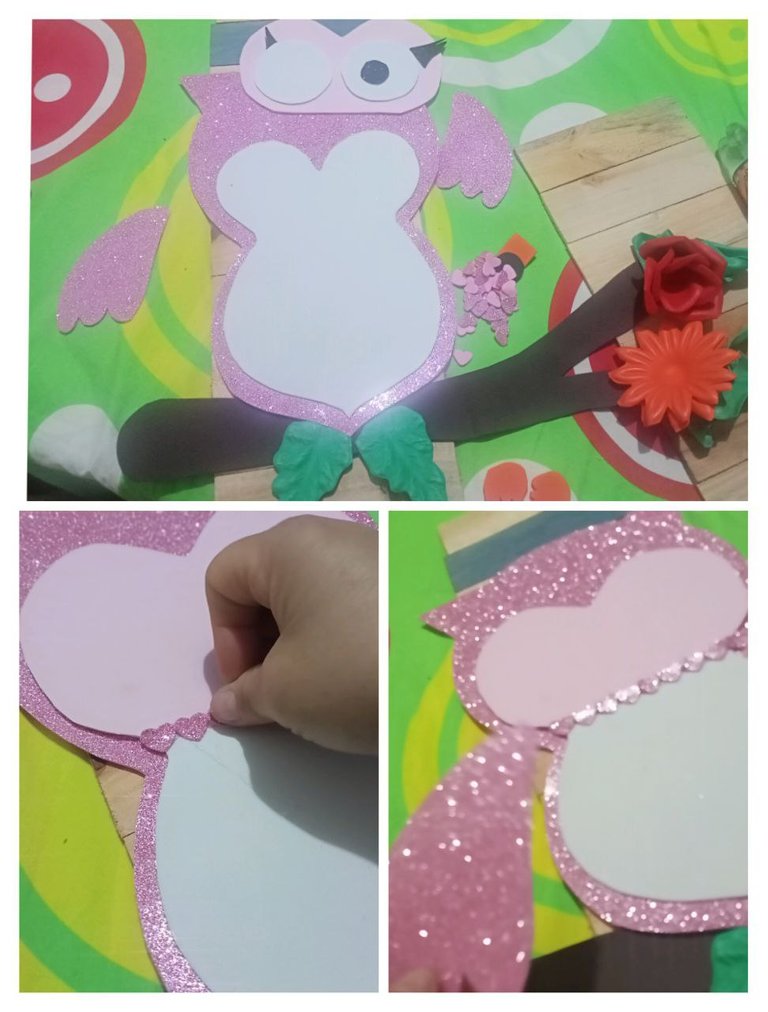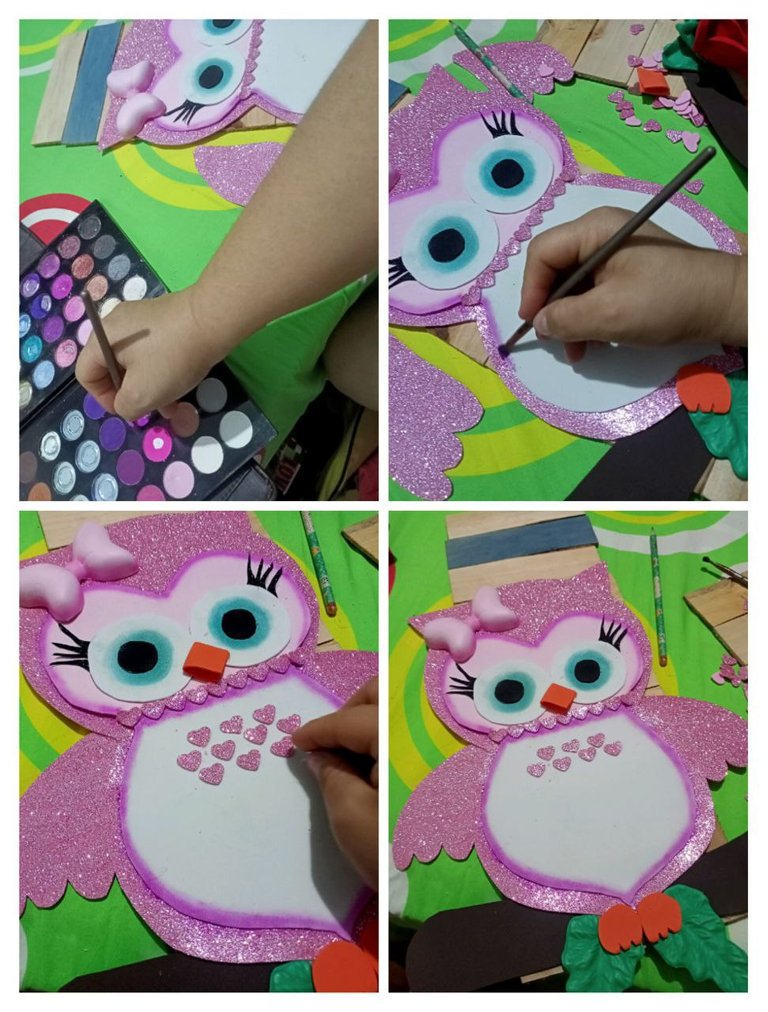 ---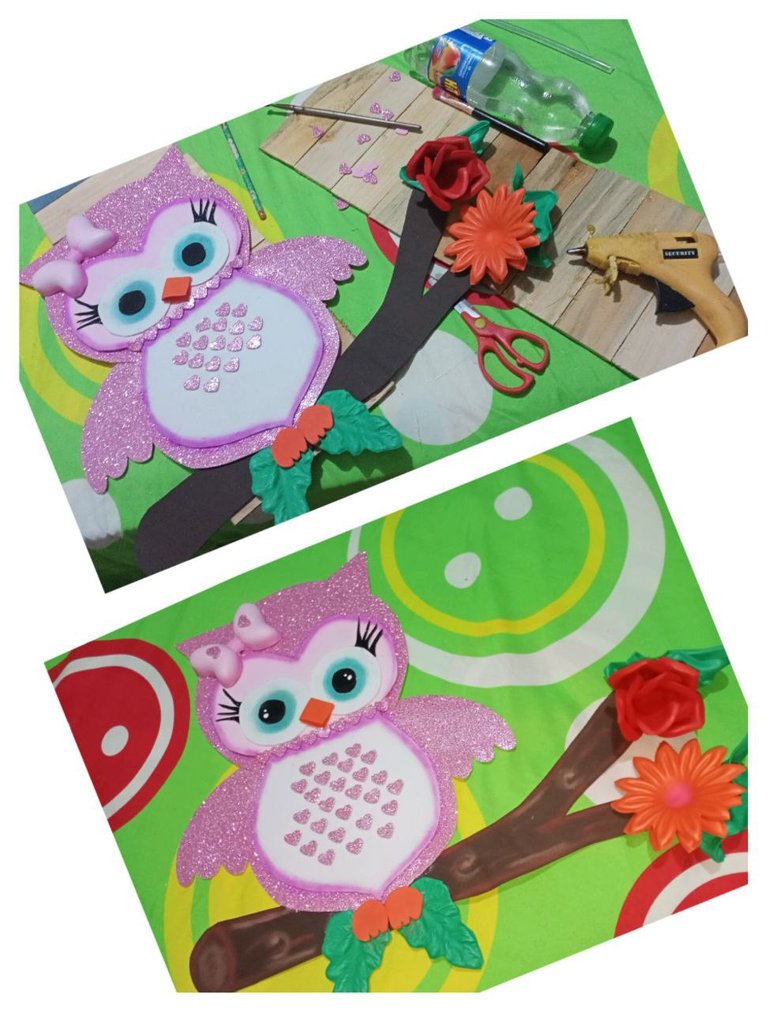 ---
for the hearts, use a heart-shaped die and paste them on the neck and belly of the owl, with a brown foam I made a branch, paste with hot silicone on it some leaves, some red and orange thermoformed flowers and assemble the owl, placing in its place all the parts that I had previously done, with fuchsia eye shadows, outline the light pink and white foam to give depth to the chest and face, outline the eyes with the eye shadow blue color, the bow of the head is made with light pink foam and outlined with fuchsia eyeshadow, the branch of the tree that I made with brown foam I outlined it with beige eyeshadow, the beak I did with a square of foam orange color which I fold in half forming a small triangle, I also made the legs with orange foam, all the pieces in place glued with hot silicone and ready this beautiful buha to decorate the birthday of a colleague of mine i sister in the office.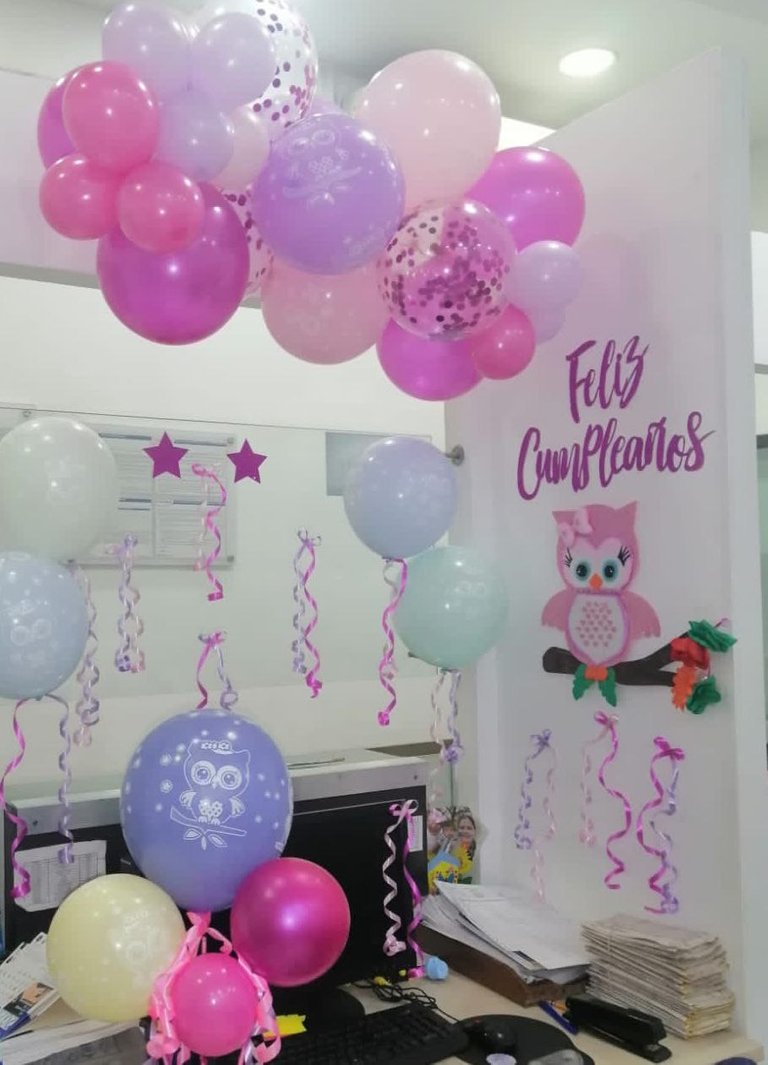 para los corazones utilice un troquel en forma de corazón y los pegue en el cuello y la pancita de la buha, con un fomy café hice una rama pegue con silicona caliente sobres esta unas hojas, unas flores termo formada de color rojo y naranja y ensamble la buha, colocando en su sitio todas las partes que había hecho previamente, con sombras de ojos color fucsia delinee el fomy rosado claro y el blanco para darle profundidad a lo correspondiente al pecho y a la carita, los ojos los delinee con la sombra de ojos color azul, el moño de la cabeza es hecho con fomy rosado claro y delineado con sombra de ojos fucsia, la rama del árbol que realice con fomy café lo delinee con las sombras de ojos color beis, el pico lo hice con un cuadrado de fomy color naranja el cual doble a la mitad formando un pequeño triangulo, las patas también las hice con fomy naranja, todas las piezas en su lugar pegadas con silicona caliente y listo esta hermosa buha para decorar el cumpleaños de una compañera de mi hermana en la oficina.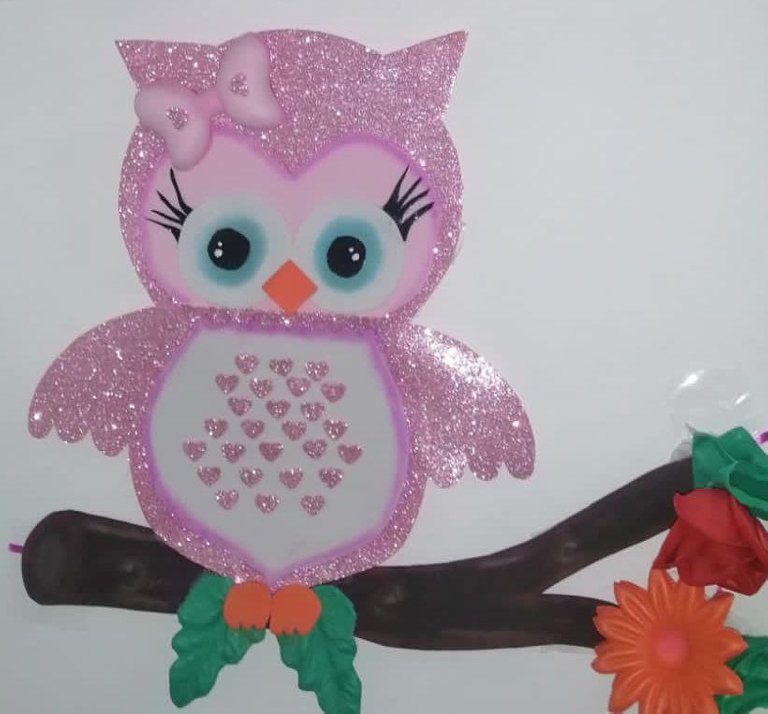 muchas gracias por leer mi post, las fotos fueron tomadas con mi celular realme c3
thank you very much for reading my post, the photos were taken with my realme c3 cell phone

---
---
#hivedit #dit #manualidades #crafts #handmade #art #tutorial #spanish #english