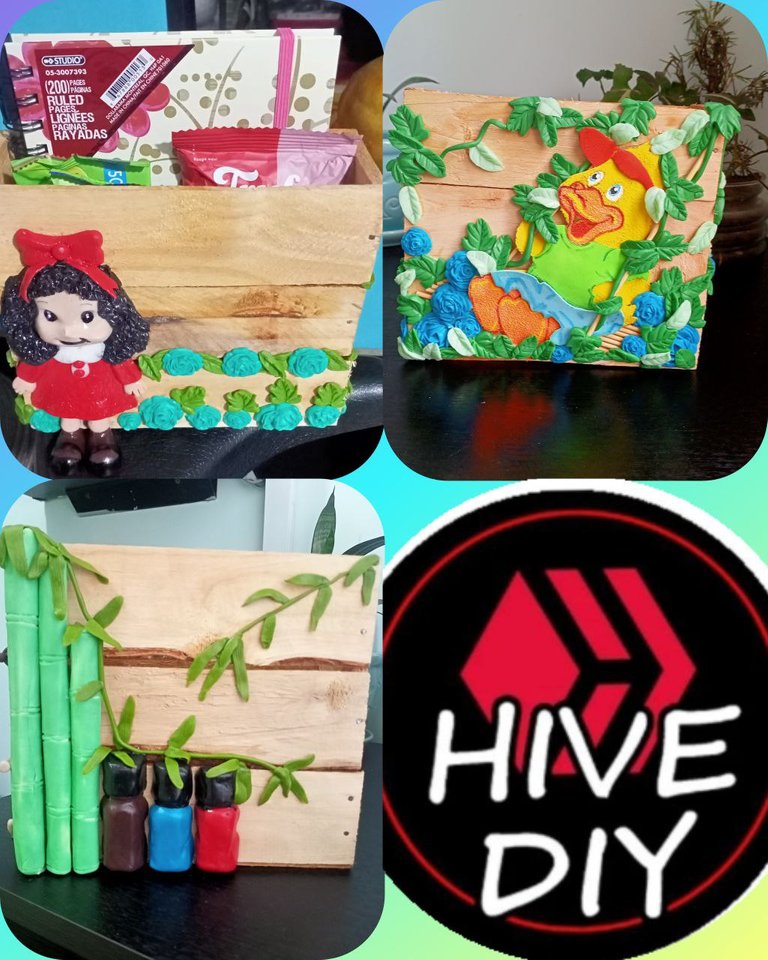 ---
English
Good afternoon beautiful community, today I bring you the elaboration of three personalized organizing boxes decorated with porcelain, these boxes are very practical to give them infinite uses, we can also adapt them for any occasion, even to have a pleasant afternoon and do crafts with our loved ones, As I was saying, we can use them to organize service receipts or invoices, for the pencils and colors of the little ones in the house, to give a detail, organize hand towels, etc. As some have already been able to read in some of my previous posts, I love working with these materials and taking advantage of recycling the wooden boxes that the guava candy comes in. It is wonderful to know that with our skills we can transform materials that we have at home. to do it too.
Spanish
Buenos tardes hermosa comunidad hoy les traigo la elaboración de tres cajas personalizadas organizadoras decoradas con porcelanicron, estas cajitas son muy practicas para darle infinidad de usos, además podemos adecuarlas para cualquier ocasión , hasta para tener una tarde agradable y hacer manualidades con nuestros seres queridos, como les decía podemos utilizarlas para organizar los recibos de servicio o facturas, para los lápices y colores de los mas pequeños dela casa, para dar un detalle, organizar toallas de mano, etc. como algunos ya han podido leer en algunos de mis post anteriores me encanta trabajar estos materiales y aprovechar reciclar las cajitas de madera en que vienen los dulce de guayaba, es maravilloso saber que con nuestras habilidades podemos transformar materiales que tenemos en casa a si que anímate a hacerlo tu también.
---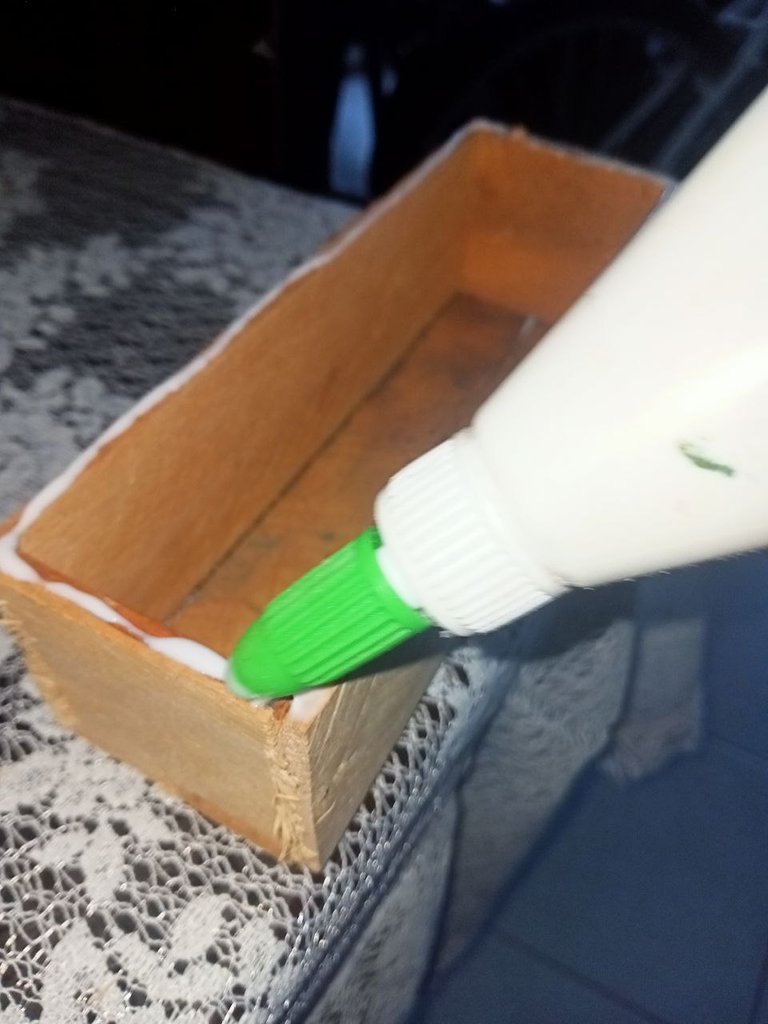 ---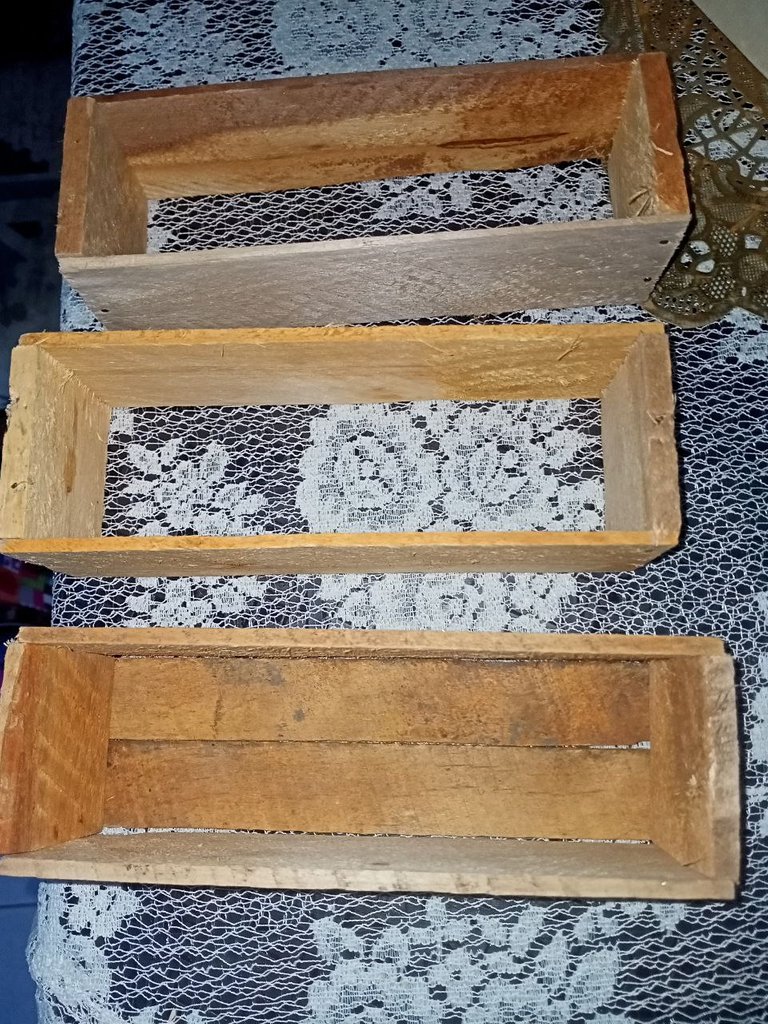 ---
---
To make these wooden organizers with porcelain tiles, we take three boxes, one with a base and the other two without the base, and glue them with carpentry glue.
Para realizar estos organizadores de madera con porcelanicron tomamos tres cajas una con base y las otras dos sin la base y las pegamos con pegante de carpintería.
---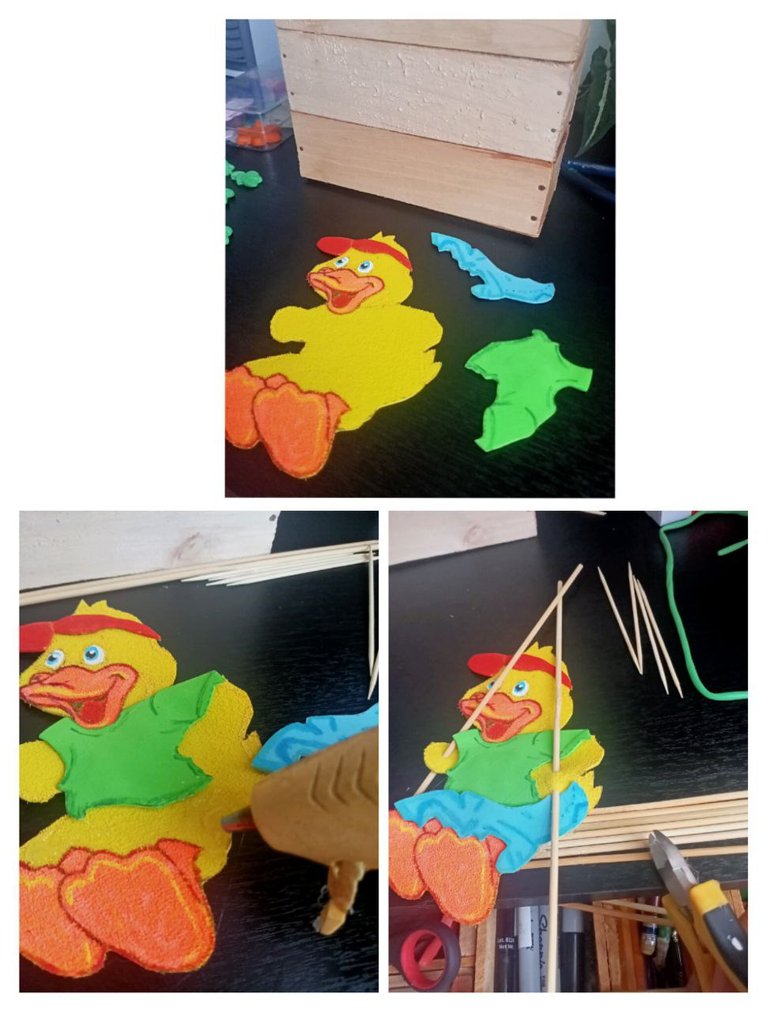 Para esta caja adornada con el pato de los pañales pequeñín, lo diseñe en foamy y lo ensamble con silicona caliente, le diseñe un culumpio con palitos de pincho.
For this box adorned with the duck of the little diapers, I designed it in foamy and assembled it with hot silicone, I designed a swing with skewer sticks.
---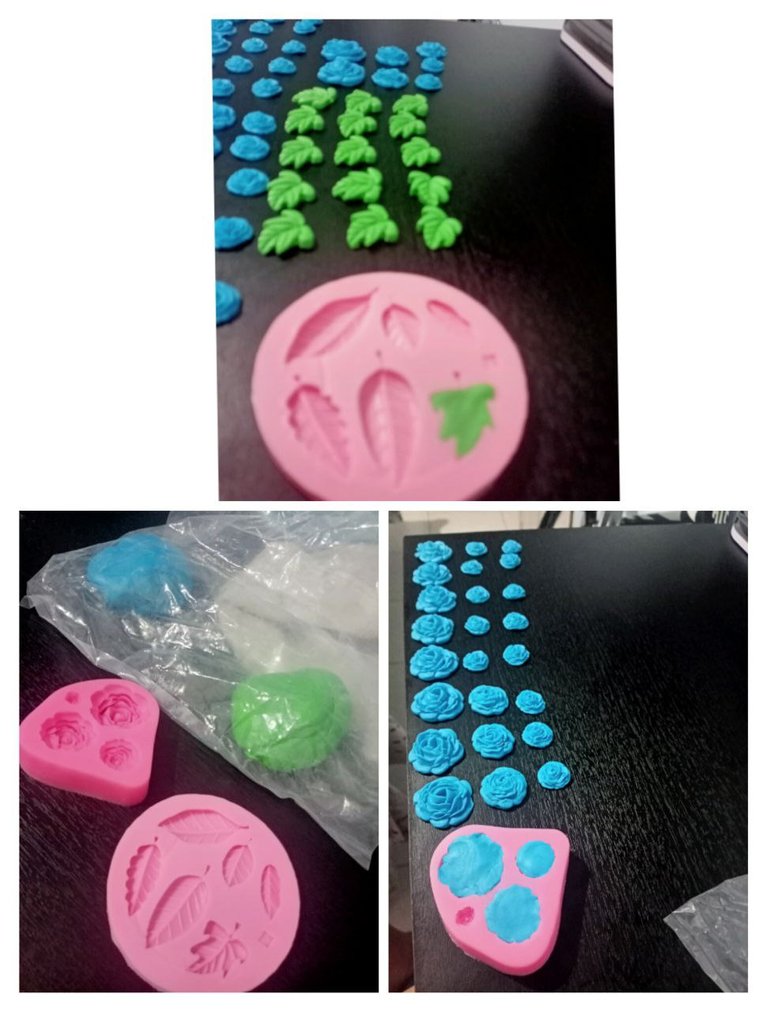 ---
Con los moldes de silicona en forma de flor y de hojas saque varias para adornar las cajas de la siguiente manera.
With the silicone molds in the shape of flowers and leaves, take out several to decorate the boxes as follows.
---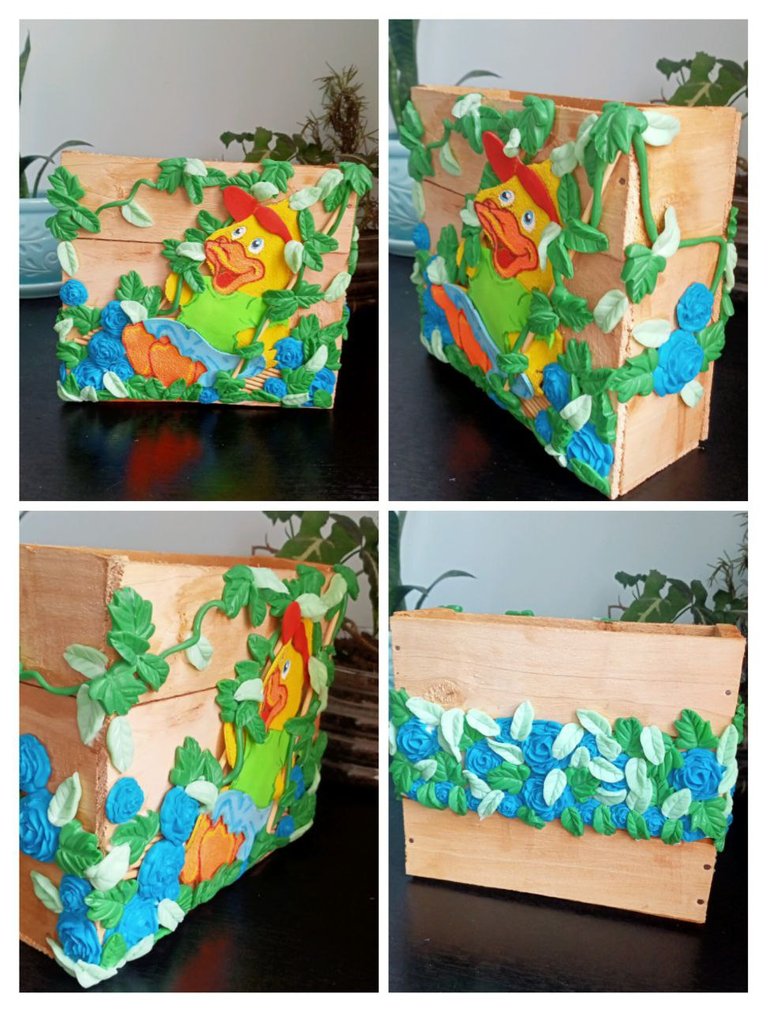 ---
Este detalle es para una maestra que le encanta el pato de los pañales.
This detail is for a teacher who loves the diaper duck.
---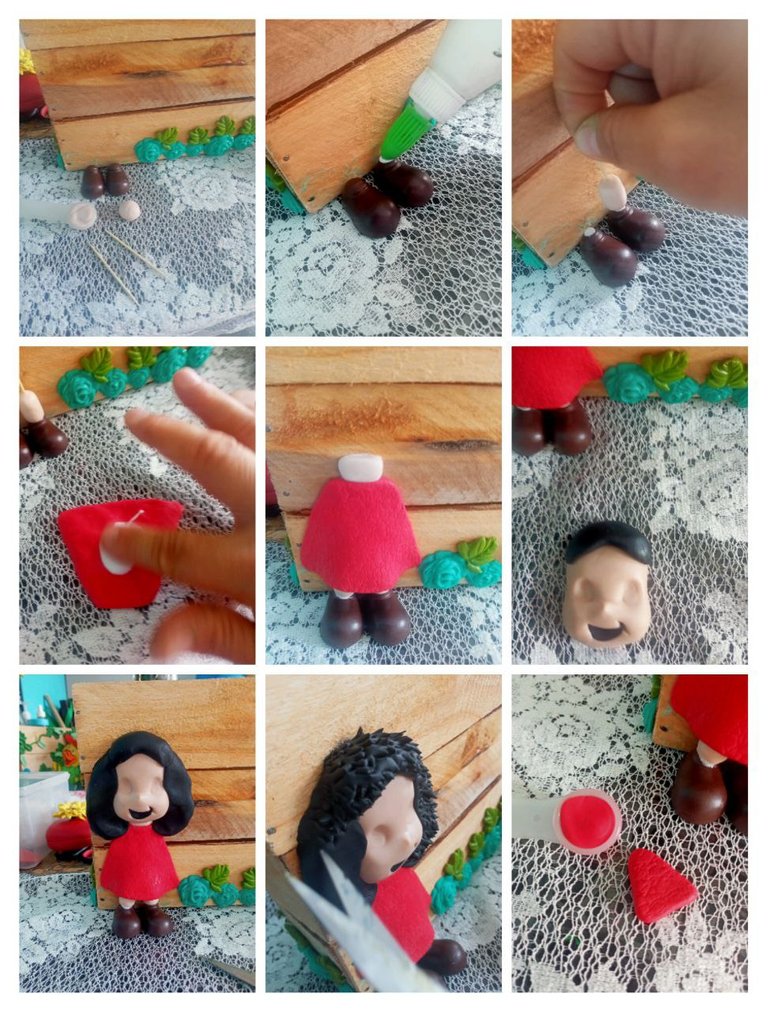 ---
Nuestro siguiente diseño es la caja organizadora de Mafalda, iniciamos haciendo los zapatos con porcelanicron café, pégamos con pegante de carpintería dos cilindros para las piernas, hacemos el vestido yo lo aplane en el mantel de la mesa para que le diera la textura del bordado de la tela del mantel, luego con masa color piel le hice el cuello y pegue la cabeza, coloque el cabello con masa negra y texturice con la tijera, hice dos triángulos para las mangas del vestido.
Our next design is the Mafalda organizing box, we start by making the shoes with brown porcelain, glue two cylinders for the legs with carpentry glue, we make the dress and I flatten it on the table cloth to give it the texture of the embroidery of the tablecloth fabric, then with flesh-colored dough I made the neck and glued the head, put the hair with black dough and textured with scissors, I made two triangles for the sleeves of the dress.
---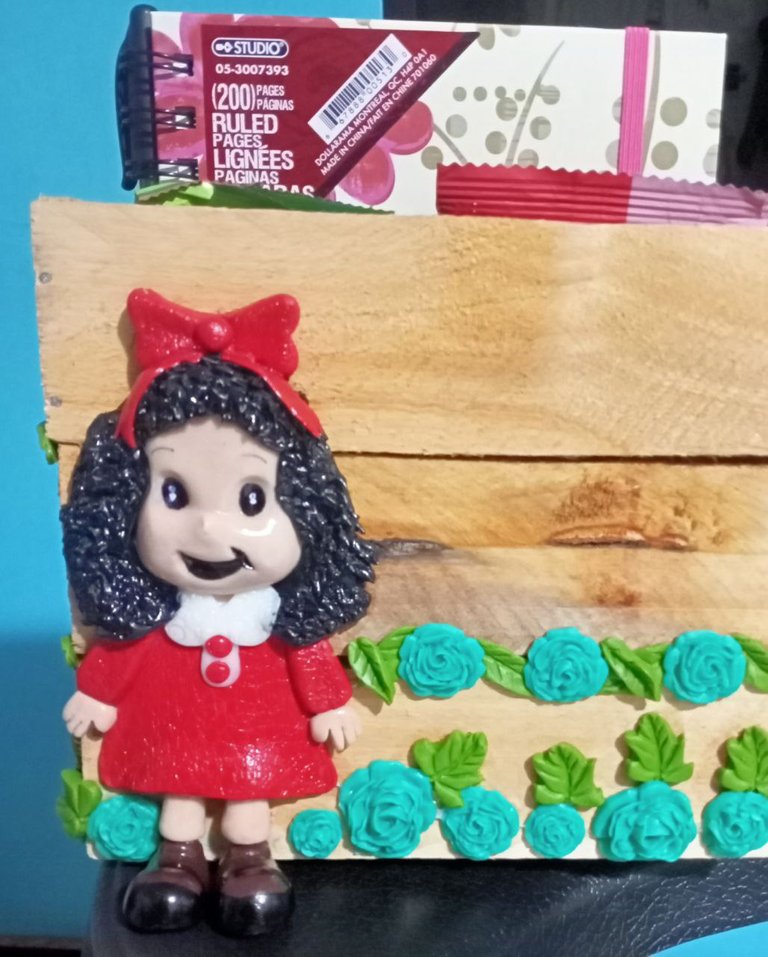 ---
Al colocar los triángulos en el extremo colocamos las manitos, hice el detalle del cuello de la blusa con masa blanca, el moño con masa roja pinte los ojos con esmalte de uñas negro y dos punticos blancos para darle luz, las orillas de los zapatos los pinte con esmalte negro y aplique el brillo para proteger la porcelana dentro de la caja se coloco una agenda, un lapicero, dos paquetes de trufas de chocolate y cuatro paquetes de galletas, este detalle es para una señora que es escritora.
By placing the triangles at the end we place the little hands, I made the detail of the neck of the blouse with white dough, the bow with red dough, I painted the eyes with black nail polish and two white dots to give it light, the edges of the shoes paint with black enamel and apply the shine to protect the porcelain. Inside the box, an agenda, a pen, two packages of chocolate truffles and four packages of cookies were placed. This detail is for a lady who is a writer.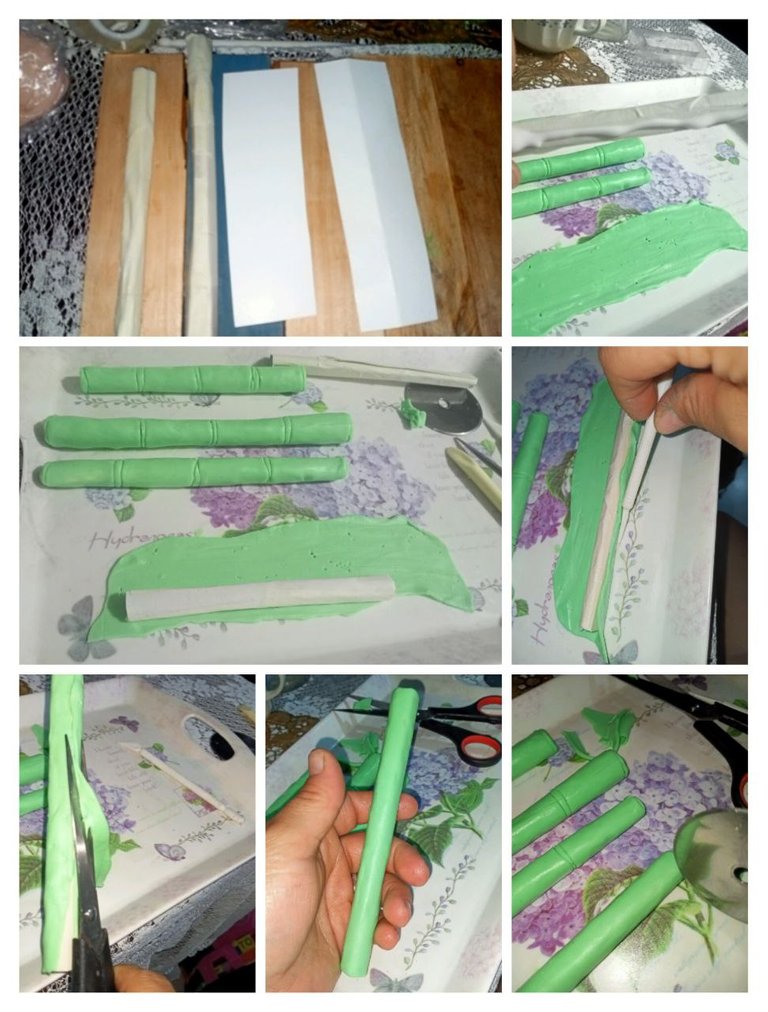 ---
Este siguiente diseño es para una señora masajista ,tomamos pedazos de cartulina y hacemos unos cilindros que nos servirán de base para hacer los bambú, se forran con porcelanicron verde, cortamos el excedente de masa a lo que lo enrollamos en la masa que hemos
This next design is for a lady masseuse, we take pieces of cardboard and make some cylinders that will serve as a base to make the bamboo, they are lined with green porcelain, we cut the excess dough to what we roll it in the dough that we have stretched, with the cutter we make the marks.estirado, con el cortador le hacemos las marcas.
---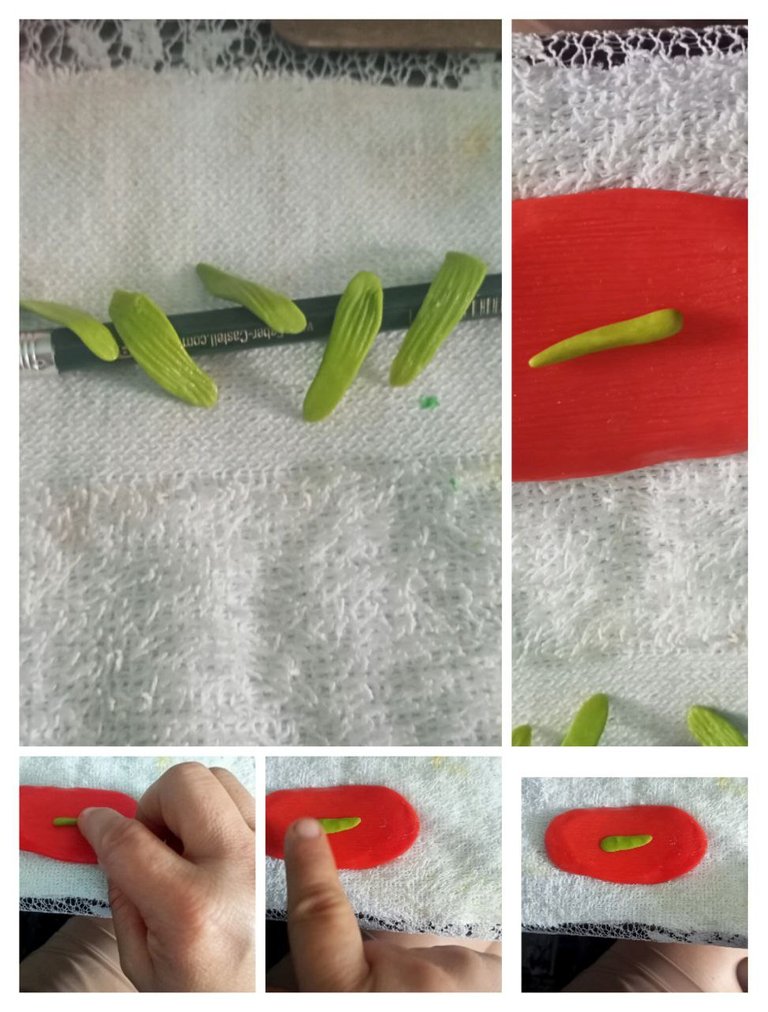 ---
Las hojas del bambú las hacemos tomando una bolita pequeña de masa y la estiramos en forma de lagrima y la aplanamos en el texturizado para que quede con esas rayitas, el texturizador lo hice hace mucho tiempo con una hoja de mazorca.
We make the bamboo leaves by taking a small ball of dough and stretching it in the shape of a tear and flattening it in the texturizer so that it has those lines, I made the texturizer a long time ago with a cob leaf.
---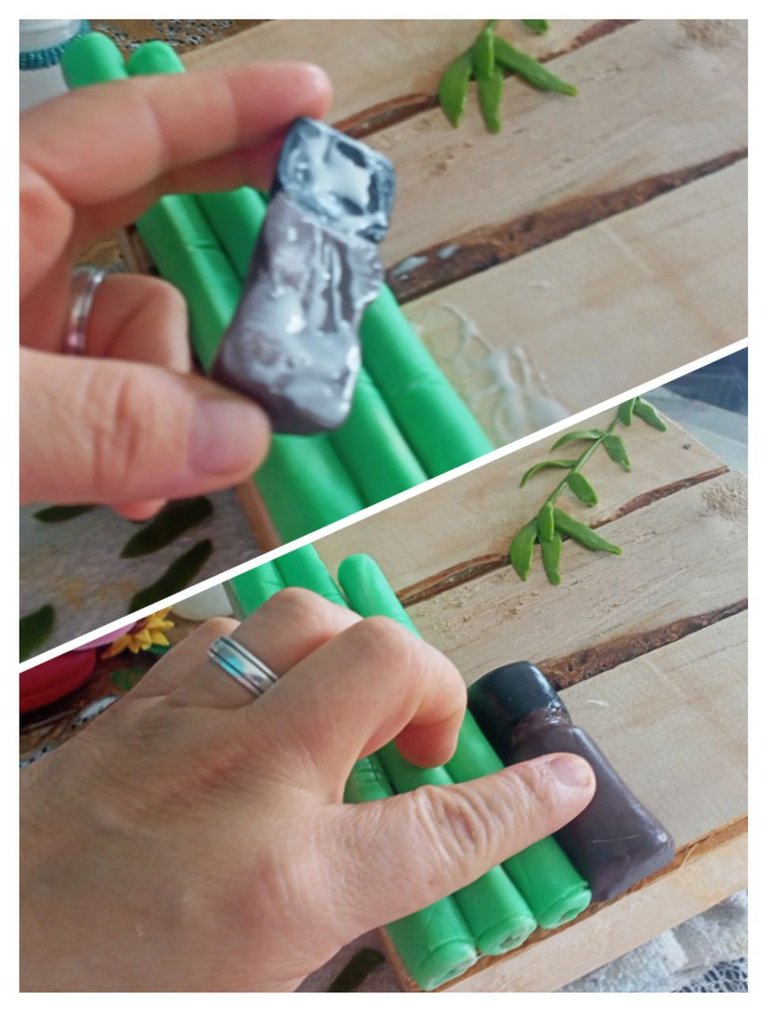 ---
Iniciamos pegando las hojas, los bambú, luego los frascos de aceite.
We started by gluing the leaves, the bamboo, then the oil bottles.
---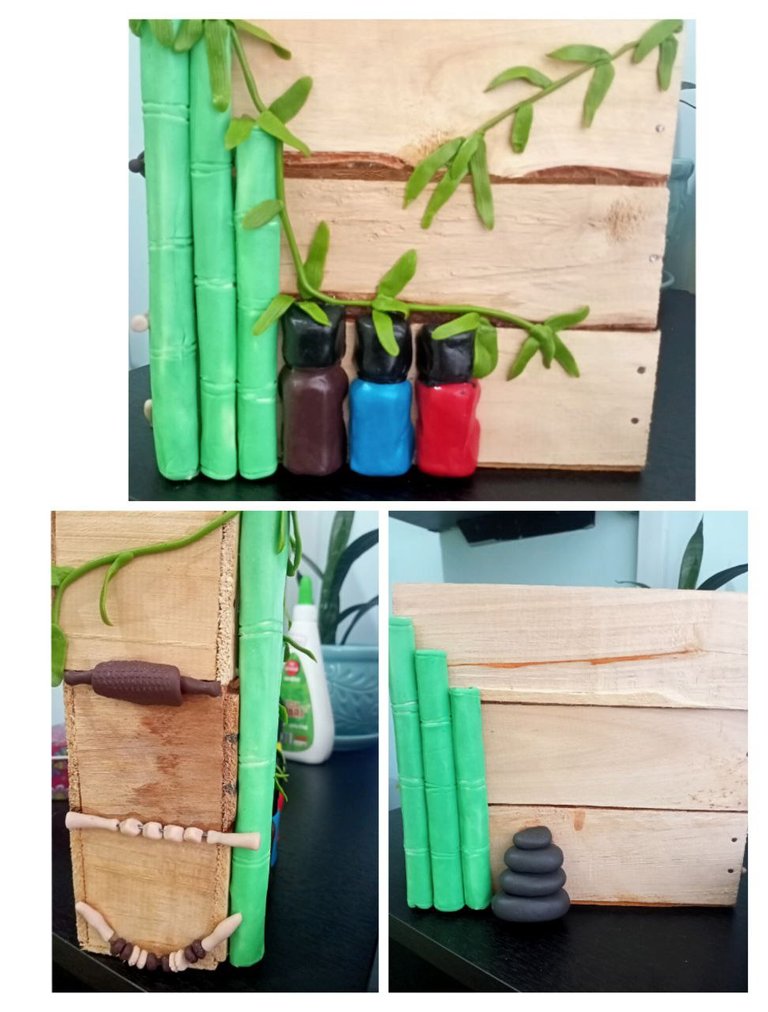 ---
En uno delos laterales hice tres implementos que utilizan las masajistas y en el otro lado coloque mas bambú y las piedras que se utilizan para las terapias energéticas.
On one of the sides I made three implements used by the masseuses and on the other side I placed more bamboo and the stones that are used for energy therapies.
---
---
Thank you very much for visiting me, I hope my publication is to your liking, a thousand blessings to all.
Muchas gracias por visitarme espero mi publicación sea de su agrado mil bendiciones para todos.

---
#hivediy #diy #manualiddaes #crafts #art #tutorial #handmade #spanish