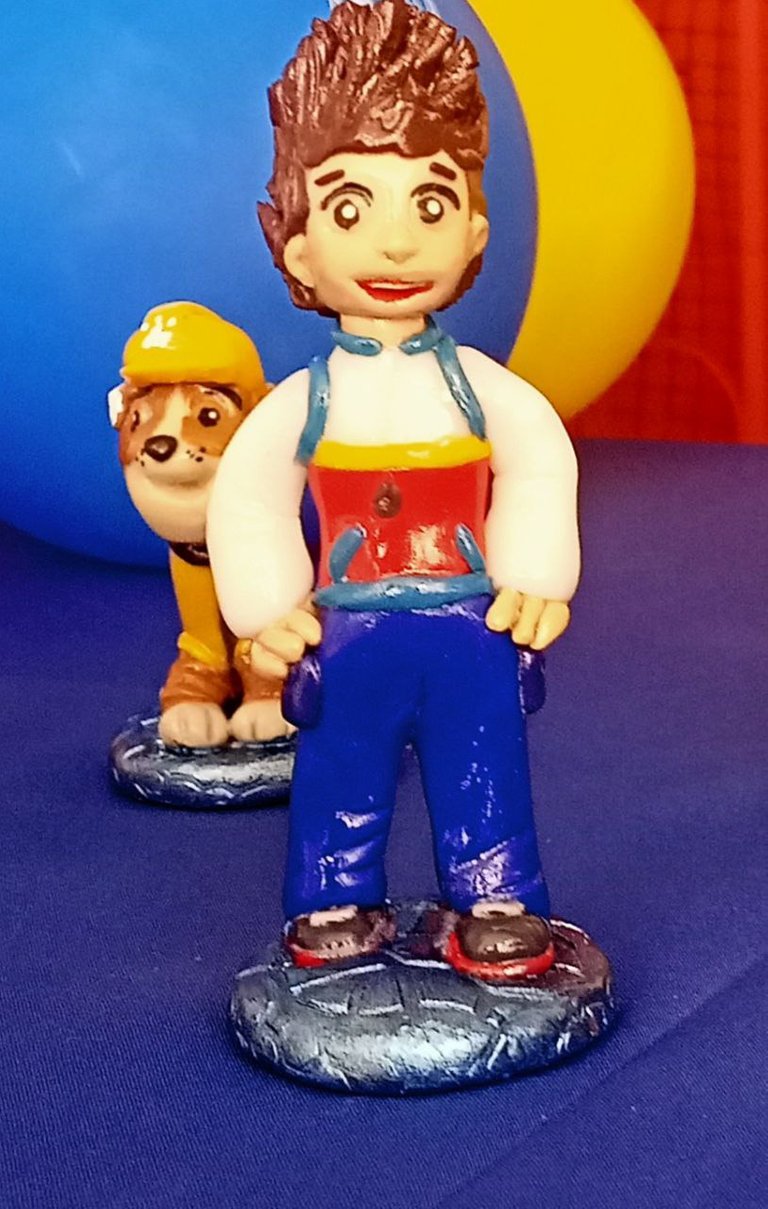 ---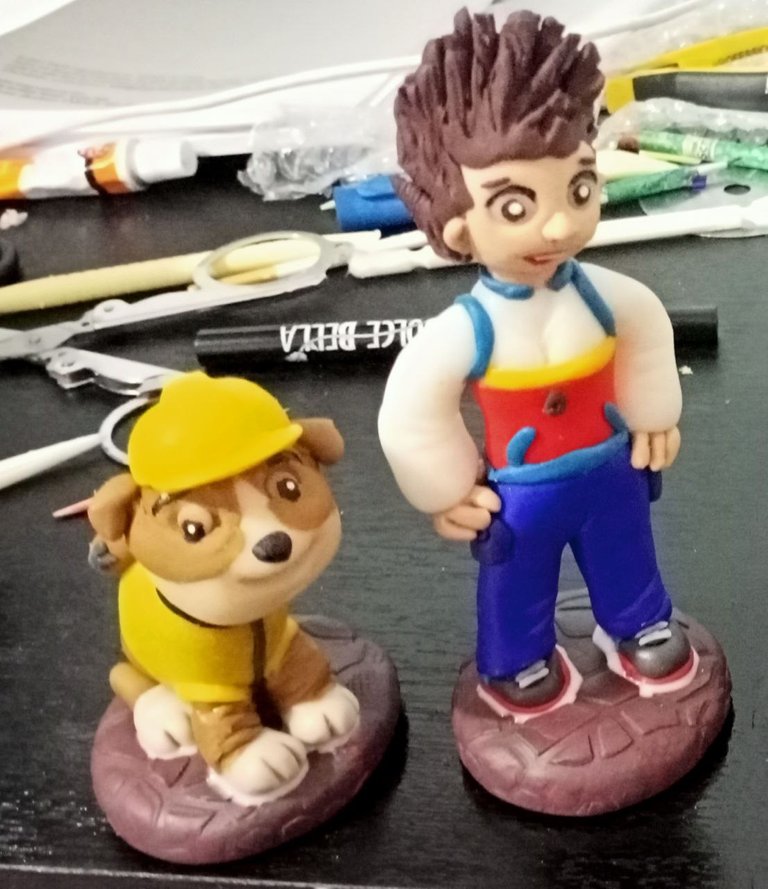 ---
English
good night hive family, on this day I want to share with you the step by step of making two Rubble and Ryder paw patrol characters in porcelain. Paw Patrol is a popular children's series, starring seven puppies and a 10-year-old tech specialist. The Paw Patrol fights to keep Adventure Bay safe, joining the riskiest missions and teaching values ​​such as coexistence, teamwork, friendship, responsibility and happiness. In this opportunity I will show you the step by step to make two characters for Rubble and the boy Ryder, which were used to decorate the birthday cake. This material allows us to mold any character, better said, to make any personalized motif for cakes, the brightness that The varnish is very beautiful, people are really happy with this type of exclusive craft, so encourage yourself to create and sell.
Spanish
Buenas noches familia hive en este día quiero compartir con ustedes el paso a paso de la elaboración de dos personajes de la patrulla canina Rubble y Ryder en porcelanicron. La Patrulla Canina, es una serie popular de niños, protagonizada por siete cachorros y un niño de 10 años especialista en tecnología. La Patrulla Canina lucha por mantener a salvo la Bahía Aventura, incorporándose en las misiones más riesgosas y enseñando valores como la convivencia, el trabajo en equipo, la amistad, la responsabilidad y la felicidad. en esta oportunidad les enseñare el paso a paso para hacer dos personajes a Rubble y al niño Ryder los cuales se utilizaron para decorar la torta de cumpleaños este material nos permite moldear cualquier personaje, mejor dicho hacer cualquier motivo personalizado para tortas, el brillo que le da el barniz es muy bonito, realmente las personas quedan muy contentas con este tipo de manualidad exclusiva, así que animate a crear y vender.
---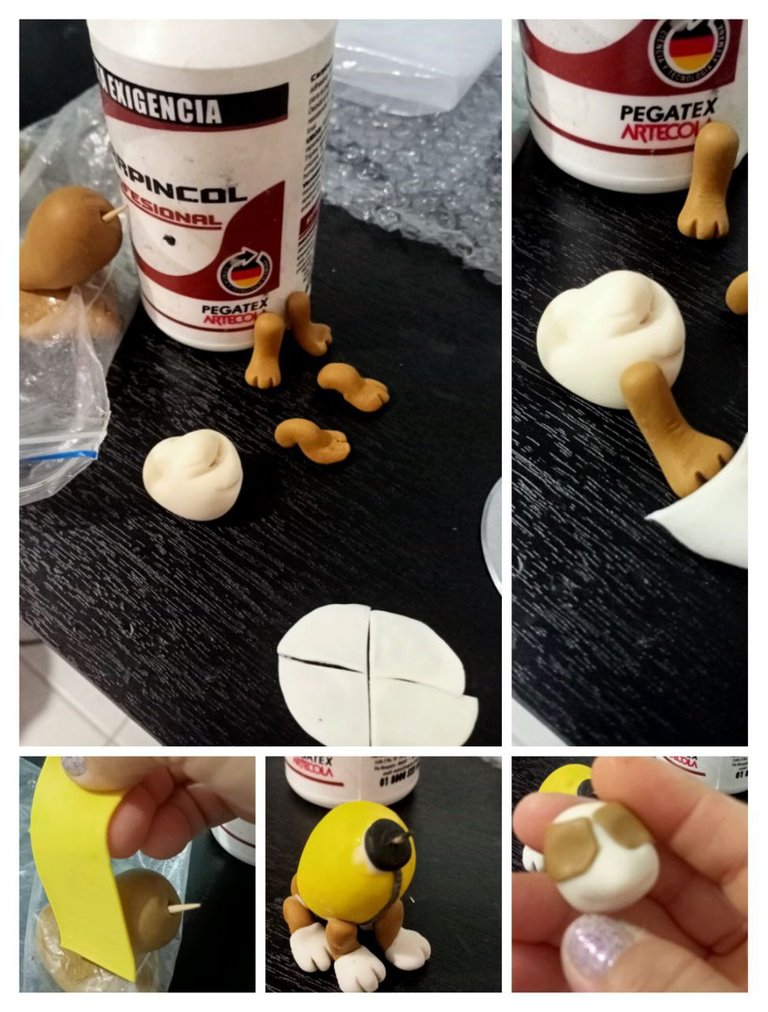 ---
Rubble es un cachorro de 5 años bulldog inglés , se dedica a la Construcción; sus deberes se enfocan en construir estructuras y demolerlas o desplazar cosas pesadas para hacerlo Tomamos masa color beis y modelamos la cara las patasy el cuerpo lo modelamos con masa de color camel forramos las patas en las puntas, el cuerpo lo modelamos en forma de pera y lo forramos con un rectángulo color amarillo para hacer la chaqueta, en la carita colocamos dos parches de color camel en los ojos, colocamos el cuello negro y pegamos la cabeza.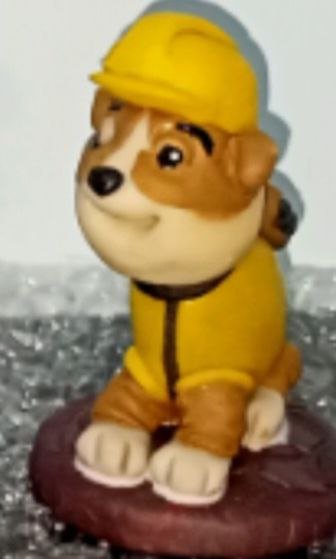 ubble is a 5 year old English bulldog puppy, he is dedicated to Construction; their duties focus on building structures and demolishing them or moving heavy things to do so We take beige dough and model the face, the legs and the body we model it with camel-colored dough we line the legs at the ends, the body we model it in the shape of a pear and we lined it with a yellow rectangle to make the jacket, on the little face we placed two camel-colored patches on the eyes, we placed the black collar and we glued the head
---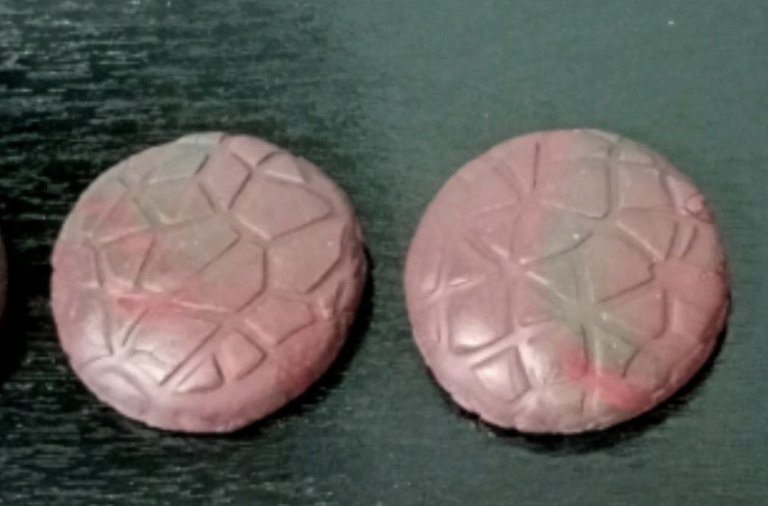 ---
recordemos que debemos hacer las bases en las cuales pegaremos los muñecos para facilitar se paren sobre la torta, para esto debemos tomar un buen pedazo de masa hacer una esfera y aplanarla contra una carpeta o individual para que quede con textura después de secar por dos horas la pintamos con pintura vinílica de nuestro agrado.
remember that we must make the bases on which we will glue the dolls to make it easier for them to stand on the cake, for this we must take a good piece of dough, make a sphere and flatten it against a folder or individual so that it is textured after drying for two hours We painted it with vinyl paint of our liking.
---
---
---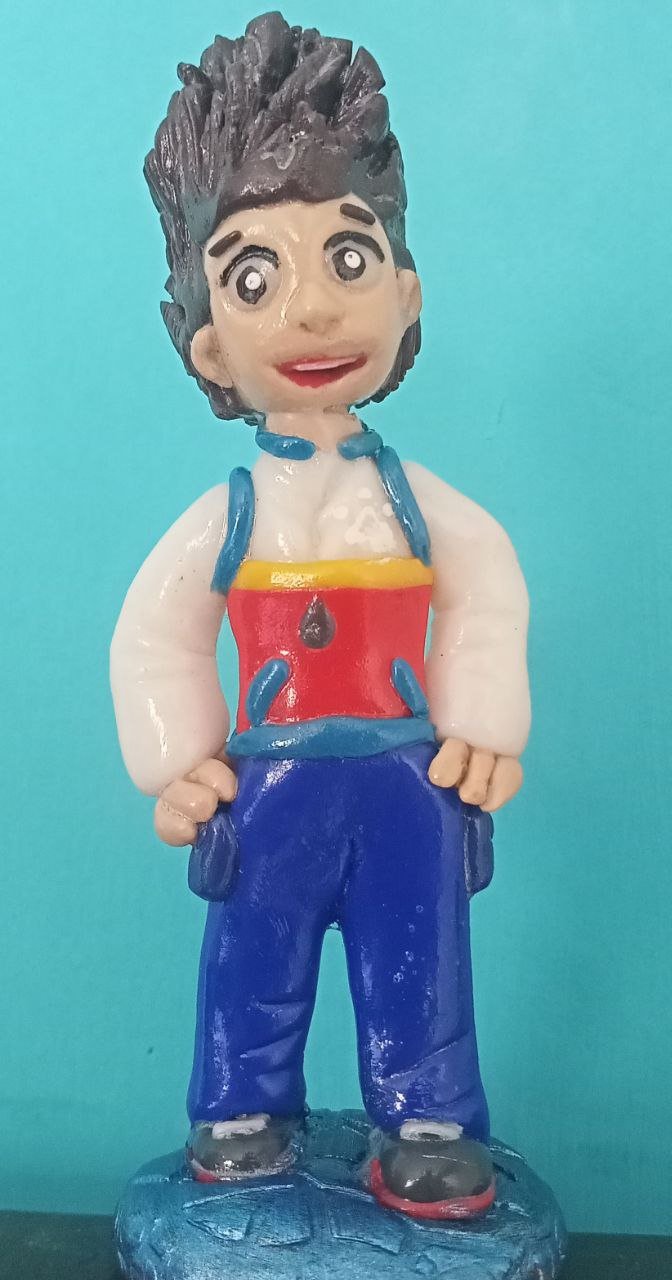 ---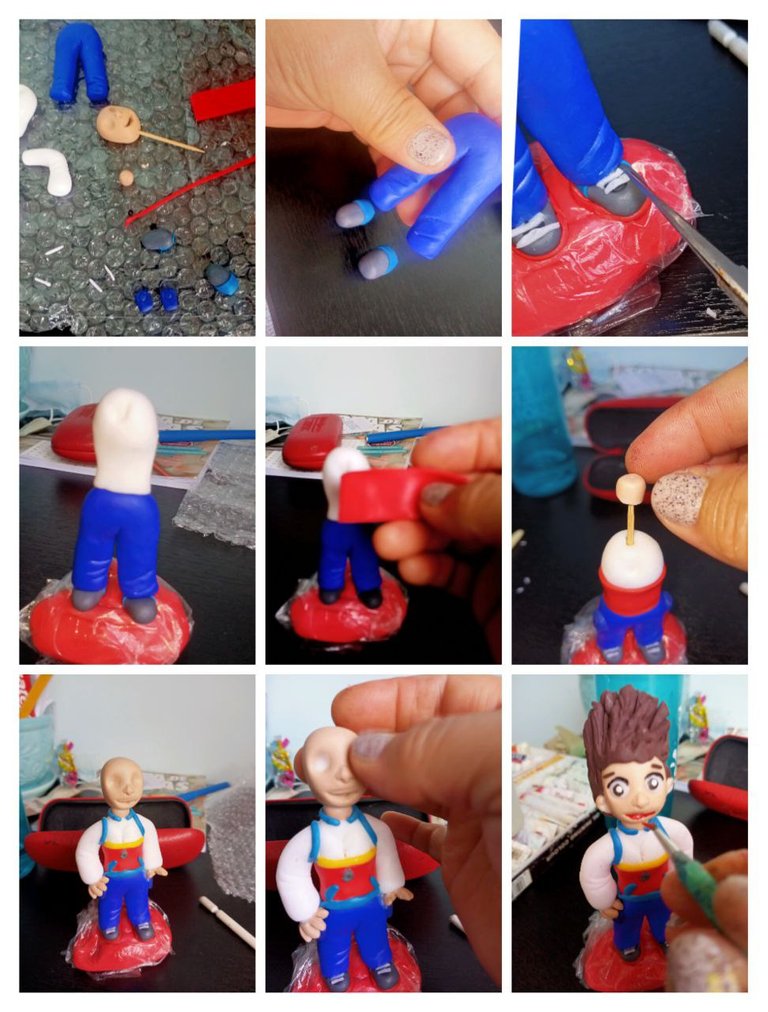 ---
---
Ryder is a 10-year-old tech-savvy, highly intelligent boy who is the leader of the Paw Patrol. When he receives an emergency call, he calls and leads the puppies on missions to help the citizens of Adventure Bay. First of all, we make a blue cylinder to make the legs, we fold it in half, put toothpicks in it and let it dry. completely, to give stability, while it dries we make the face, the arms, the hands, the shoes, the trunk, the sleeves of the shirt, the pockets of the pants, after two hours we begin to assemble the character to avoid being deformed it is necessary to let that time pass, first we glue the shoes to the legs, we put the details of the sneakers, the sole, the laces, we glue the trunk which we model it with a sphere which we lengthen, we cover it with a red rectangles , we place the collar, and we are going to place step by step the details of the shirt, the collar, the straps, the belt, the pockets of the shirt, we place the head, the eyes, the hair, we glue pieces of brown dough and We make small cuts with the scissors to simulate the hair with gel and make up with black, white, and red vinyl, finally we stick to the base which we paint the preferred color in my case I paint it blue and apply glitter and so on our Ryder is finished.
Ryder es un niño de 10 años, experto en tecnología, es muy inteligente y es el líder de los Paw Patrol. Cuando recibe una llamada de emergencia, llama y conduce a los cachorros en misiones para ayudar a los ciudadanos de Bahía Aventura, Primero que todo hacemos un cilindro de color azul ,para hacer las piernas, lo doblamos a la mitad le colocamos palillos y dejamos secar completamente, para dar estabilidad, mientras este seca hacemos la cara, los brazos , las manos, los zapatos, el tronco, , las mangas de la camisa, los bolsillos de lpantalon,pasada dos horas iniciamos a ensamblar el personaje para evitar que se nos deforme es necesario dejar pasar ese tiempo, primero pegamos los zapatos a las piernas, le colocamos los detalles de los tenis, la suela, los cordones, pegamos el tronco el cual lo modelamos con una esfera la cual alargamos, lo forramos con un rectángulos rojo, colocamos el cuello, y vamos colocamos paso a paso los detalles de la camisa, el cuello, las tirantas, el cinturón, los bolsillos de la camisa, colocamos la cabeza, los ojos, el cabello pegamos pedazos de masa café y vamos haciendo pequeños cortes con las tijeras para simular el cabello con gel y maquillamos con vinilos negro , blanco, y rojo, por ultimo pe4gamos a la base la cual pintamos del color preferido en mi caso lo pinte de azul y se le aplica brillo y así queda terminado nuestro Ryder.

---
---
#diy #manualidades #crafts #tutirial #art #posh #spanish #english