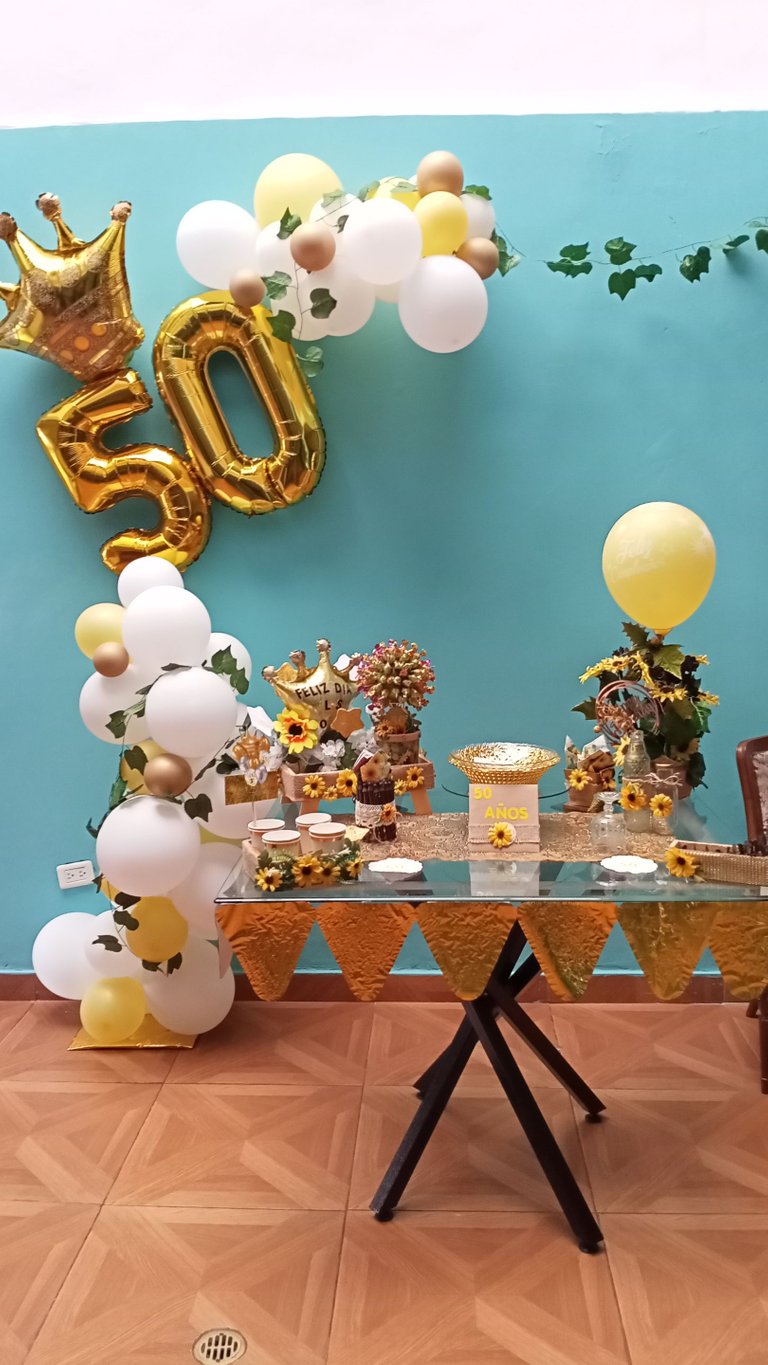 ---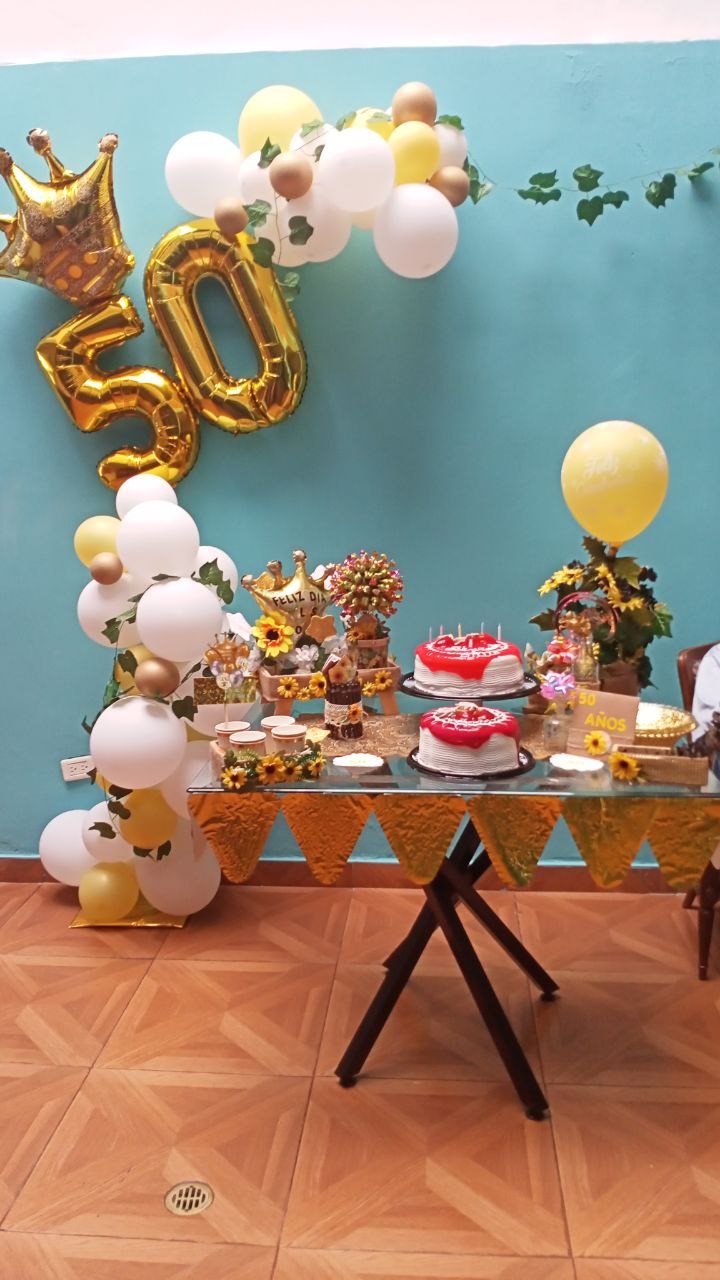 ---
---
English
Good afternoon dear community, today I want to share with you this simple decoration to celebrate the 50 years of a friend, inflate a package of white R12 and gold R12 balloons in different sizes and tie them in three, each trio of balloons I joined them With a nylon securing them to a cardboard base with stucco to give firmness to the column, wrap a ribbon of artificial leaves in it and secure to the wall with paper tape the number 50 in a gold metallic balloon size 32 and on this a crown of the same material of the numbers. The dining room table, as you can see, is made of glass, I simply decorated it with some golden banners that I made with the pizza triangles, I lined them with golden paper, on the table I made several ornaments with wooden boxes, among them are the boxes where the pizza comes. guava sweet in other posts I have taught you to reuse them, each one I decorate with jute ribbon or sackcloth and synthetic sunflowers.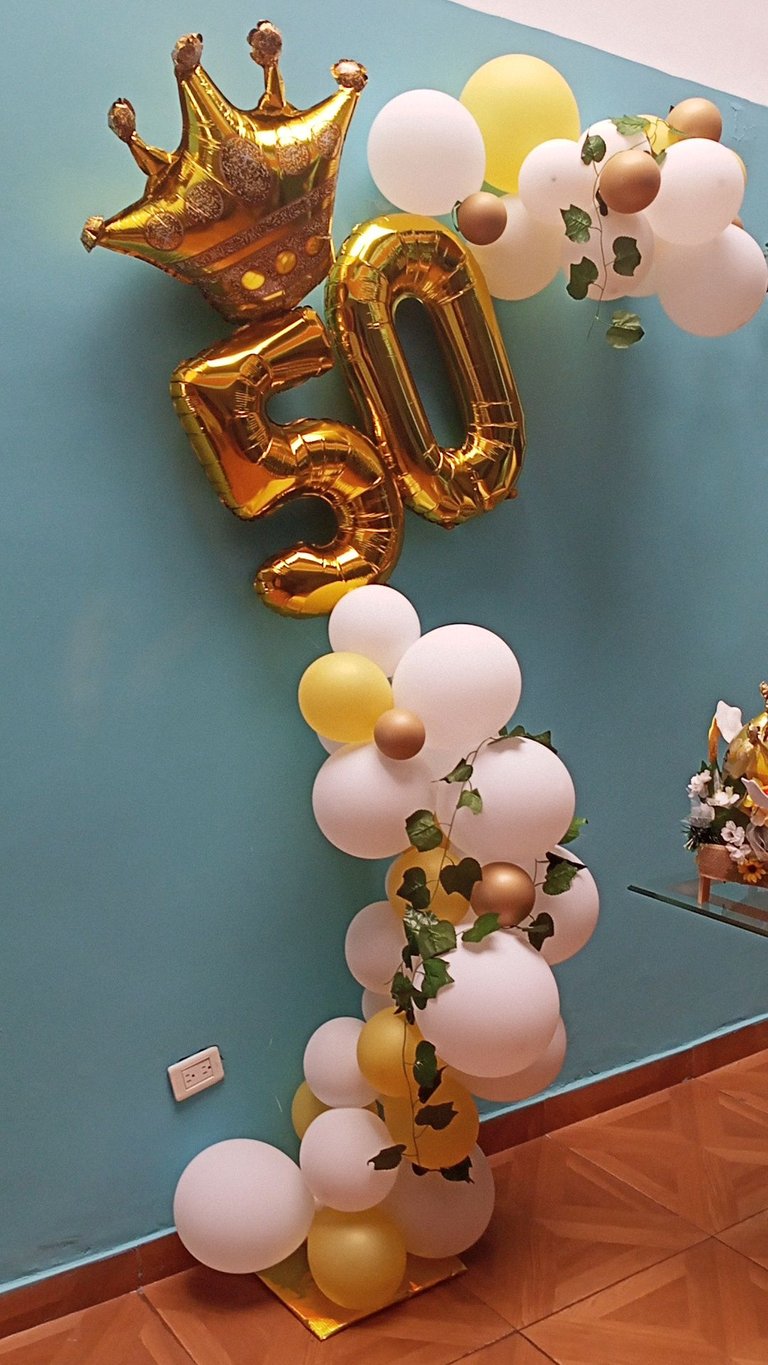 Spanish
Buenas tardes querida comunidad, el día de hoy quiero compartirles esta decoración sencilla para celebrar los 50 años de una amiga, infle un paquete de globos R12 blanco y R12 dorados en diferentes tamaños y los anude de a tres, cada trio de globos los fui uniendo con un nailon asegurándolos de una base de cartón con estuco para darle firmeza a la columna, enrede en ella un listón de hojas artificiales y asegure a la pared con cinta de papel el numero 50 en globo metalizado dorado tamaño 32 y sobre este una corona del mismo material de los números. La mesa del comedor como pueden observar es de vidrio simplemente la decore con unos banderines dorados que los hice con los triangulitos de la pizza los forre con papel dorado, en la mesa hice varios adornos con cajitas de madera entre ellas están las cajitas donde viene el dulce de guayaba en otros post les he enseñado a reutilizarlas, cada una la decore con cinta de yute o costal y girasoles sintéticos.
---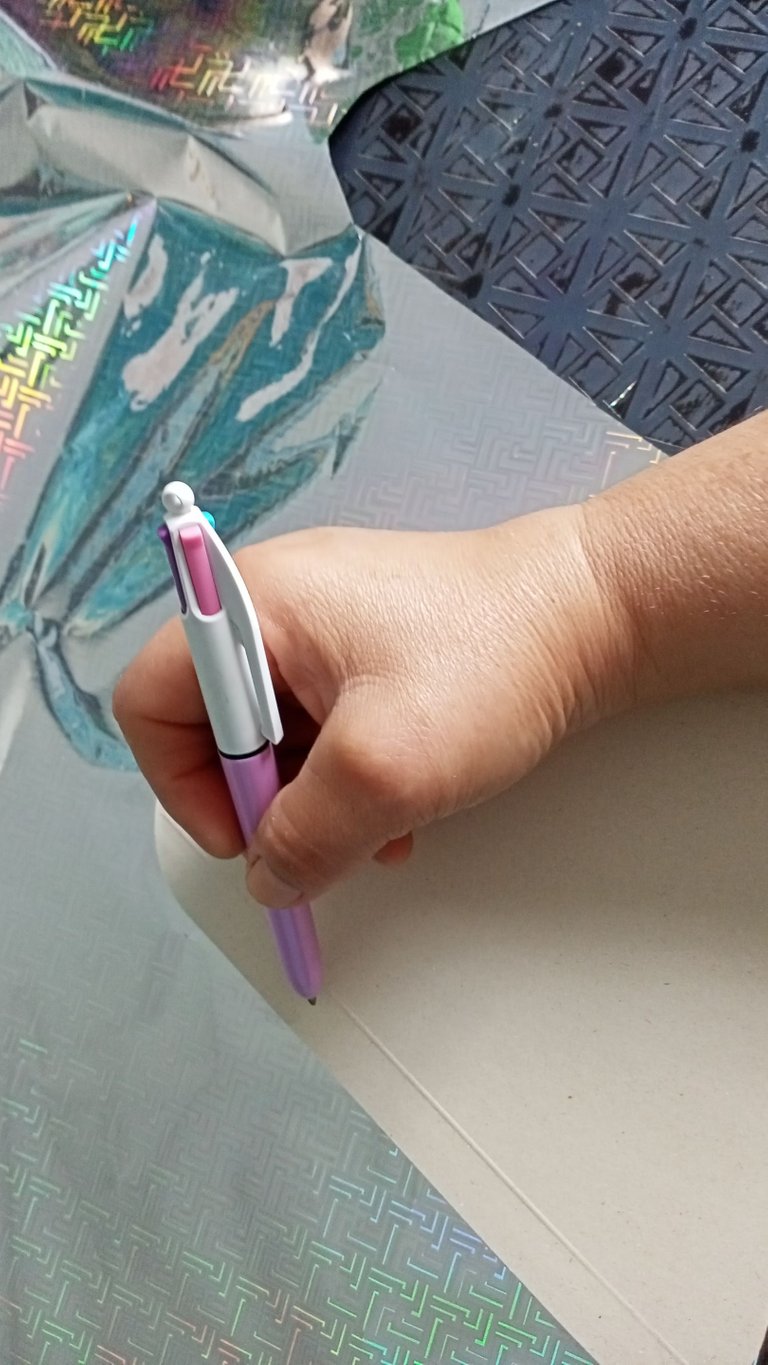 ---
Remarco el triangulo de carton
I highlight the cardboard triangle
---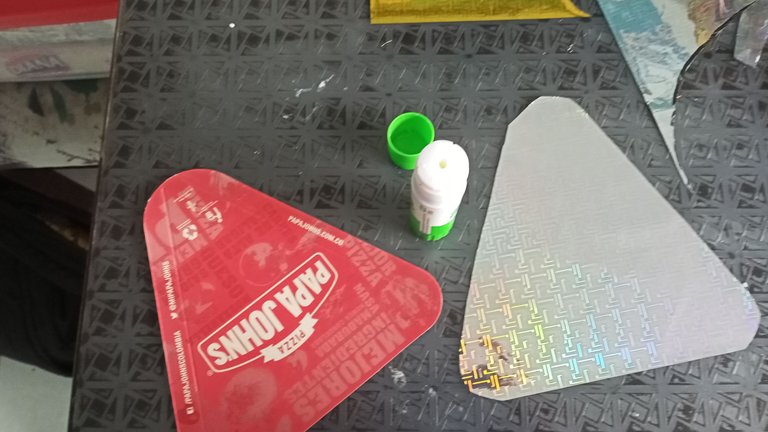 ---
Estos banderines son los que le conté anteriormente, Los recorto
These flags are the ones I told you about earlier,
I cut them out
---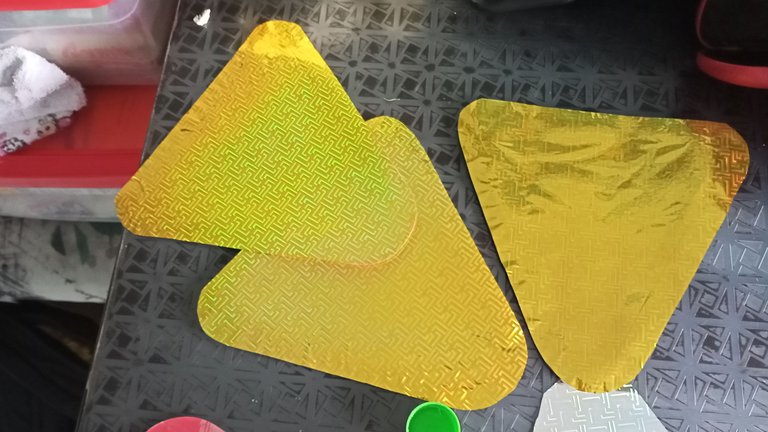 ---
Y los pego con pegante en barra
And I stick them with glue stick
---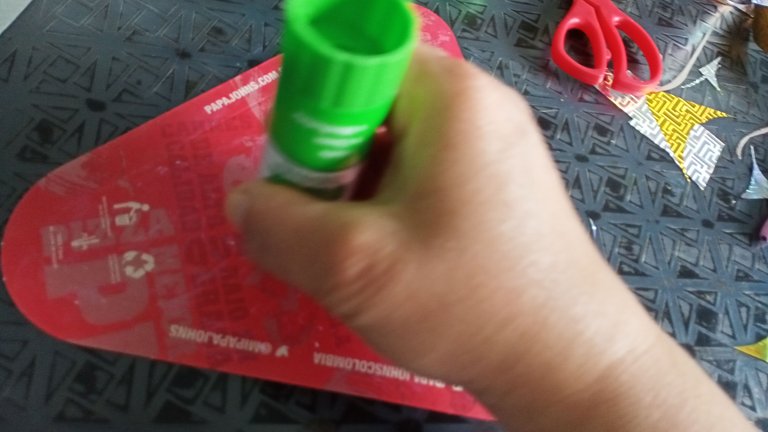 ---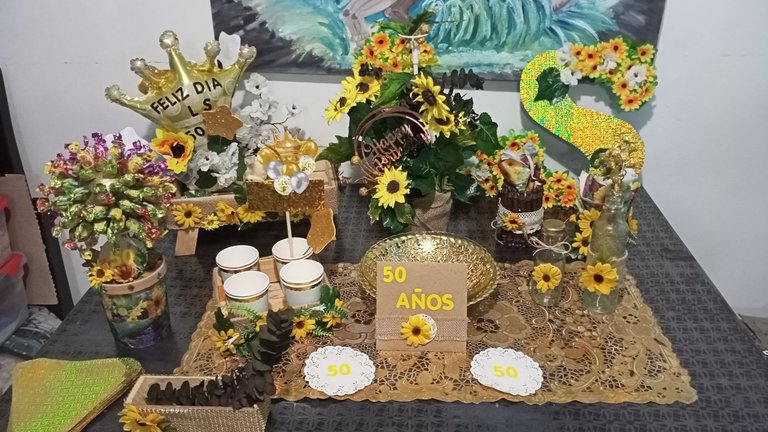 ---
El adorno del fondo esta hecho con una base de madera para colocar las frutas en el coloque una corona pequeña que me toco rellenar con espuma expandible porque ya no quería inflar ya que la había utilizado en varias ocasiones.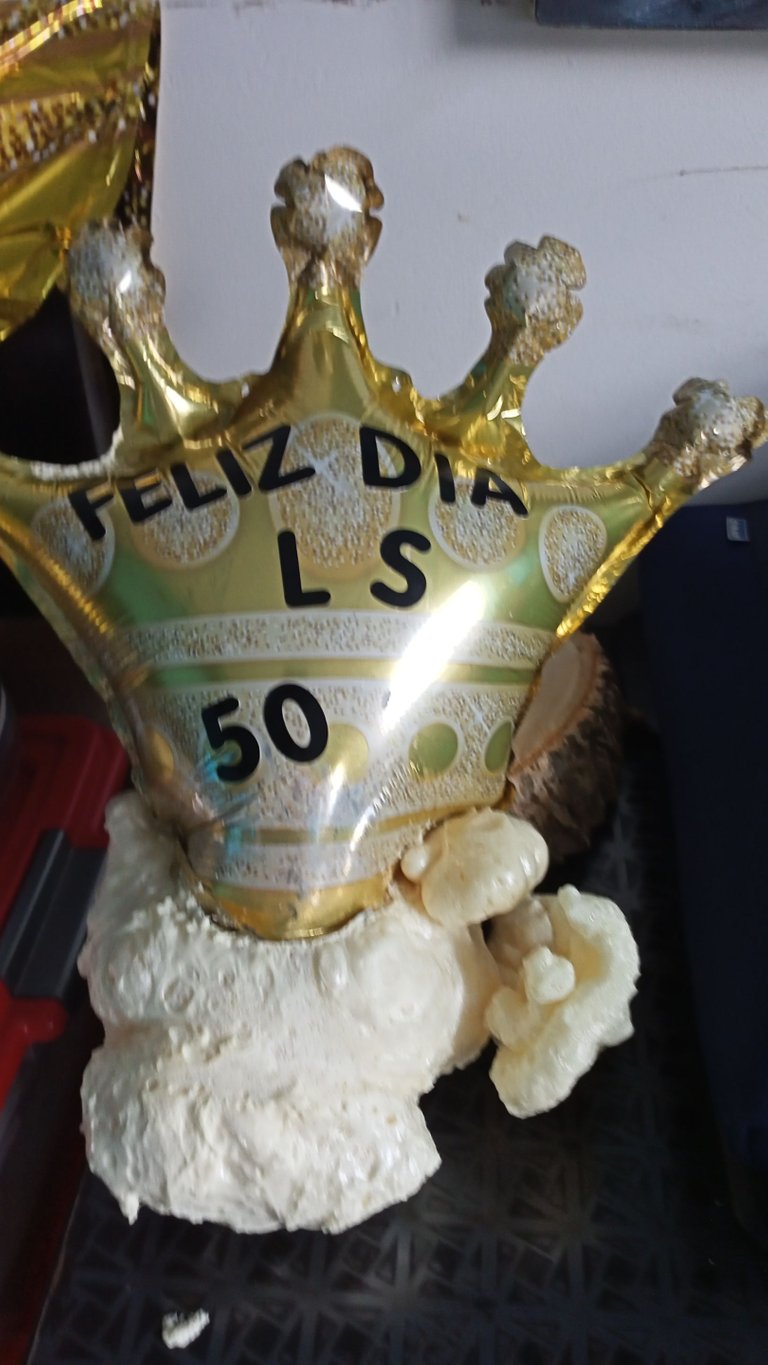 The bottom ornament is made with a wooden base to place the fruits in it. Place a small crown that I had to fill with expandable foam because I no longer wanted to inflate since I had used it on several occasions.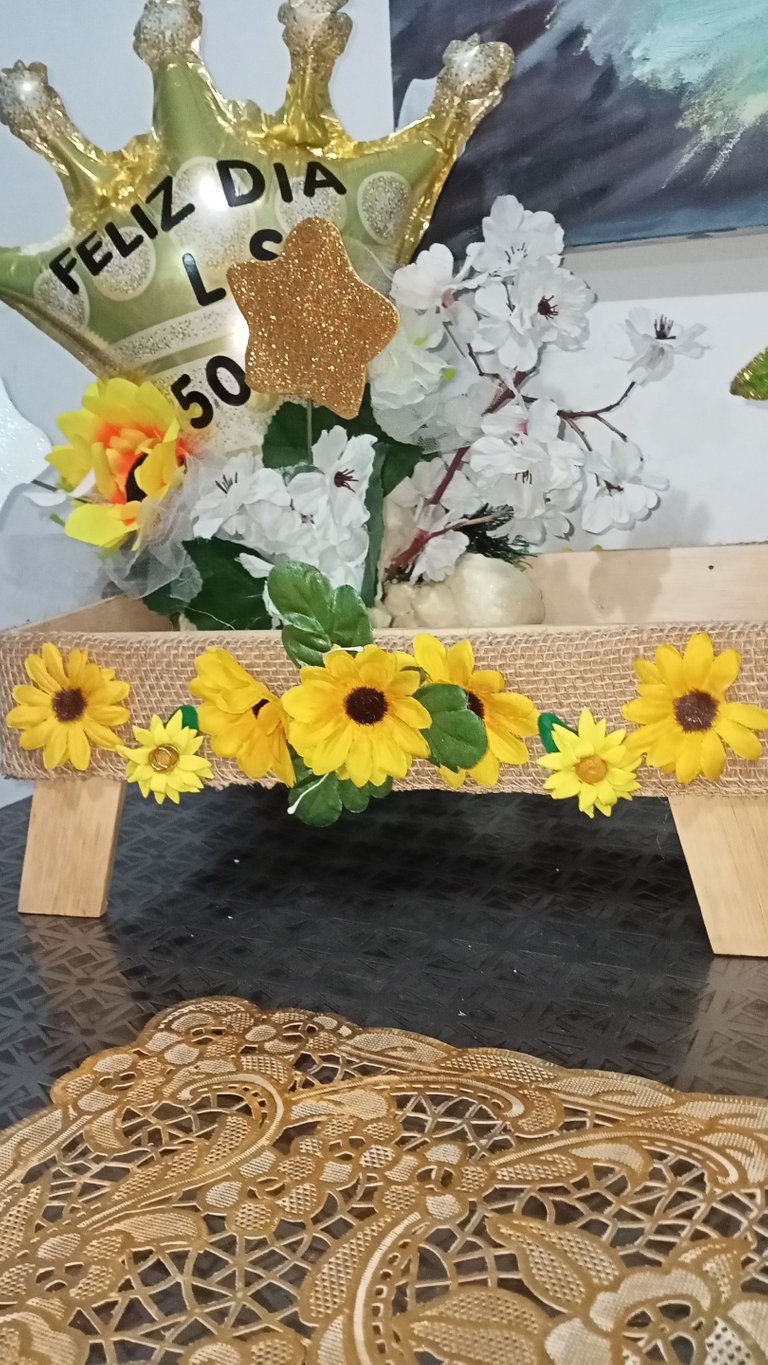 Específicamente les hablo de este adorno
I specifically speak to you about this ornament
---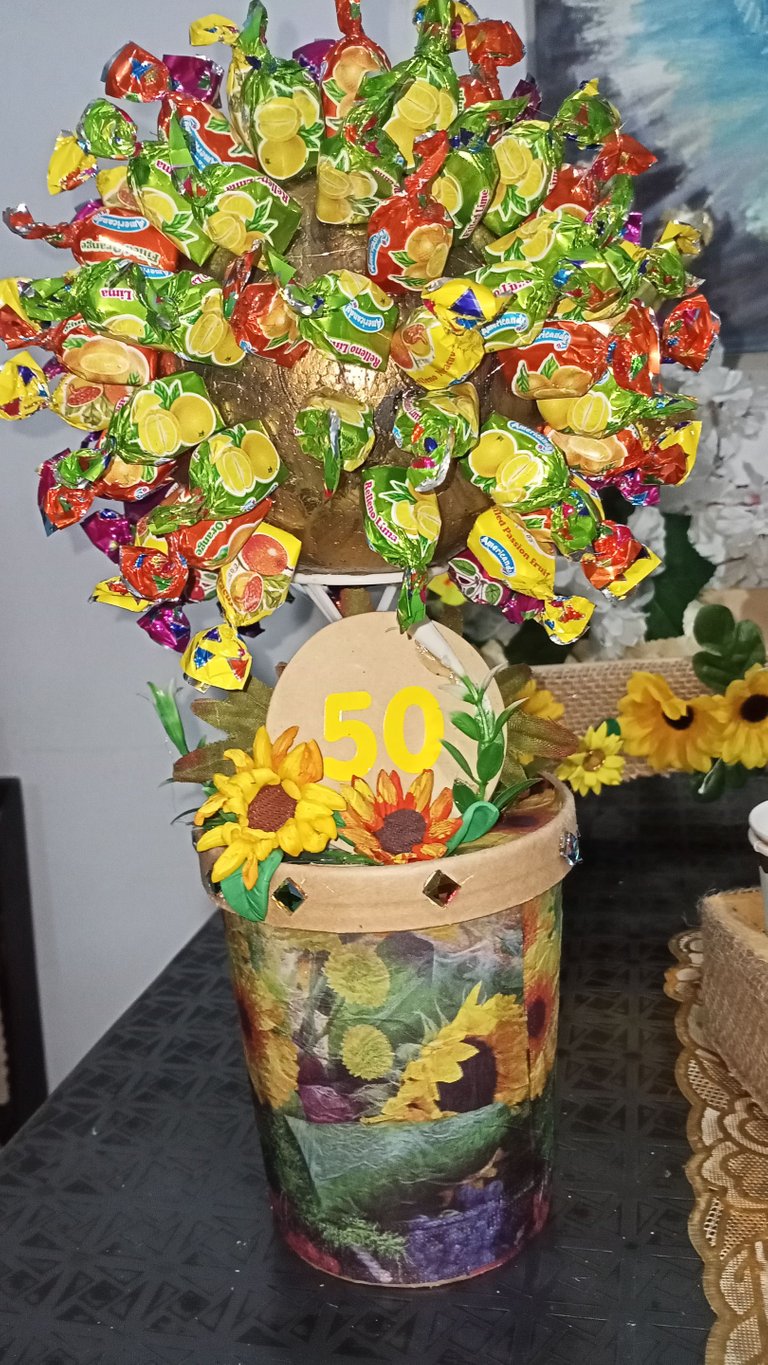 ---
Este topiario de golosinas lo realice con un envase de helado vegano de cartón, le coloque un porta globos doble y sobre el una bola de icopor #12 la cual pinte con vinilo dorado para luego pegar con silicona las golosinas, decore con una rueda de madera con el numero 50 y 2 girasoles de porcelanicron, en la tapa del envase coloque unos mini espejos como diamantes.
---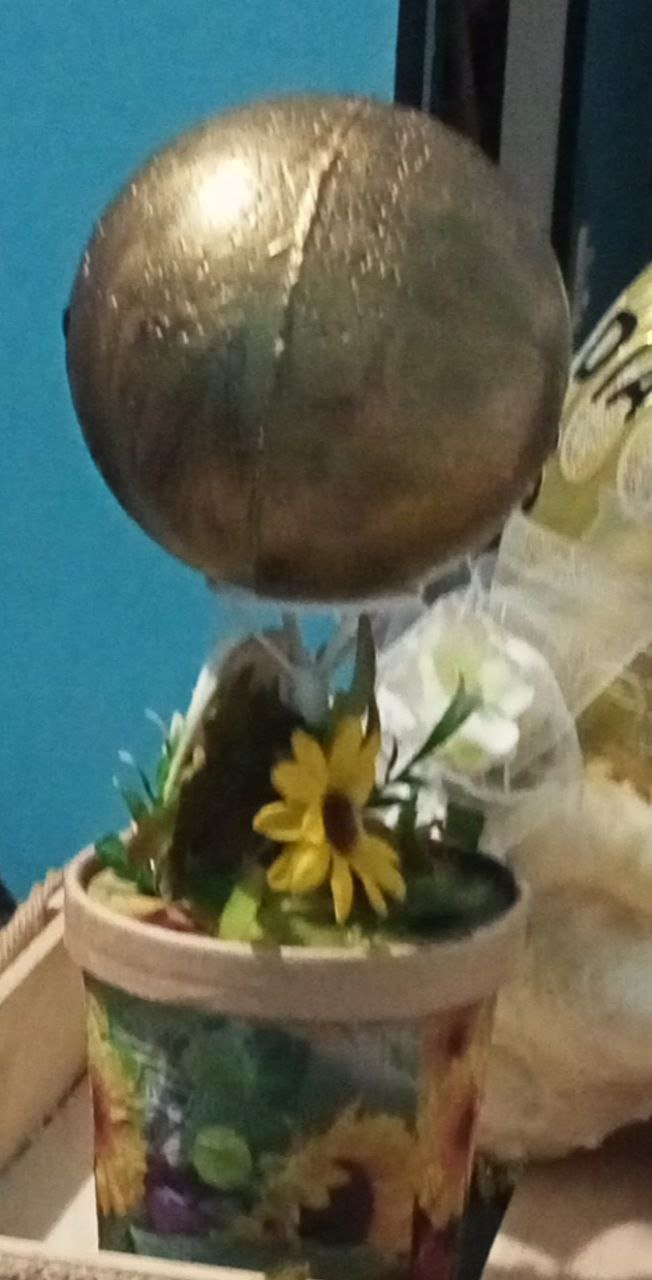 ---
I made this candy topiary with a vegan cardboard ice cream container, I placed a double balloon holder and on it a # 12 styrofoam ball which I painted with gold vinyl and then glued the candies with silicone, decorate with a wooden wheel with the number 50 and 2 sunflowers of porcelain, on the lid of the container place some mini mirrors like diamonds.
---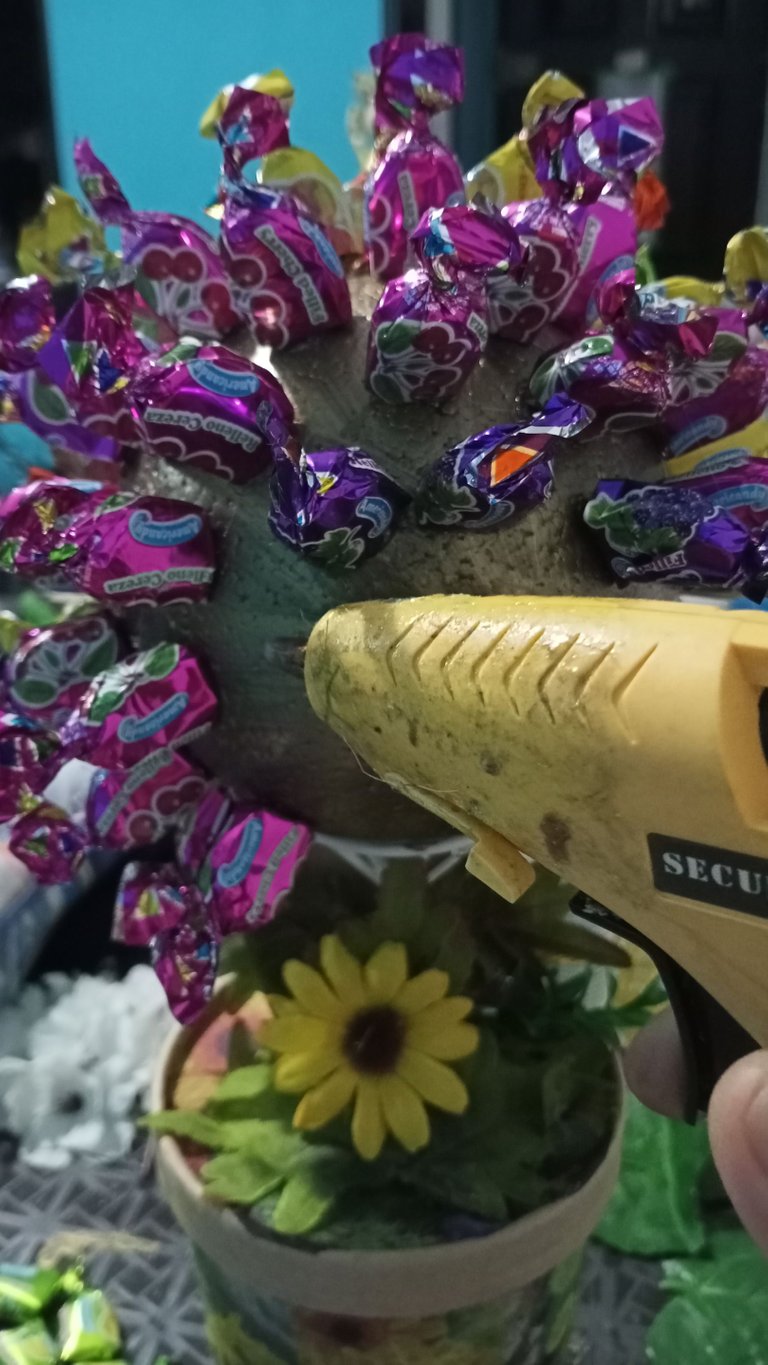 ---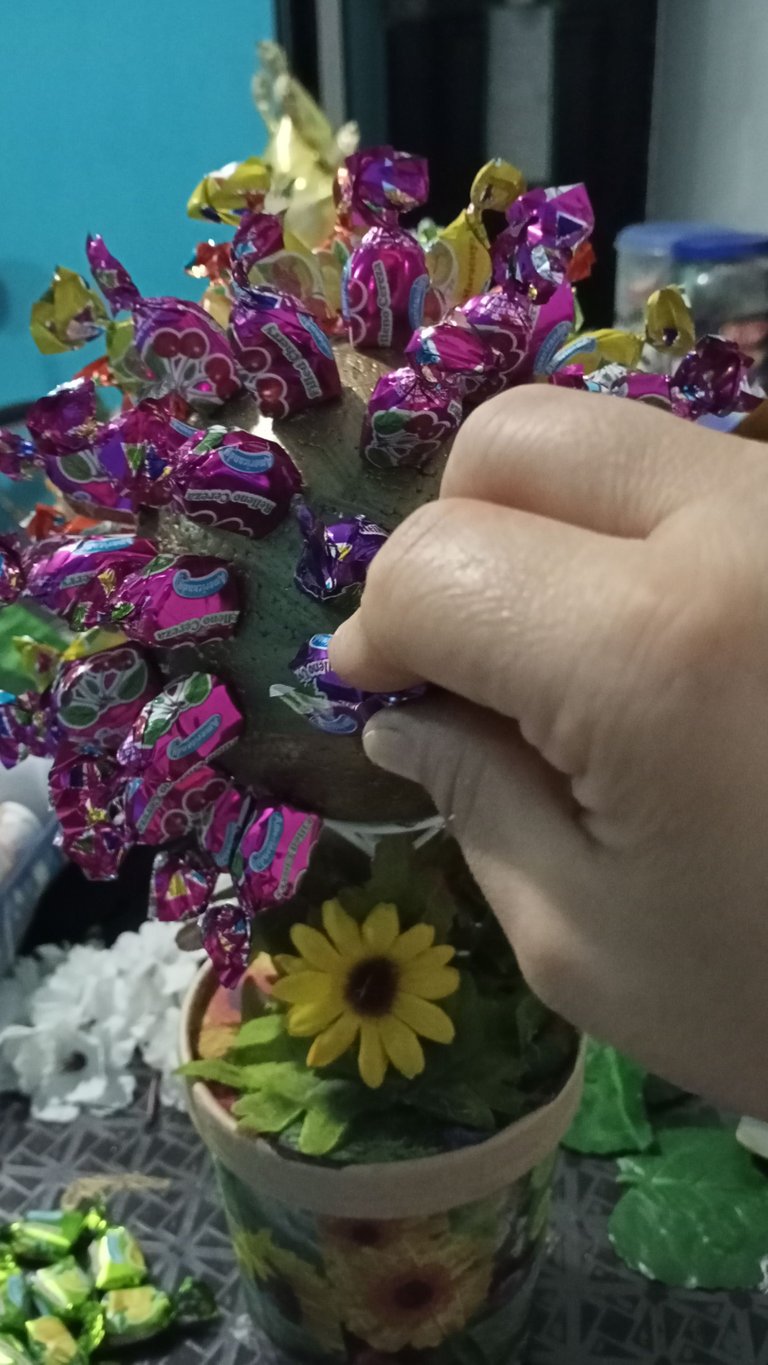 ---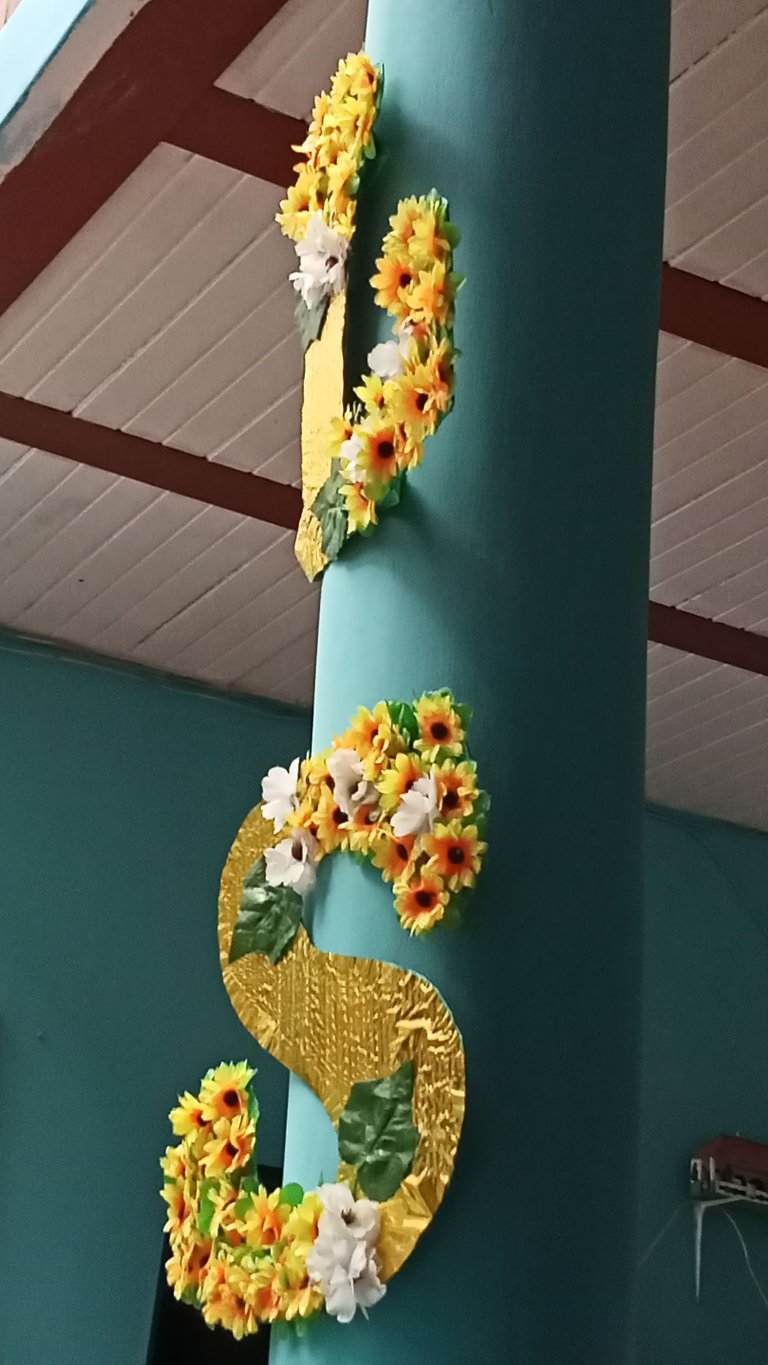 ---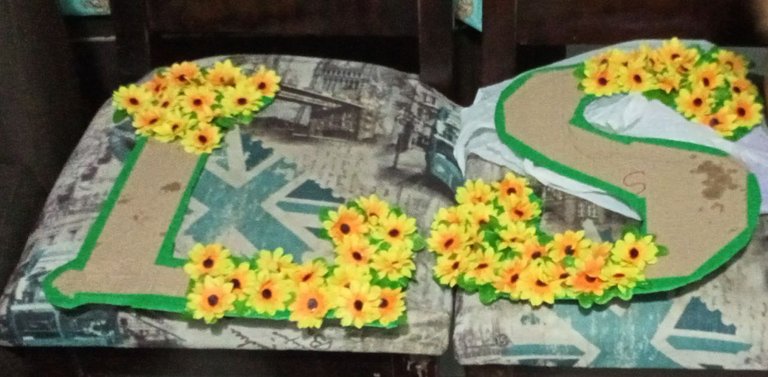 ---
Realice la iniciales del nombre de mi amiga con cartón cubrí los bordes con cinta verde de papel y a los extremos pegue girasoles sintéticos
I made the initials of my friend's name with cardboard, covered the edges with green paper tape and glued synthetic sunflowers to the ends
---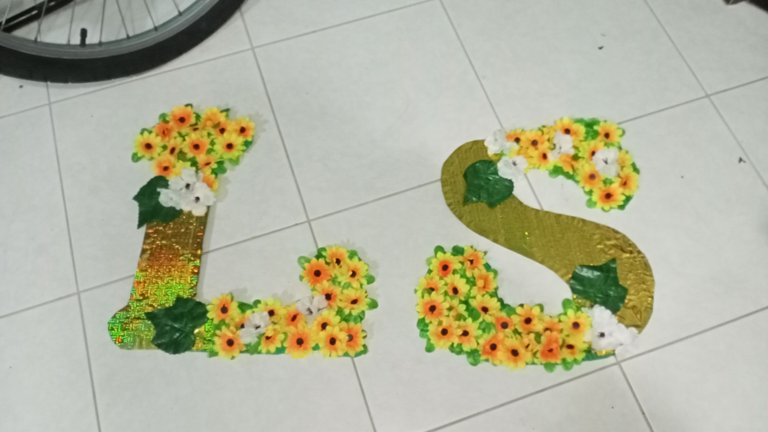 ---
Y cubrí el resto de cartón que se veía con papel dorado lo pegue con pegante en barra
And I covered the rest of the cardboard that was seen with gold paper, I glued it with glue stick
---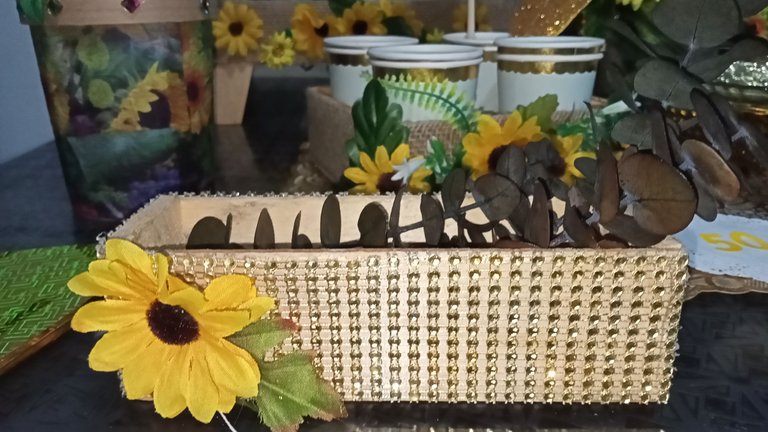 ---
Esta cajita de madera de dulces de guayaba la forre con una cinta de tela dorada y le pegue con silicona en una punta un girasol adentro le coloque una rama de eucalipto.
This wooden box of guava sweets is lined with a golden fabric ribbon and glued with silicone on one end of a sunflower, inside place a branch of eucalyptus.
---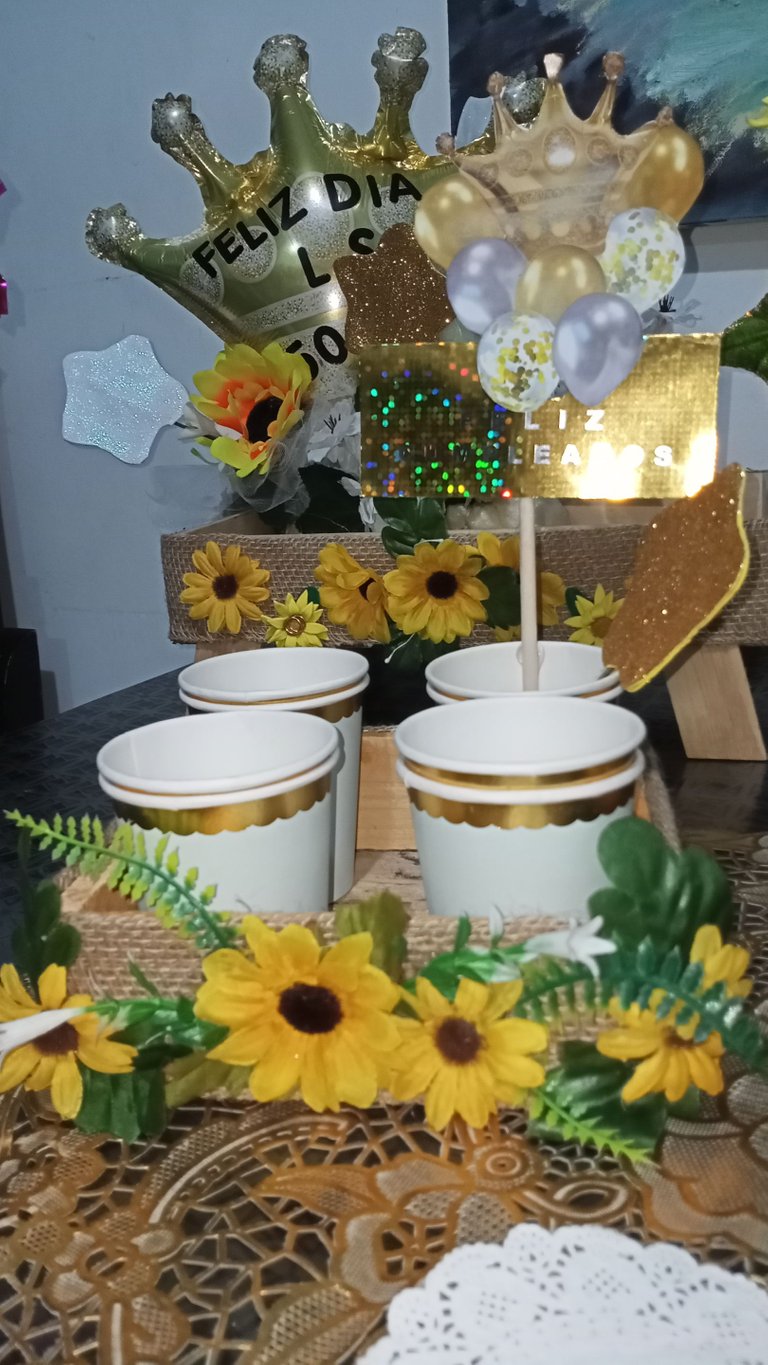 ---
Este adorno lo logre uniendo tres cajitas de dulces de guayaba, forre con yute y decore con girasoles dentro coloque vasos de cartón para ser llenados de golosinas o pasa bocas para los invitados.
This ornament is achieved by joining three boxes of guava sweets, line with jute and decorate with sunflowers inside place cardboard cups to be filled with sweets or snacks for the guests.
---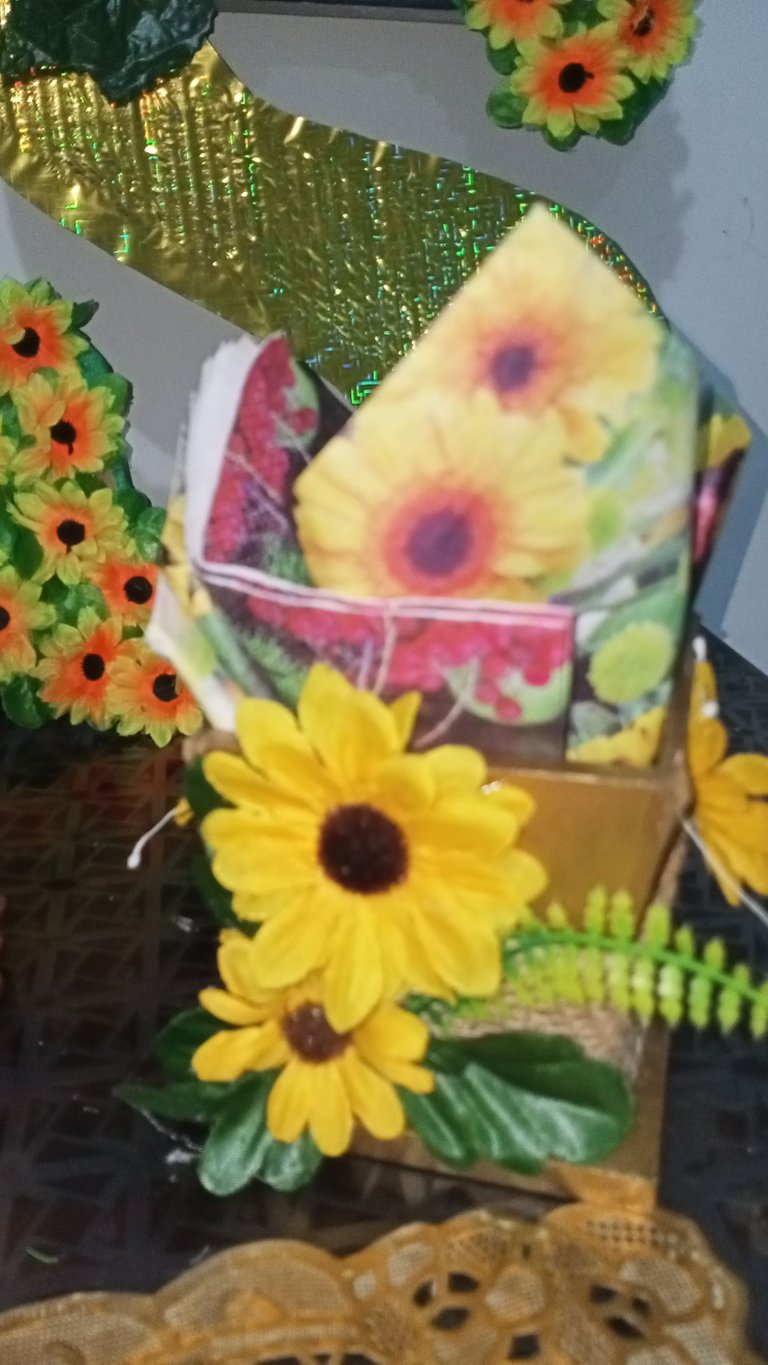 ---
Este es un organizador de lápices en madera lo forre con yute y le pegue un girasol dentro coloque las servilletas estampadas de girasoles.
This is a wooden pencil organizer line it with jute and stick a sunflower inside place the sunflower stamped napkins.
---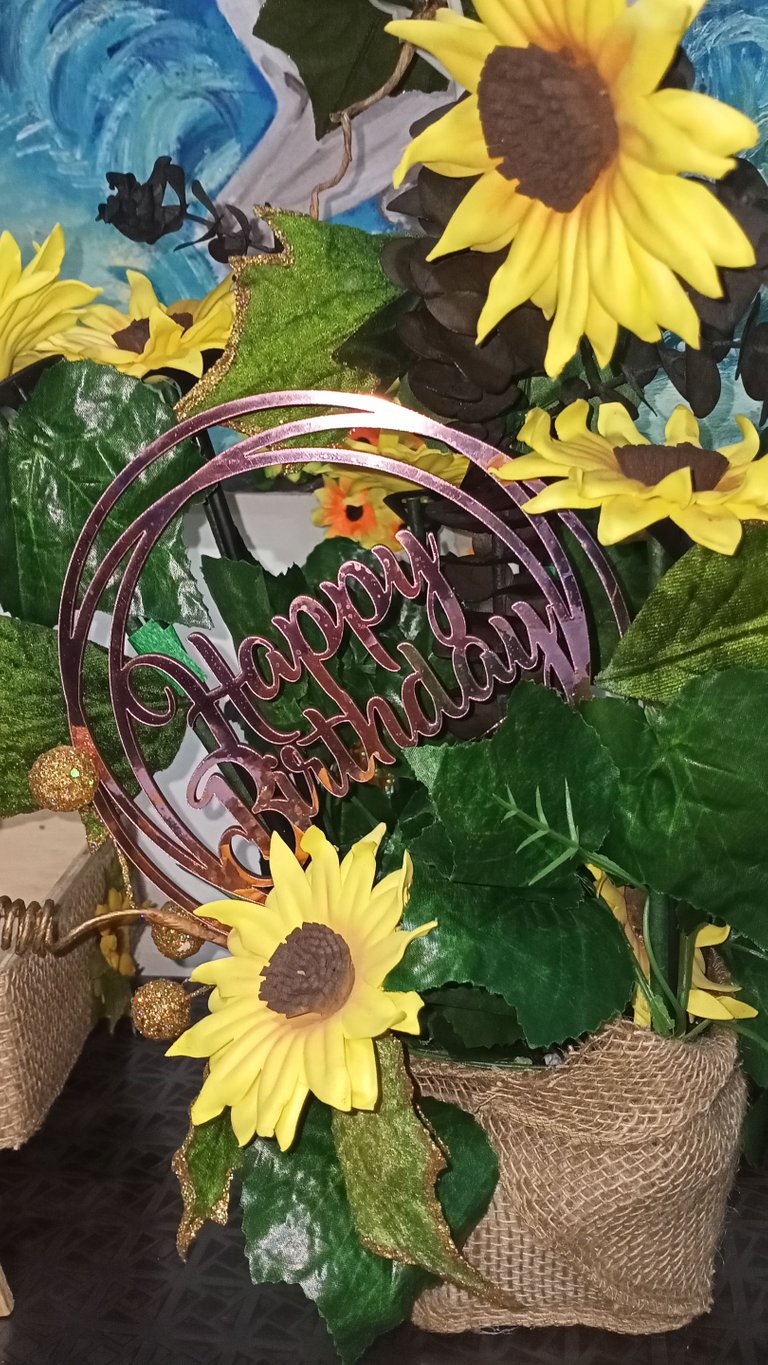 ---
Esta es la base porta globos de estuco que he utilizado en otras decoraciones con globos, en esta ocasión los decore con girasoles de fomi que yo misma hice, en otro post les estaré enseñando el paso a paso para hacerlos.
This is the stucco balloon holder base that I have used in other decorations with balloons, this time I decorated them with fomi sunflowers that I made myself, in another post I will be showing you the step by step to make them.
---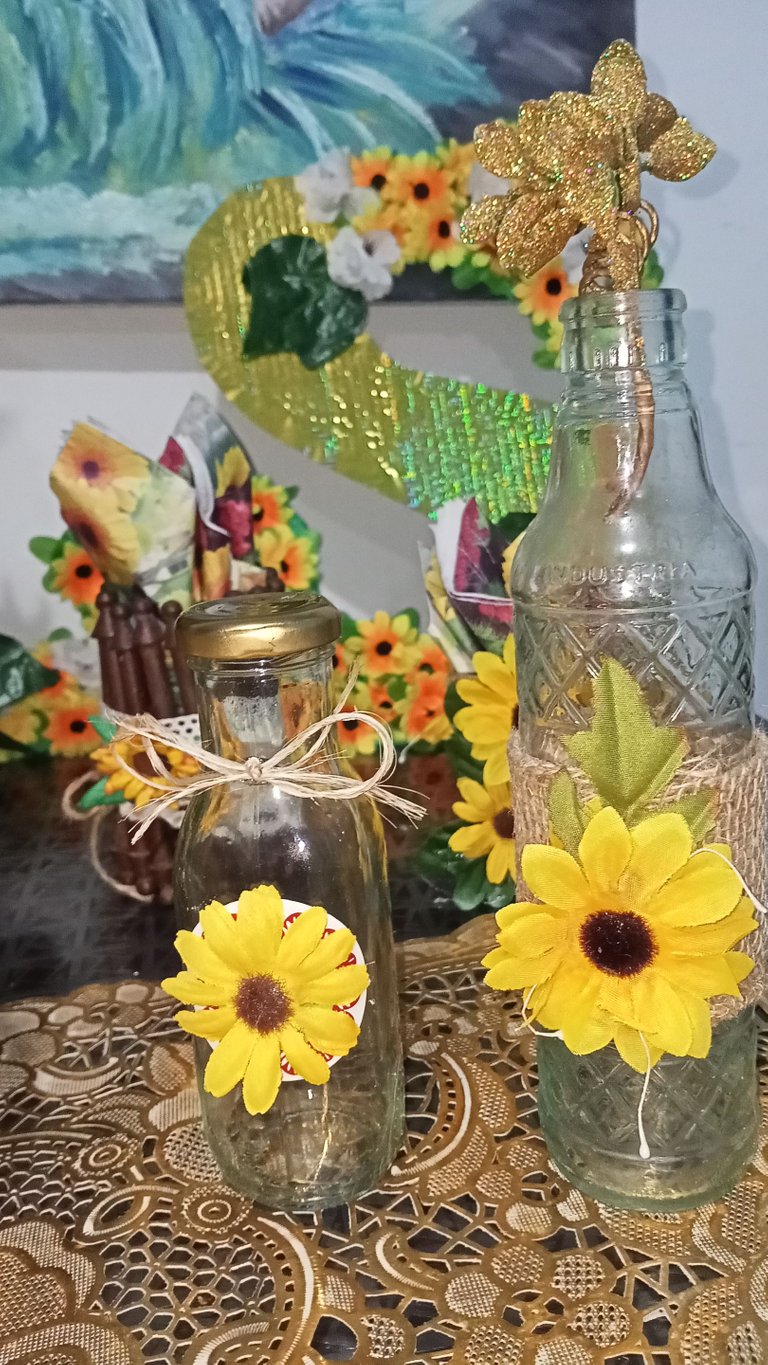 ---
La botella mas grande es de miel de abeja, la decore con yute y un girasol, la mas pequeña era de un jugo de frutos rojos la decore con un lazo de cabuya y un girasol.
The largest bottle is made of honey, I decorated it with jute and a sunflower, the smallest was made of a red fruit juice I decorated it with a bow of cabuya and a sunflower.
---
---
Este es una carpeta de papel a la cual le coloque el numero 50 adhesivo.
This is a paper folder to which I will stick the number 50 sticker.
---
In fact, it is simple and inexpensive, making your imagination fly and taking advantage of materials at home to reuse.
A si de sencillo y económico haciendo volar la imaginación y aprovechando materiales en casa para reutilizar.

---
---
#hivediy #diy #ocd #posh #spanish #english #neoxian #mih #cervantes #manualidades