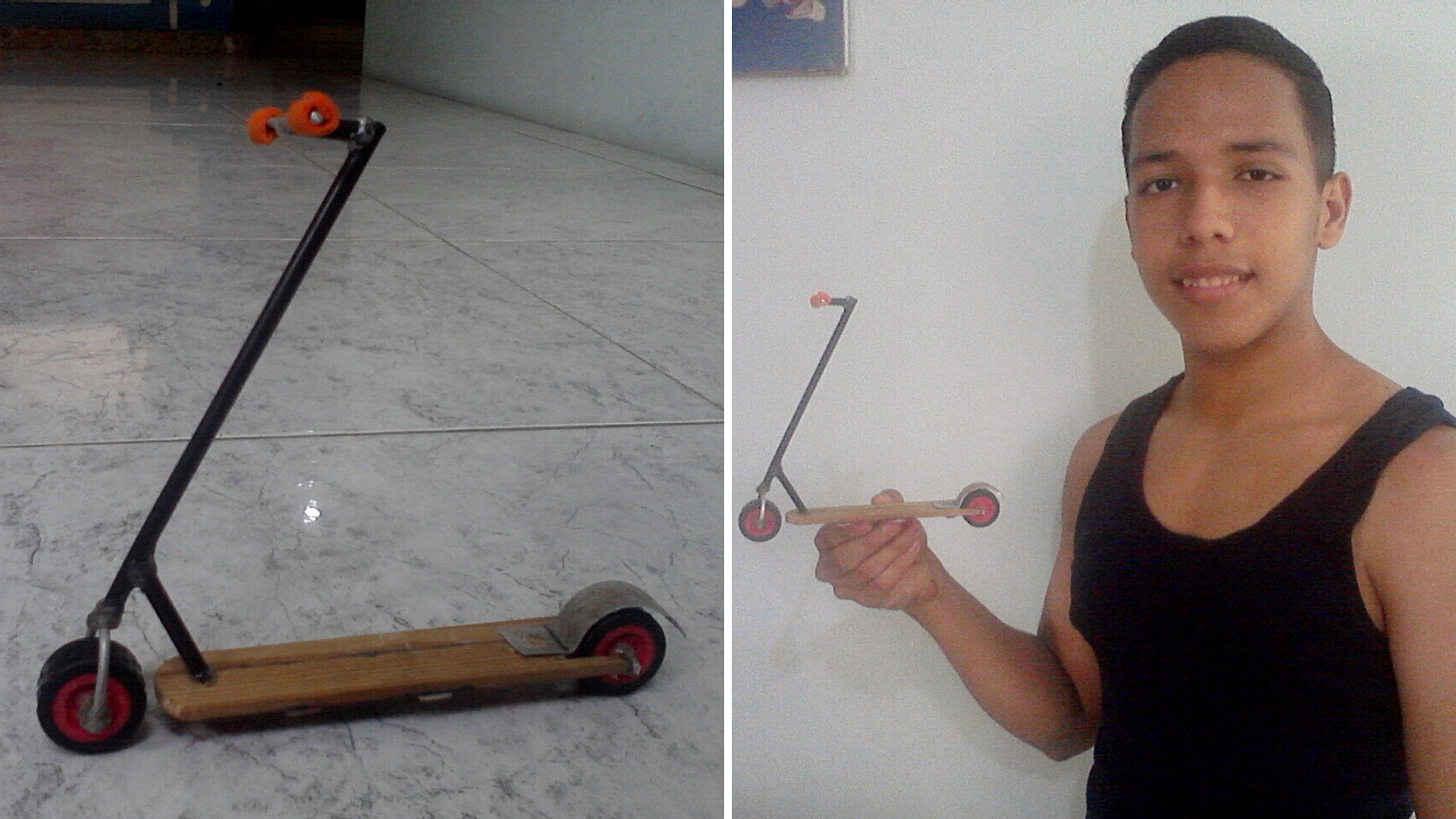 Hola familia Hive, feliz de estar otra vez compartiendo con ustedes, hoy les traigo una bella creatividad que realicé, un mini-monopatín, espero les guste. Comencemos.
Hello Hive family, happy to be sharing with you again, today I bring you a beautiful creativity that I made, a mini skateboard, I hope you like it. Let's start.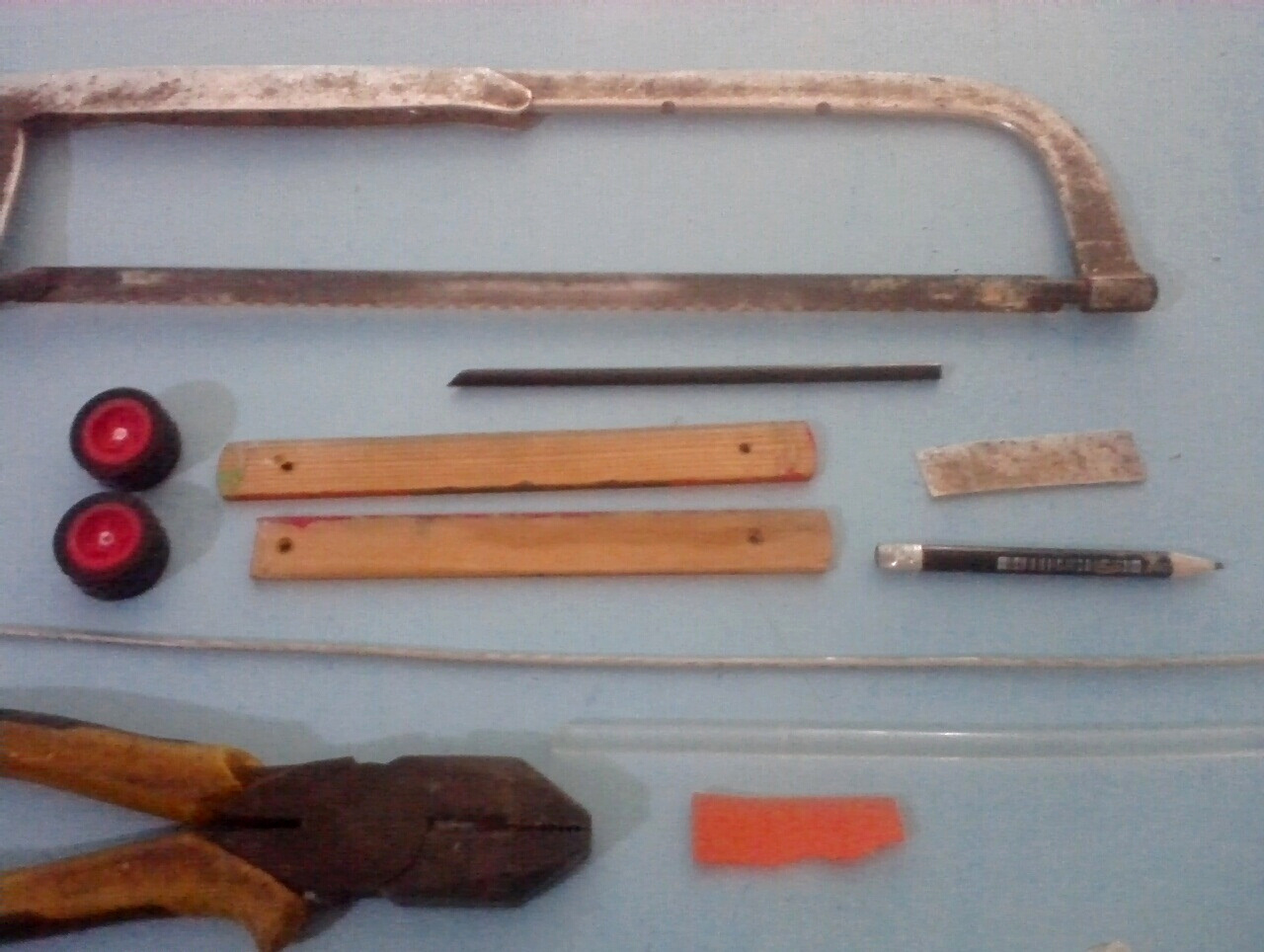 Español
Materiales:
(1) paleta de madera.
(2) rueditas re-utilizable.
(1) varilla de aluminio.
(1) palillo de altura plástico color negro.
Alicate.
Segueta.
Silicon en barra.
Un pedacito de foami color naranjado.
Lápiz.
Un pedacito de lamina de aluminio.
English
Materials:
(1) wooden paddle.
(2) re-usable casters.
(1) aluminum rod.
(1) black plastic height stick.
Pliers.
Reamer.
Silicon bar.
A piece of orange colored foami.
Pencil.
A piece of aluminum foil.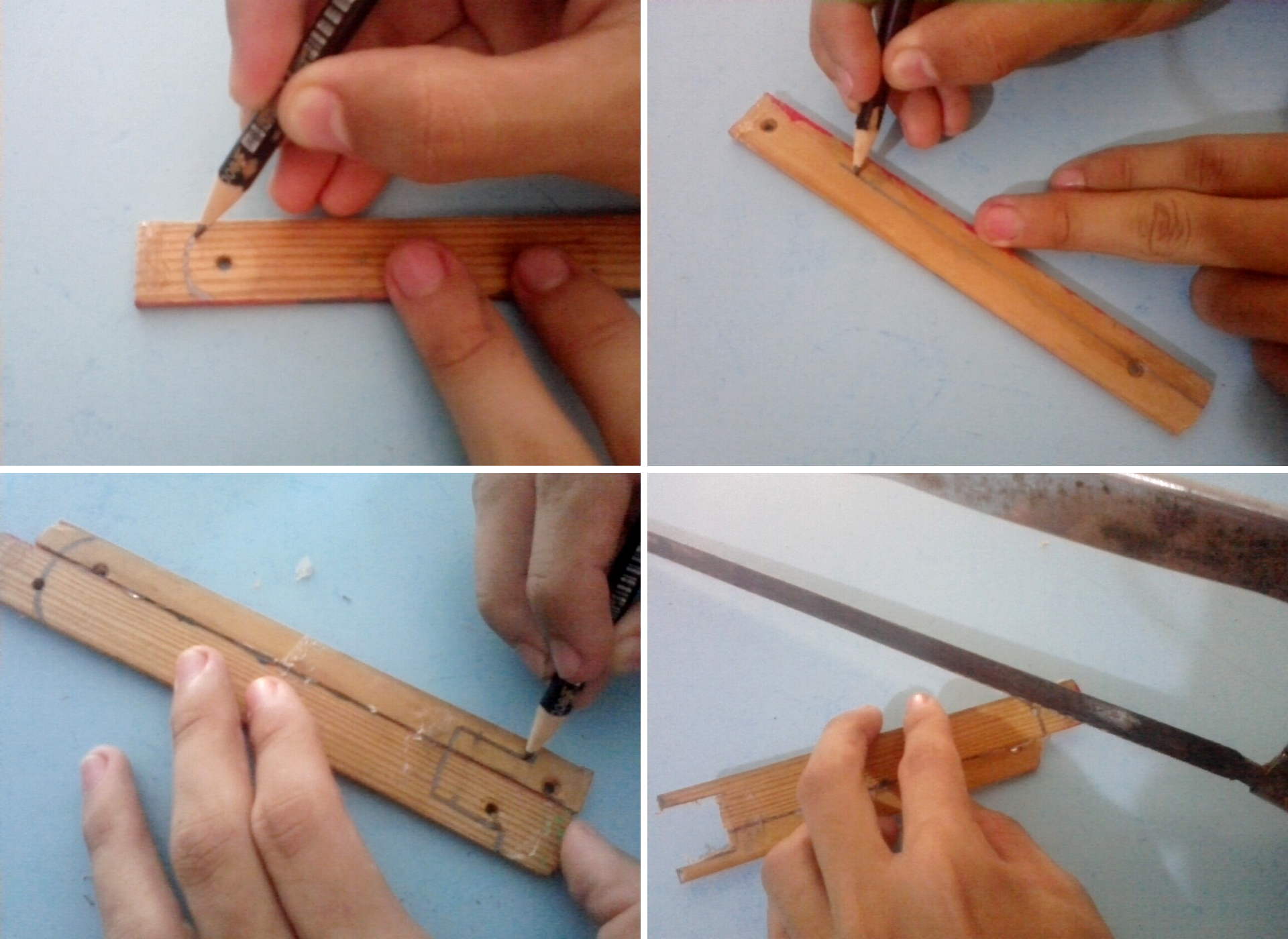 Español
Paso 1 :
Tomamos la paleta de madera, marcamos con el lápiz en forma circular y después marcamos una linea de un lado a otro, ahora cortamos con la segueta donde realizamos las marcas.
English
Step 1 :
We take the wooden palette, we mark with the pencil in a circular shape and then we mark a line from one side to the other, now we cut with the saw where we made the marks.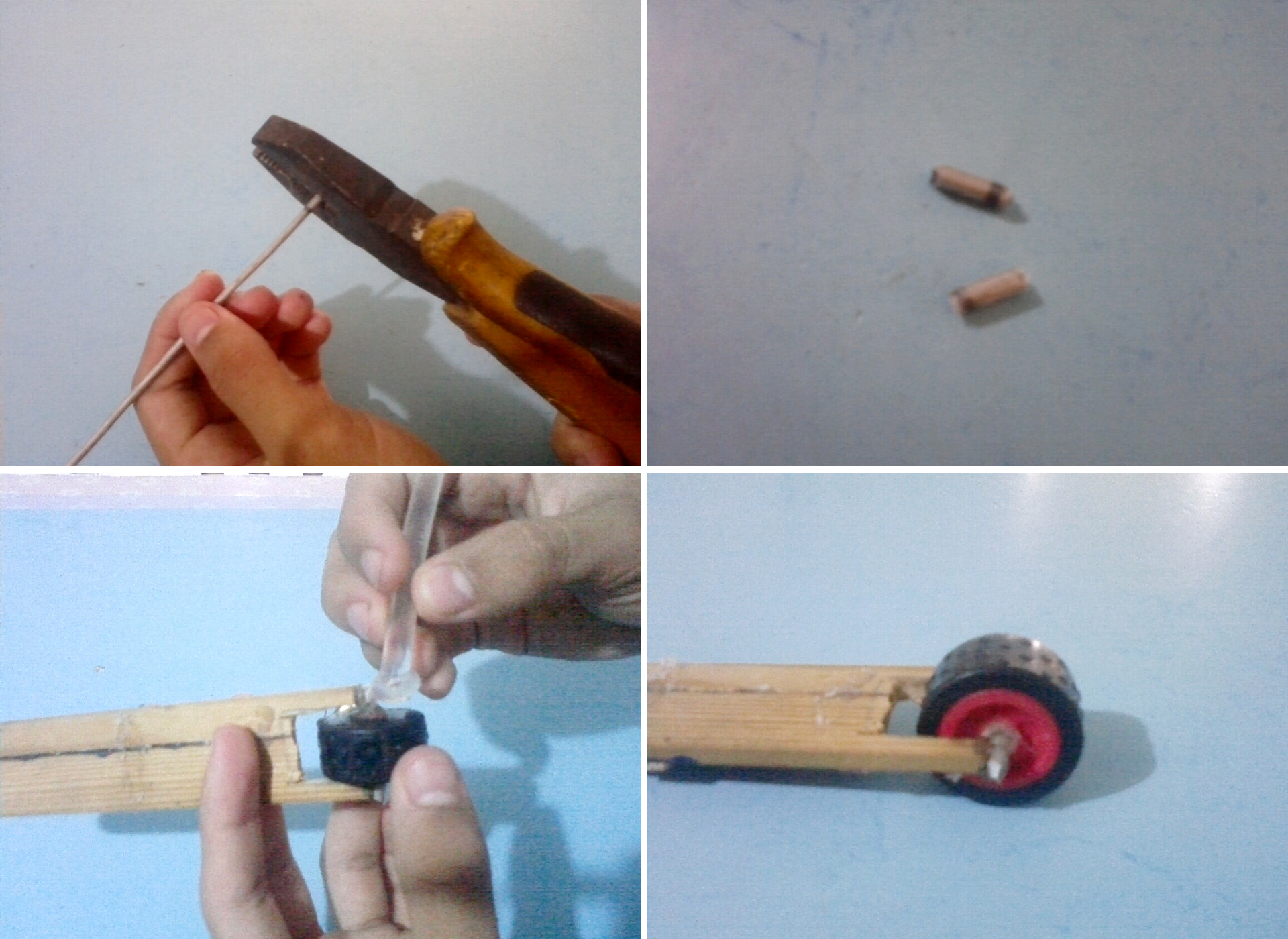 Español
Paso 2:
Después que recortamos la madera, cortamos con el alicate (2) pedacitos de la varilla de aluminio para introducirla en las dos ruedas, y pegarla a la paleta de madera.
English
Step 2:
After we cut the wood, we cut with the pliers (2) small pieces of the aluminum rod to insert it in the two wheels, and glue it to the wooden paddle.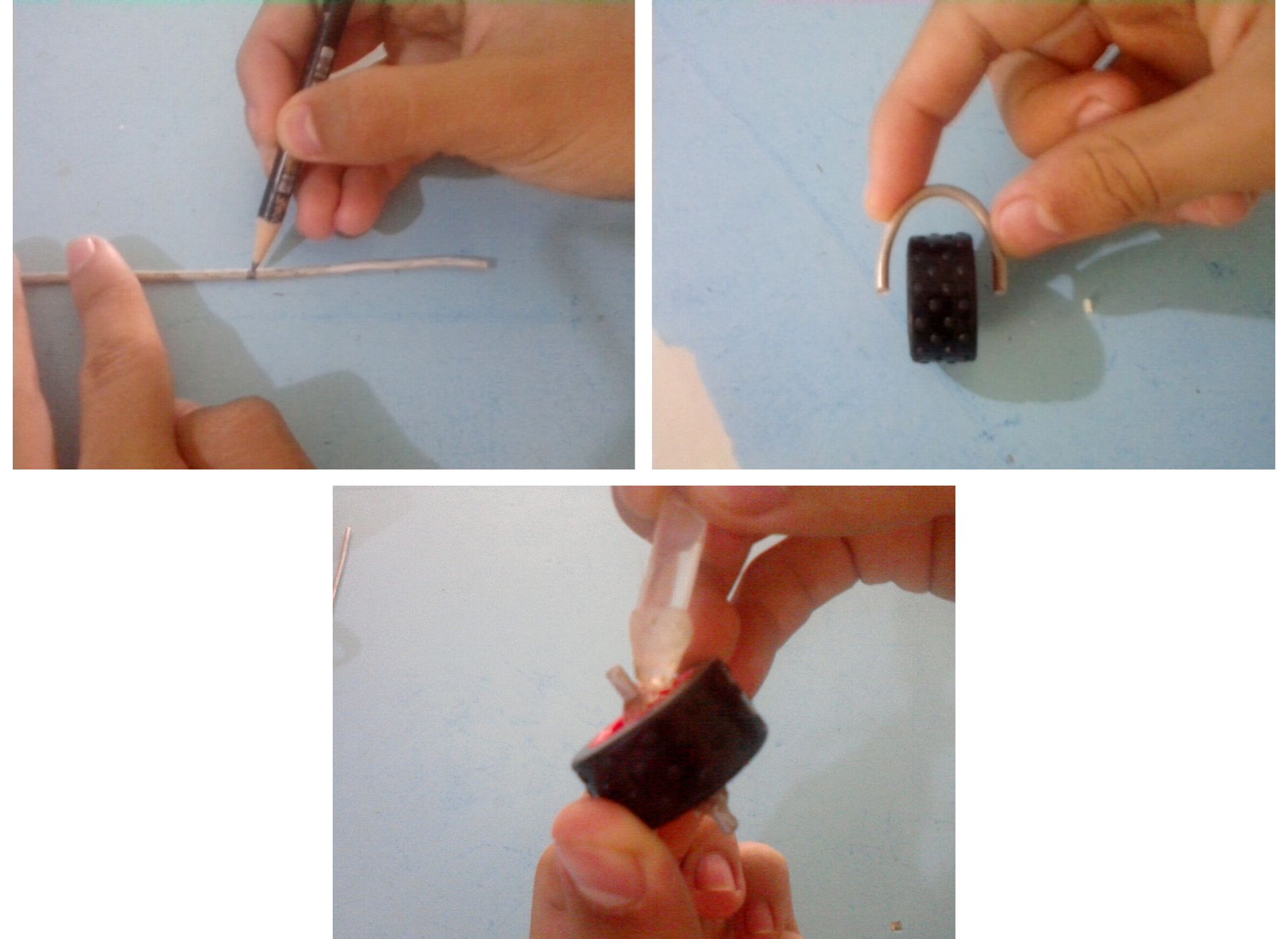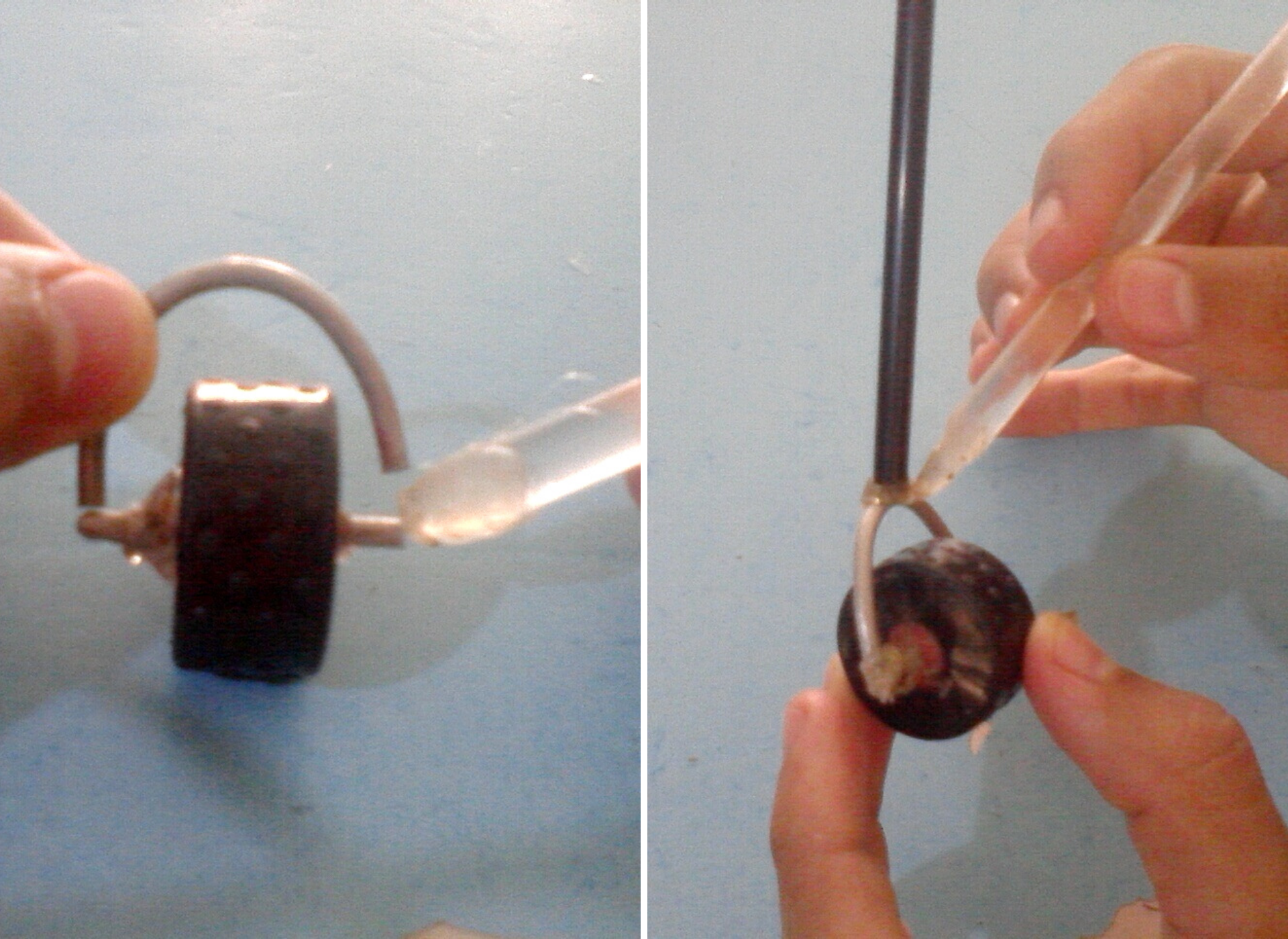 Español
Paso 3:
Ahora cortamos otro pedacito de la varilla de aluminio le hacemos un pequeño dobles para pegarlo a la rueda delantera del monopatín, después pegamos el palillo de altura de plástico de la varilla de aluminio que esta semi doblada en la rueda.
English
Step 3:
Now we cut another small piece of the aluminum rod and make a small bend to glue it to the front wheel of the skateboard, then we glue the plastic height stick of the aluminum rod that is semi-bent on the wheel.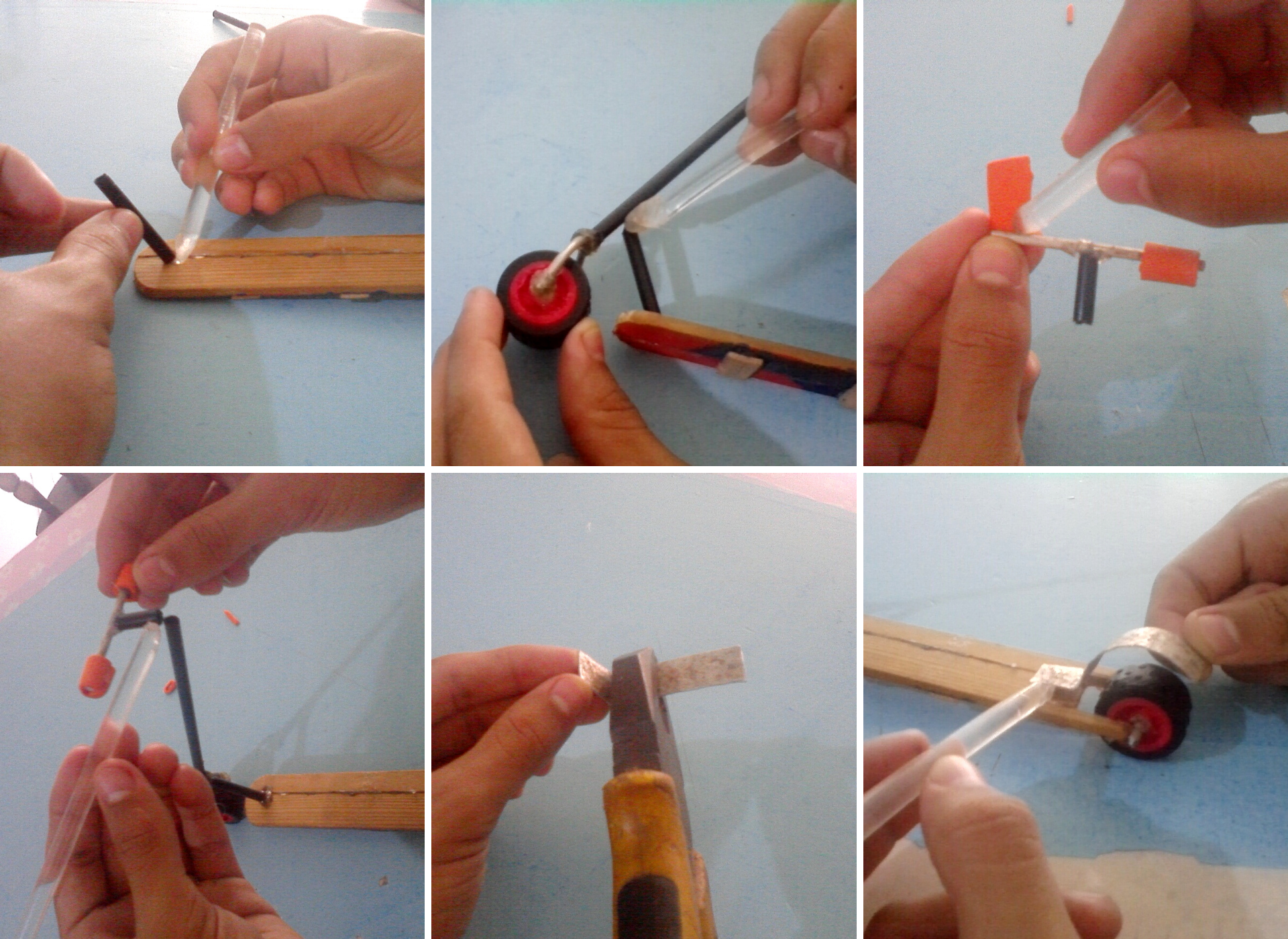 Español
Paso: 4
En este último paso pegamos la rueda delantera con un soporte encima de la madera, luego elaboramos el manubrio del monopatín con un trocito de varilla de aluminio y con dos pedacitos de foami naranjado uno de cada lado, después con el alicate doblamos la laminita de aluminio y la pegamos encima de la rueda trasera, para así terminar con el monopatín.
English
Step: 4
In this last step we glue the front wheel with a support on top of the wood, then we make the handlebar of the skateboard with a small piece of aluminum rod and two pieces of orange foami one on each side, then with the pliers we fold the aluminum sheet and glue it on top of the rear wheel, to finish with the skateboard.

Así quedo el resultado final.
This is the final result.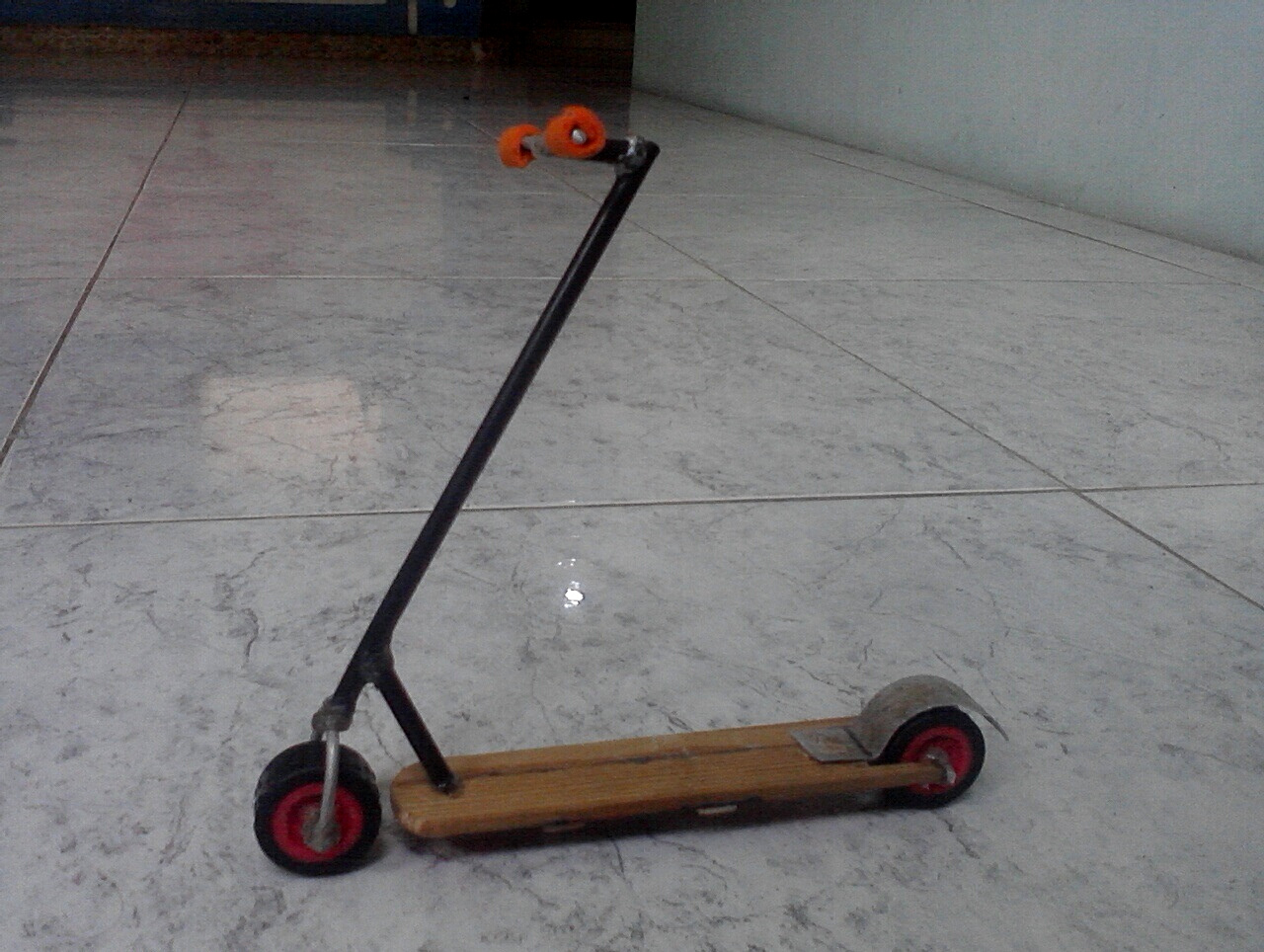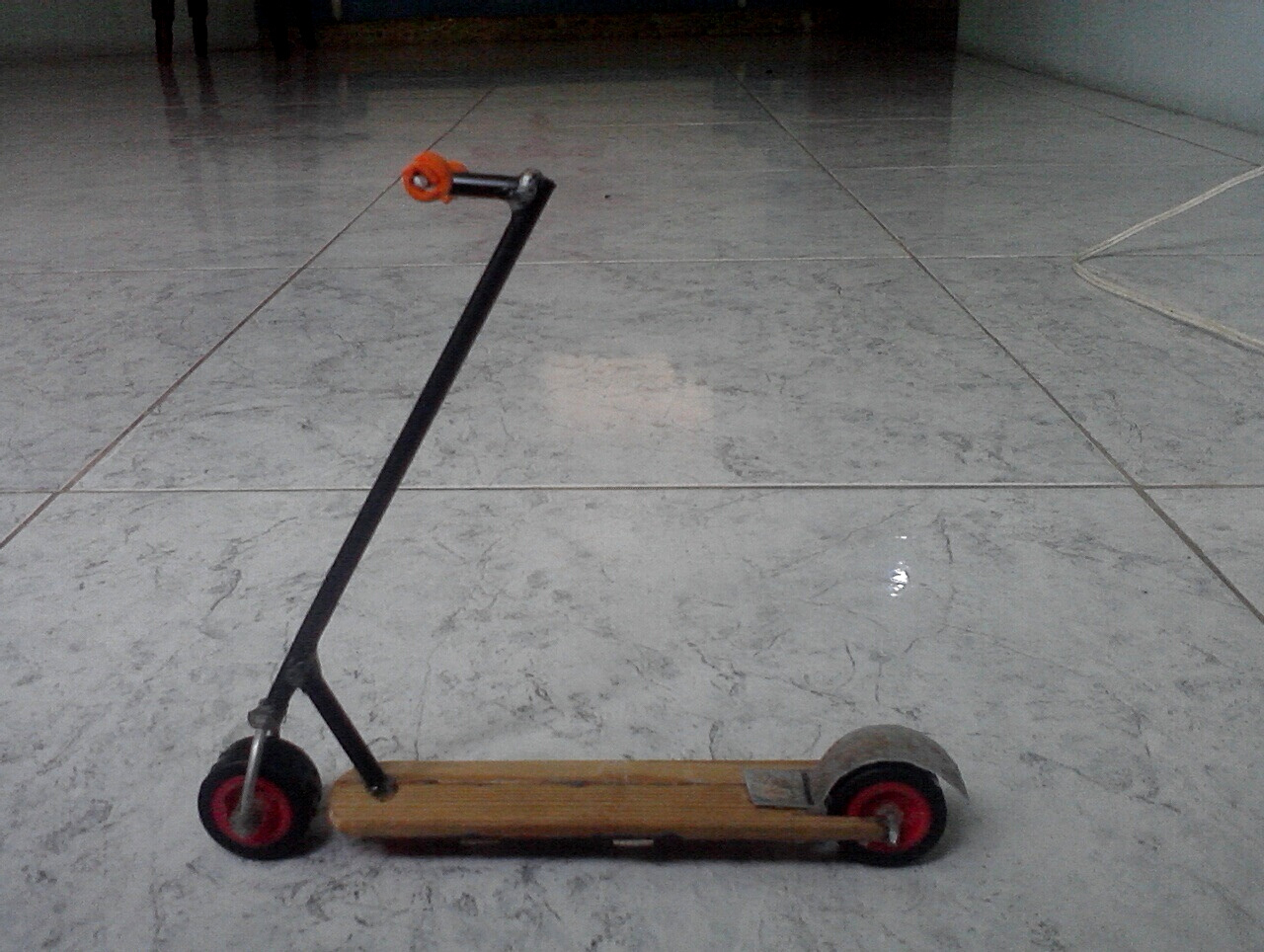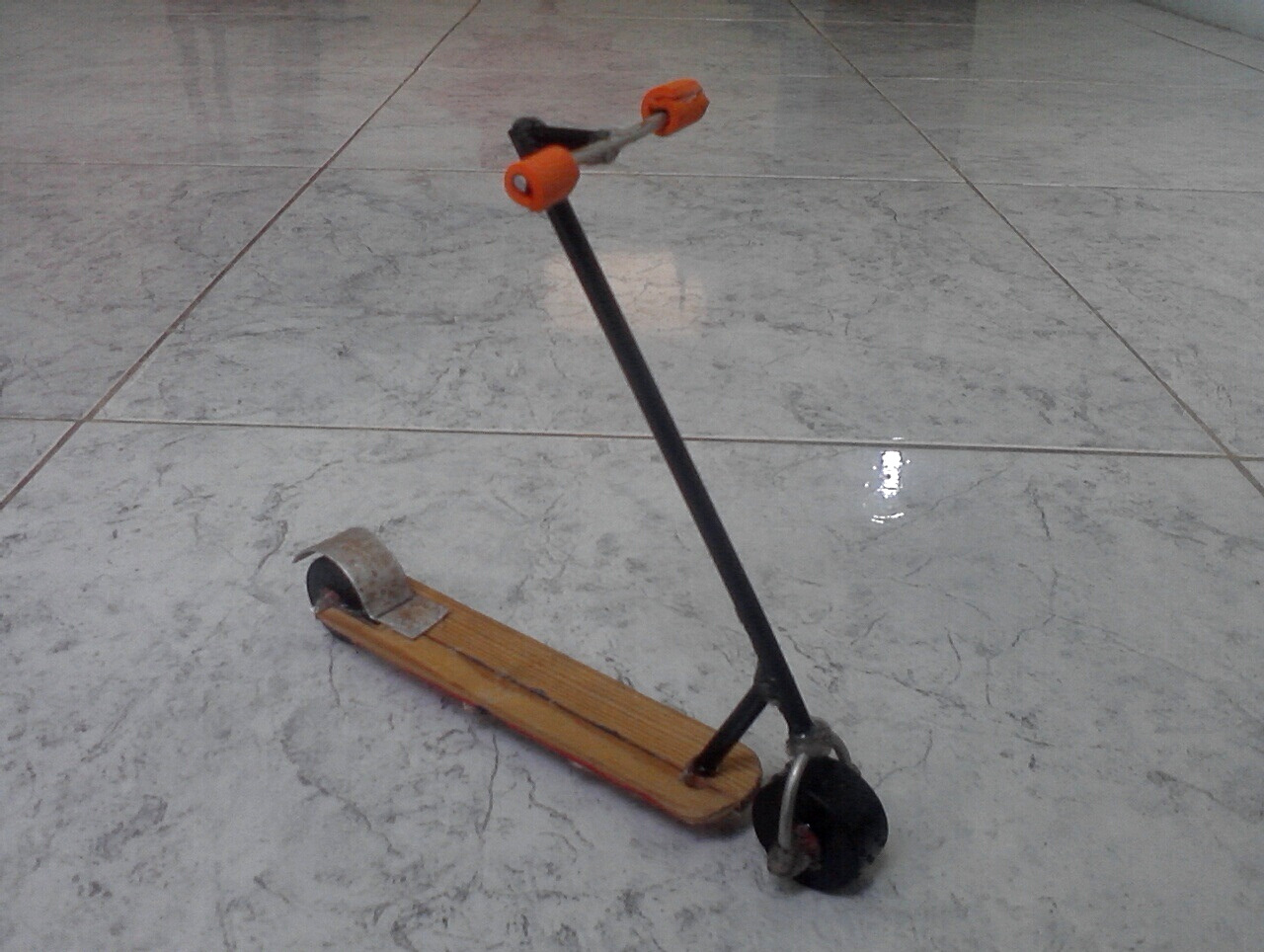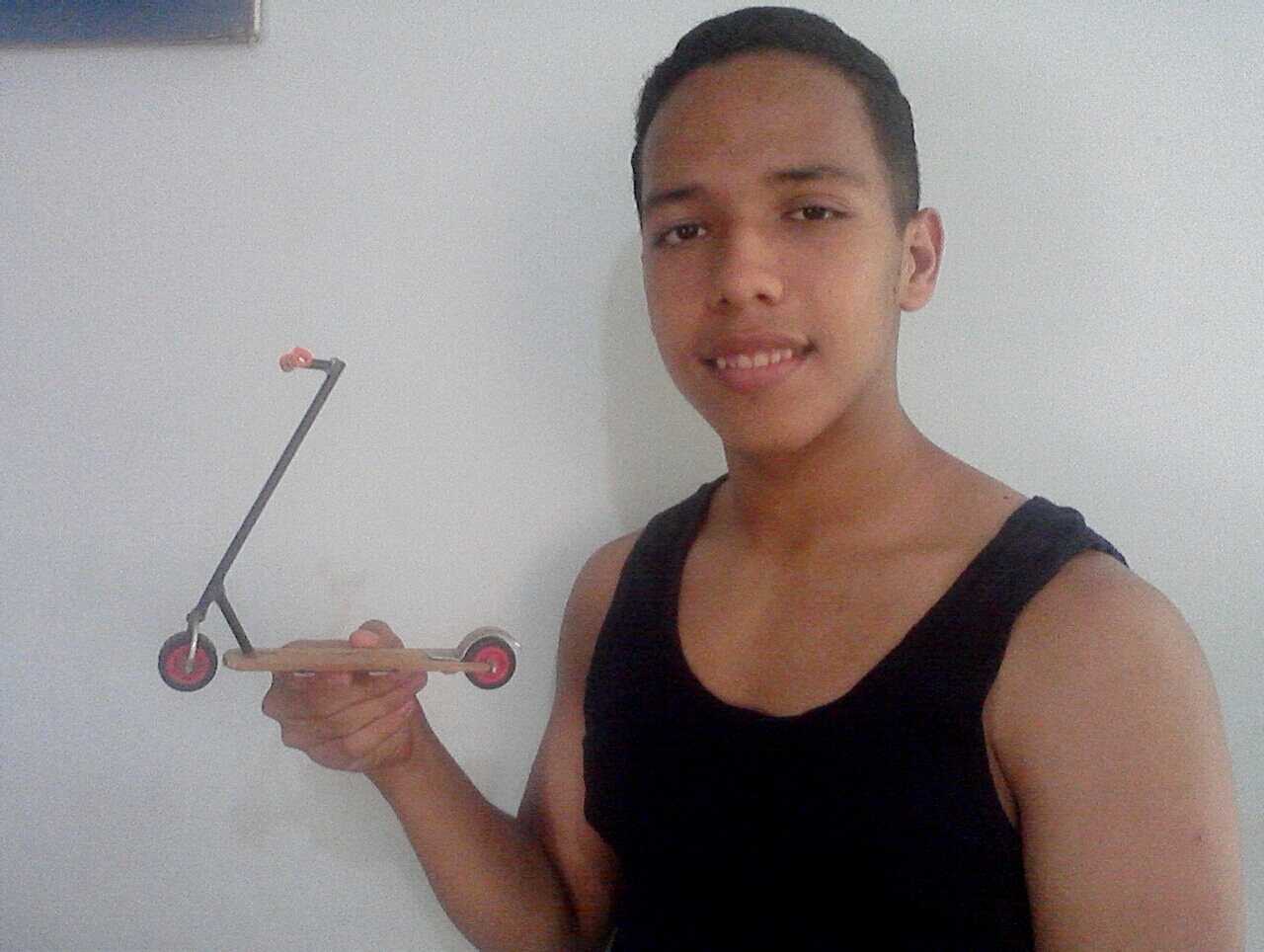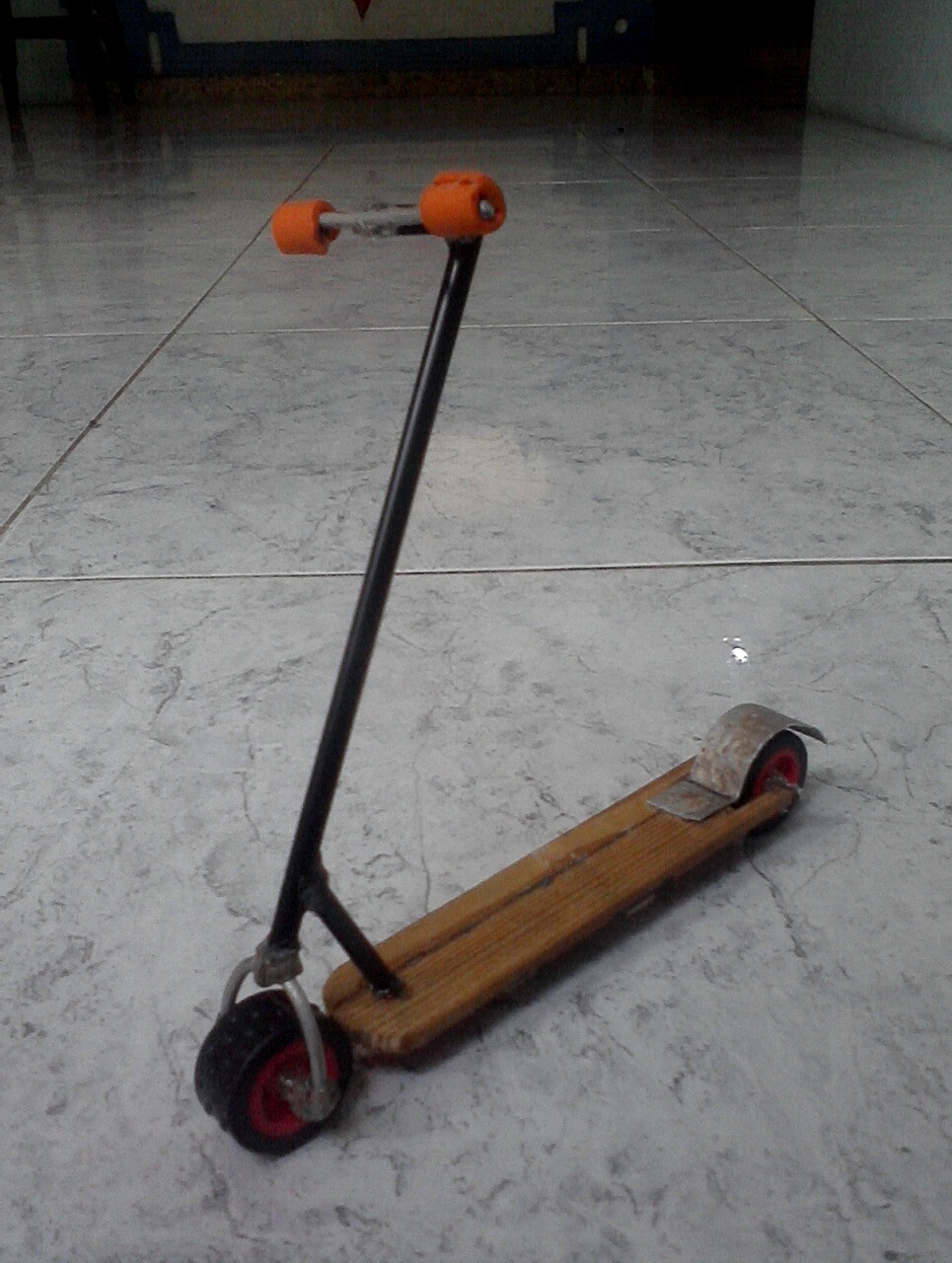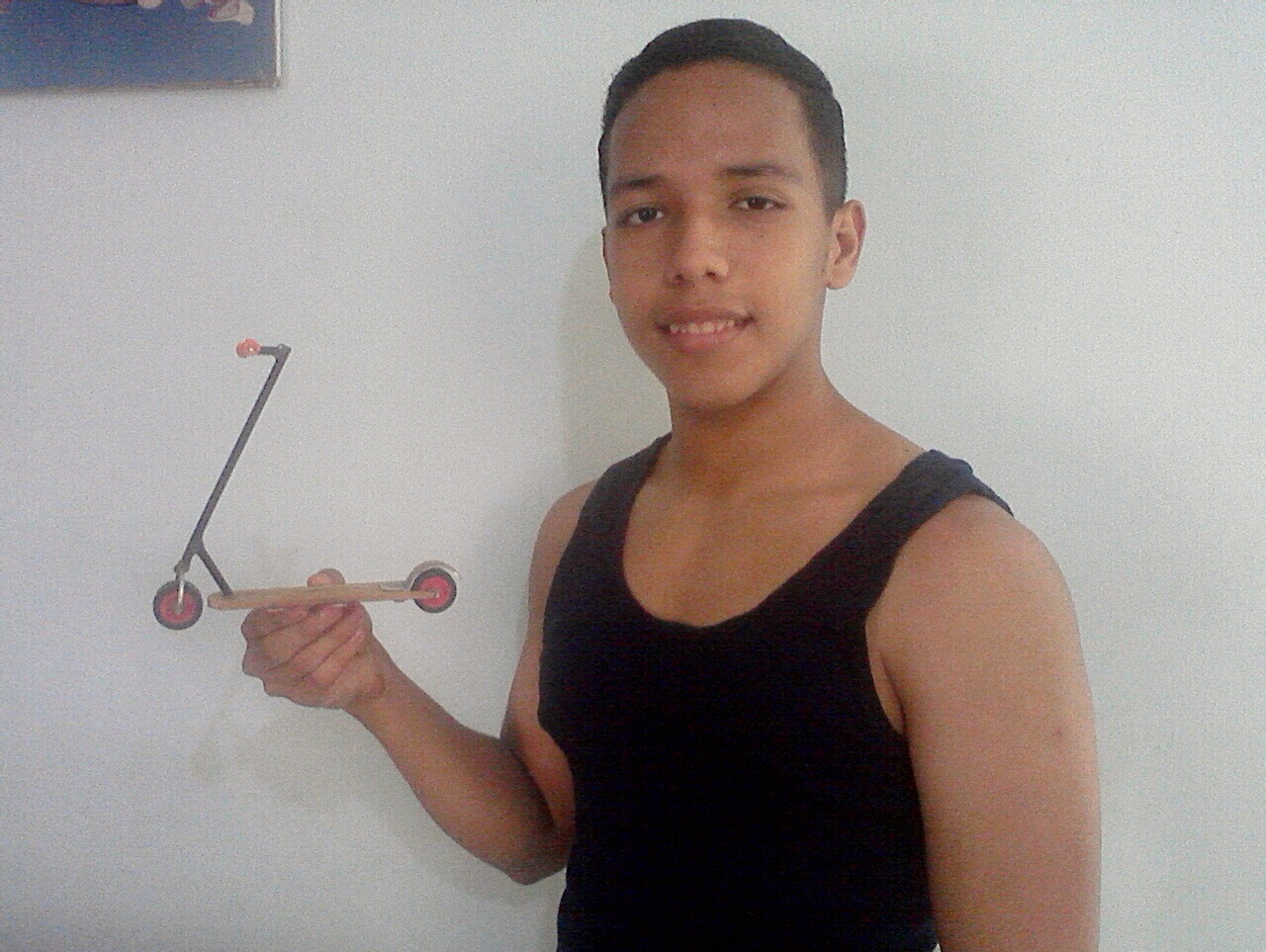 Todas las fotos son de mi autoria y editadas con canva.
All photos are my own and edited with canva.