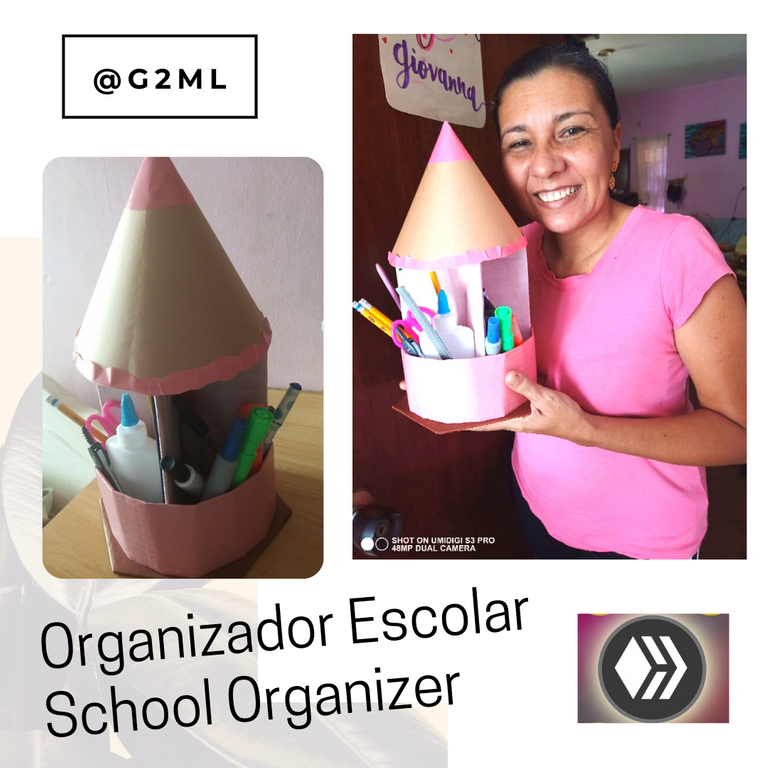 ---
Mis saludos cordiales para todos. Siempre pienso en hacer cosas útiles para mi hogar o para regalar o decorar. Cuando colocaron el concurso con material de cartón, había muchas cosas en mis pensamientos, y aunque hay momentos en que no contamos con todos los materiales para completar una idea, buscamos otras opciones.
My warmest greetings to all. I am always thinking of making useful things for my home or to give as gifts or decorate. When you posted the contest with cardboard material, there were many things in my thoughts, and although there are times when we don't have all the materials to complete an idea, we look for other options
Today I made this beautiful school organizer pencil, very simple to make and the protagonist is cardboard. In a few steps I explain in detail how I made it. To participate in this novelty cardboard world contest, moderated by
@lionsaturbix
to whom I leave my thanks,I present to you my organizer in the shape of de crayon
Hoy realicé este hermoso lápiz organizador escolar, muy simple de hacer y el protagonista el cartón. En pocos pasos te explico con detalle como lo realicé. Para participar en este novedoso concurso del mundo del cartón, moderado por
@lionsaturbix
a quien dejo mi agradecimiento,os presento a mi organizador en forma de crayón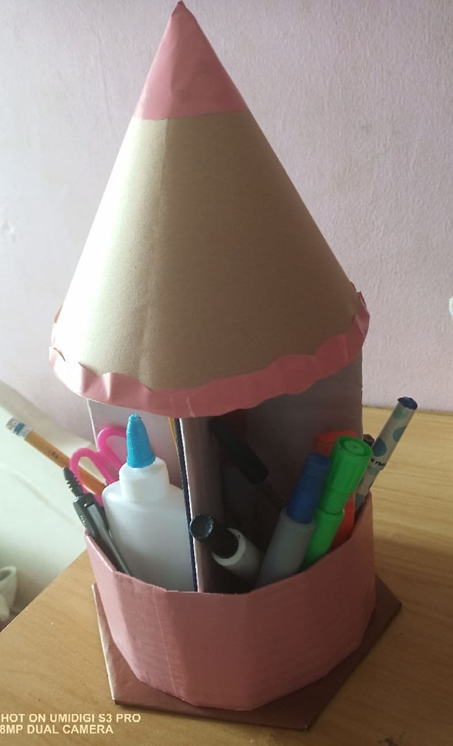 Materiales:
Cartón
Cartulina de construcción
Papel lustrillo
Pegamento blanco
Reglas, tijeras, lápiz y compás.
Materials:
Cardboard
Construction cardboard
Shine paper
White glue
Rulers, scissors, pencil and compass.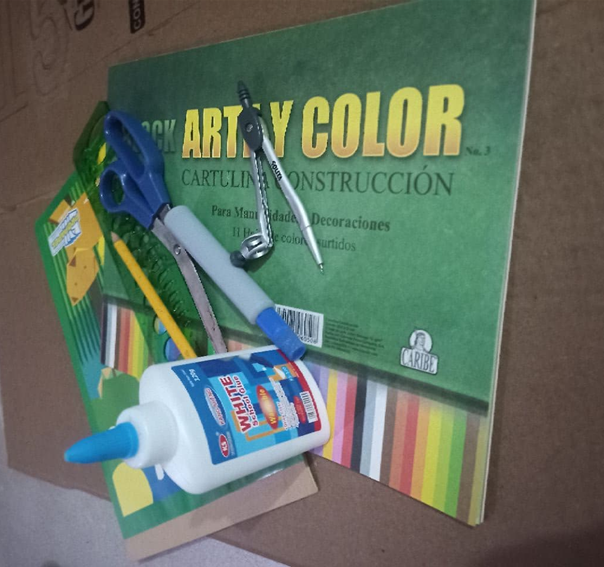 Procedimiento:
Hice un patrón con las siguientes medidas: un rectángulo que en unos de sus extremos tiene un triángulo como la punta del lápiz. Del ancho de esta pieza saqué el círculo (con el diámetro justo para él) y otra tira que será colocada en la parte inferior.
Procedure:
I made a pattern with the following measurements: a rectangle that at one of its ends has a triangle like the tip of the pencil. From the width of this piece I took the circle (with the right diameter for it) and another strip that will be placed at the bottom.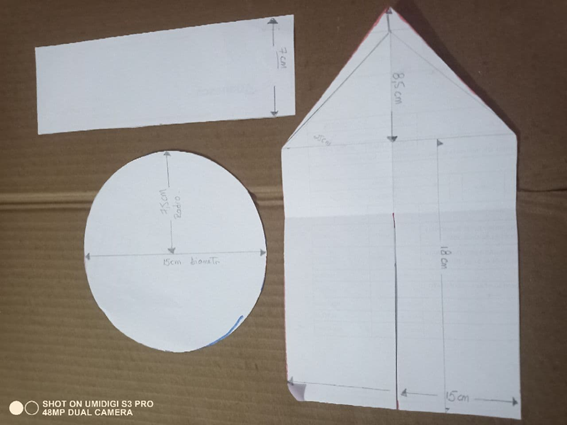 Todas estas piezas las transfiero y recorto en cartón, dos de los círculos y dos de los rectángulos y una pieza que dará toda la vuelta al circulo.
All these pieces I transfer and cut out of cardboard, two of the circles and two of the rectangles and a piece that will go all the way around the circle.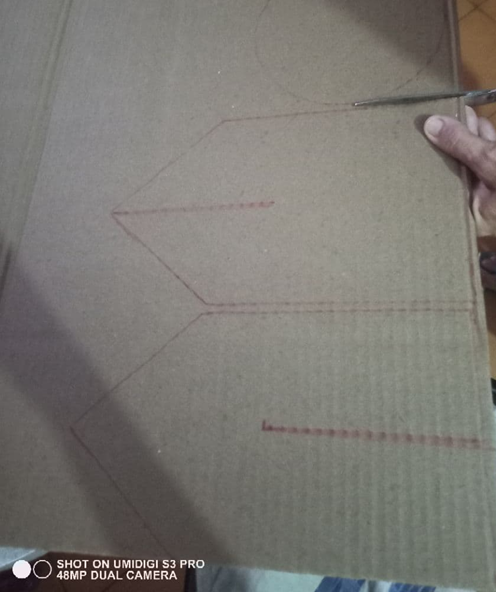 Además hice una base como un hexágono que debía ser un poco más grande que el círculo base con diámetro de 15cm. A este lo forré.
I also made a base like a hexagon that should be a little bigger than the base circle with a diameter of 15cm. I lined this one.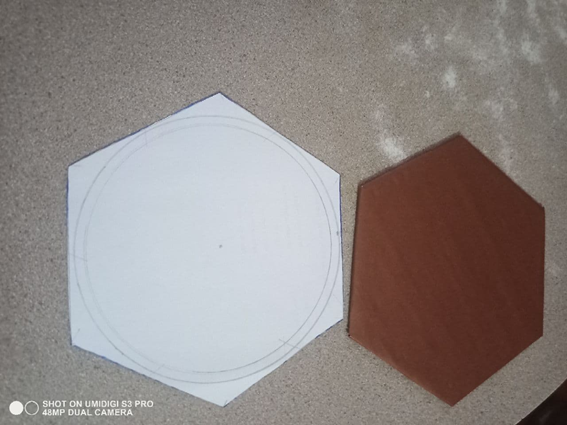 Corté dos piezas de cartón circulares y dos con el rectángulo. A estas debo hacer un corte hasta la mitad, una que va desde la punta hasta la mistad y la otra desde la mitad hasta la parte inferior, como te muestro en la foto.
I cut two circular pieces of cardboard and two with the rectangle. To these I have to make a cut in half, one that goes from the tip to the middle and the other from the middle to the bottom, as shown in the photo.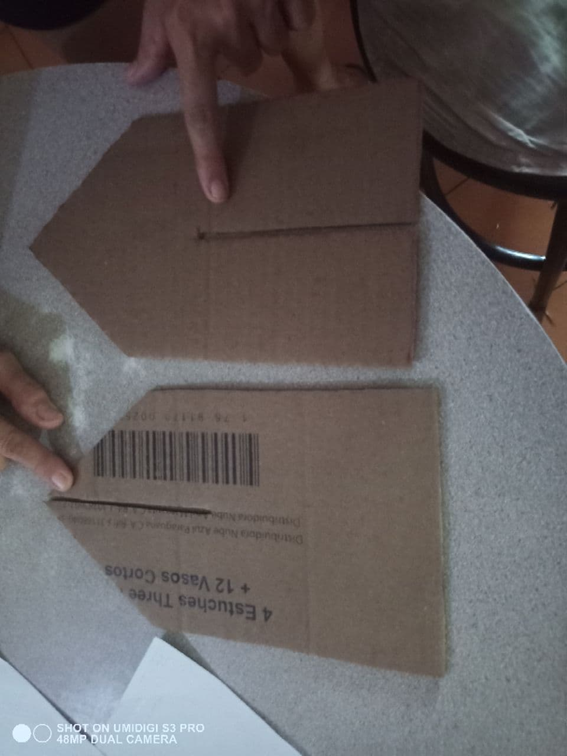 Estas piezas deben encargar por esas aberturas que hice y practiqué antes de forrar las piezas.
These pieces should be ordered through those openings that I made and practiced before lining the pieces.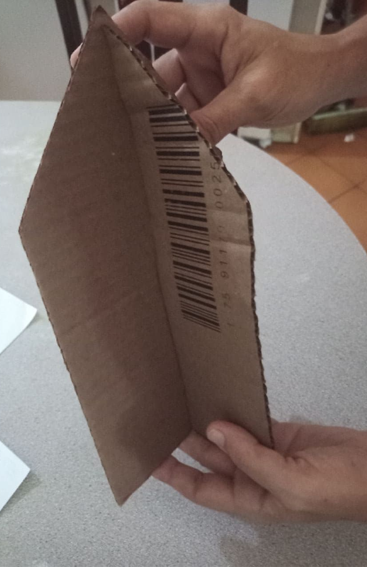 Ahora después de asegurarme de estas piezas estaban bien, inicié a forrar cada una.
Now after making sure that these pieces were OK, I started to line each one.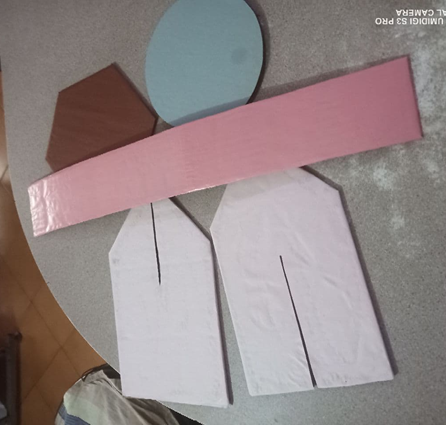 Coloqué las piezas rectangulares como deben ir y las pegué al círculo.
I placed the rectangular pieces as they should go and glued them to the circle.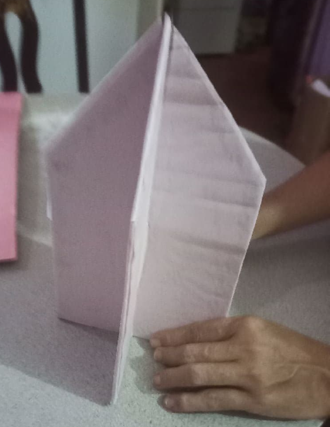 Pegué las dos piezas circulares al hexágono y tomé esta pieza anterior y la pegué hasta asegurarme que quedara bien pegado.
I glued the two circular pieces to the hexagon and took this previous piece and glued it until I was sure it was well glued.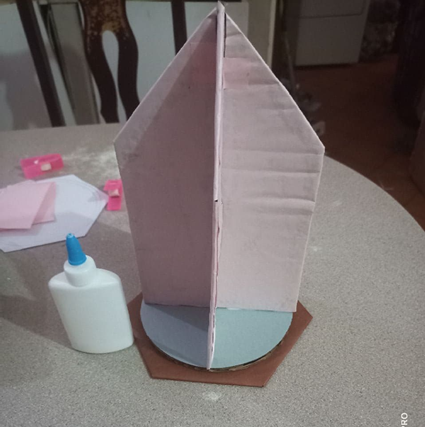 Coloqué el cartón alrededor del círculo y esperé que pegara muy bien.
I placed the cardboard around the circle and waited for it to stick very well.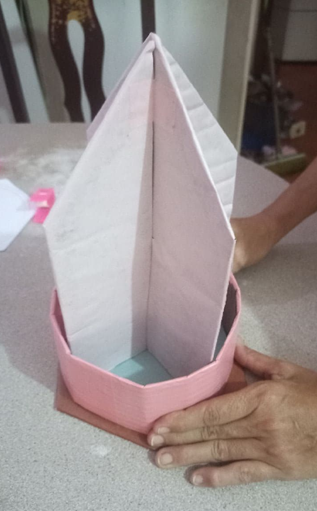 Luego de este proceso, decoré esto con una cartulina cortada en semicírculo que asemeja a la punta de un lápiz, y como es todo rosado le coloqué rosado arriba. Esta debe pegarse por la parte recta y hacer un cono, la cual decoré por el borde con un poco más de papel lustrillo en las orillas.
After this process, I decorated this with a cardboard cut in a semicircle that resembles the tip of a pencil, and as it is all pink I put pink on top. This should be glued on the straight side and make a cone, which I decorated around the edge with a little more luster paper on the edges.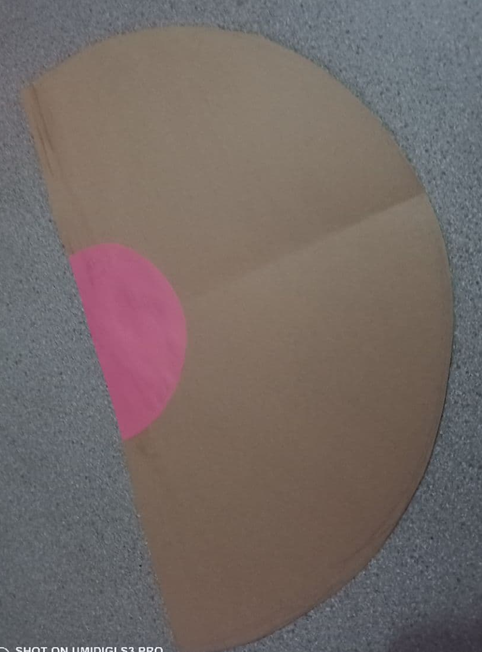 Y el organizador escolar quedará de esta manera:
And the school organizer will look like this: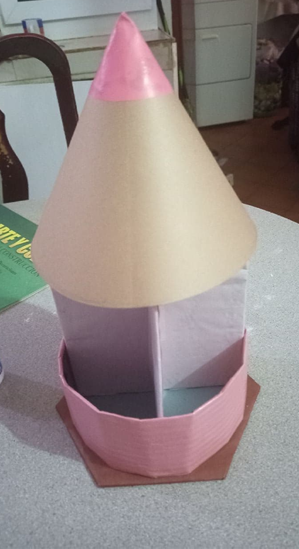 Cada espacio es útil para colocar los materiales y es tan cómodo que se puede girar para tener todo a la mano en una sola pieza.
Each space is useful for placing materials and is so convenient that it can be rotated to have everything at hand in one piece.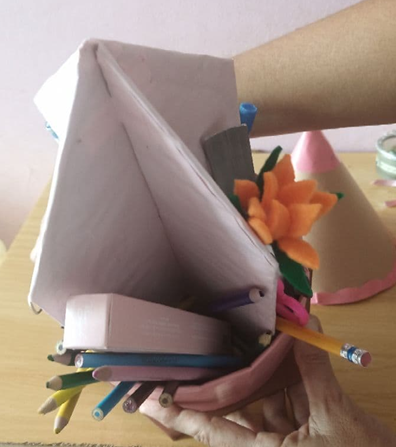 Será un organizador muy colorido y apropiado para niñas o niños.
It will be a very colorful and appropriate organizer for girls or boys.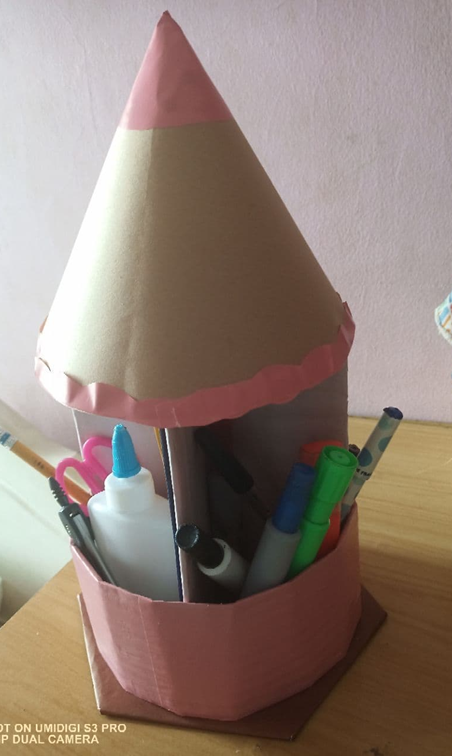 Puedes girar y guardar. Así que te invito a realizarlo, puede ser mas pequeño o mas largo, con otro motivo quizás, todo depende de la creatividad.
You can rotate and save. So I invite you to make it, it can be smaller or longer, with another motif perhaps, it all depends on your creativity.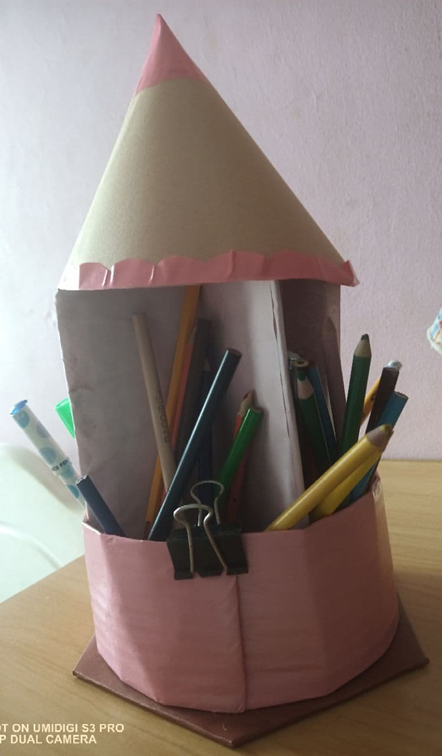 invito a mi amiga
@rosa4r
a elaborar alguna manualidad con este mundo de cartón.
I invite my friend @rosa4r to make some crafts with this cardboard world.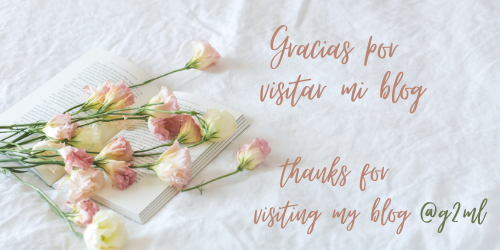 Todas las fotos son tomadas con el telefono Umidigi, la de portada editada en Canva, el traductor usado es Deepl y los separadores de
@eve66
.
All photos are taken with the Umidigi phone, the cover photo is edited in Canva, the translator used is Deepl and the separators are from @eve66.