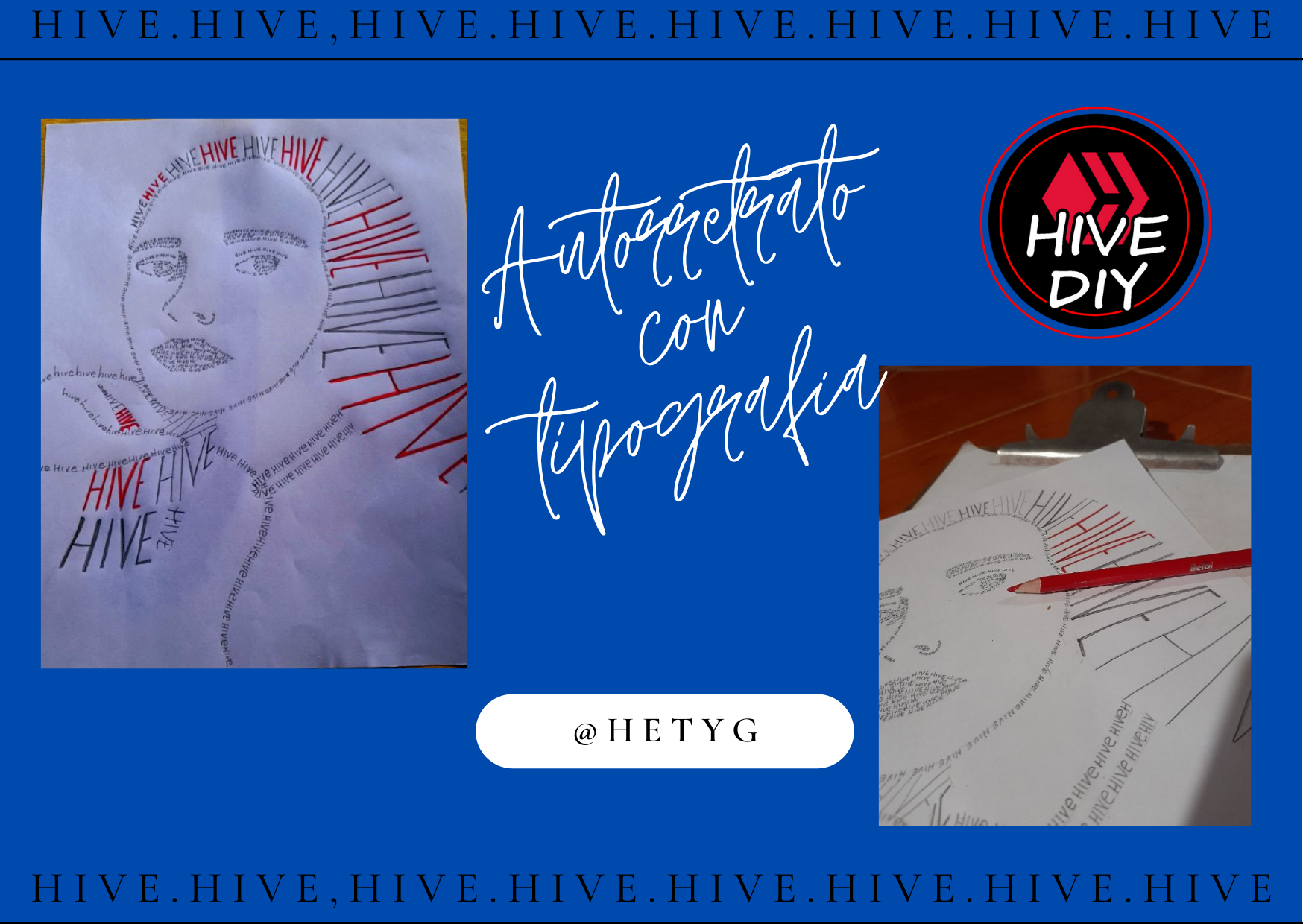 English
Hello creative friends and artisans of the hive, it is a pleasure for me to be here with you all to share a drawing project, one of those that we like, but for reasons of occupations, we do not dedicate the time they require.
This is a technique that many experts know very well and I as an amateur wanted to try it today with the word Hive as a way to promote the platform and give a place of importance in a self-portrait that I really wanted to do as well as to experiment with this style that I found quite enjoyable and fun, I hope in new practices to improve.
The materials to use are the following:
Graphite pencil 2 HB
Graphite pencil 6B
White sheet
Red color pencil
Pencil sharpener
Eraser
The first thing I did was to make the sketch of the image, I used a photo of me as a reference, the base used is a white sheet.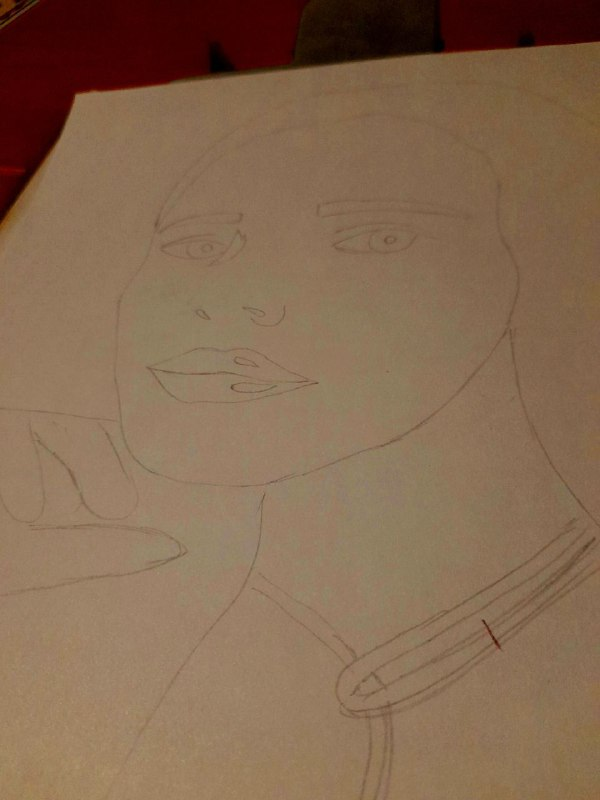 Once the sketch was ready, the next thing was to start writing the word Hive, at first I bordered the face, but before writing the words, I carefully erased the main lines.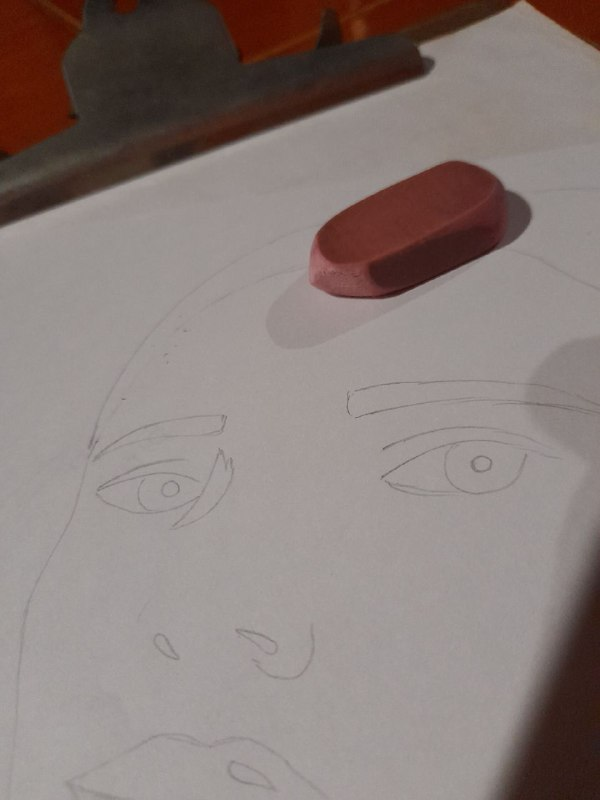 I filled in the edges of the eyes, the lips, writing the word Hive as many times as I could, varying the size of the letter, to be able to insert them in the part to be filled in.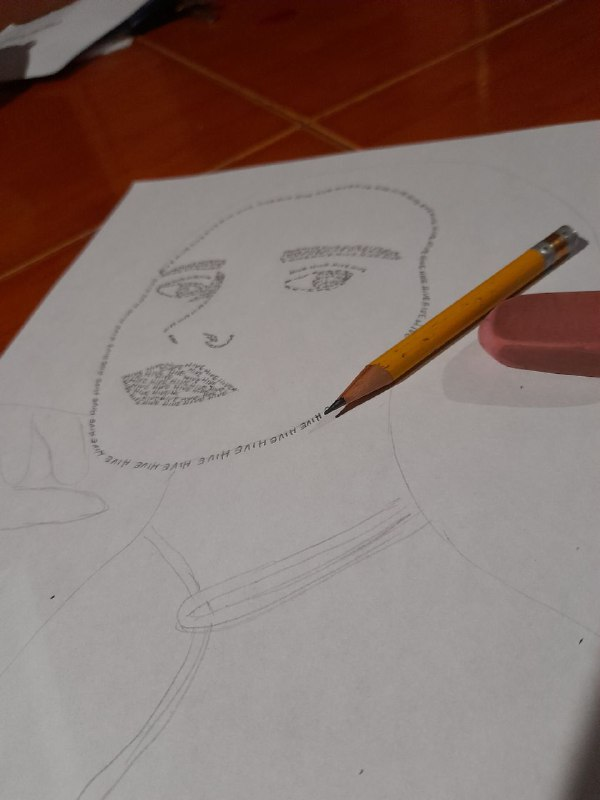 The image has a necklace that I filled with the chosen word, I liked the result. On the other hand came the hand which I worked carefully, because not being an expert in the field is more of an experiment than anything else.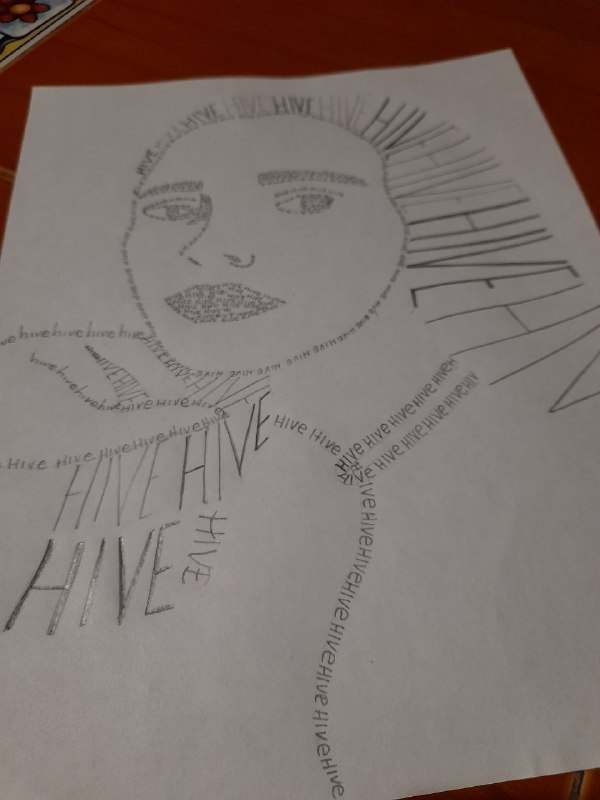 Then I went to the hair, which was the part I liked the most, it was a great experience to tell the truth, I made the word several times over the entire surface that corresponded to the hair, so the size of the letters varied in each space.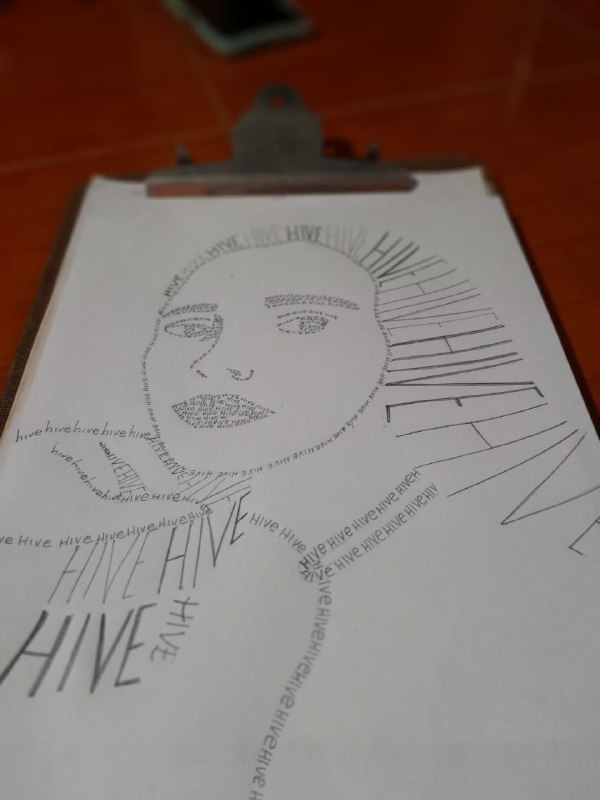 When I finished all the typographic art, I decided to use the color of the Hive logo to give it a little highlight and life, also the biggest letters were in the hair and that made me remember that when I was quite young I wanted to dye my hair red, but the pigmentation of my base, It was like a frustrated dream (laughs) because one day I gave up on being a redhead, but at the end of the day in this art I can see red flashes in my hair and somehow that dream is reflected in this art that I hope you like.
Final result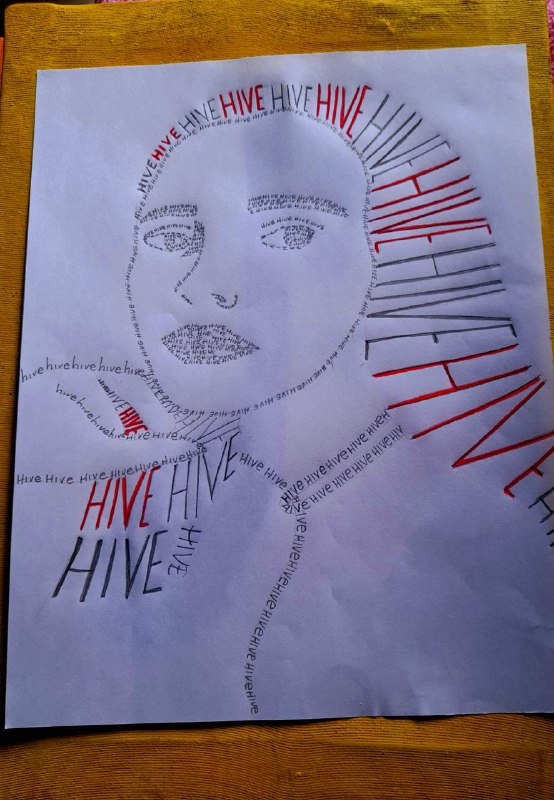 Thanks for reading me
Photos by @hetyg
Images edited in Canva
Translated with www.DeepL.com/Translator (free version)
Español
Hola amigos creativos y artesanos de la colmena, es todo un gusto para mi estar por acá todos con ustedes para compartir un proyecto de dibujo, de esos que nos gustan, pero que por cuestiones de ocupaciones, no les dedicamos el tiempo que requieren.
Esta es una técnica que muchos expertos conocen muy bien y yo en calidad de aficionada lo quise intentar hoy con la palabra Hive como una forma de promocionar la plataforma y dar un lugar de importancia en un autorretrato que tenia muchas ganas de hacer como también de experimentar con este estilo que me resulto bastante ameno y divertido, espero en nuevas practicas ir mejorando.
Los materiales a usar son los siguientes:
Lápiz de grafito 2 HB
Lápiz de grafito 6B
Hoja blanco
Lápiz de Color Rojo
Sacapuntas
Goma de borrar
Lo primero que hice fue hacer el boceto de la imagen, use una foto mía como referencia, la base empleada es una hoja blanca.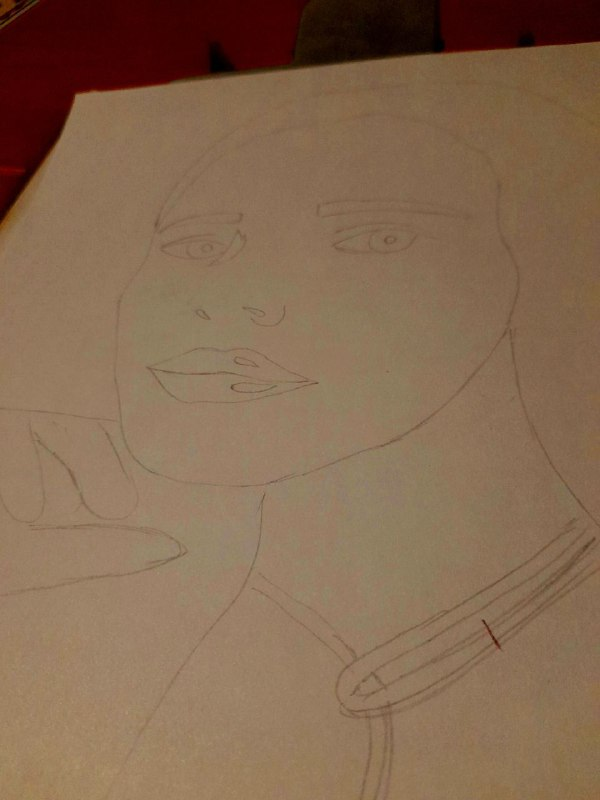 Ya con el boceto listo, lo siguiente fue comenzar a escribir la palabra Hive, en principio bordee el rostro, pero antes de escribir las palabras, borre cuidadosamente las lineas principales.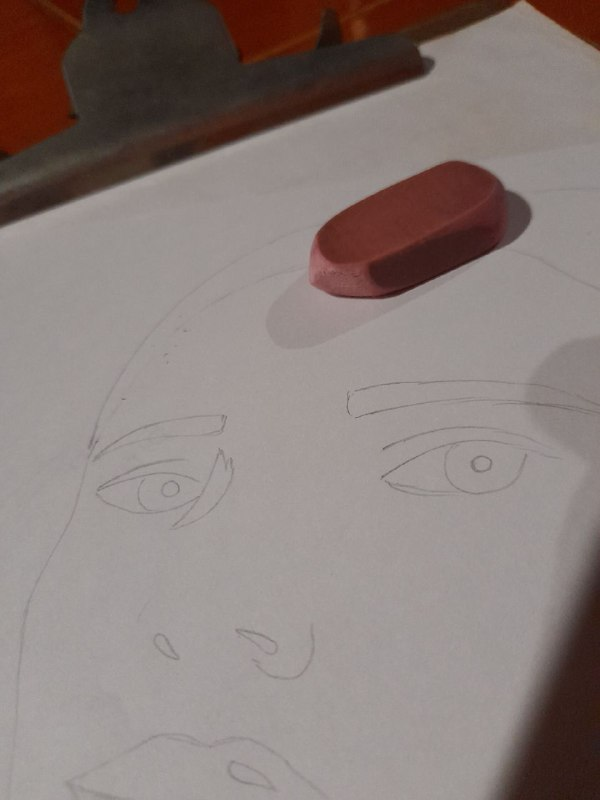 Rellene los bordes de los ojos, de los labios escribiendo la palabra Hive todas las veces que pude, variando el tamaño de la letra, para lograr insertarlas en la parte a rellenar.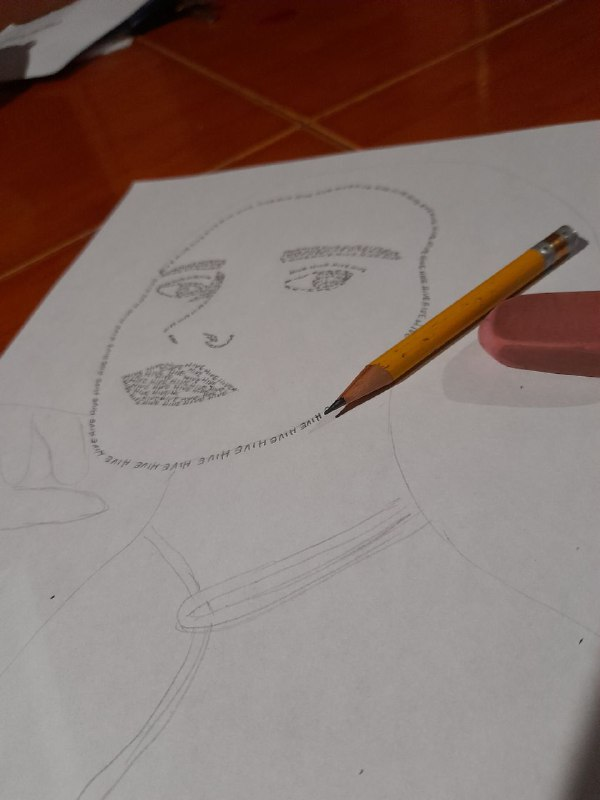 La imagen tiene un collar que rellene con la palabra elegida, el resultado me gusto. Por otra parte venia la mano la cual trabaje cuidadosamente, pues al no ser experta en la materia es mas experimento que otra cosa.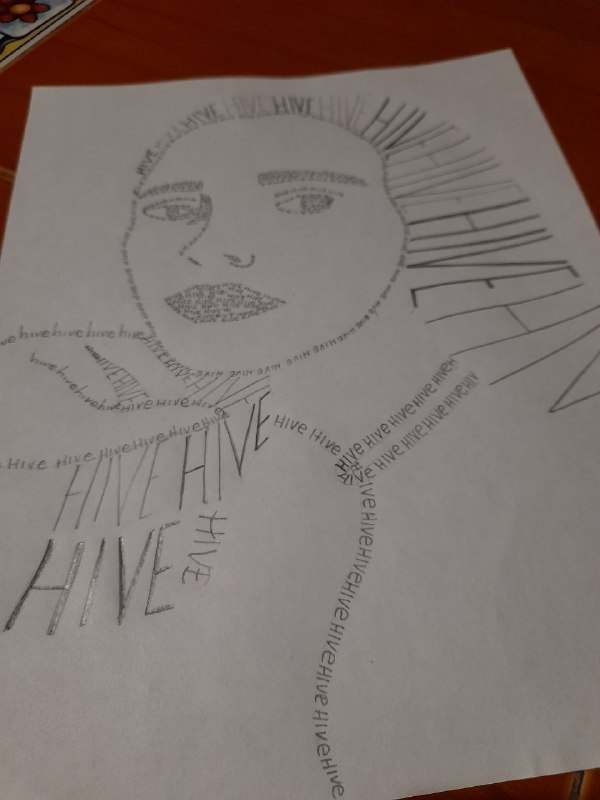 Luego pase al cabello que fue la parte que mas me gusto, fue una gran experiencia a decir verdad, realice la palabra en varias ocasiones por toda la superficie que correspondía al cabello, por lo que el tamaño de las letras variaba en cada espacio.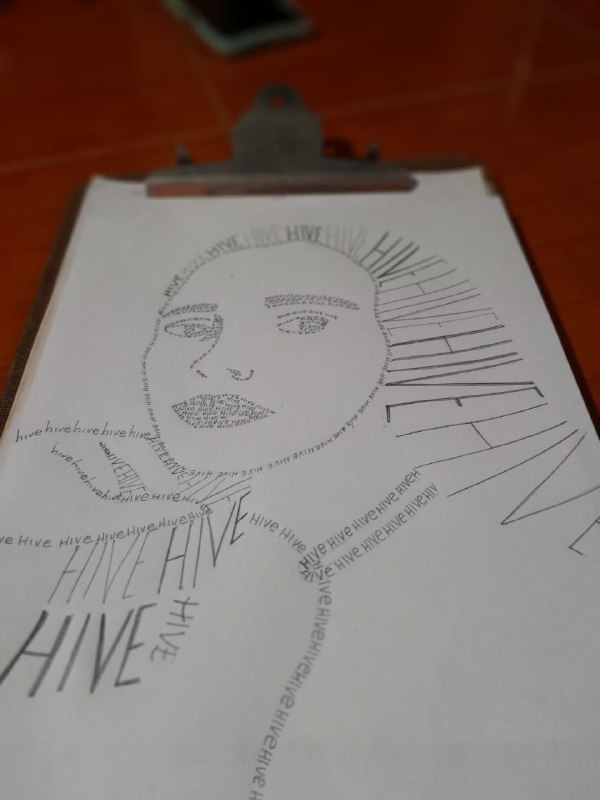 Cuando termine todo el arte tipográfico, decidí usar el color del logo de Hive para darle un poco de realce y de vida, ademas las letras mas grandes quedaron en el cabello y eso me hizo recordar que siendo bastante joven quise teñir mi cabello de rojo, pero la pigmentación de mi base, no permitió que se me viera del color que deseaba, era como un sueño frustrado (Risas) pues un dia desistí de ser pelirrojo,pero al final de cuentas en este arte puedo ver destellos rojos en mi cabellera y de alguna manera ese sueño se refleja en este arte que espero sea de su agrado.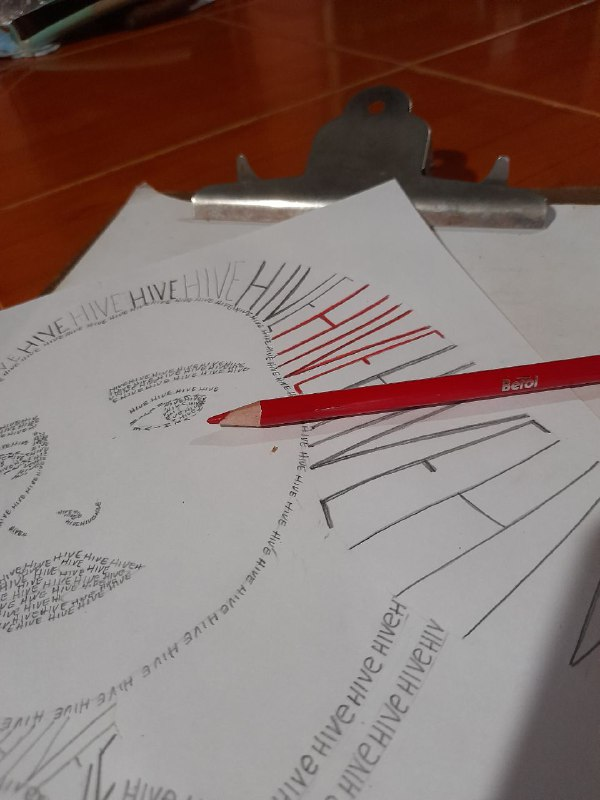 Resultado final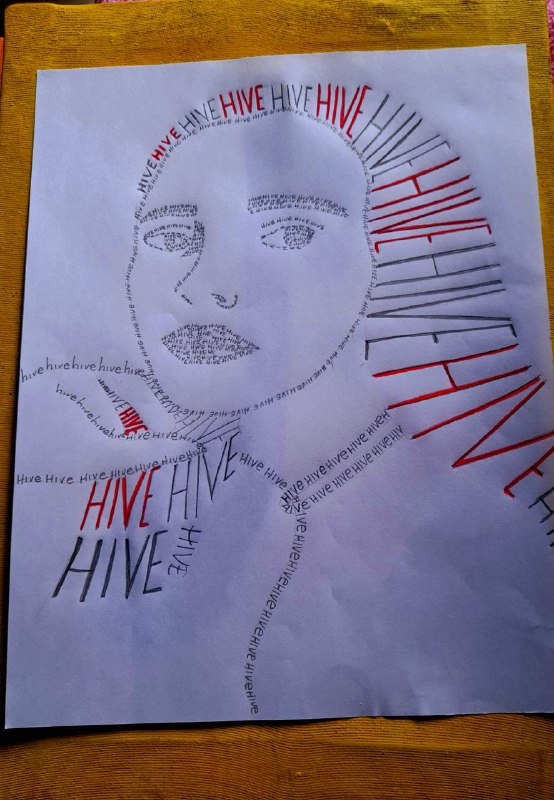 Gracias por leerme
Fotos de @hetyg
Imágenes editadas en Canva