Hello friends, I send you a big hug and my respect for all of you.
I bring you a new creativity, nowadays we buy the eggs, and we leave it in the same carton, because here I bring you an idea to make an egg-carrying hen, it can be done with a box, plastic containers or a basket that you have at home , that they are not using.
This basket that I am going to use to make the egg holder, it looks like it was made of wood, but it is not. You know it's made of paper, it's been years since I made it for a study project, which I no longer use. Today I proceeded to make this basket in order to put it to good use, in order to have a place to place the eggs, and also give my kitchen a decoration. Here I leave the materials you need.

Hola amigos, les envió grandemente un abraso y mi respeto para todos.
Les traigo una nueva creatividad, hoy en día compramos los huevos, y lo dejamos en el mismo cartón, pues aquí les traigo una idea en hacer una gallina porta huevos, se puede hacer con caja, envases plástico o alguna cesta que tengan en el hogar, que no estén utilizando.
Esta cesta que voy a usar para hacer él porta huevos, se ve que fuera de madera, pero no lo es. Saben es de papel, tiene años que la hice para un proyecto de estudio, la cual ya no la uso. Hoy en día procedí a hacer esta cesta con la finalidad de darle un buen uso, para así tener donde colocar los huevos, y darle también un decorado a mi cocina. Aquí les dejo los materiales a necesitar.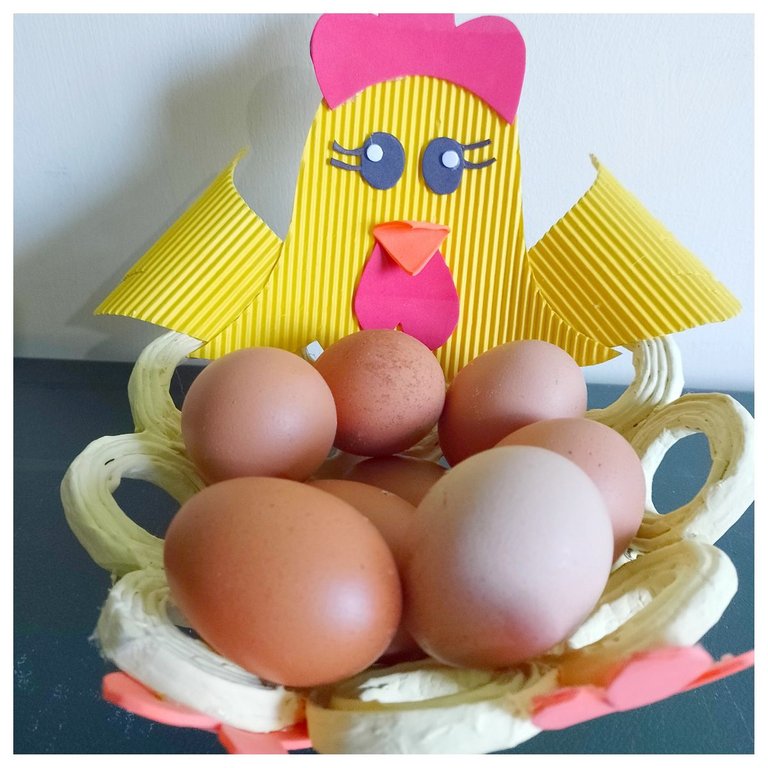 Materials you will need:
• Pattern.
• Basket.
• Yellow corrugated cardboard.
• Eva rubber (red, orange, white and black).
• Yellow paint.
• Brush.
• Scissors.
• Glue gun.

Materiales a necesitar:
• Patrón.
• Cesta.
• Cartón corrugado amarillo.
• Goma Eva (rojo, anaranjado, blanco y negro).
• Pintura amarilla.
• Pincel.
• Tijera.
• Pistola de silicona.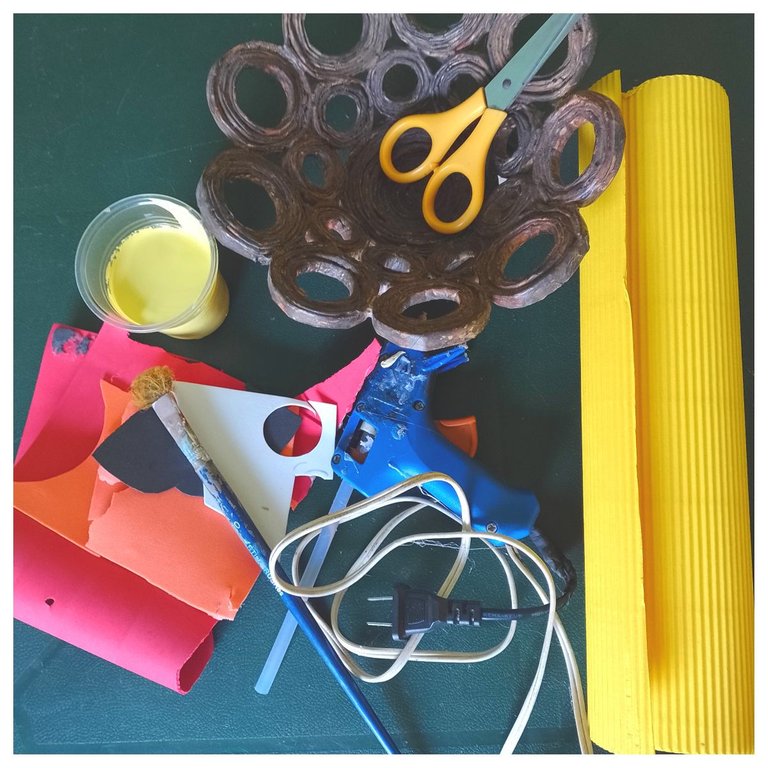 Process:
In this step, I proceeded to paint the basket, until it was completely covered, thus passing several dandruffs, letting it dry.

Procedimiento:
En este paso, procedí a pintar la cesta, hasta cubrirla toda, siendo así pase varias caspas dejándola secar.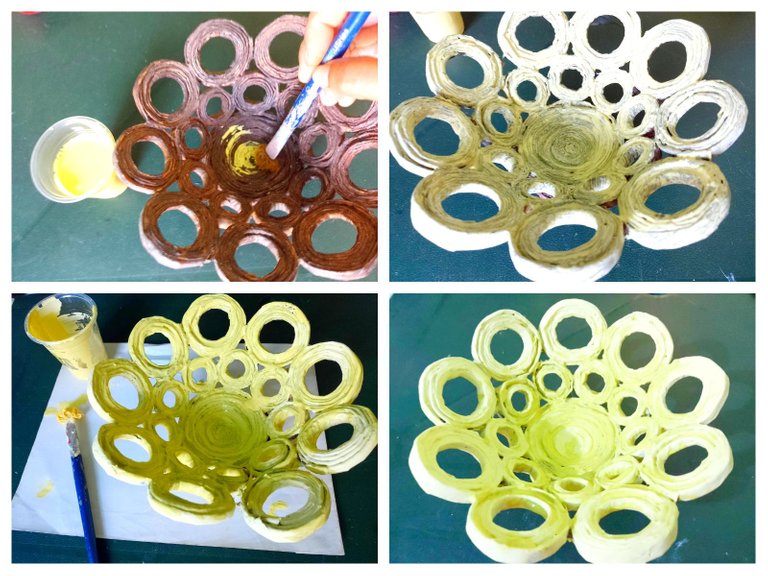 2. Use the corrugated cardboard to remove its head and wings, from the orange Eva rubber the legs, beak and finally the crest and chin.

2. Utilice el cartón corrugado, para sacar su cabeza y alas, de la Goma Eva anaranjado las patas, pico y por último la cresta y barbilla.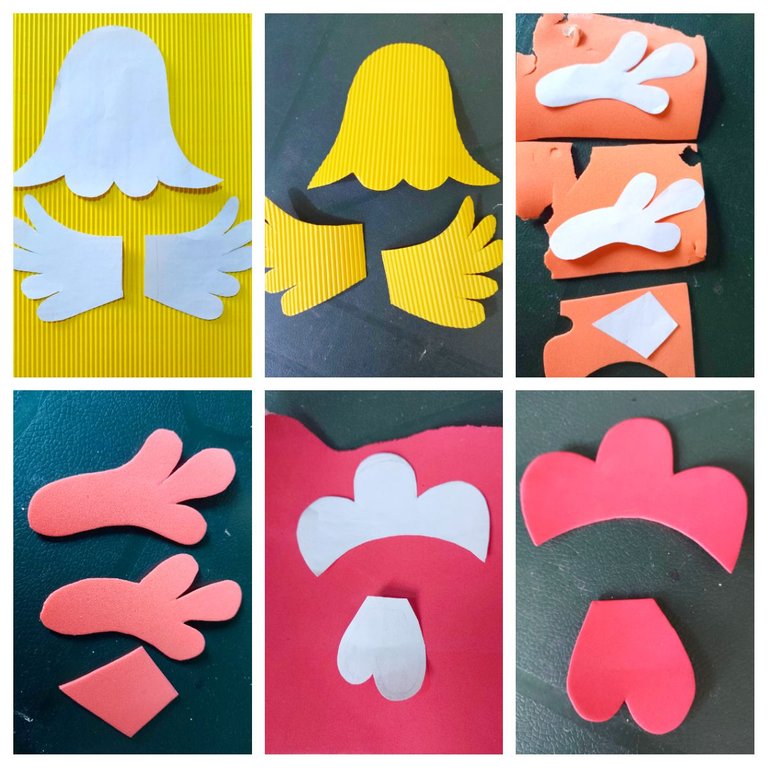 3. Here I have all the cut pieces, what I will do is paste one by one, to assemble part of his face. Glue the crest, then the chin, its beak, its eyes and to finish this part its wings.

3. Aquí tengo todas las piezas cortadas, lo que haré es pegar una a una, para armar parte de su cara. Pegue la cresta, luego la barbilla, su pico, sus ojos y para culminar esta parte sus alas.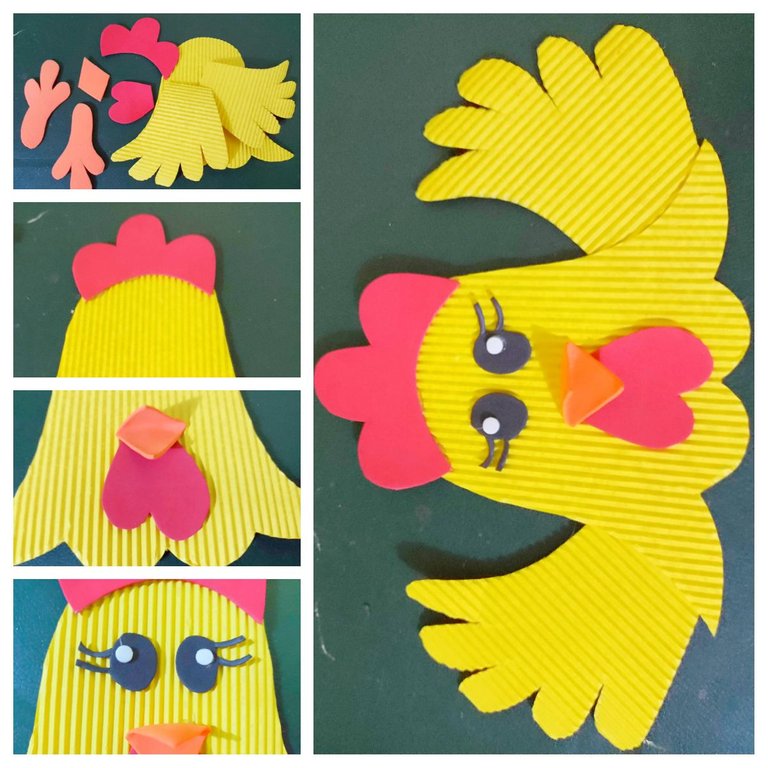 In this part, glue the assembled piece to the basket, its legs, and here the egg-carrying hen is finished, I am placing the eggs in it, and so you will see that it is very comfortable when placing our eggs, here I leave this idea , so that they make one for you. Good night.

En esta parte, pegue a la cesta la pieza armada, sus patas, y aquí está terminada la gallina porta huevos, le estoy colocando los huevos, y así observarán que queda muy cómodo a la hora de colocar nuestros huevos, aquí les dejo esta idea, para que hagan así una para ustedes. Feliz noche.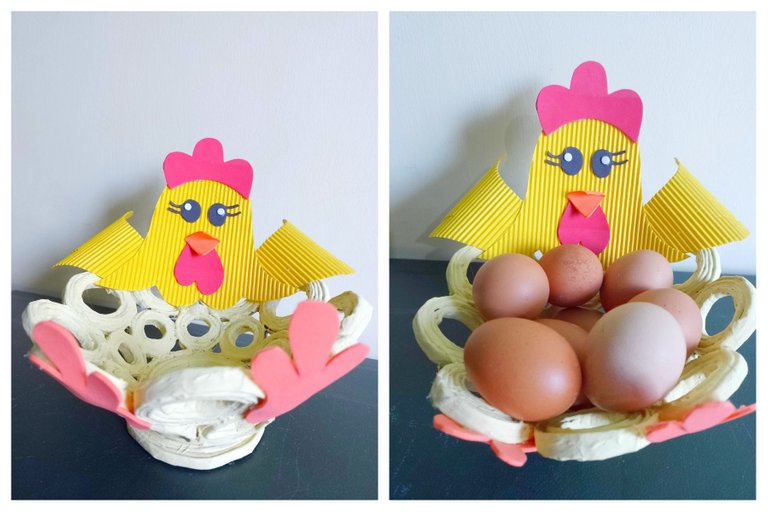 The photos were taken from a Xiaomi Mi A2.

Collage making program: Fotojet Link
Translated from google translator Link
Photo editing program: PhotoFiltre 7

Las fotos fueron tomadas desde un Xiaomi Mi A2.
Programa para hacer el collage: Fotojet Enlace
Traducido del traductor de Google Enlace
Programa para editar fotos: PhotoFiltre 7

I say goodbye until another opportunity.
Thanks for your support.

Me despido hasta otra oportunidad.
Gracias por su apoyo.

Copyright @imargasa. All rights reserved.