Hello friends, Merry Christmas to all, after having spent days without posting, well doing household things that take a lot of time and dedication. This is how when we start, we don't know the day to finish. That being the case, in this case I will share with you a doll that I made with anime, and of course, with the use of other materials, I will show you the materials, each of the steps, and to conclude a beautiful result.

Hola amigos, felices navidades para todos, después de haber pasado días sin publicar, bueno haciendo cosas del hogar que llevan mucho tiempo y dedicación. Es así como cuando empezamos, no sabemos el día para terminar. Siendo así, en este caso compartiré con ustedes de un muñeco que hice con anime, y claro, con la utilización de otros materiales, les mostraré los materiales, cada uno de los pasos, y para concluir un bello resultado.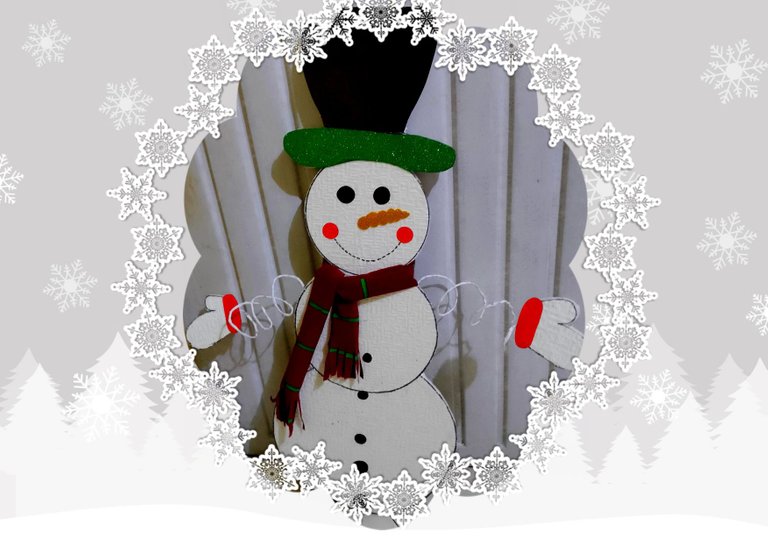 Materials:
√ Anime sheet.
√ Red fabric.
√ Lustrillo paper (black, red).
√ 2 machine sheets.
√ Frosted Eva foam scraps (green, gold).
√ Green paint.
√ Black marker.
√ Wire.
√ Paste, scissors, and brush.

Materiales:
√ Hoja de anime.
√ Tela vinotinto.
√ Papel lustrillo (negro, rojo).
√ 2 hojas de máquina.
√ Retazos de Goma Eva escarchado (verde, dorado).
√ Pintura verde.
√ Marcador negro.
√ Alambre.
√ Pega, tijera, y pincel.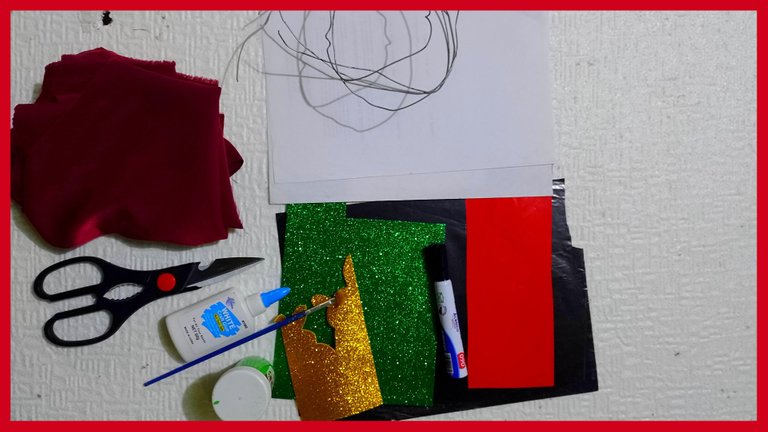 Step 1:
First use the marker, to make the hat, then use 3 caps of different sizes, to make the body part, at the end to take out the anime figure use a hot knife, then I proceeded and draw the gloves.

Paso 1:
Primero use el marcador, para hacer el sombrero, luego utilice 3 tapas de diferentes tamaños, para hacer la parte del cuerpo, al finalizar para sacar la figura del anime utilice un cuchillo caliente, luego procedí y dibuje los guantes.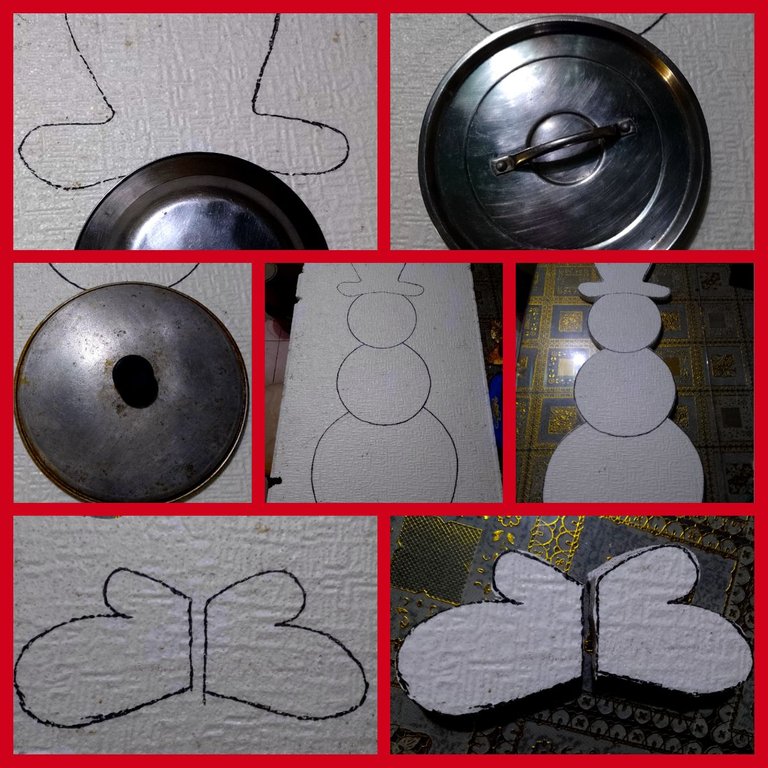 Step 2:
In this part, use glossy paper of both colors, from black to cut several circles of various sizes, and mainly the eyes, then from red cut 2 circles, which are the cheeks, and 2 red edges, from the golden Eva rubber, Cut the nose, and to finish off, glue the red edges to the gloves.

Paso 2:
En esta parte emplee el papel lustrillo de ambos colores, del negro para cortar varios círculos de varios tamaños, y principalmente los ojos, luego del rojo corte 2 círculos, que vienen siendo las mejillas, y 2 bordes rojos, de la goma Eva dorado, corte la nariz, y para culminar peque los bordes rojos a los guantes.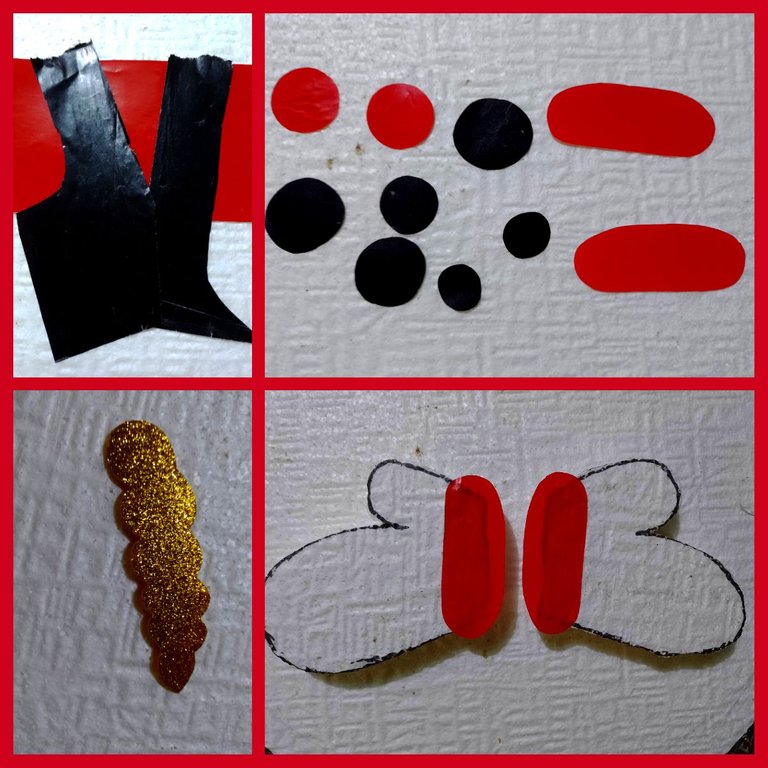 Step 3:
Cut a strip of 100 cm long x 14 cm wide, to make the scarf, pass a straight seam, then when placing it on the right side, I proceeded to paint some green stripes and let it dry. Then at both ends cut to form strips.

Paso 3:
Corte una tira de 100 cm de largo x 14 cm de ancho, para hacer la bufanda, pase una costura recta, luego al colocarla del lado derecho, procedí a pintarle unas franjas verdes y deje secar. Luego en ambas puntas corte para formar unas tiras.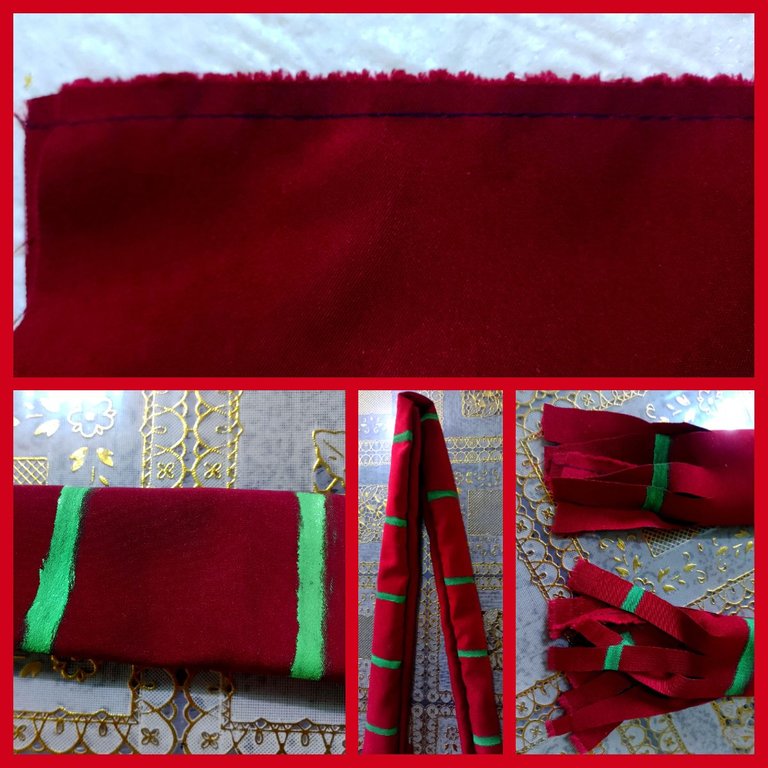 Step 4:
Cut the white leaves in the form of strips, in order to cover the 2 wires, already covered, I proceeded to place them as a spiral.

Paso 4:
Corte las hojas blancas en forma de tiras, para así forrar los 2 alambres, ya forrados procedí a colocarlos como un espiral.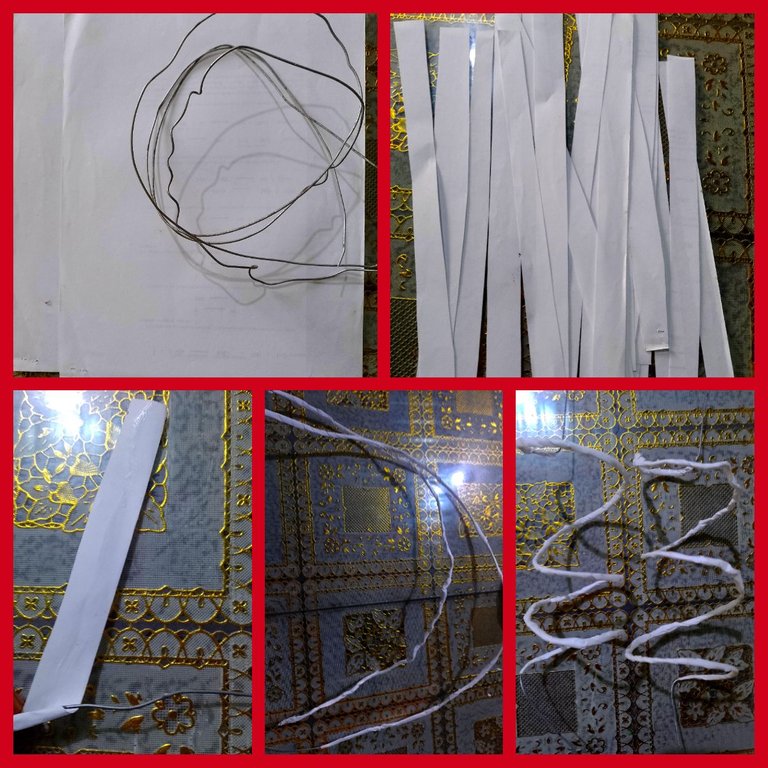 Step 5:
I started lining the hat, gluing a part like this with the black polish paper, then I glued the frosted Eva rubber, to then assemble its face, and assemble the arms.

Paso 5:
Comencé a forrar el sombrero, pegando así una parte con el papel lustrillo negro, luego pegue la Goma Eva escarchado, para luego armar su cara, y arme los brazos.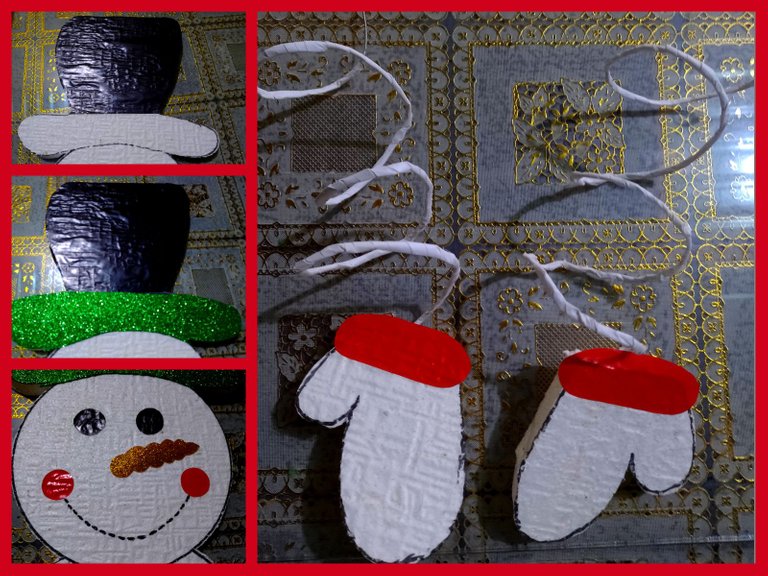 In this way I am placing the scarf, then the black circles, which are the buttons, and this is how the already assembled snowman looks, in order to decorate the door of my home. Have a Merry Christmas, greetings.

De esta manera estoy colocándole la bufanda, luego los círculos negros, que vienen siendo los botones, y así se ve el muñeco de nieve ya armado, para así adornar la puerta de mi hogar. Que pasen una feliz navidad, saludos.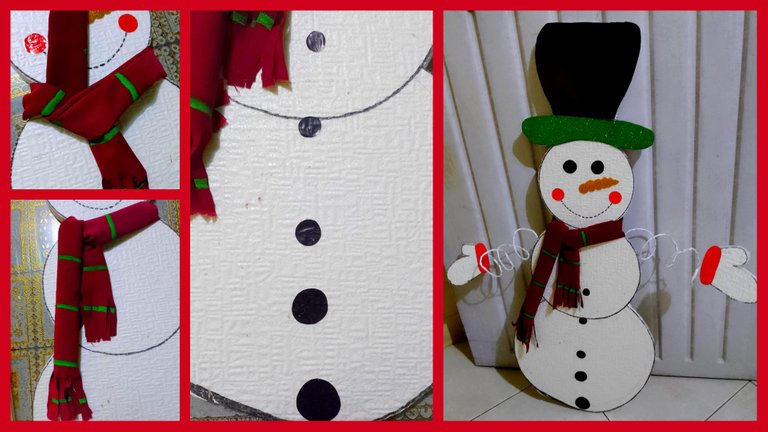 The photos were taken from a Canaima tablet.

Collage making program: Fotojet Link
Translated from google translator Link
Photo editing program: PhotoFiltre 7

Las fotos fueron tomadas desde una tablet Canaima.
Programa para hacer el collage: Fotojet Enlace
Traducido del traductor de Google Enlace
Programa para editar fotos: PhotoFiltre 7

I say goodbye until another opportunity.
Thanks for your support.

Me despido hasta otra oportunidad.
Gracias por su apoyo.

Copyright @imargasa. All rights reserved.