Happy and blessed Sunday everyone, I hope you had an excellent day, in fact I want to give you a happy belated year, well, although January 6th was the day of the three wise men, in such a way that for many people it is still Christmas, the which keep the decorations and lights, as well as me.
In this way I took advantage of this day, to make a wall hanging, using palettes, and other materials, one of them I had already used before, which were artificial flowers, but I had some left over and well I decided to implement them in this, which I had a good result so that the pendant can be used in 2 ways. Next I will show you the materials and steps.

Feliz y bendecido domingo para todos, espero que hayan tenido un excelente día, de hecho quiero darle un feliz año atrasado, bueno, aunque el 6 de enero fue el día de los reyes magos, de tal manera para muchas personas aún es navidad, la cual conservan los adornos y luces, así como yo.
De esta manera aproveché este día, para hacer un colgante para pared, utilizando paletas, y otros materiales, una de ellas ya la había utilizado anteriormente, que eran unas flores artificiales, pero me sobraron unas y bueno decidí implementarlas en esto, la cual tuve un buen resultado de manera que el colgante, se puede utilizar de 2 maneras. A continuación le mostraré los materiales y pasos.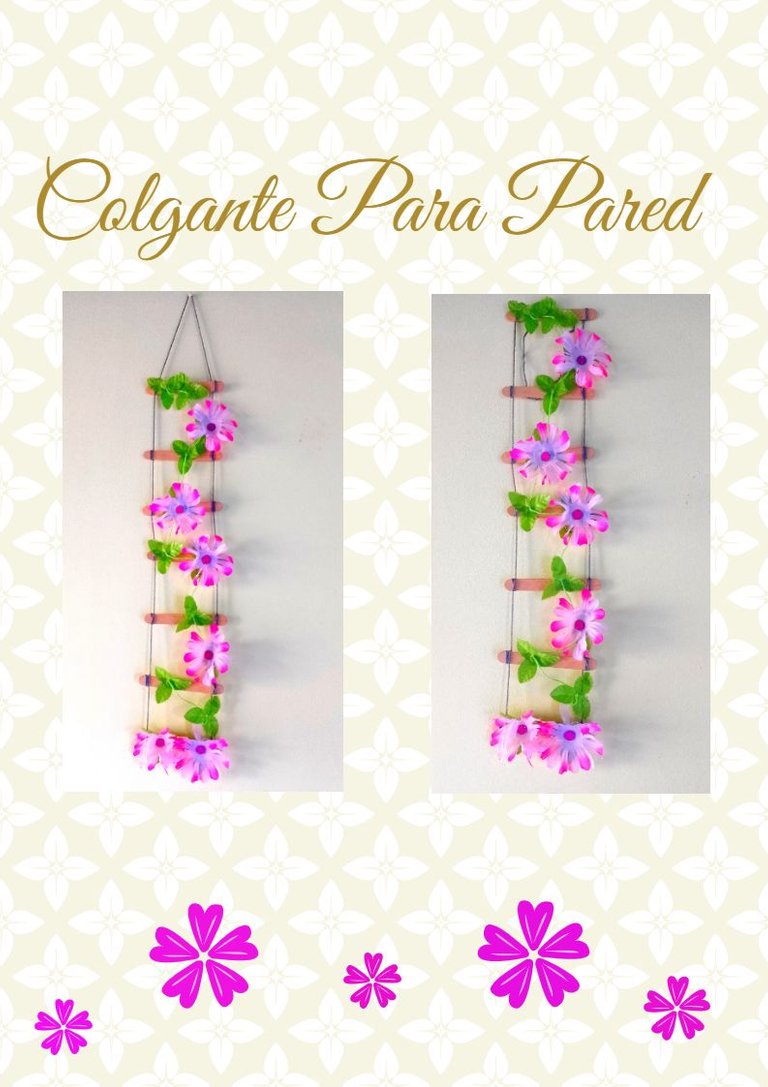 Materials:
√ Palettes.
√ Stamen green, and gray.
√ Artificial leaves and flowers.
√ Frosted Eva rubber patch, purple.
√ Paste, scissors.

Materiales:
√ Paletas.
√ Estambre verde, y gris.
√ Hojas y flores artificiales.
√ Retazo de Goma Eva escarchado, morado.
√ Pega, tijera.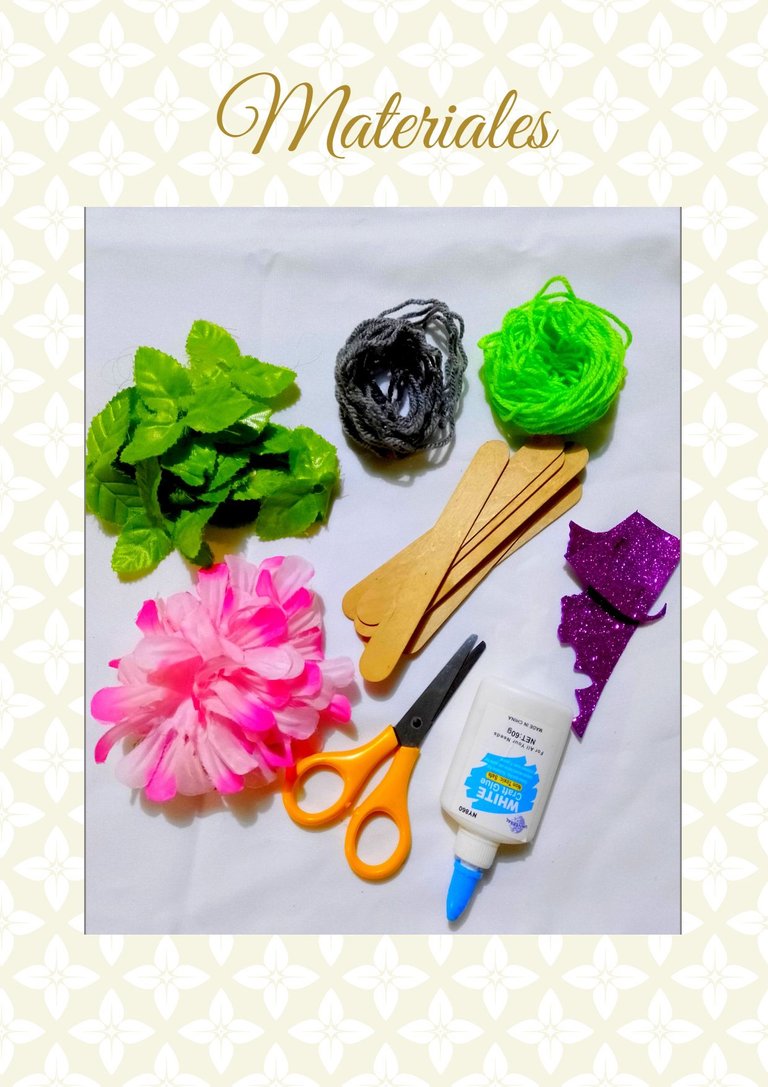 Step 1:
Here I cut 6 circles, and I proceeded to paste them in the center of each flower, in such a way that they would stand out even more.

Paso 1:
Aquí corte 6 círculos, y procedí a pegarlos en el centro de cada flor, de tal manera que resaltaran aún más.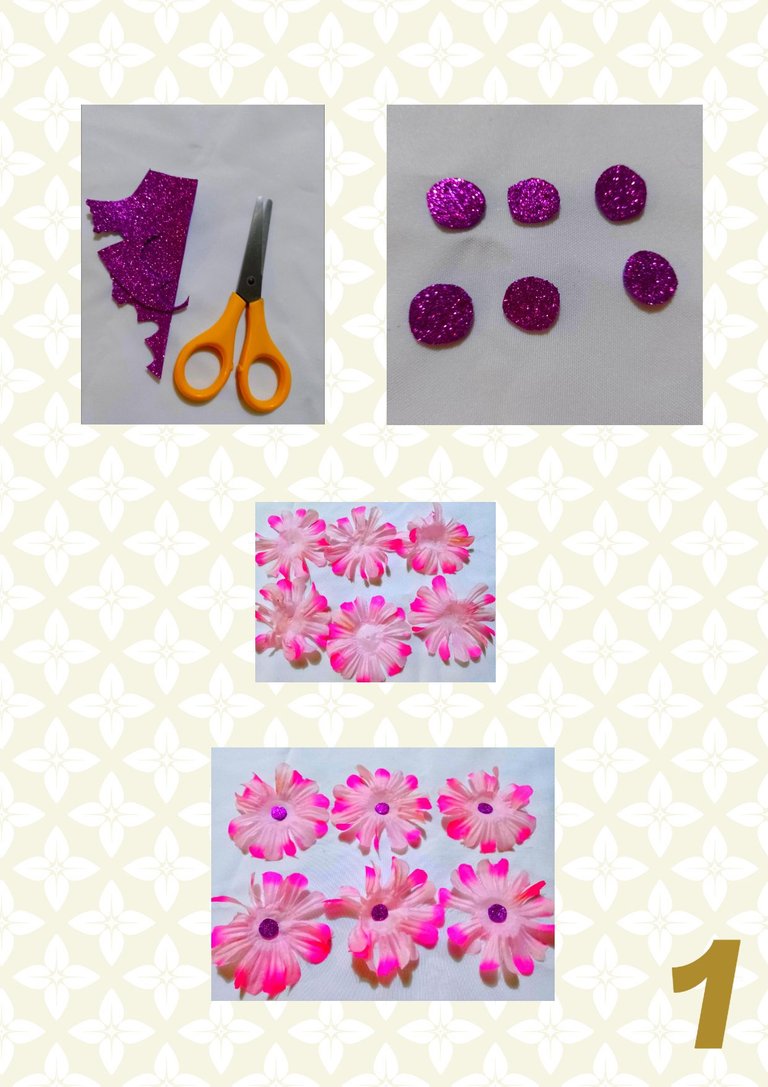 Step 2:
I used 7 palettes, placing one below the other, using the gray yarn to tie the ends, on the left and right sides, thus leaving a handle, I did this with each one until I finished them all.

Paso 2:
Use 7 paletas, colocando una debajo de la otra, usando el estambre gris para amarrar las puntas, del lado izquierdo y derecho, dejando así una asa, así fui haciendo con cada una hasta culminarlas todas.

Step 3:
In this part, use the green yarn, thus passing the thread through each center of each leaf, until all of them are inserted.

Paso 3:
En esta parte, use el estambre verde, pasando así el hilo por cada centro de cada hoja, hasta introducirlas todas.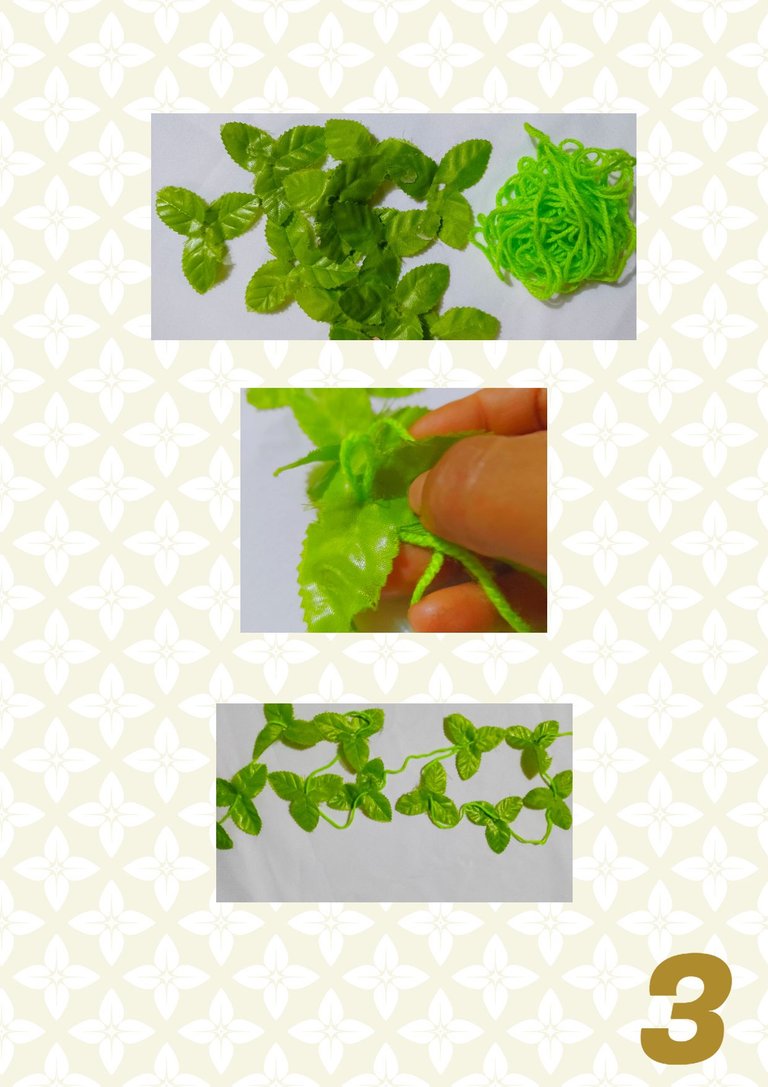 Step 4:
I proceeded to glue the leaves to the paddles, then the flowers. In this way I show you that it can be used in 2 ways. One using the handle left to hang it or you can simply hang it with the same palette, which is very delicate and beautiful. I hope you like this creative wall hanging, nice to say hello, take care.

Paso 4:
Procedí a pegar las hojas a las paletas, luego las flores. De esta manera les muestro que se puede utilizar de 2 maneras. Una haciendo uso del asa que deje para guindarla o sencillamente se puede guindar por la misma paleta, la cual quedo bien delicado y bonito. Espero que le guste este creativo colgante para decorar la pared, un gusto en saludar, cuídense.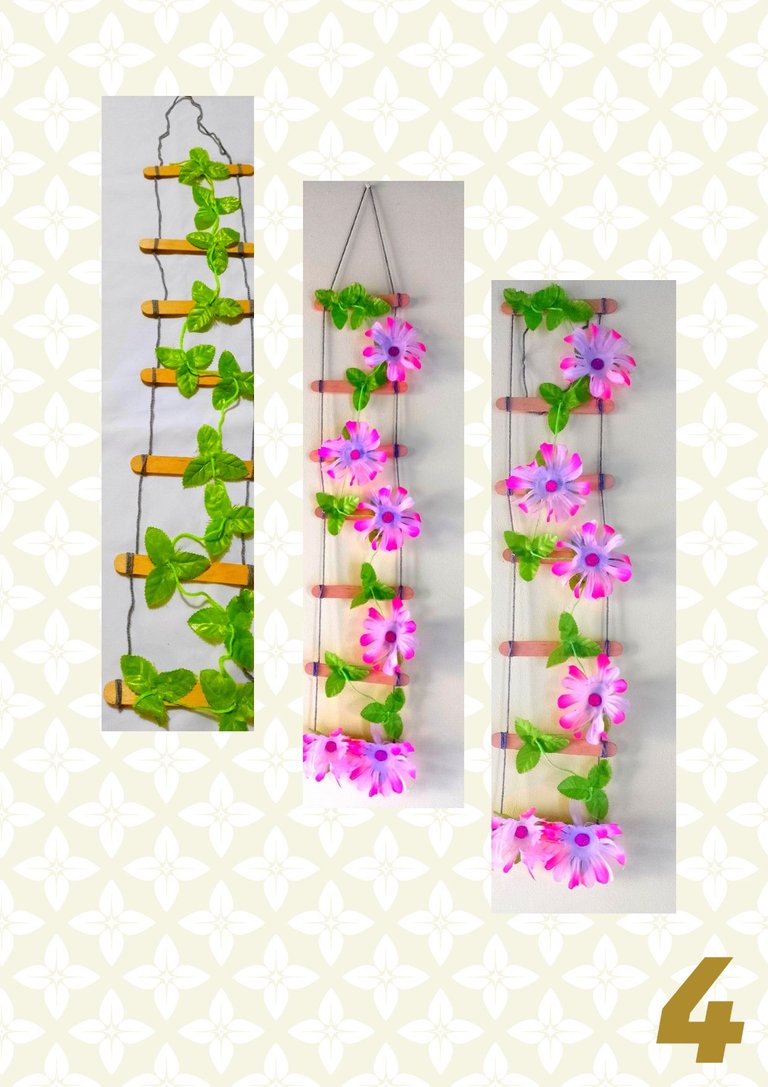 The photos were taken from a Xiaomi Mi A2.

Collage making program: Fotojet Link
Translated from google translator Link
Photo editing program: PhotoFiltre 7

Las fotos fueron tomadas desde un Xiaomi Mi A2.
Programa para hacer el collage: Fotojet Enlace
Traducido del traductor de Google Enlace
Programa para editar fotos: PhotoFiltre 7

I say goodbye until another opportunity.
Thanks for your support.

Me despido hasta otra oportunidad.
Gracias por su apoyo.

Copyright @imargasa. All rights reserved.