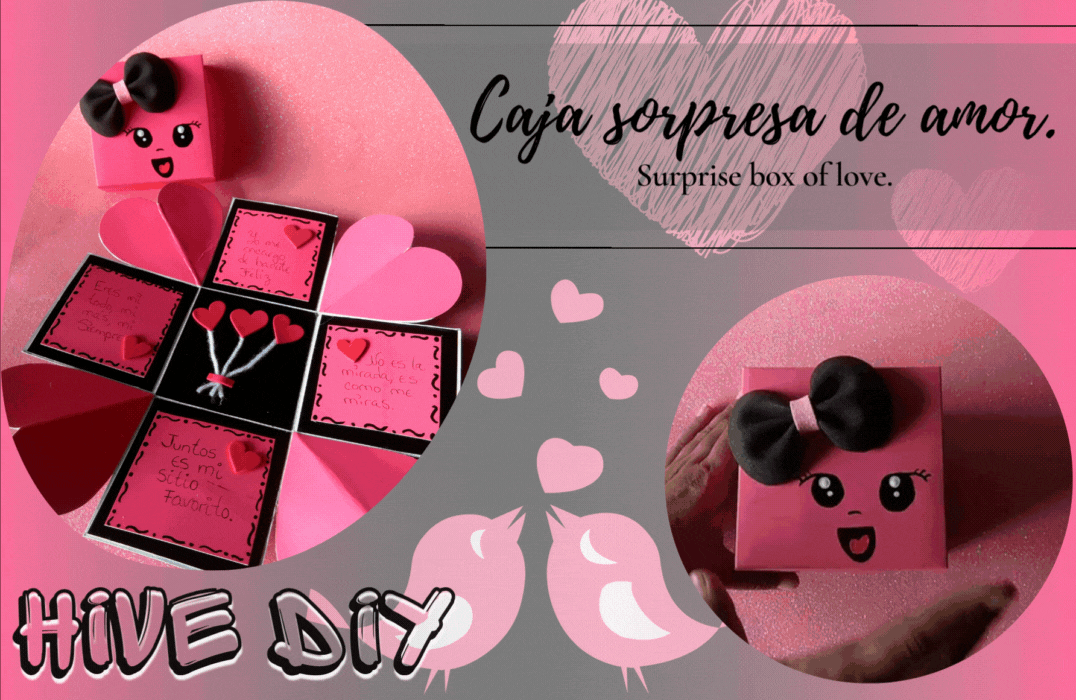 Edited in Canva.
Feliz domingo comunidad creativa, a lo largo de la semana he compartido varias manualidades referentes a San Valentín, pero ninguna ha calificado como entrada al presente concurso de la comunidad, esta última creación del día del amor y la amistad es mi participación oficial, quiero decir que dejé lo mejor para el final esta caja sorpresa tiene ese toque de ternura que me encanta en las manualidades, y para la fecha esta perfecta al leer el paso a paso no creerán lo fácil que es de hacer.
Happy Sunday creative community, throughout the week I have shared several crafts relating to Valentine's Day, but none has qualified as an entry to this community contest, this last creation of the day of love and friendship is my official participation, I mean I left the best for last this surprise box has that touch of tenderness that I love in crafts, and for the date this perfect to read the step by step you will not believe how easy it is to do.
---
El plus que pueden dar a este lindo obsequio es llenarlo de golosinas, aunque la caja que muestro es pequeña les recomiendo hacer una de mayor tamaño para que guarden en ella muchas sorpresitas, escogí como protagonista el color negro a su lado colores como el rosa resaltan mucho y dan un toque minimalista considerando que tendrán muchas decoraciones, recuerden que el día del amor y la amistad es todos los días, den amor para recibir amor, quienes los rodean merecen que les muestren afecto, disfruten del proceso.
The plus that you can give to this nice gift is to fill it with goodies, although the box that I show is small I recommend you to make a larger one to keep in it many surprises, I chose as the protagonist the color black next to it colors like pink stand out a lot and give a minimalist touch considering that you will have many decorations, remember that the day of love and friendship is every day, give love to receive love, those around you deserve to show them affection, enjoy the process.



Materiales: || Materials:
▪️ Cartulina negra y rosa, foami negro, rosado y rojo, marcado negro, lápiz, tijeras, regla geométrica, estambre blanco, silicón líquido.
▪️ Black and pink cardboard, black, pink and red foami, black marker, pencil, scissors, geometric ruler, white yarn, liquid silicone.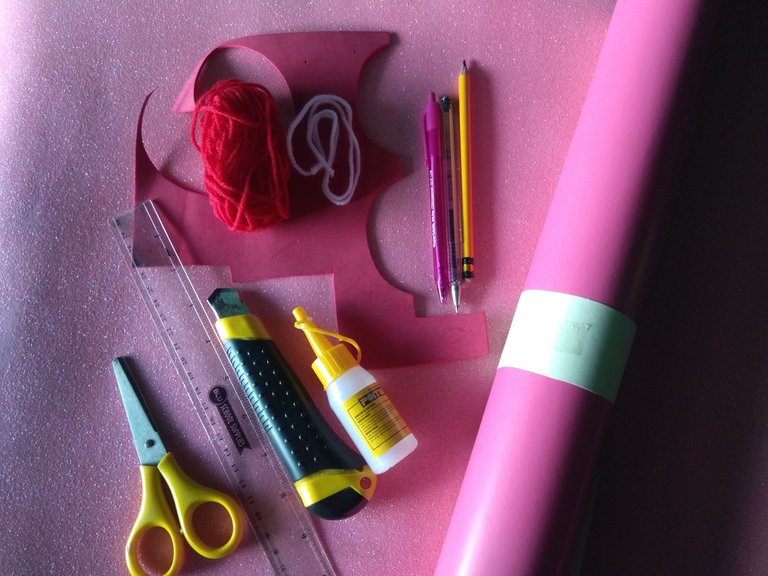 Paso a paso: || Step by step:
Trazar y recortar un cuadrado de 30 cm de la cartulina negra es el primer paso, luego en cada lado mediremos 10 cm y usando la regla geométrica doblaremos creando 9 cuadrados.
Trace and cut out a 30 cm square from the black cardboard is the first step, then on each side we will measure 10 cm and using the geometric ruler we will fold creating 9 squares.
---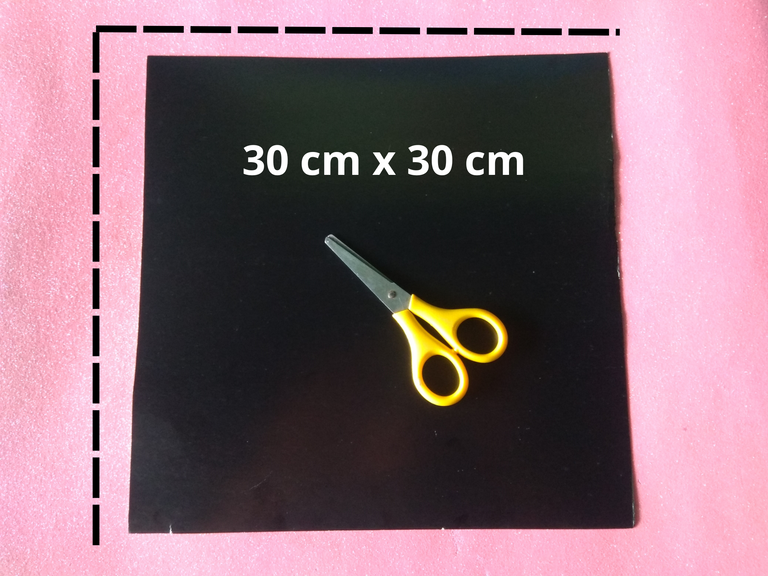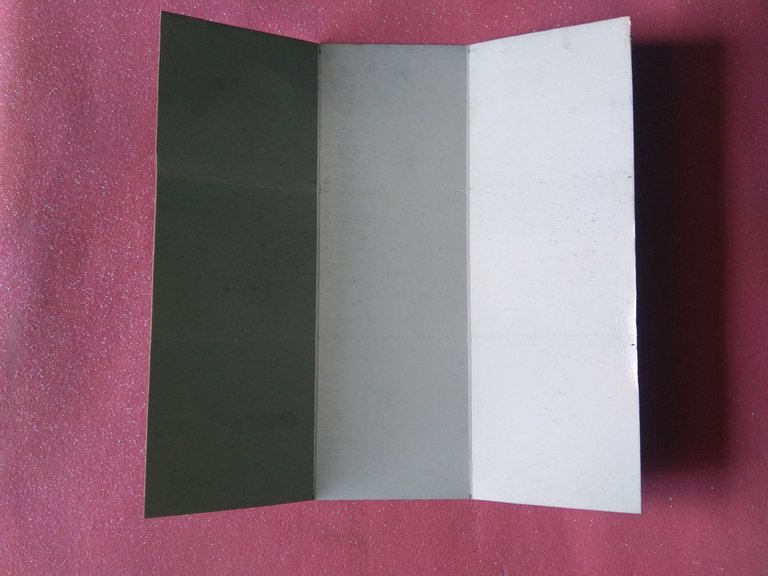 ---
En cada esquina doble uniendo los extremos para poder cerrar la caja, además en esas esquinas crearemos corazones, para ello es necesario recortar un cuadrado de 10 cm como patrón, pueden usar papel o alguna cartulina que tengan a la mano.
In each corner, fold the ends together to close the box, also in those corners we will create hearts, for this it is necessary to cut a square of 10 cm as a pattern, you can use paper or cardboard that you have at hand.
---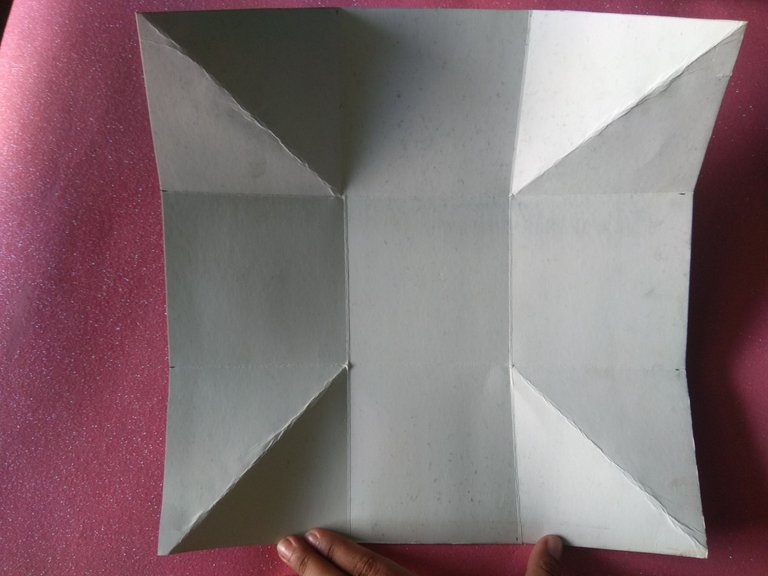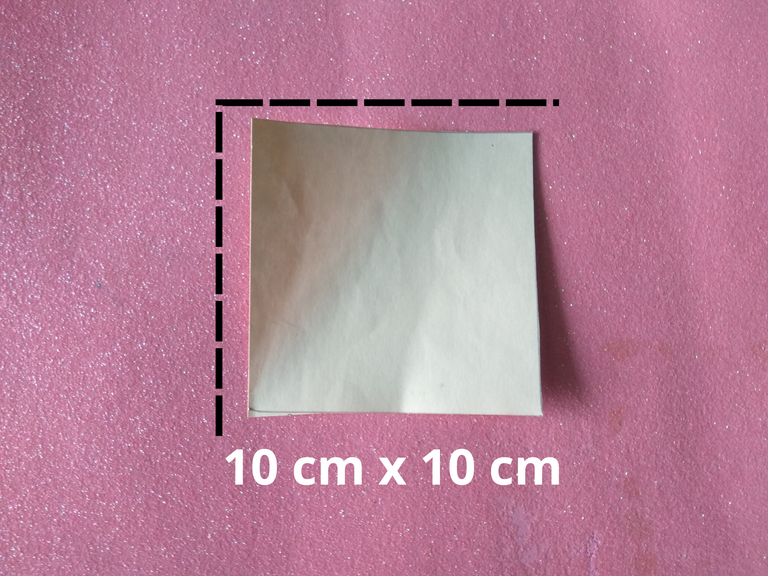 ---
Con el patrón creado haremos un corazón, ese corazón debemos trazarlo 4 veces en la cartulina rosa, luego recortamos las piezas. También debemos recortar varios cuadrados pequeños, específicamente 4 rosados de 7 cm, y 5 negros de 10 cm.
With the created pattern we will make a heart, this heart must be traced 4 times on the pink cardboard, then we cut out the pieces. We must also cut out several small squares, specifically 4 pink squares of 7 cm, and 5 black squares of 10 cm.
---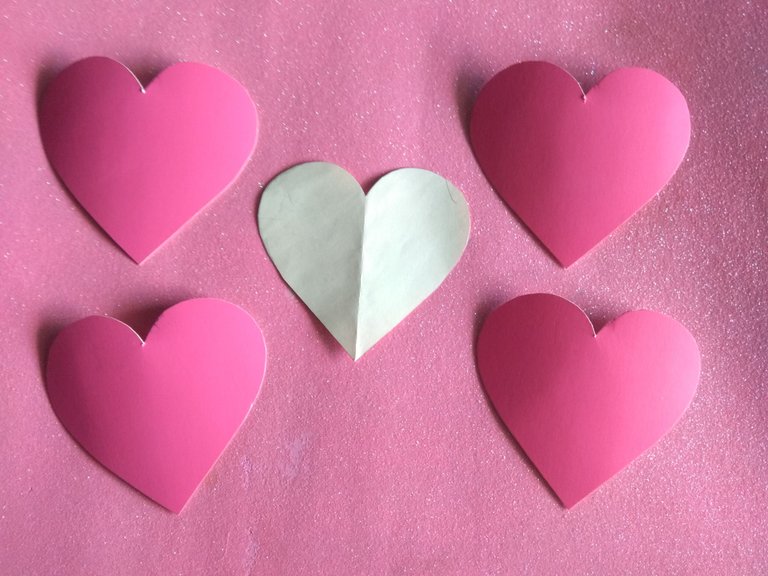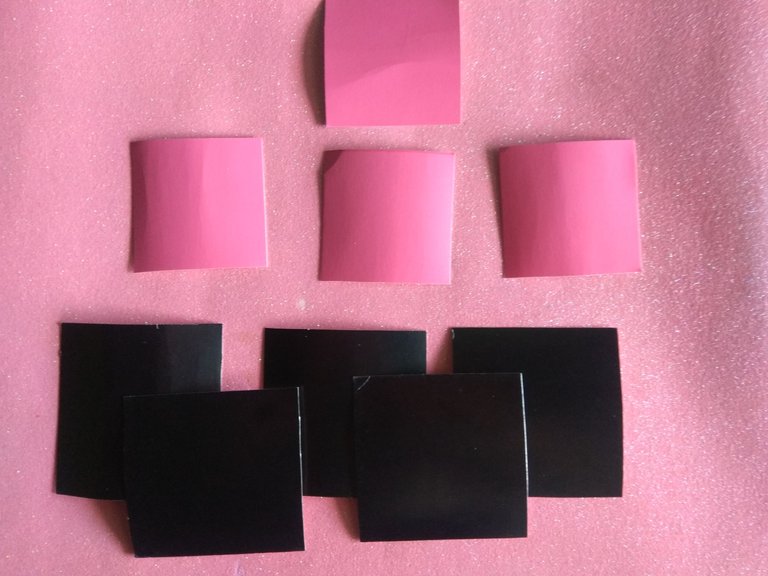 ---
Empecemos con la decoración de la caja, primero pegaremos los cuadrados negros tal y como muestra la imagen, seguido de las decoraciones en rosados, los corazones y cuadrados pequeños. Al secar deben recortar la cartulina excedente de los corazones.
Let's start with the decoration of the box, first we will glue the black squares as shown in the picture, followed by the pink decorations, the hearts and small squares. When dry, cut out the excess cardboard from the hearts.
---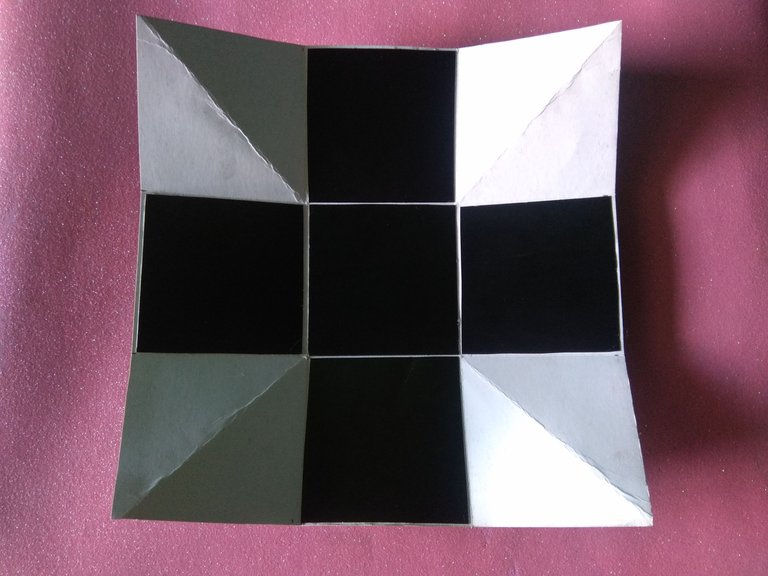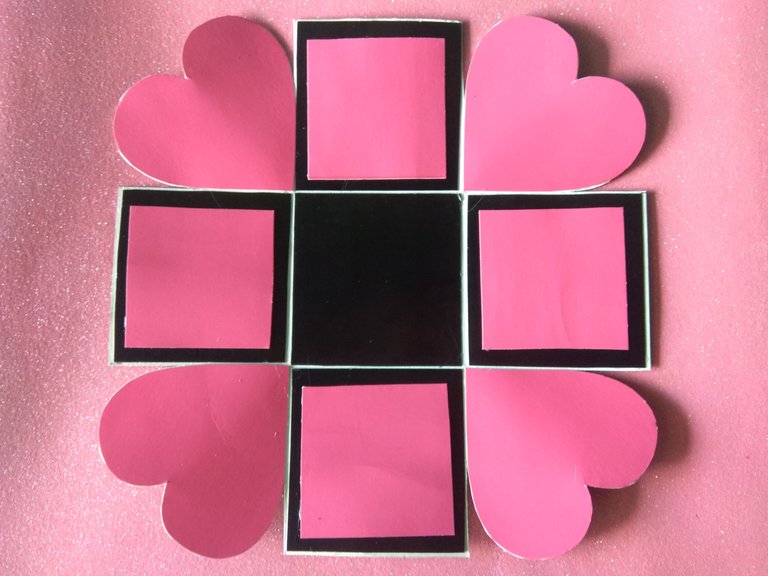 ---
Luego del paso anterior pueden escribir lo que deseen, yo tomé varias frases y las escribí en cada espacio rosa, además agregué corazones sujetados por estambre, resta crear la tapa de la caja, se necesita un cuadrado de cartulina rosa de 16,5 cm.
After the previous step you can write whatever you want, I took several phrases and wrote them in each pink space, I also added hearts held by yarn, subtract to create the lid of the box, you need a square of pink cardboard of 16.5 cm.
---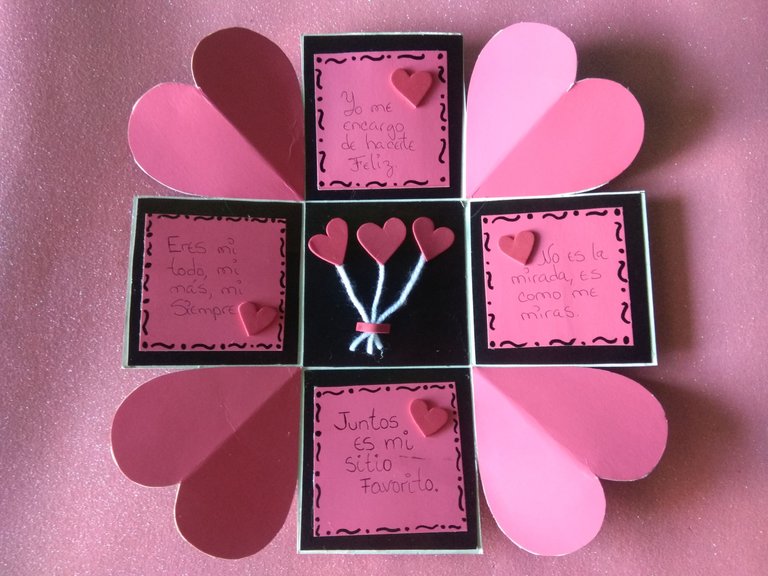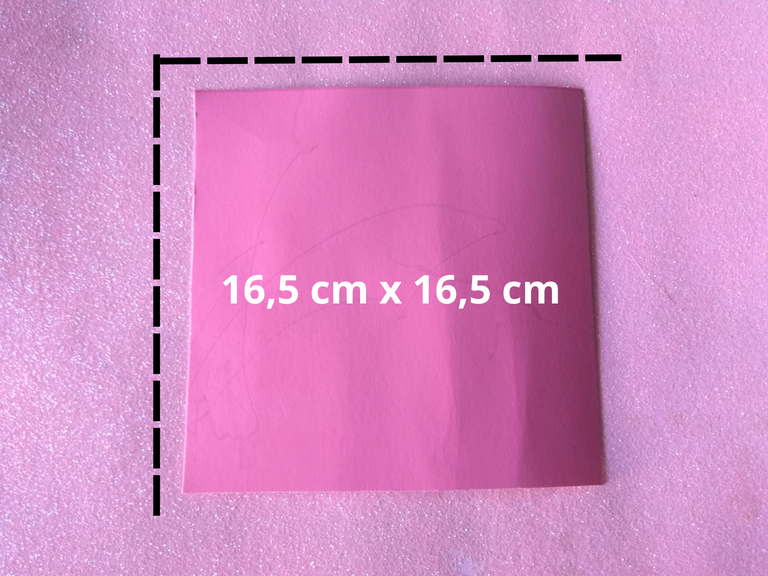 ---
Marcaremos 3 cm en cada lado y repetiremos el paso de marcar líneas usando la regla geométrica, luego hacemos 4 cortes en cada esquina para luego pegarlos y forma la tapa.
We will mark 3 cm on each side and repeat the step of marking lines using the geometric ruler, then we will make 4 cuts in each corner to glue them together and form the lid.
---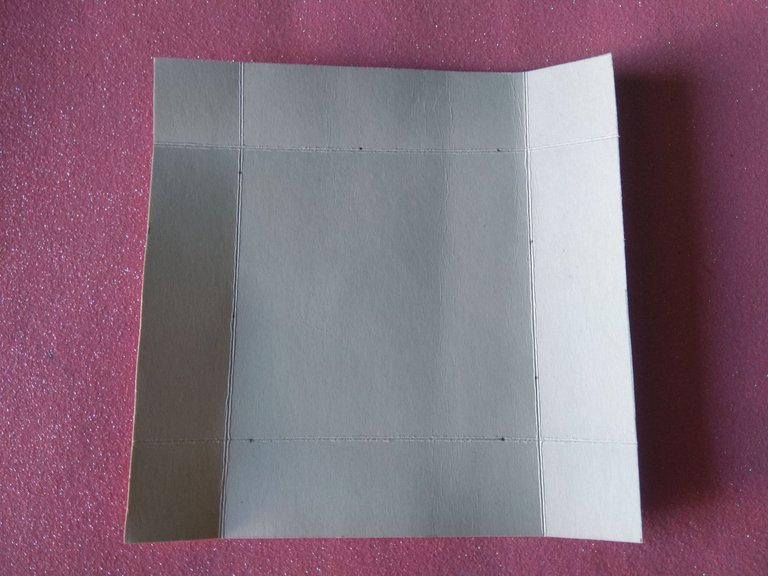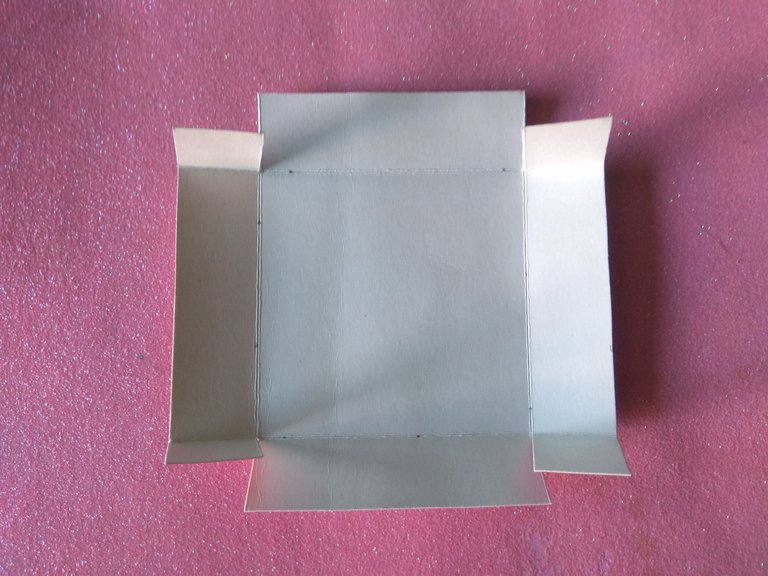 ---
Al terminar con la tapa podemos decorarla, esto es totalmente opcional pero recomendado, puede ser una decoración libre o seguir la que hice, mi decoración consta de una cara con expresión kawaii hecha con marcadores, y un lazo hecho con foami.
When we finish with the lid we can decorate it, this is totally optional but recommended, it can be a free decoration or follow the one I did, my decoration consists of a face with a kawaii expression made with markers, and a bow made with foami.
---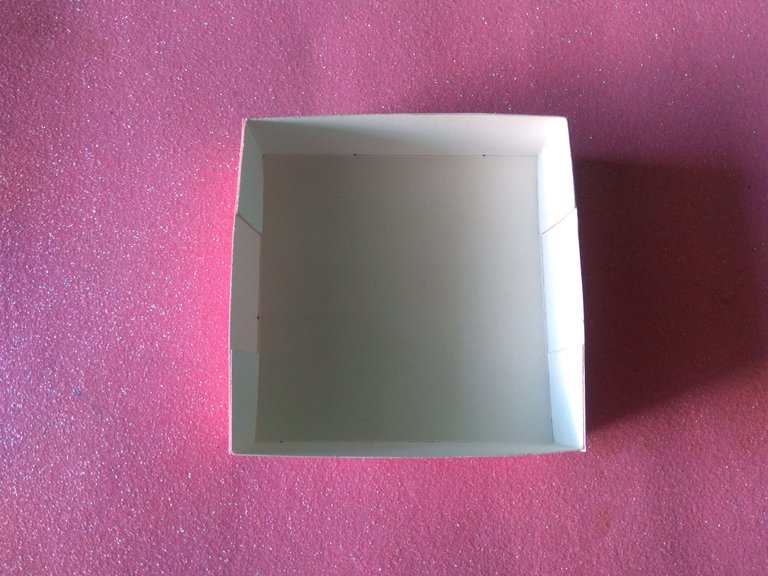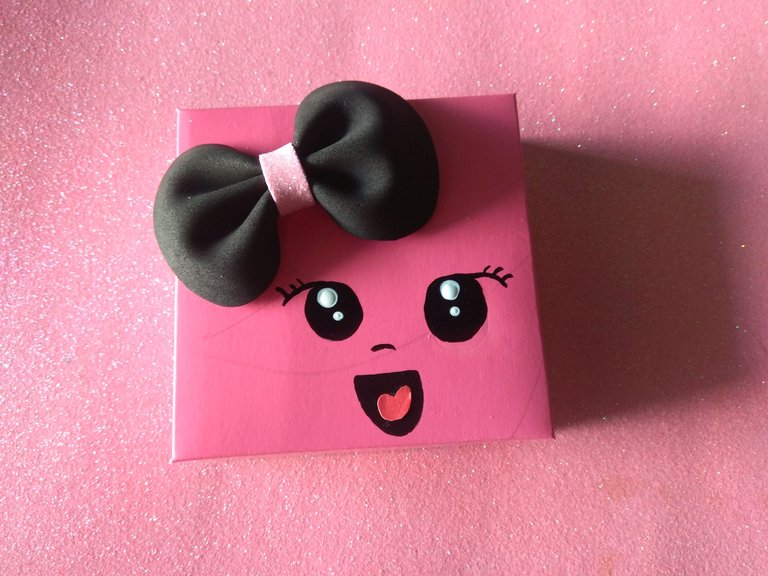 ---
Por último cerramos la caja y colocamos la tapa, no olviden llenar de golosinas para que la sorpresa sea mayor.
Finally we close the box and place the lid, do not forget to fill it with candies to make the surprise even bigger.
---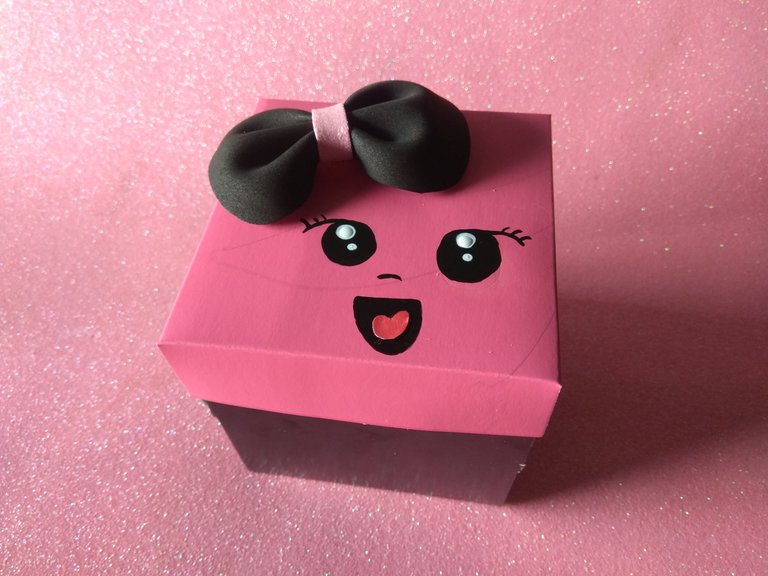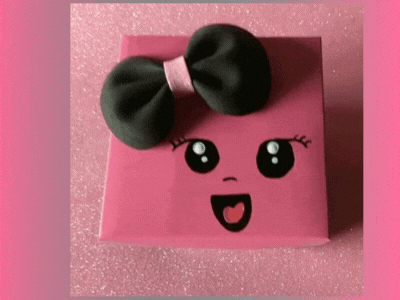 Caja sorpresa de amor. || Surprise box of love.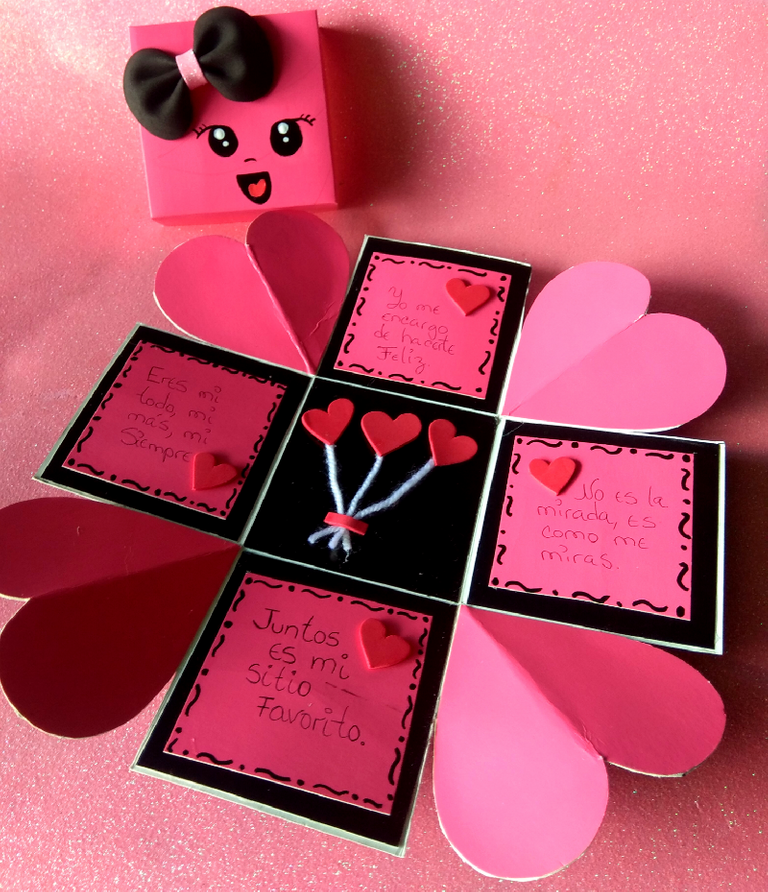 ---
---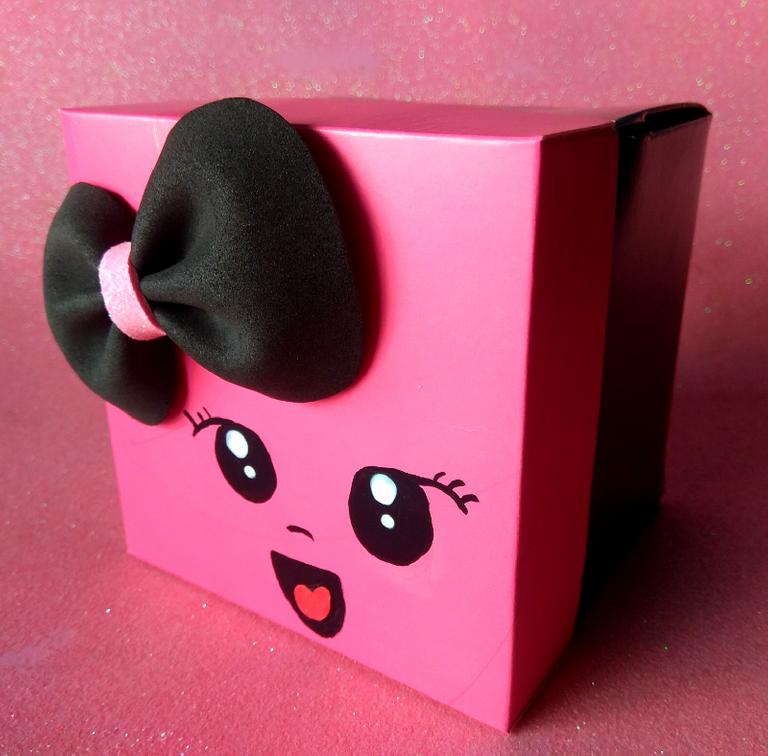 Cierro la semana con esta participación llena de amor, aunque San Valentín fue hace días dar un obsequio a quien aprecias nunca quedará mal, esta caja como ven es muy fácil de hacer que muchos se animen a crearla es el propósito de este post, quiero invitar a este concurso a @gabimramirez aun estás a tiempo de participar, dime en los comentarios si te gustó esta creación, gracias por llegar hasta aquí.
I close the week with this participation full of love, although Valentine's Day was days ago give a gift to who you appreciate will never be wrong, this box as you see is very easy to do that many are encouraged to create it is the purpose of this post, I want to invite this contest to @gabimramirez you are still in time to participate, tell me in the comments if you liked this creation, thanks for getting here.
---
Enlace al post original: || Link to original post:
New Contest: Valentine's Day (ESP/ENG)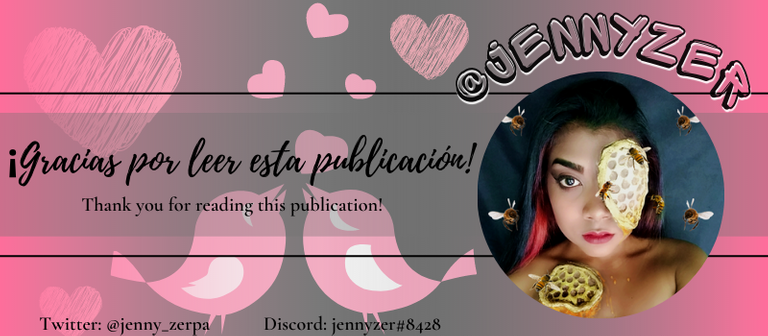 Imágenes tomadas desde mi Xiaomi Redmi Note 4. || Images taken from my Xiaomi Redmi Note 4.
Separadores hechos en Canva. || Dividers made in Canva.
Ediciones hechas en Canva. || Editions made in Canva.
Vídeos convertidos en gif || Videos converted to gif IMG2GO
Translator Deepl.