Hola amigos de #hive, en especial a los de la comunidad #HiveDiy, espero estén bien.
Hoy compartiré con ustedes un bricolaje : hermoso adorno de navidad , hecho con foami escarchado.
Hello #hive friends, especially to those of the #HiveDiy community, I hope you are well.
Today I will share with you a DIY : beautiful Christmas ornament , made with frosted foami.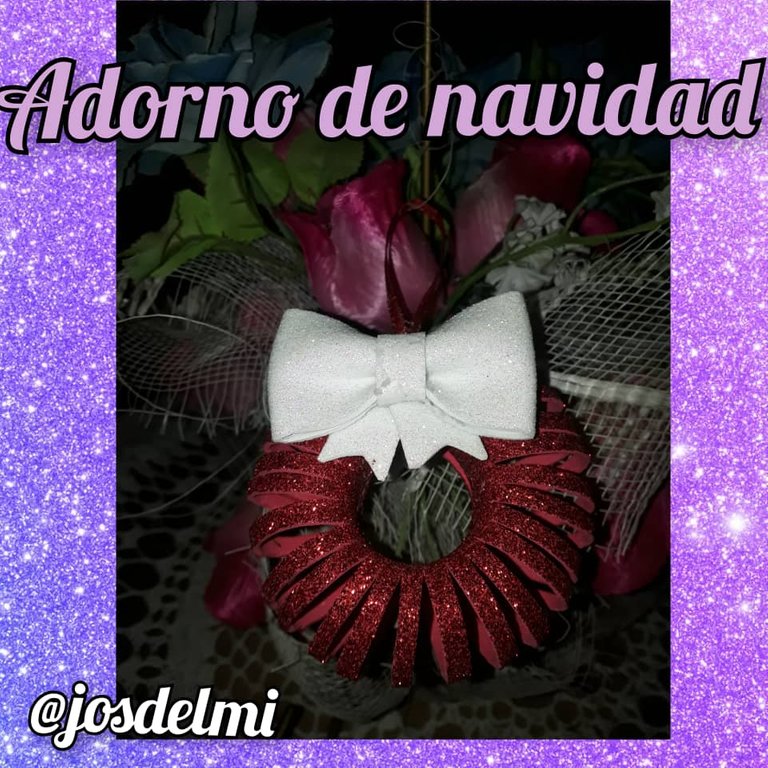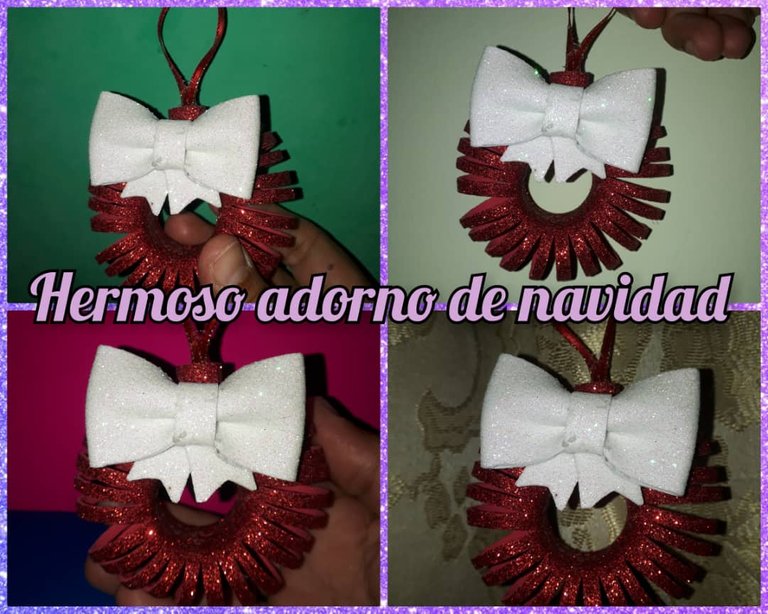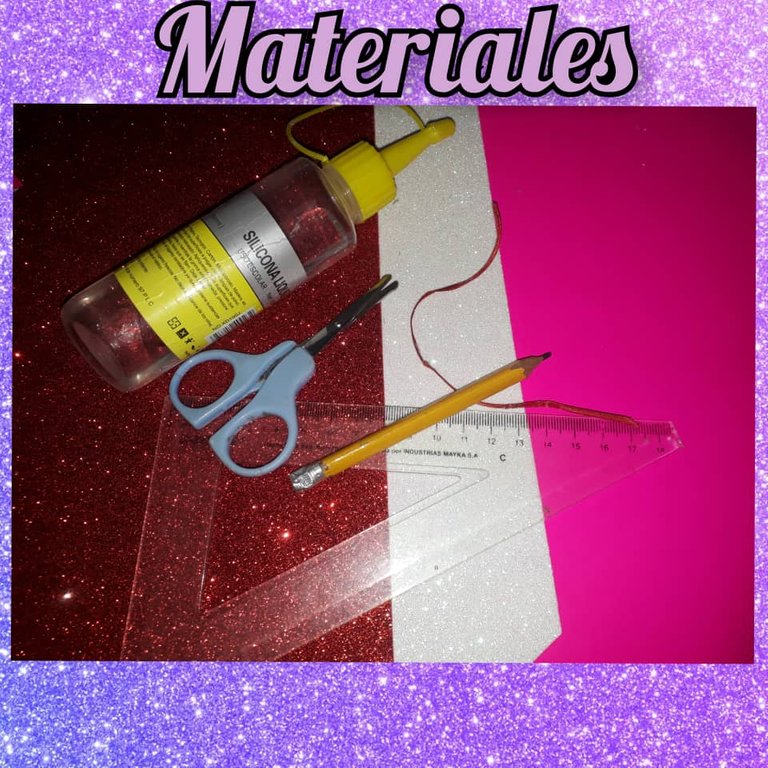 Materiales:
Foami o goma eva escarchado: rojo y blanco.
Silicona líquida.
Lápiz.
Tijera.
Regla.
Cinta delgada.
Materials:
Foami or frosted eva rubber: red and white.
Liquid silicone.
Pencil.
Scissors.
Ruler.
Thin ribbon.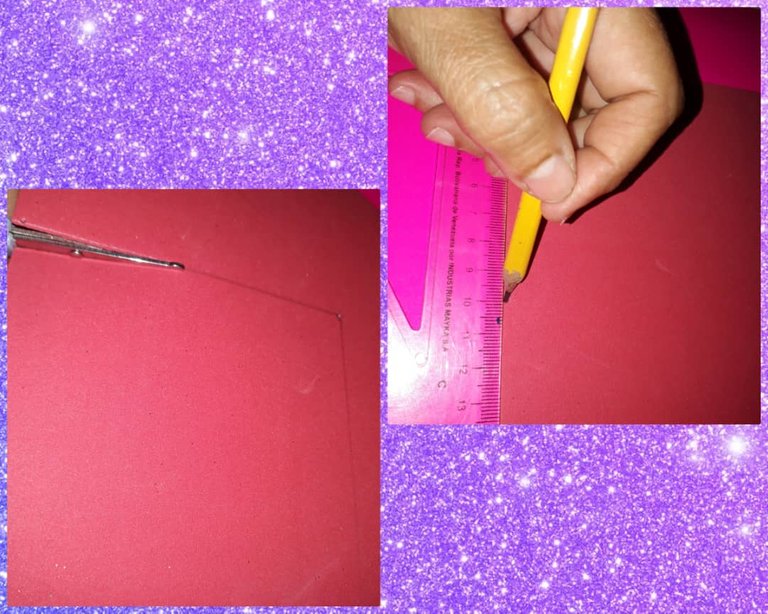 Paso a paso:
Marca en el foami un rectángulo de 9 x 10 centímetros y recortas con tijera.
Step by step:
Mark on the foami a rectangle of 9 x 10 centimeters and cut out with scissors.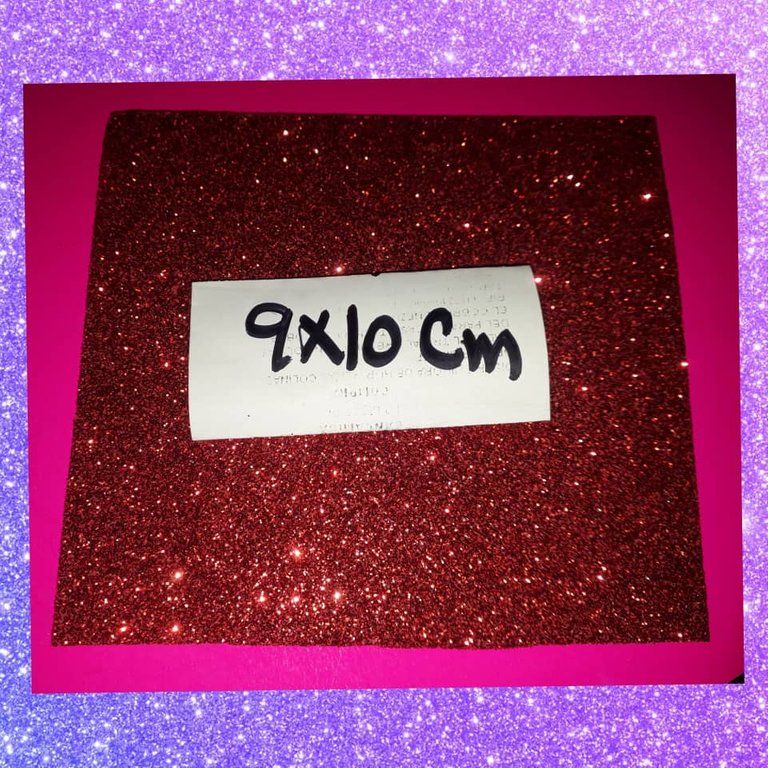 Ahora a ese rectángulo , marca un centímetro por uno de los lados.
Con la tijera comienzas a cortar pedazos pequeños, como indica la imagen.
Now mark one centimeter on one of the sides of the rectangle.
With the scissors you start cutting small pieces, as shown in the picture.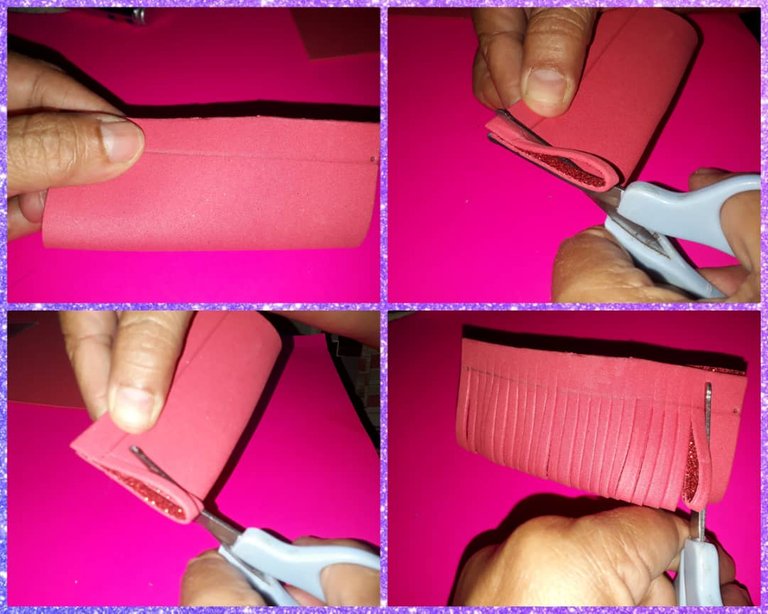 Así de esta manera debe quedar el rectángulo.
The rectangle should look like this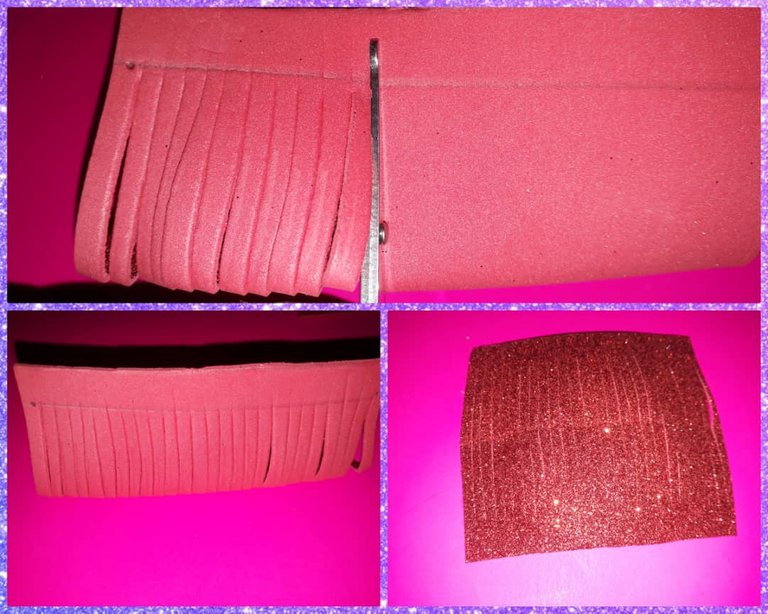 Marca y recorta un rectángulo de 2 x 11 centímetros.
Luego pegas con silicona el rectángulo, en donde se marcó un centímetros.
Mark and cut out a rectangle of 2 x 11 centimeters.
Then glue the rectangle with silicone, where it was marked one centimeter.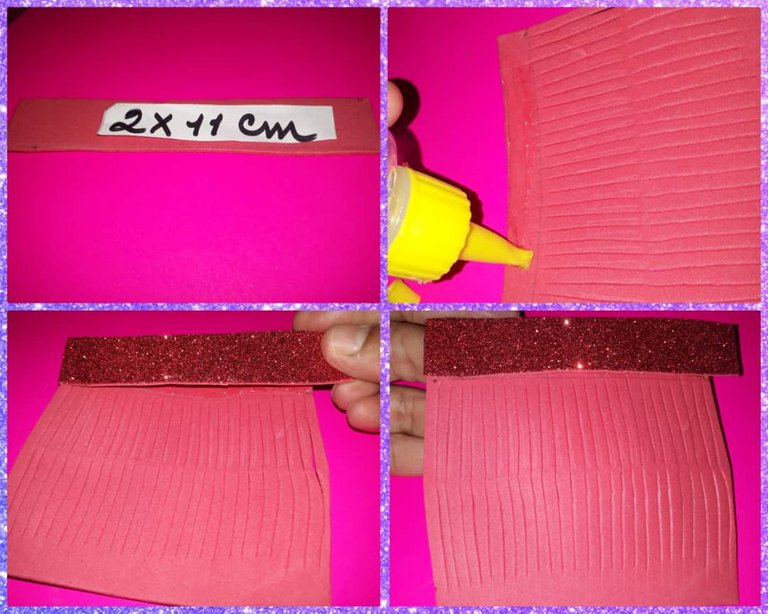 Se pega de esta manera como indica la imagen, se pega el otro extremo y luego la punta que sobresale , se pega del otro extremos.
It is glued in this way as shown in the picture, the other end is glued and then the tip that protrudes, is glued from the other end.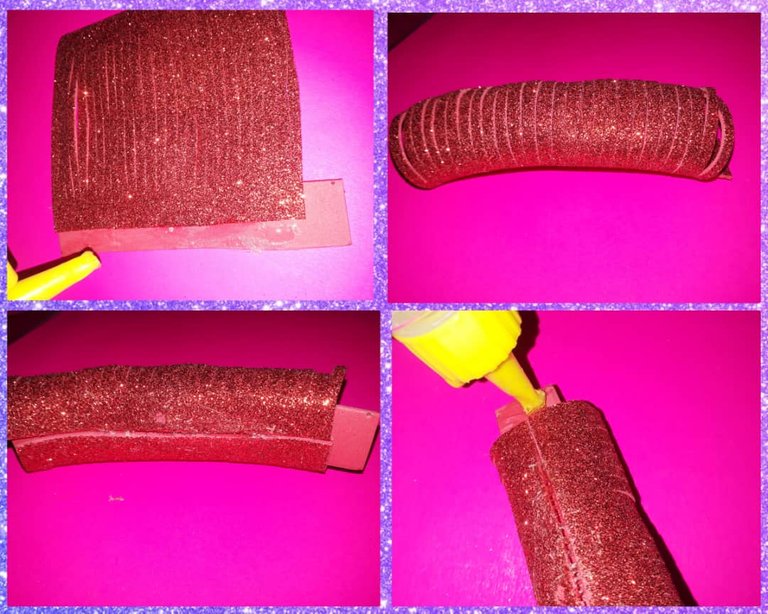 Debe quedar de esta manera.
It should look like this.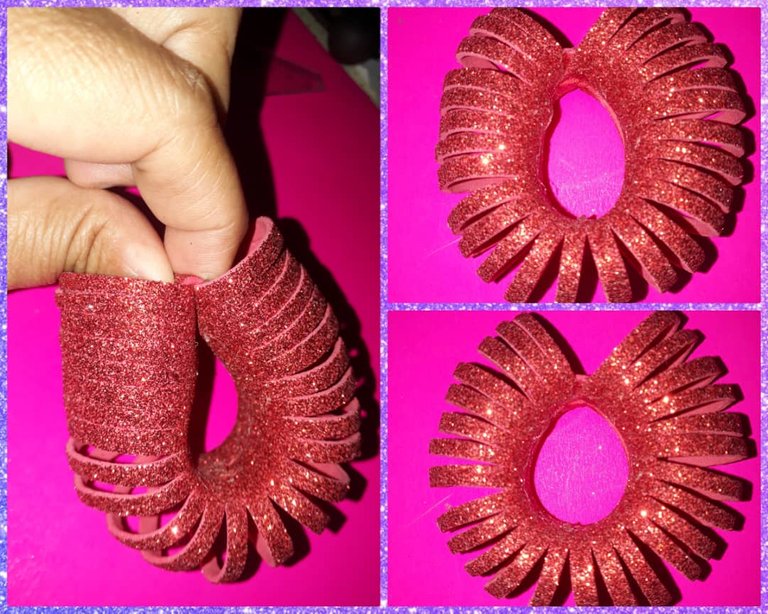 Para hacer lo que va a guindar el adorno: se recorta con foami ,un cuadrado de 1,5 x 8 centímetros, se pega la cinta y luego comienza a enrollar el foami.
To make what is going to hang the ornament: cut out a square of 1.5 x 8 centimeters with foami, glue the ribbon and then start rolling the foami.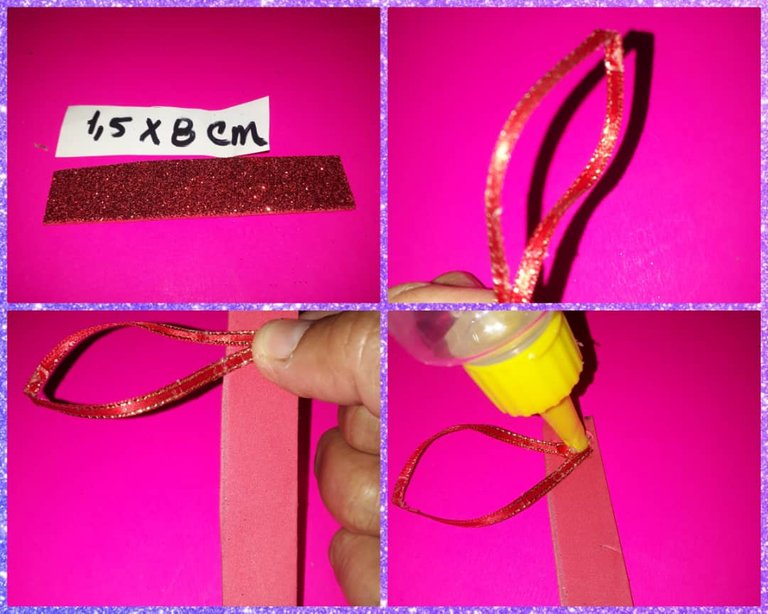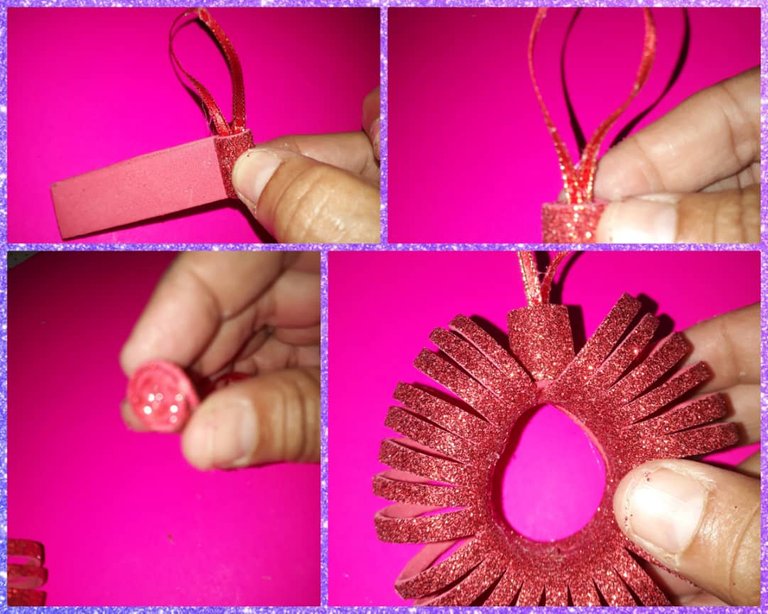 Debe quedar así.
It should look like this.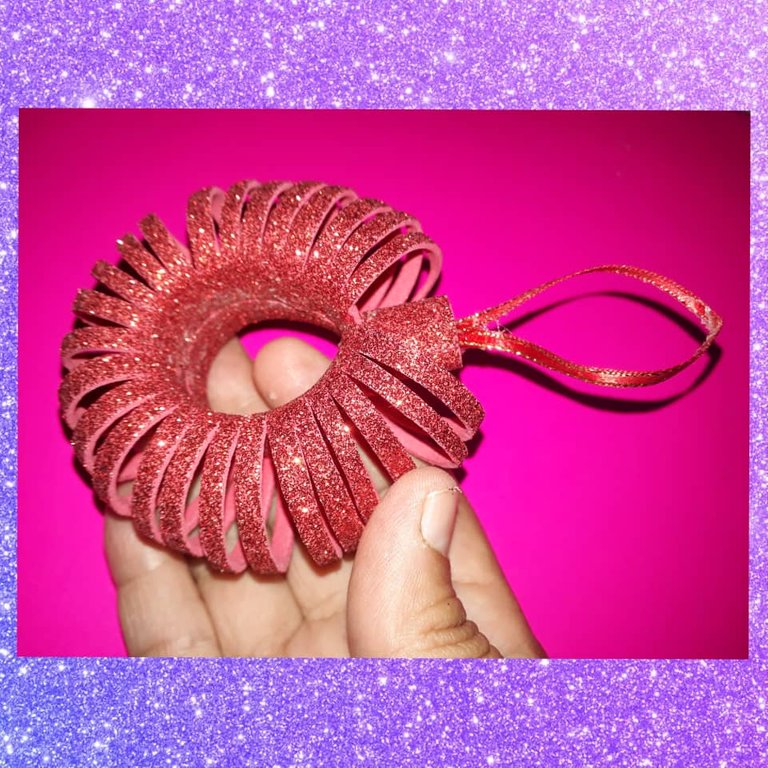 Ahora para formar el lazo, recortar en foami blanco un rectángulo de : 11 x 3 centímetros.
Luego pegar las puntas con silicona.
Now to form the bow, cut a rectangle of 11 x 3 centimeters out of white foami.
Then glue the ends with silicone.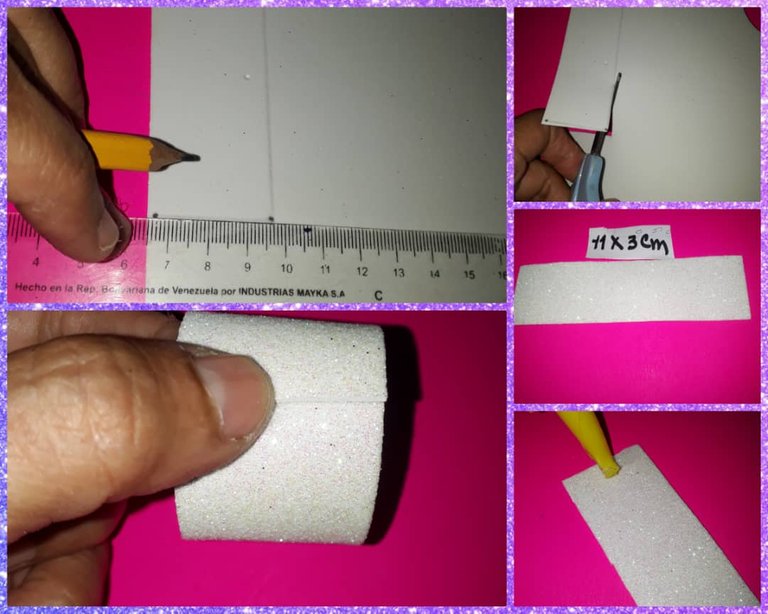 Para colocar lo que va en el medio del lazo, recorta un rectángulo: 1 x 5 centímetros de color blanco.
Luego pegas con silicona, las dos puntas del foami.
To place what goes in the middle of the bow, cut out a rectangle: 1 x 5 centimeters in white.
Then glue with silicone, the two ends of the foami.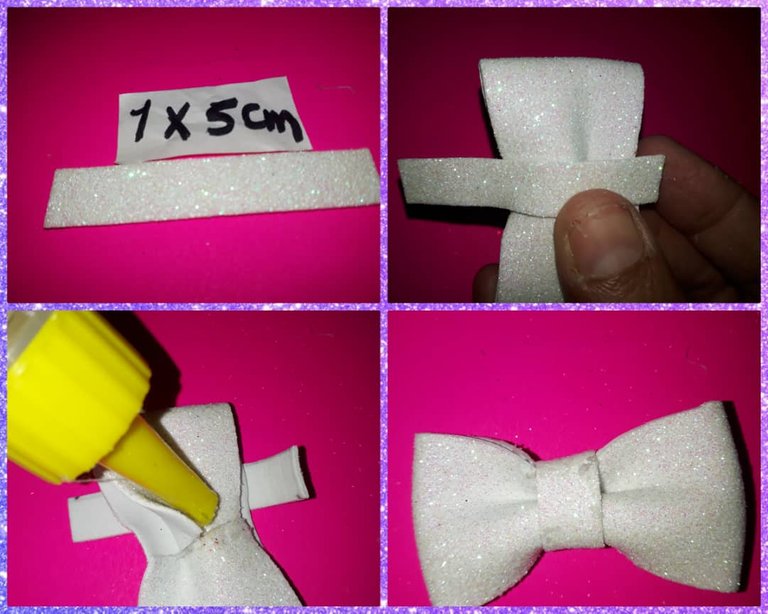 Para la parte de abajo del lazo, recorta un rectángulo de 3 x 1,5 centímetros, picas por la mitad y pegarlo a cada lado
del lazo.
For the bottom of the bow, cut out a 3 x 1.5 centimeter rectangle, cut it in half and glue it to each side of the bow.
side of the bow.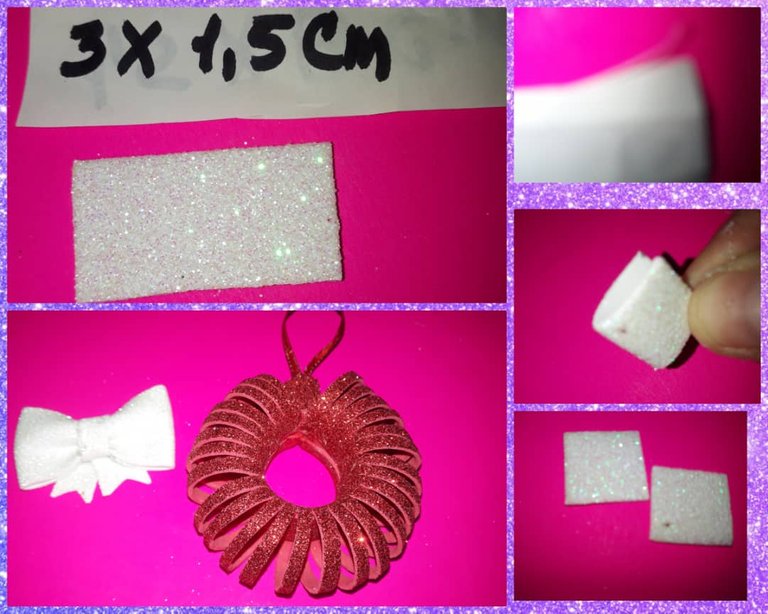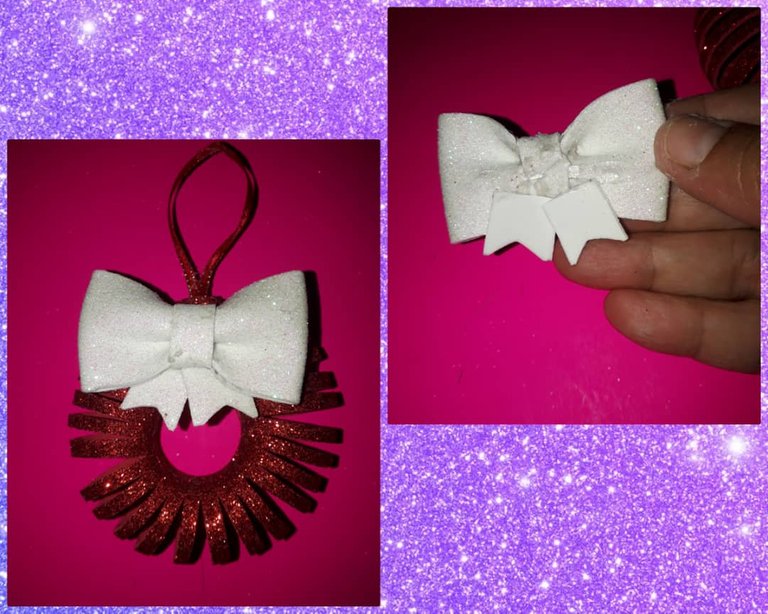 Resultado final un hermoso adorno navideño.
The end result is a beautiful Christmas ornament.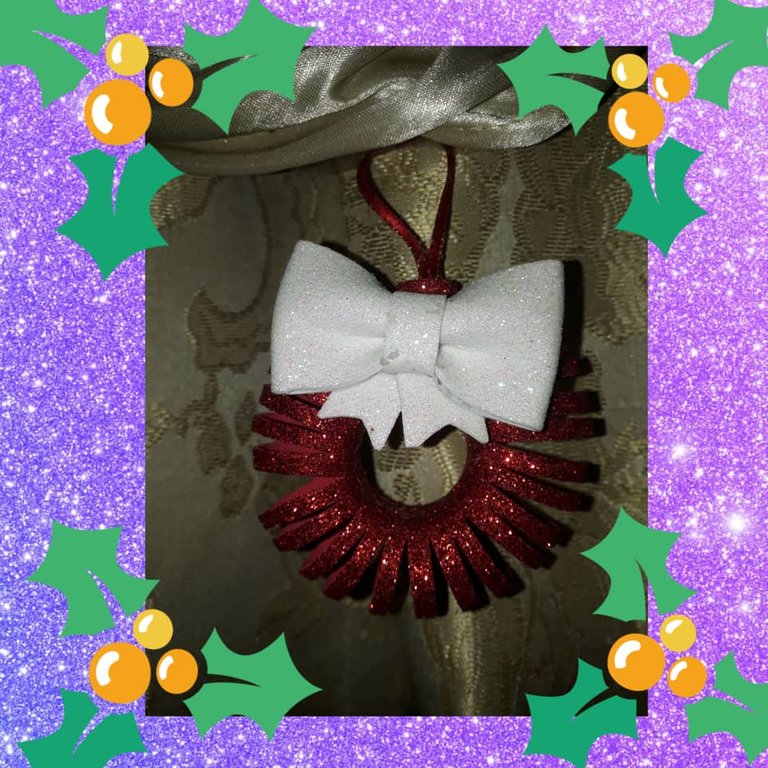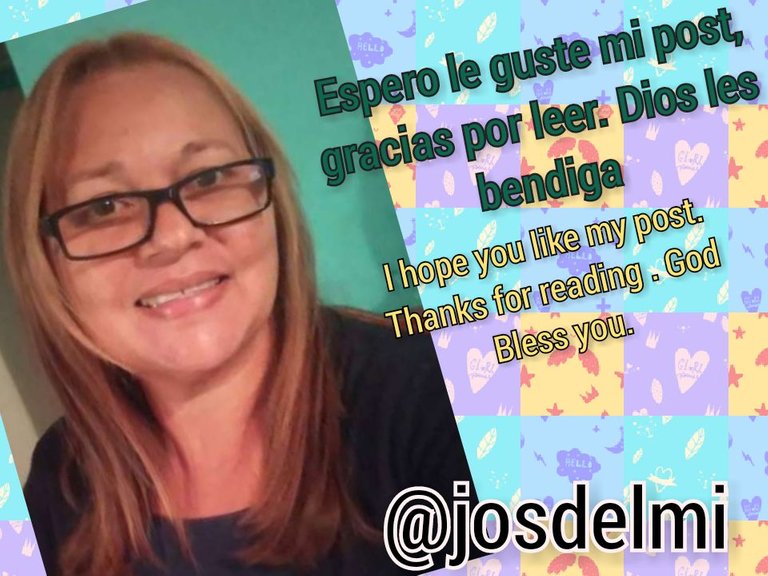 Las fotos son de mi autoría, capturadas con telefono Samsung y editada con Incollage.
   Traducidos con DEEPL.

          The photos are my own, captured with Samsung phone and edited with Incollage.
 Translated with DEEPL.

GRACIAS POR LEER Y VOTAR. MUCHAS BENDICIONES
@josdelmi
THANK YOU FOR READING AND VOTING. MANY BLESSINGS
@josdelmi