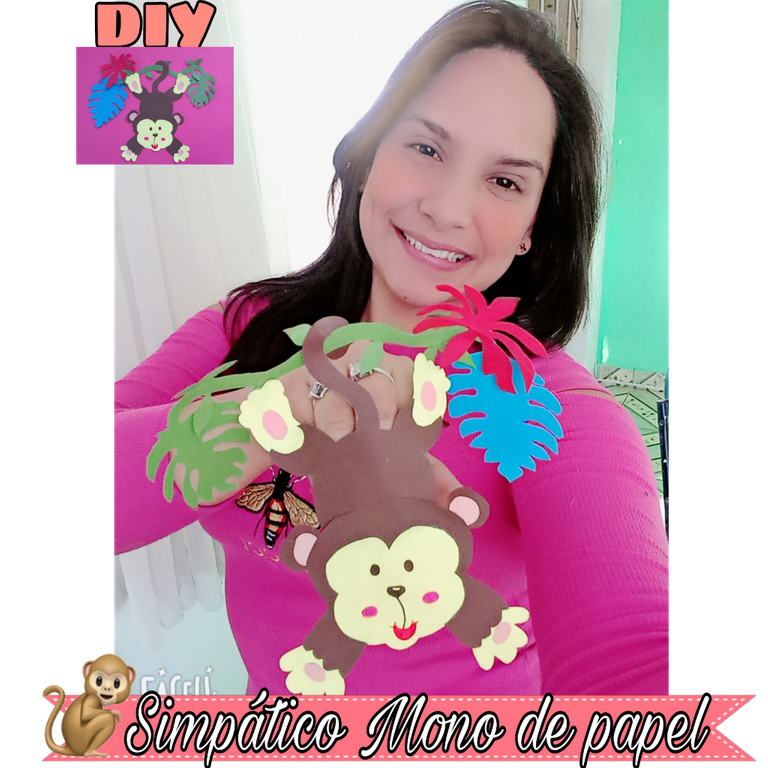 Hola que tal mis queridos amigos de #Hive espero que estén pasando un excelente día, el DIY de hoy se trata de un Simpático y Divertido Mono , espero les guste y se animen a hacerlo.
Hello my dear friends of #Hive I hope you are having a great day, today's DIY is about a cute and funny monkey, I hope you like it and encourage you to do it.

Materiales a utilizar:
Patrón de las piezas que forman el mono.
Papel de color marrón, amarillo 💛, azul 💙, verde, rojo, rosa palo.
Marcadores de color, negro ⚫, rojo, fucsia.
Lápiz ✏.
Tijeras ✂.
Pegamento en barra.
Materials to be used:
Pattern of the pieces that make up the monkey.
Colored paper brown, yellow 💛, blue 💙, green, red, pale pink.
Colored markers, black ⚫, red, fuchsia.
Pencil ✏.
Scissors ✂.
Glue stick.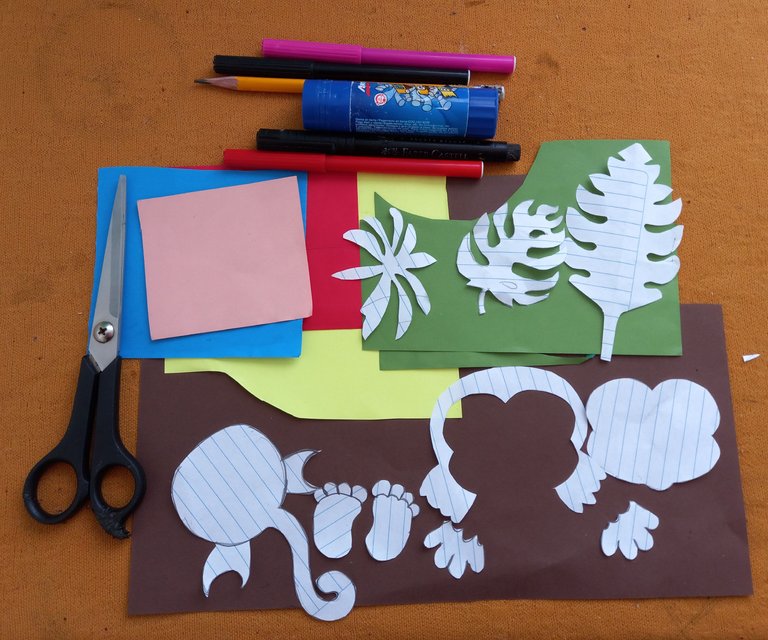 ¡AHORA SI AMIGOS, MANOS A LA OBRA!
NOW FRIENDS, HANDS TO WORK!
Coloca los patrones de cada pieza sobre el papel, según el color que hayas escogido para cada una de ellas, marca y recorta.
Place the patterns of each piece on the paper, according to the color you have chosen for each of them, mark and cut out.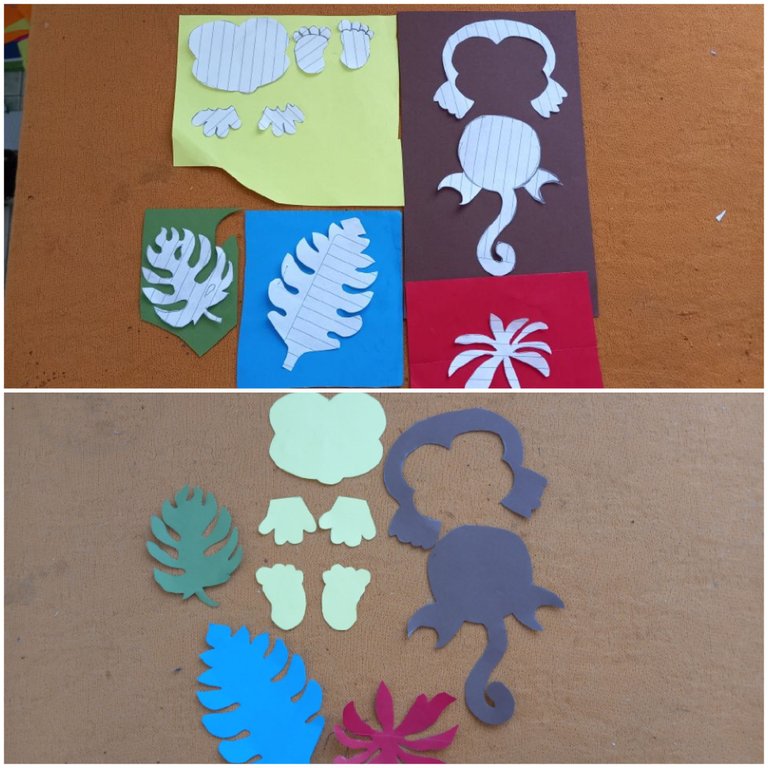 Une todas las piezas que forman el mono hasta darle forma 🐵
Join all the pieces that make up the monkey to give it shape 🐵.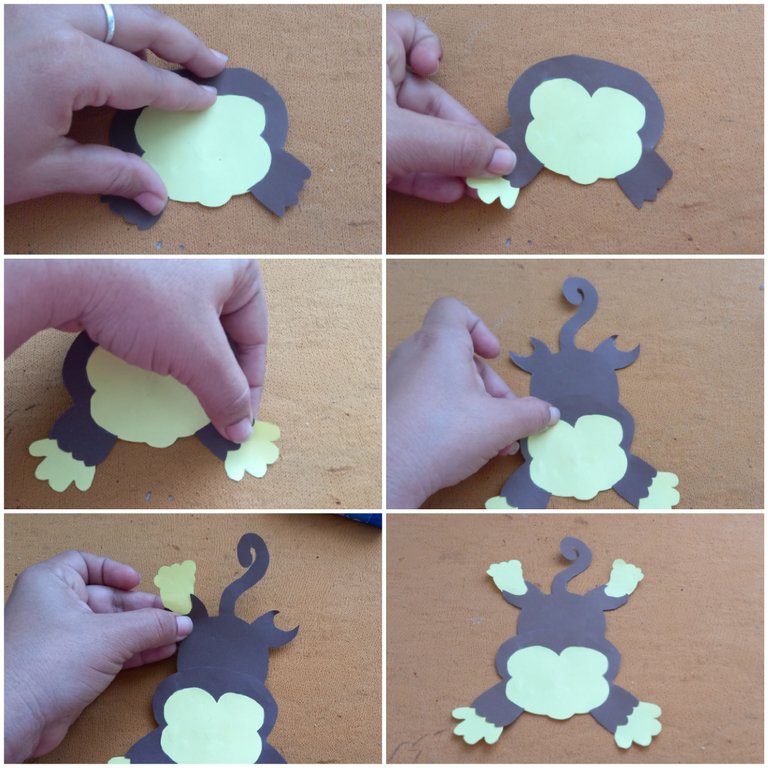 Pinta con el marcador negro los ojos 👀 y la nariz👃 , con el marcador rojo pinta la boca y con el marcador fucsia pinta el rubor 😊.
Paint with the black marker the eyes 👀 and the nose👃 , with the red marker paint the mouth and with the fuchsia marker paint the blush 😊.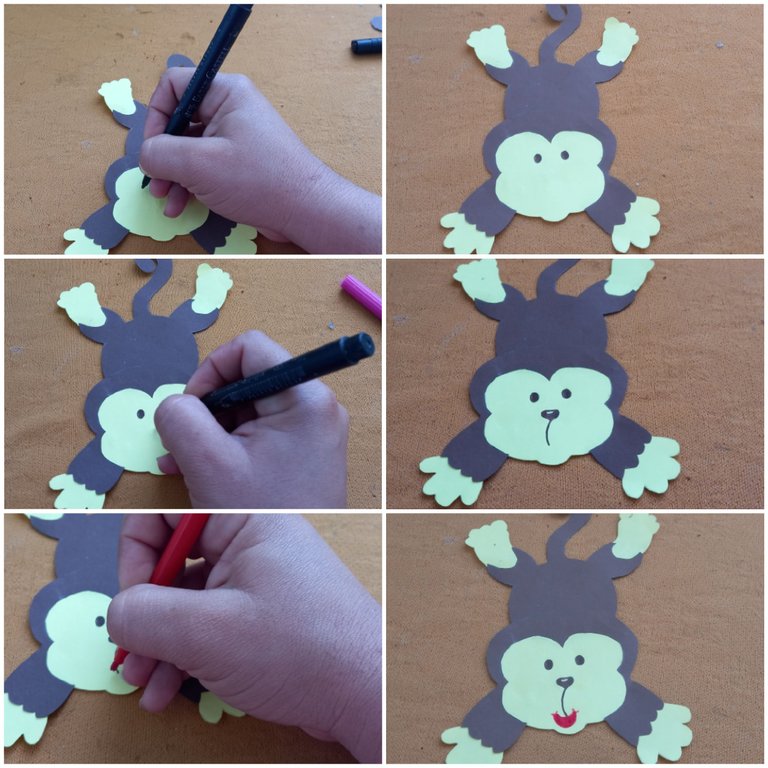 Realiza cuatro óvalos de papel rosa palo, dos para pegar en las patitas y dos para las manos ✋.
Make four ovals out of pink stick paper, two to glue on the little legs and two for the hands ✋.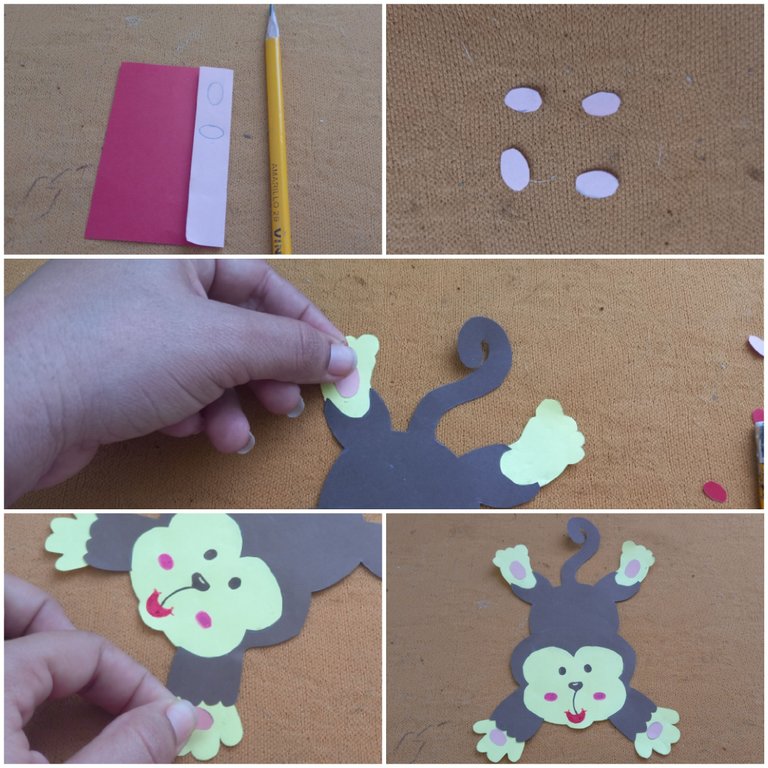 Marca el patrón de las orejitas del mono 🐵, recorta y pega.
Mark the pattern of the monkey's little ears 🐵, cut out and glue.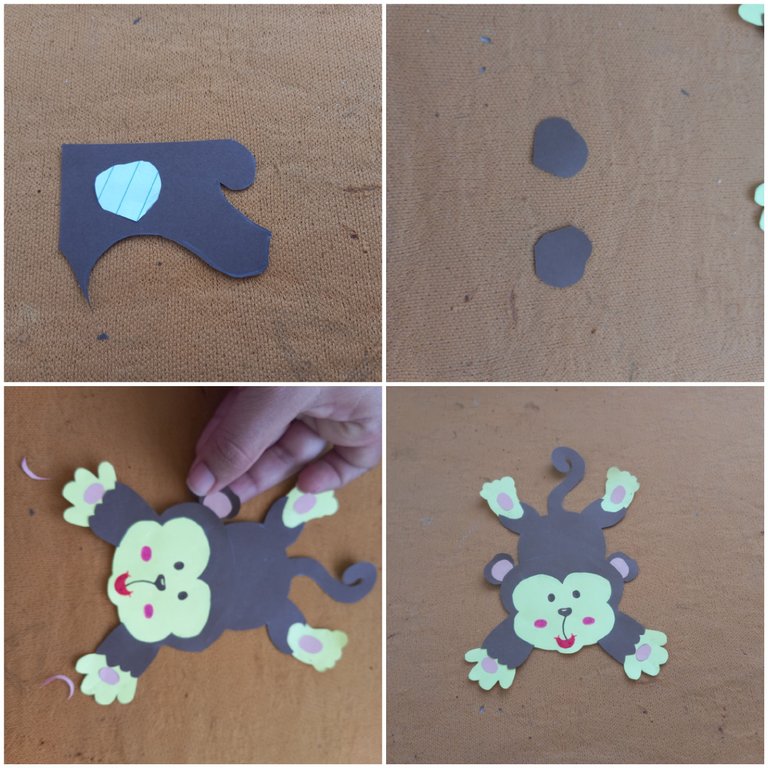 Dibuja una rama en el papel de color verde 💚, y recorta.
Draw a branch on the green colored paper 💚, and cut out.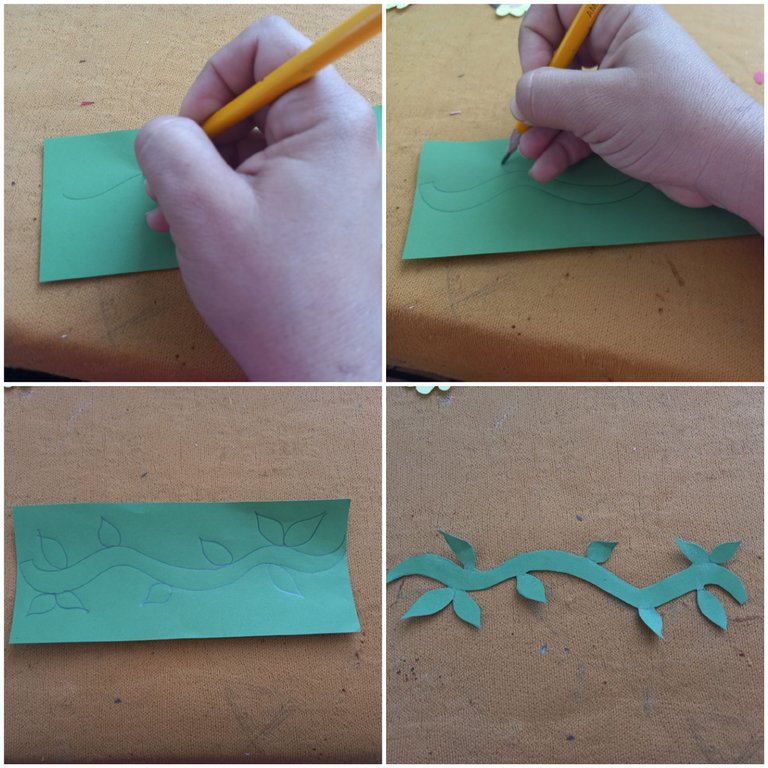 Por último, fija las olas y la flor en los extremos de la rama y cuelga el monito en en la misma.
Finally, attach the waves and the flower to the ends of the branch and hang the monkey on the branch.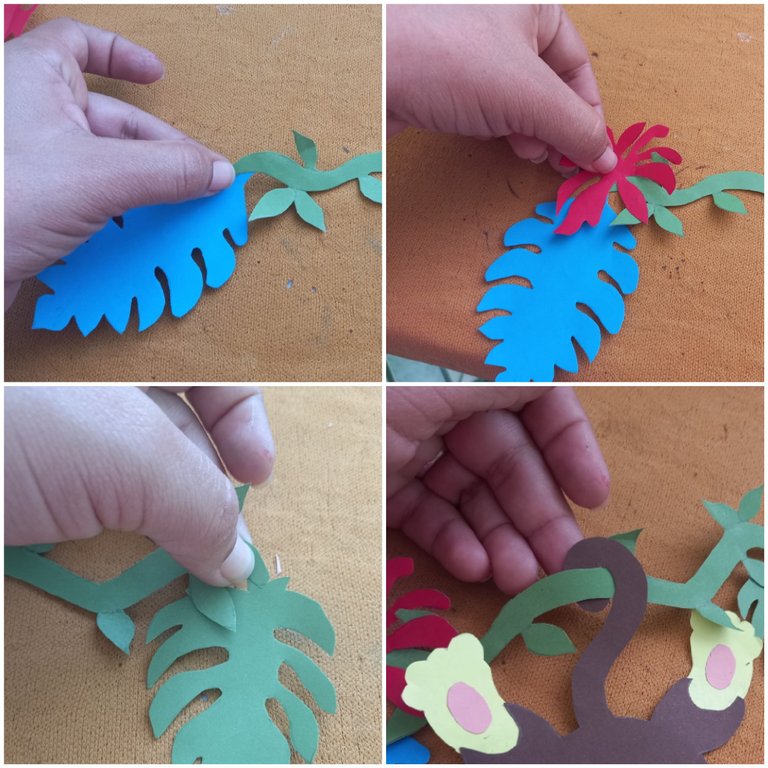 RESULTADO FINAL
FINAL RESULT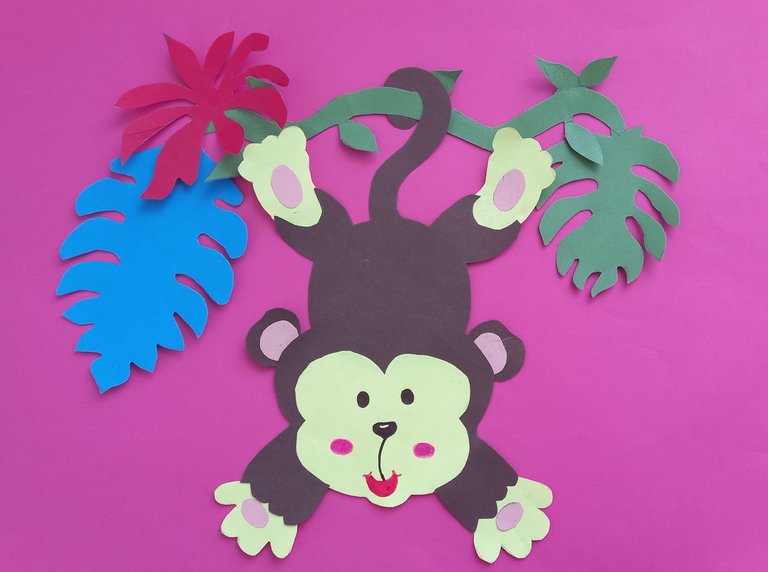 Hasta otra oportunidad mis queridos amigos
Until another chance my dear friends
¡DIOS LOS BENDIGA MUCHO!
GOD BLESS YOU VERY MUCH!