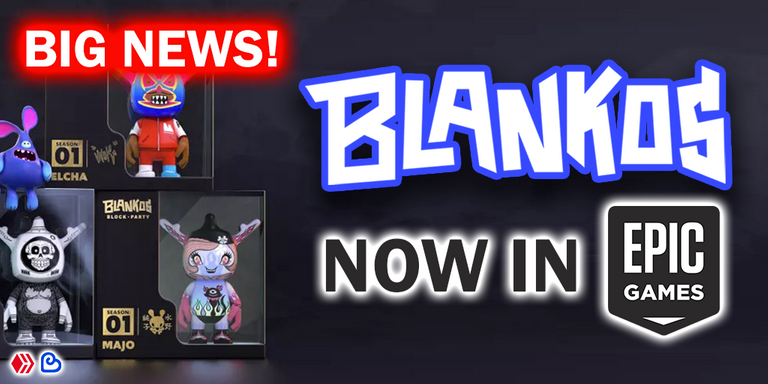 Blankos is a beautiful game of enormous quality. I talked about it a while ago when it was brand new.
This jewel of mythical games is moving forward with a steady and organized pace. They are close to leaving the beta version.
You can already create and sell items in their marketplace.
Blankos es un juego hermoso y de una calidad enorme. Hablé sobre él hace un tiempo cuando recién salía.
Está joya de mythical games avanza con paso firme y organizado. Están cerca ya de abandonar la versión beta.
Ya se pueden crear y vender items en su mercado.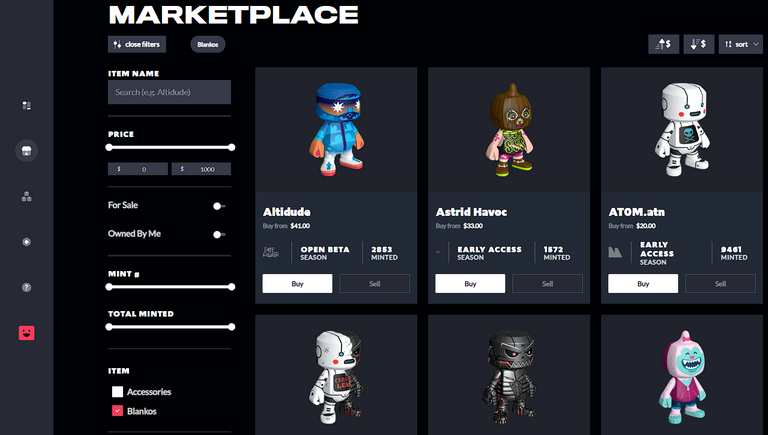 Screenshot from Mythical Marketplace

The F2P business model is quite arduous to advance as in any scarcity economy.
You have to do daily, weekly and seasonal tasks in a competitive environment with a variety of game modes and even the possibility of creating your own map, making it public, receiving ratings and being selected to receive a compensation.
El modelo de negocios F2P es bastante arduo de avanzar como en cualquier economía de escasez.
Hay que hacer tareas diarias, semanales y de temporada en un entorno competitivo o con la posibilidad de crear tu propio mapa, hacerlo público, ser calificado y al quedar seleccionado recibir una compensación económica.
---
Weekly and daily challenges. // Misiones diarias y semanales.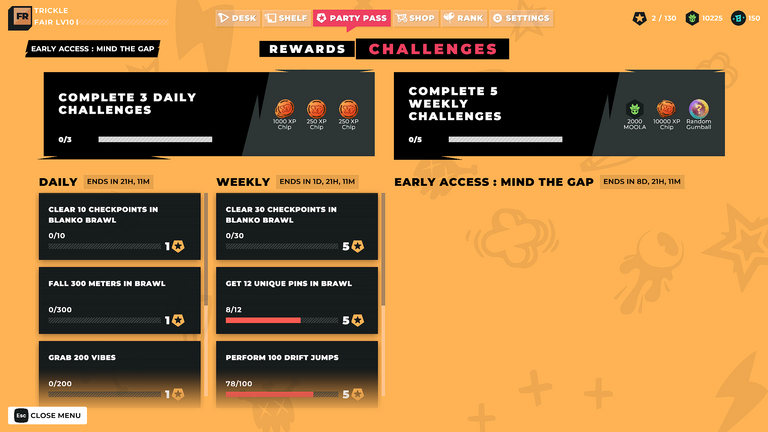 Ingame screenshot take from my PC.

But don't be scared! Just playing 1 hour a day is enough for an acceptable progress, ideal for casual players. But be careful! It is a very entertaining game.
The game is nice and intuitive with an intermediate difficulty, but still provides moments of intense and demanding fun.
I haven't tried the premium mode yet but I'm thinking about it. I am still in the research phase but I wanted to share the news with you.
Pero no se asusten! Basta con jugar 1 hora al día alcanza para un progreso aceptable, ideal para jugadores casuales. Pero cuidado! Es un juego muy entretenido.
El juego es simpático e intuitivo de una dificultad Intermedia, pero aun asi brinda momentos de diversión intensa y exigente.
Aún no probé el modo premium aunque lo estoy deliberando. Me encuentro en fase de investigación pero quería compartirles la noticia.
Some Screens // Algunas Capturas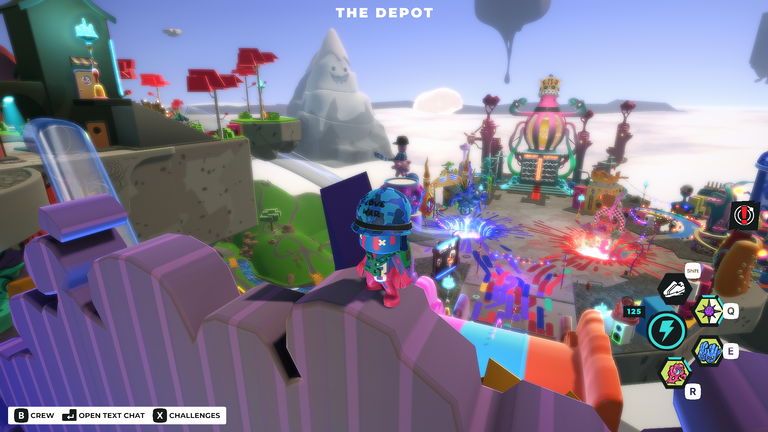 The city, this strange place called "The depot" is where all the magic happens. Screenshot from my PC at full graphics 1920x1080 the game is not very light.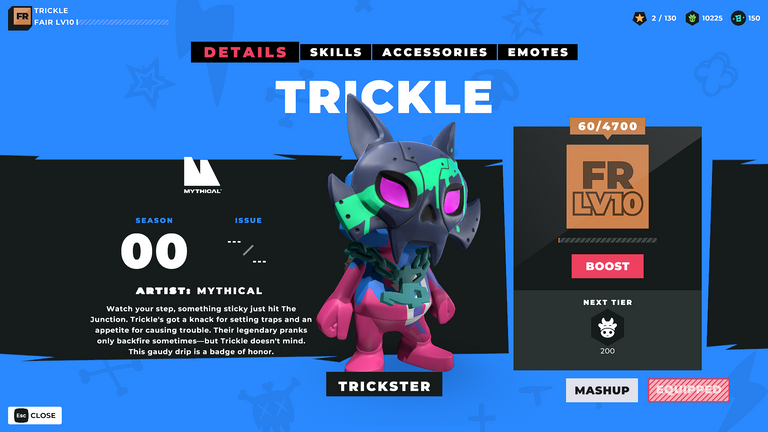 My most tuned Blanko, i still have to play a lot, but already have some things, but im not sure if everything is NFT doable. Screenshot of my own game.
Some things on my inventory // Algunas cosas de mi inventario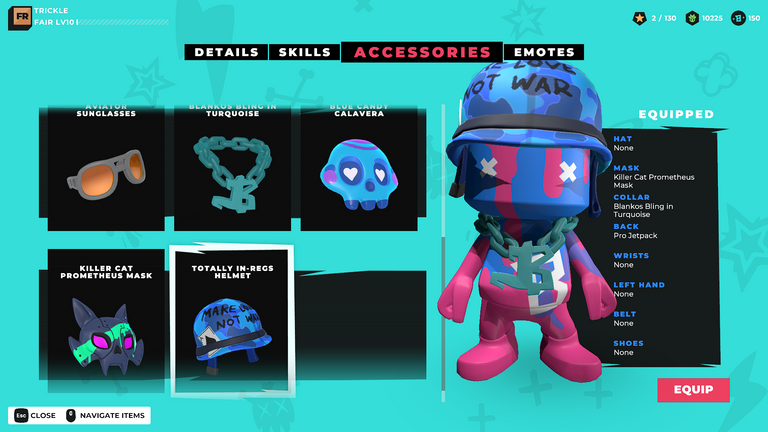 Screenshot of my own game.

Rising games are a great opportunity and mythical is a group of industry veterans who participated in the creation of WOW, Call Of Duty and Guitar Hero and has a partnership with Kakao a large Korean platform that decided to expand to the web3.
They also did a collaboration with renowned DJ Deadmau5, with a limited edition of his iconic helmet.
Juegos en ascenso son una gran oportunidad y mythical es un grupo de veteranos de la industria que participaron en la creación de WOW, Call Of Duty y Guitar Hero y una sociedad con Kakao una plataforma grande de Korea que decidió expandirse a la web3.
Tambien hicieron una colaboración con DJ Deadmau5, con una edición limitada de su icónico casco.

300USD the Deadmau5 Blanko Source of image mythical marketplace item

It's always great news to see when a game from the new era starts to take ground from the obsolete systems. They still cling with their claws on the consumers' flesh.
It's only natural, they defend their privileges maliciously ignoring that a fairer system already exists so that users and developers can have a transparent and fair business system.
Siempre es una gran noticia ver cuándo un juego de la nueva era comienza a quitarle terreno a los sistemas obsoletos. Aún se aferran con sus garras sobre las carnes de los consumidores.
Es lo natural, defienden sus privilegios ignorando maliciosamente que ya existe un sistema más justo para que usuarios y desarrolladores puedan tener un sistema de negocios transparente y justo.
---
I feel that there is a lot more to write about Blankos! But i dont want to overextend this post! Feel free to ask for anything on the comments and/or ask for another post explaining more in depth how this game works!
Siento que aun hay mucho por decir sobre este juego. Sentite libre de preguntarme en los comentarios lo que quieras.
Thanks for reading this // Gracias por leerme!
Discord: Cre47iv3#2483
Some things translated with deepl.com
Images without Source are designed/modified by me