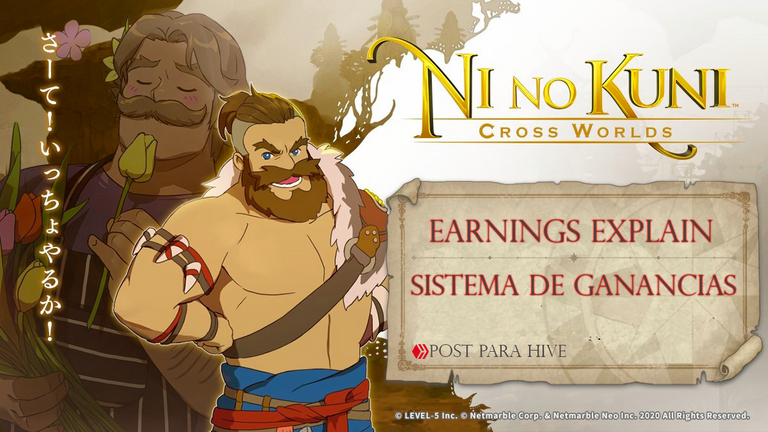 This wonderful game not only presents us with visual ecstasy, it also allows us to generate small incomes depending on the development of our account. It is one of the few experiences where growth and skill are rewarded. On the one hand, as you grow, your maximum daily Territa gain increases. Territe is a manufacturing material that can be smelted into a token on the Klay Blockchain (listed on Binance). Then, there is another mineral obtainable exclusively in the competitive system: Asterite.
Este maravilloso juego no solo nos presenta un éxtasis visual, tambien nos permite generar ingresos pequeños dependiendo el desarrollo de nuestra cuenta. Es una de las pocas experiencias donde el crecimiento y la habilidad son recompensadas. Por un lado, a medida que vas creciendo se incrementa tu obtención diaria máxima de Territa; un material de fabricación que puede fundirse en un Token sobre la Blockchain de Klay (listado en Binance). Después, existe otro mineral de obtención exclusivamente en el sistema competitivo: La Asterita

How is territe obtained?
¿Como se consigue la Territa?

Source of image
Territe is given at certain points of the story mode progress, at the end of one of the daily tasks and on the Chaos field, a special map where the monsters on the floor have special drops: territe, books and fragments of skill books. The maximum daily territe obtainable increases as our character evolves and can be changed directly within the game.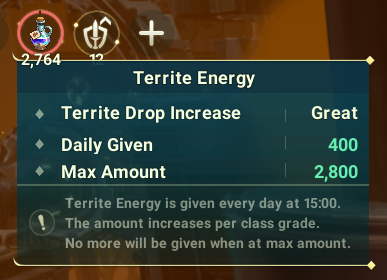 Territe allowed to farm in the Chaos Field, the amount increases while you level up your alters and make progress on the story mode.
---
La territa es entregada en ciertos puntos del avance en modo historia, al finalizar una de las tareas diarias y en el campo del Caos, un mapa especial donde los monstruos en el mapa tienen drops especiales, territa, libros y fragmentos de libros de habilidad. La territa maxima obtenible diariamente aumenta a medida que nuestro personaje evoluciona y puede ser cambiada directamente dentro del juego.
---
How to get the asterite?
¿Como se consigue la asterita?
The Asterite is the token that circulates within the competitive environment, either the Lava Arena or the Battle of the Familiars. Every Monday at 3 am the rewards of the ranking are paid.

La Asterita es el Token que circula dentro del ambito competitivo, ya sea la Arena de Lava o la Batalla de los Unimos. Todos los lunes a las 3 am se pagan las recompensas de la clasificación.

Competitive Mode
Modo competitivo
---
The Lava Valley is fought twice a week, 2 hours of intense PVP
El valle de Lava se pelea dos veces a la semana, durante dos horas
Its just a single line map in a 3 vs 3 with 3 lifes to spend. Everything is allowed! Build your bests familiars and skills!
Es un mapa de una sola línea 3 vs 3 donde tenes 3 vidas para gastar. Todo esta permitido, equipa tus mejores piezas y únimos.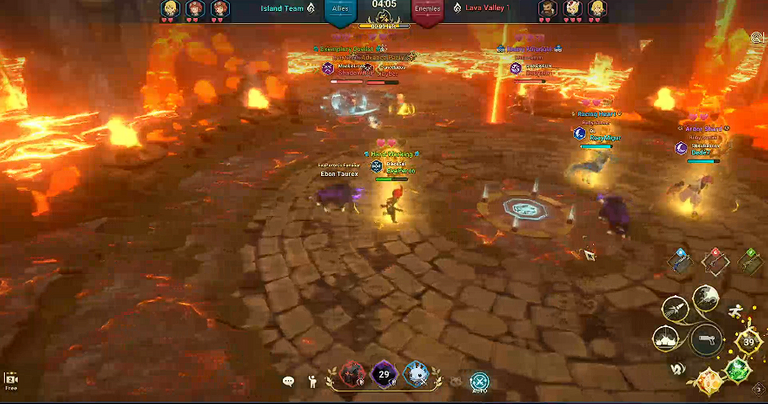 ---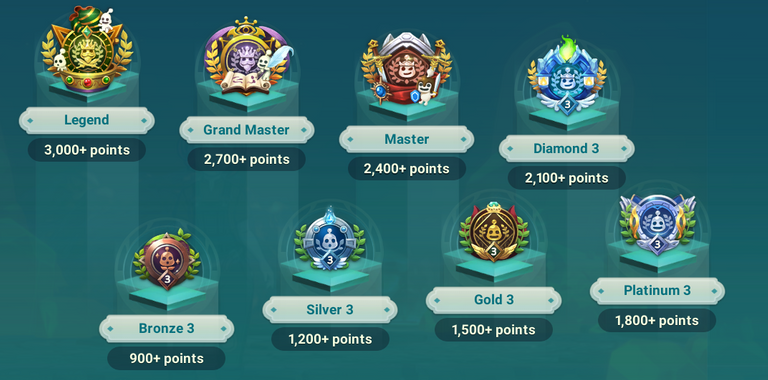 Lava Valley classifications, Ingame Screenshot no copyright required. Ligas del Valle de Lava
The Familiar Arena
(La arena de únimos)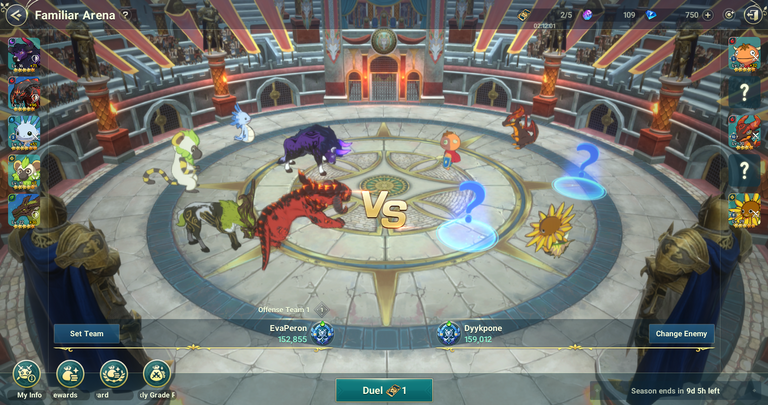 The Arena of familiars is an event without pause, with tickets that are recharged over time and separate attack and defense formation. For the attack we can select the enemy that best suits us, for the defense is more complex, we can be selected and attacked and if they beat us we lose points passively.
La Arena de Unimos es un evento sin pausa, con tickets que se recargan con el paso del tiempo y formación de ataque y defensa por separado. Para el ataque podemos seleccionar al enemigo que mas nos convenga, para la defensa es más complejo, nos pueden elegir para atacarnos y si nos ganan perder puntos de manera pasiva.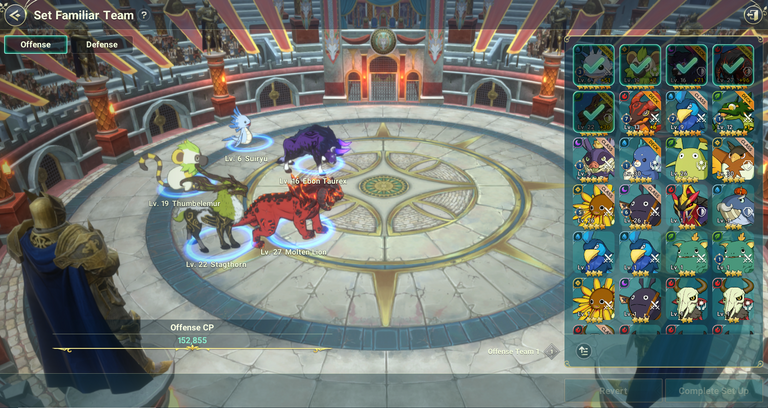 here you can set your offense and defense formation / Aqui se puede elegir la formación de ataque y defensa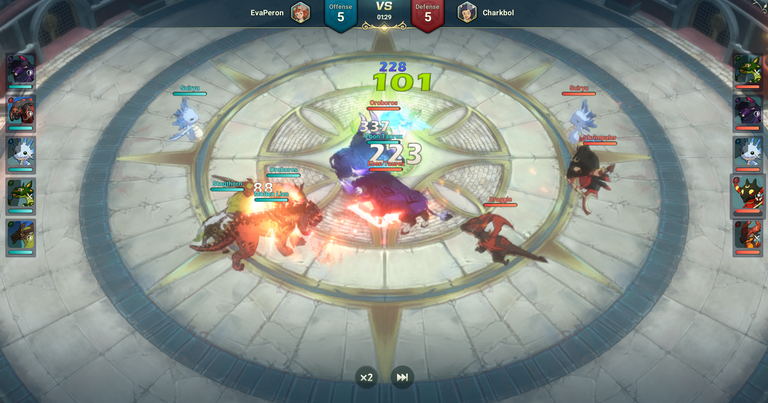 It is very important that you investigate which are the unites that are above in the ratio of Victories/Defeats, below I put a simplification of what are the most important unites in the meta today. But I recommend you to watch this video which is very complete.
Es muy importante que investiguen cuáles son los unimos que están arriba en el ratio de VIctorias/Derrotas a continuación les pongo una simplificación de lo que son los unimos más dentro del meta hoy día. Pero les recomiendo mirar este video que es muy completo.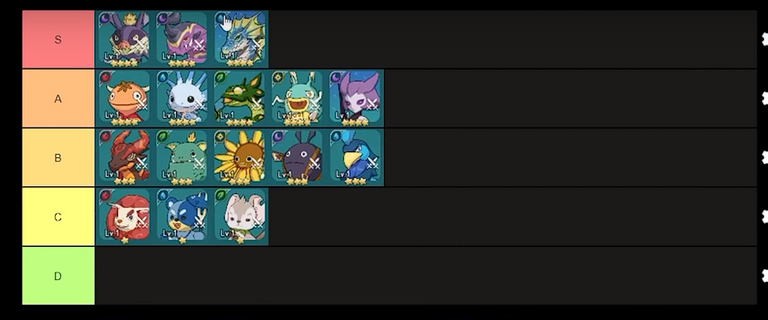 ---
How do I get paid? How much do I get paid?
¿Cómo se cobra? ¿Cuanto se cobra?
---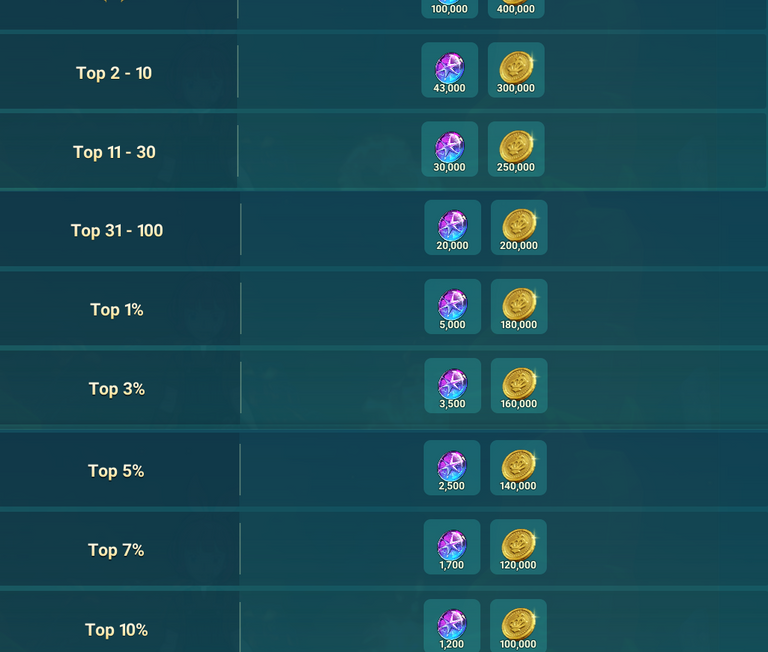 #1 gets 100k asterite - Ingame Screenshot no Copyright required.
Payments are weekly and there is also a seasonal classification closing. During the week the payments are on Mondays at 3am. The how to is relatively easy, but it has some curious details. To be able to extract the crypto you earned you have to buy some black diamonds in the store. When you extract your earnings, 20% of the value of your extraction is subtracted from the diamonds you bought. It is an interesting system that allows you to take your winnings and at the same time to prevent multi-accounts or to benefit from them in case they exist.
Los pagos son semanales y aparte existe un cierre de clasificación de temporada. En la semana los pagos son los lunes a las 3am. El como es relativamente fácil, pero tiene algunos detalles curiosos. Para poder extraer las crypto que ganaste tenes que comprar unos diamantes negros en la tienda. Cuando extraes tus ganancias, un 20% del valor de tu extracción es sustraido de los diamantes que compraste. Es un sistema interesante que permite sacar ganancias y a la vez prevenir multicuentas o beneficiarse en caso de que existan.
---
To withdraw them, you only have to melt the asterites to convert them into the asterite token. The conversion rate can be variable depending on the game economy.
Para retirarlas, solo tenes que fundir las asteritas para convertirlas en el token de asterita. El ratio de conversión puede ser variable depende como este la economía del juego.
At today's rate, with 400 territs in the game, you can create 1 territ token (400:1 ratio). The asterite has a ratio of 803:1 so with 803 asterites you make one Asterite token. The tokens are deposited in your MarbleX wallet (available only for mobile devices at the moment) but can be exchanged for Klay which is a currency listed on Binance.
A la cotización de hoy, con 400 turistas en el juego, podes crear 1 token de territa (razón de 400:1). La asterita tiene una tasa de 803:1 o sea con 803 asteritas haces un token de Asterita. Los tokens se te depositan en tu billetera de MarbleX (disponible solo para dispositivos mobiles de momento) pero se pueden intercambiar por Klay que es una moneda listada en Binance.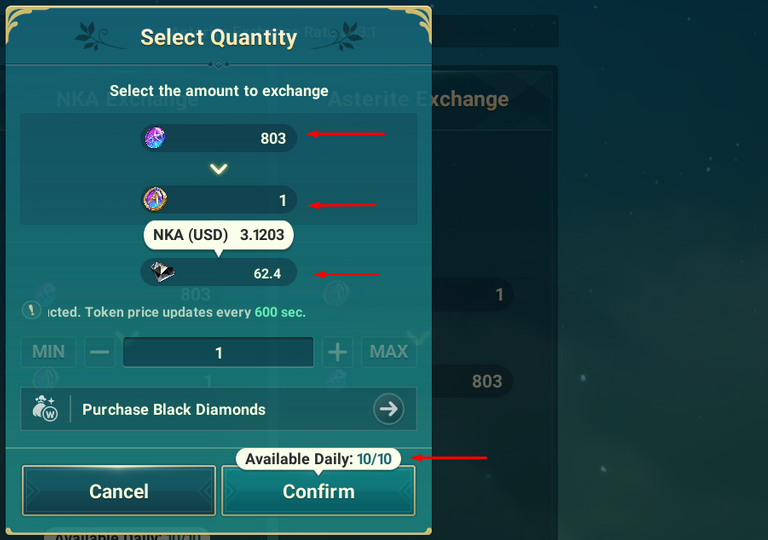 To current prices, Territe worths 1.5-2usd and Asterite is worth 3-5usd each
A precio de hoy, la territa cuesta 1.5usd y la Asterita cuesta entre 3 y 5USD
As i classify not only on the familiar arena but also in the PVP lava Valley im getting from 20 to 30usd each week!
Como clasifico tanto en arena de unimos como en el valle de lava, estoy sacando entre 20 y 30USD por semana dependiendo la cotización de las cosas. Pero invertí unos 70-80usd en total.
Thanks for the read! Any doubt dont hesitate on asking! I can also answer your questions in my live on twitch!
Gracias por pasar por mi post! Cualquier cosa que quieran saber no duden en preguntar o pasar por mi stream que contesto en vivo!