As we move towards the massive use of crypto, some companies are starting to take their first steps in our world. There are great expectations about what is going to happen in the years to come.
We dont have winners yet, but we do have LOOSERS. Today I come to tell you about Wemade a Korean giant veteran in the development of successful MMO games.
With great fanfare and hype they entered the crypto world with their best weapon, Mir4 an excellent game where participants can conquer a server and manage the production of the most valuable resources. They came up with the idea of creating a token related to a mineral called Dark Steel that can only be extracted in mines of different rarities distributed in 3 valleys. Players will be able to acquire this material and smelt it in Draco, which was their first of several tokens.
So far so good, the mined material had in-game use, which assigned it potential value. It looked like everything was going to be fine, an attractive and polished game extremely populated and popular, from a company with a track record. Sounds like a guaranteed success, doesn't it?
Too bad you've already read the title of my post.
Mientras avanzamos hacia el uso masivo de las crypto, algunas empresas empiezan a dar sus primeros pasos en nuestro mundo. Hay grandes expectativas sobre lo que va a pasar en los años venideros.
Aun no hay ganadores en el sistema, pero si hay PERDEDORES. Hoy vengo a hablarles de Wemade un gigante de Korea veterano en el desarrollo de juegos MMO exitosos.
Con gran estruendo y publicidad entraron en el mundo crypto con su mejor arma, el Mir4 un excelente juego donde los participantes pueden conquistar un servidor y administrar la producción de los recursos más valiosos. Se les ocurrió crear un token relacionado a un mineral llamado Acero Oscuro que solo puede ser extraído en minas de diferentes rarezas distribuidas en 3 valles. Los jugadores podrán adquirirlo y fundirlo en Draco, su primer token.
Hasta aquí todo bien, el material extraído tenía uso dentro del juego, lo que le asignaba un valor potencial. Parecía que todo iba a ir bien, un juego atractivo y pulido extremadamente poblado y popular, de una empresa de trayectoria. Suena a un éxito seguro, verdad?
Una pena que ya hayan leído el título de mi publicación.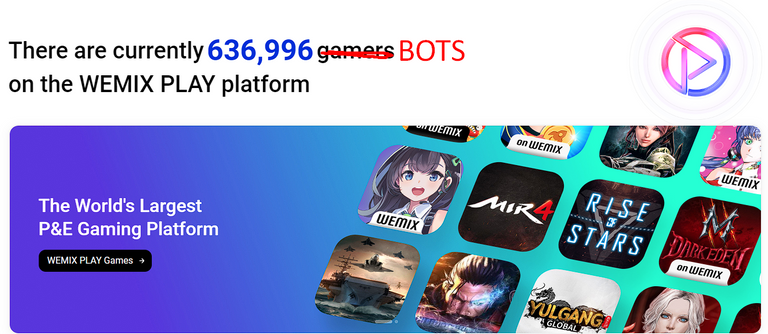 Screenshot from His Site edited by me

The game was almost instantly overrun by bots, legions of them. They killed users for mines, they became invisible, they teleported, they ran at the speed of light, they even fly!... And their number increased. These bots were sold for a modest price on the internet, they were sold working and at a quite affordable price. It seemed like an insult to my integrity to buy something like that.
El juego casi instantáneamente fue invadido por bots, legiones de ellos. Mataban usuarios por las minas, se hacían invisibles, se teletransportan, corrían a la velocidad de la luz, ¡hasta volaban!… Y su número aumentaba. Estos bots se vendían por un precio módico en internet, se vendían funcionando y a un precio bastante accesible. Me pareció un insulto a mi integridad el comprar algo asi.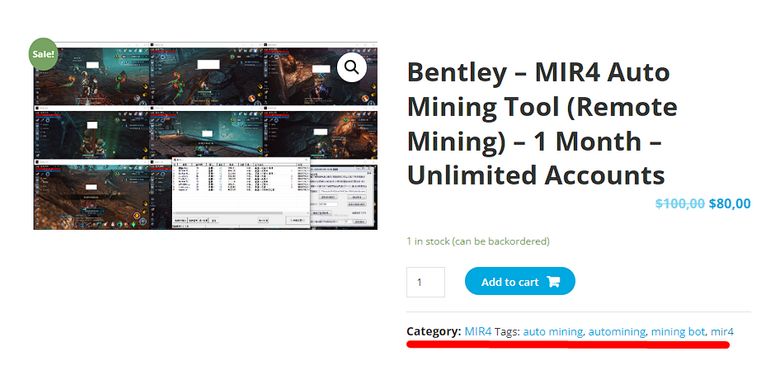 Wemade watched it happen, I'm convinced the developers never played the game or even had an account. The gap between the developers and reality, was immense and heartbreaking. They kept putting out events for sale. I have no doubt that for them it was a fabulous business.
In their reports they included the tens of thousands of deleted accounts. They were taking the water out of the titanic with a teaspoon. Instead of implementing a more aggressive approach, it looked like they were just deleting offenders manually.
Obviously the problem escalated. The draco began to drop in value until the circulation was so low that a coin that was worth 7 usd was trading at 0.20 and even less.
Wemade la veía pasar, estoy convencido que los desarrolladores jamás jugaron el juego ni tenían una cuenta siquiera. La brecha entre los desarrolladores y la realidad, era inmensa y desoladora. Seguían sacando eventos a la venta. No dudo que para ellos fue un negocio fabuloso.
En sus reportes incluía las decenas de miles de cuentas eliminadas. Le sacaban el agua al titanic con una cuchara de té. En vez de implementar un enfoque mas agresivo, parecía que solo estaban borrando infractores manualmente.
Obviamente el problema se recrudeció. El draco empezó a bajar su valor hasta que el circulante era tanto que una moneda que llegó a valer 7 usd cotizaba 0.20 e incluso menos.


The measures came late and were poorly implemented. Meanwhile, competition continued. All servers were gradually dominated by the same guild, a Korean billionaire son of the owner of a telecommunications company (SK Telecom among others) spent immense fortunes and finally ended up destroying all possible competition, monopolizing all resources and eventually lowering the price of any monetizable angle within the game.
The wemade response was no response. The game started to fall and... Then... It fell....
Las medidas llegaron tarde y fueron pobremente implementadas. Mientras tanto, la competencia seguía. Todos los servidores fueron paulatinamente dominados por un mismo gremio, un koreano multimillonario hijo del dueño de una empresa de telecomunicaciones (SK Telecom entre otras) gastaba fortunas inmensas y terminó finalmente por destruir toda competencia posible, monopolizar todos los recursos y eventualmente bajar el precio de cualquier ángulo monetizable dentro del juego.
La respuesta de wemade fue la no respuesta. El juego empezó a caer y… Después… Se cayó…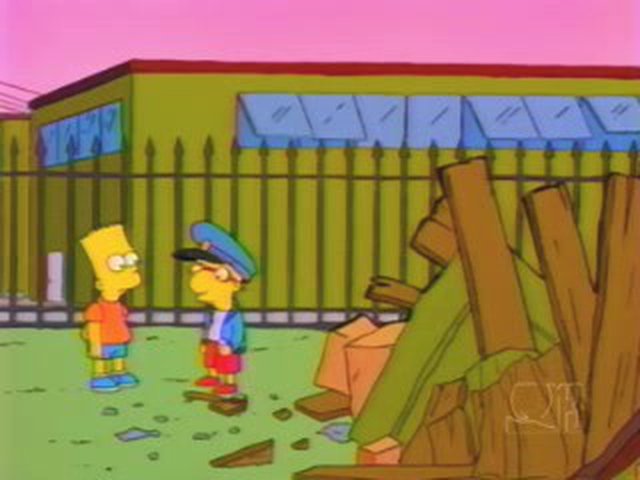 Simpson known meme Source

As I write and design the cover of this post, it dawns on me that perhaps my analysis is biased by my obscure experience. But I come to the conclusion that I am only listing the facts as they happened. I know Wemade and I follow them closely, I saw their press conferences, their presentations to shareholders and all the information I came across, I was in an active, competitive and committed clan so it was not just me but a group of people researching (and investing) in this.
Wemade 2 or 3 days ago released a new blockchain, separating from the Klay network where it was born. They claim sustainability and scalability but well, that was not the issue at all.
Because Mir4 (where I have more experience) was just one of the many samples where you can see the failure of Wemade. With a lot of publicity they announced that they were going to migrate 100 games for the first quarter of this year, one failure after another. They did not reach the goal of 100 games, I think they were too embarrassed to continue.
Mientras escribo y diseño la portada de este post, caigo en la cuenta de que quizás mi análisis este parcializado por mi oscura experiencia. Pero llego a la conclusion de que solo enumero hechos. Conozco a Wemade y los sigo de cerca, vi sus conferencias de prensa, sus exposiciones ante accionistas y cuanta información se me cruce, estaba en un clan activo, competitivo y comprometido por lo que era no solo yo sino un grupo de gente investigando (e invirtiendo) en ésto.
Hace 2 o 3 días sacó su nueva blockchain, separándose de la red Klay. Alegan sustentabilidad y posibilidad de ampliación pero dudo que ese sea el mayor de sus problemas.
Porque el Mir4 (donde mas experiencia tengo) fué sólo una de las tantas muestras donde se ve el fracaso de wemade. Con mucha publicidad anunciaron que iban a migrar 100 juegos para el primer cuatrimestre de este año, un fracaso detrás de otro. No llegaron al objetivo de los 100 juegos, creo que la vergüenza no les dio para más.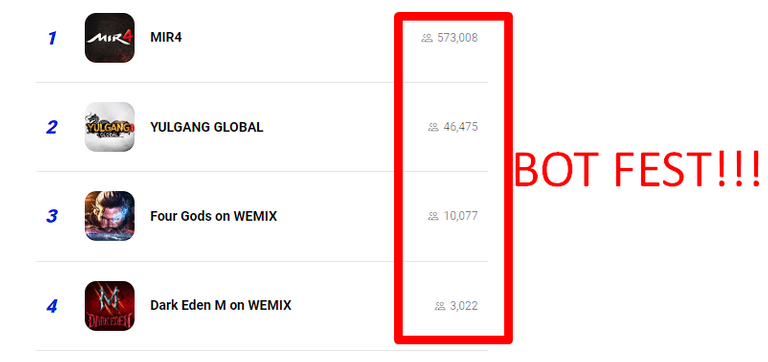 Conclusion, if you are going to play a Wemade game, be very conservative in your expectations. If one of their games succeeds, it will be by pure luck, not by their skills as a company.
Conclusión, si llegaran a jugar un juego de Wemade, sean muy conservadores en cuanto a sus expectativas. Si uno de sus juegos tiene exito será por pura suerte, mas no por sus habilidades como empresa.

Thanks for reading this // Gracias por leerme!
Discord Cre47iv3#2483
Some things translated with deepl.com
Images without Source are designed/modified by me