Scroll down to see more content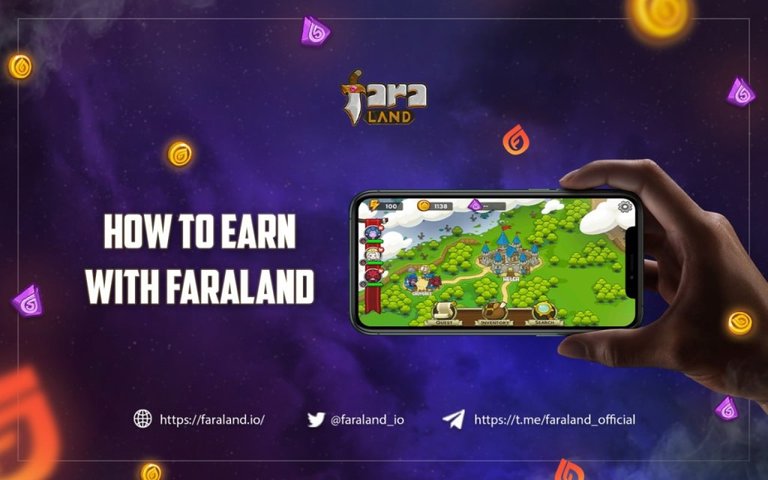 This is the most frequently asked question by those who are newbies starting to learn about Faraland. Thus, the answer to this question will be thoroughly explained in this article
First of all, Faraland is a Turn-based RPG game (*Turn-based Role Playing Game*). Players will embody into characters of the fairy tale world, with diversified races and a well-articulated job system. Unlike other traditional games, all transactions of items in Faraland are recorded on blockchain to ensure transparency and safety. Now, trading in-game high-valued items is no longer a problem, regardless of geographical distance.
Participants in the game can generate income in the following ways:
Performing in-game quests: Faraland's unique feature is its immensely diversified mission system, which includes a meticulously crafted storyline. Players can participate in many different mission routes: Daily missions, story quests, or randomly hidden quests are encountered during gameplay. There will be different endings to a quest, the final treasure will only reveal itself if players chose the right path.
Each questline will have unique rewards which may include some in-game items such as
Soul Stones (which can be exchanged on the market for Fara Token),
** Materials** (used to forge equipment),
Gem (converted directly into Fara Token, only drop when a Boss is defeated,),
Faraland partner's token/items (only available in partnership's mission routes).
Collecting materials: With a diverse career system, each race in Faraland has its distinct characteristics. The crafting system allows players to create valuable in-game items by using droppable raw materials. There are varieties of in-game items such as weapons, clothes, heroes' equipment, potions, support props, and many more. Raw materials can be traded on Marketplace with $FARA
Ranking PvP: Faraland's PvP mode will operate on a fair mechanism. This means that players will only face opponents of the same ranking tier. If winning, your hero could take a part of the opponent's Hero floor price and gain ranking points. At the end of each season, rewards will be distributed accordingly based on the player's rank. The higher rank Players reach, the more Gem and rare items they could attain.
Pvp is the game mode with the most reward distribution in Faraland.
Trading items, Hero, Demi Hero in the game:
With the Marketplace system designed on the blockchain platform, P2P transactions are now much more convenient and safer. Players can now become a merchant in the virtual world.
There is a great demand for items from the Gacha seasonal collection and the PvP reward. Thus, this creates a high liquidity market for Faraland users. If players have in-depth knowledge of the game and a mind for business acumen, they can make huge profits by trading in Faraland.
Renting your Hero to others:
Shortly, we will launch the hero scholarship function. Whenever it is difficult to participate in the journey to explore Faraland, players have the option of going to the Marketplace and hiring stronger heroes to complete the quest, this will cost players some fees. This will also increase the value of rarer heroes.
Joining other projects in Faraland ecosystem:
We want to build an ecosystem for the $FARA token, empowering more use cases for Fara token holders. This idea will take time to develop, but it guarantees the durability and the value of the $FARA token.
Current $FARA token holders can join our Launchpad – FaraStarter, and participate in Private Sale, Public Sale for new projects which were vetted. The most recent project is BEMIL which was a huge success. The project has an All-Time High of x145 times compared to the Public Sale price.
Contributing to the development of the game: We want our game to be formed based upon the Faraland community's needs and suggestions. There will be many opportunities for players to contribute to the development of Faraland.
Shortly, we will introduce a customized tool that allows players to create custom maps in Faraland (Similar to the custom maps of StarCraft, WarCraft, Half-life,…).The map creator will receive a reward and revenue from Faraland if their custom map is used in the game.
We will also be introducing a costume design contest for Gacha Items.
🚨NOTE:
The upcoming Expedition Game is a shortened version, the earning mechanism will only be available for the main questline, other features will be updated gradually. In the Expedition Game, players can obtain
– Soul Stones (can be exchanged on the market for Fara Token),
– Materials (used to forge equipment),
– Gem (converted directly into Fara Token & only drop when a Boss is defeated,),
– Faraland partner's token/items (only available in partnership's mission routes).
These are the plans to ensure that Faraland will have a sustainable earning mechanism. In the future, there will be more projects that we will implement into Faraland's ecosystem. This will increase the value and demand for the ownership of $FARA token. To carry out this plan, the support of the Faraland community has always been the motivation for us to work harder and deliver the best products to our users.
What is Faraland
Faraland is a role-playing strategy wargame for Android and iOS, developed on blockchain by MoonKnight Labs, a company based in Vietnam. The players control the characters of 7 races: Humans, Orcs, Elves, Fairies, Dragonborns, Angels, and Demons — each with different abilities, strengths, intelligence, and agility, to fight with other players in a universe called Faraland. The game will be released in Q4 2021.
Faraland is an innovation project combining NFT technology and gaming experience. Not only are all exquisitely digital collectibles created using blockchain technology, but all NFT in Faraland can also be integrated into Faraland games later, which will help them increase the value. NFT is the soul of this project. Each Hero, NFT of Faraland, is unique. Each collectible is matchless, genuine, and varies in rarity. Faraland Universe has many different races like human, orc, angel, demon, Dragonborn, elf, and fairy, awaiting the users to discover.
Faraland is different compared to other NFT projects where NFT is solely used for collection. With many exciting gaming activities, Faraland's users can use their NFT heroes in many unique ways, from equipping them with powerful weapons or shining armors to engaging them in various thrilling battles. It's a solid and exciting game with a fundamental and engaging storyline. We also focus on the "play to earn" mechanism, making Faraland far beyond a regular game. A variety of options are also available for users, including reinvesting in the game, making your heroes stronger, or cashing out. Our vision is to make Faraland a "dream job" by providing players worldwide opportunities to generate regular income from the project.
Join Faraland