Have a nice day 😘
I have 36 Cards in my RisingStar Game.
These cards include Fans 1255, Luck 193, Skill 1416 and IM 31.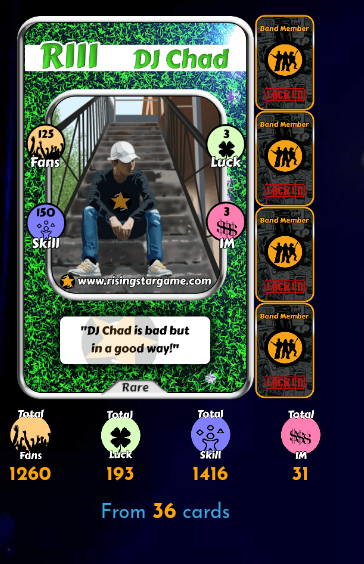 Today, I started a new mission.
This is the Midweek Headline Slot mission.
This Mission can only be performed with 125 Fans, Level 10, Time duration 60 minutes and 80% Energy.
Mission Achievement Reward is available for 110 - 478 Starbits.
Game Level XP 125 and Ego 1 will be upgraded.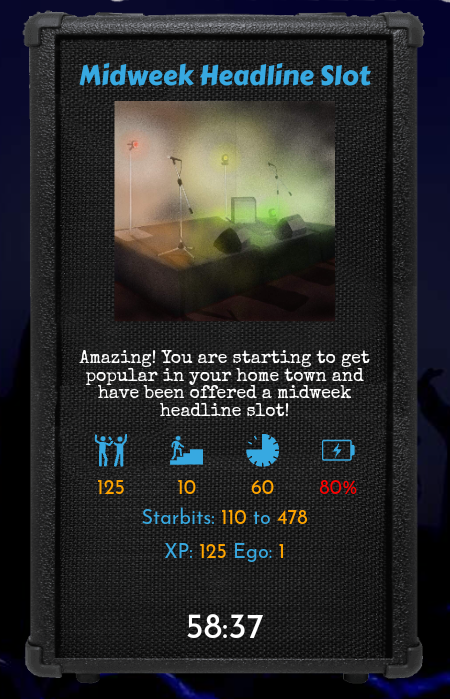 Total Mission Achievements 76 includes Illegal Busking 23 , Open Mic Night 24, Mid Week Support 20 Licensed Busking 8 and MidWeek Headline Slot 1.
Energy is needed to accelerate missions.
So I have to save Starbits to buy Energy Booster Cards.
Now I am receiving over Starbits 4000 in Game.
You can critique and guide the requirements about Rising Star.
If you want to start playing Rising Star Game, you can access it from the following link.
https://www.risingstargame.com?referrer=walarhein