ESPAÑOL
Hola maravillosa persona que pasas por estas líneas. Recibe un cálido saludo de corazón. Espero que te encuentres bien. Siempre es un placer y un honor tenerte de visita por éstos lares.
Estoy muy agradecido por esta magnífica oportunidad de compartir, por tus comentarios y por todo el apoyo recibido en esta increíble comunidad.
Permíteme invitarte cordialmente a que tomes mi mano y demos otro salto hacia esos lugares llenos de misteriosa magia. Prepárate y abandónate a la idea de mantener tu mente abierta, y sígueme por estas breves historias para ti y para mí. Una mezcla de fantasía, fábula y realidad, con pequeños toques a tu ser.
Sin más preámbulos, a continuación te dejo otra entrega venida desde los más profundos y recónditos lugares de la imaginación. Cualquier parecido con la realidad es tan sólo una "coincidencia".
La melodía del Espacio
ENGLISH
Hello wonderful person who passes through these lines. Receive a warm greeting from my heart. Hoping you are well. It is always a pleasure and an honor to have you visiting these parts.
I am very grateful for this wonderful opportunity to share, for your comments and for all the support received in this incredible community.
Let me cordially invite you to take my hand and let's take another leap into those places full of mysterious magic. Brace yourself and abandon yourself to the idea of keeping your mind open, and follow me through these short stories for you and me. A mix of fantasy, fable and reality, with little touches to your being.
Without further ado, here is another installment from the deepest and most recondite places of the imagination. Any resemblance to reality is just a "coincidence."
The melody of Space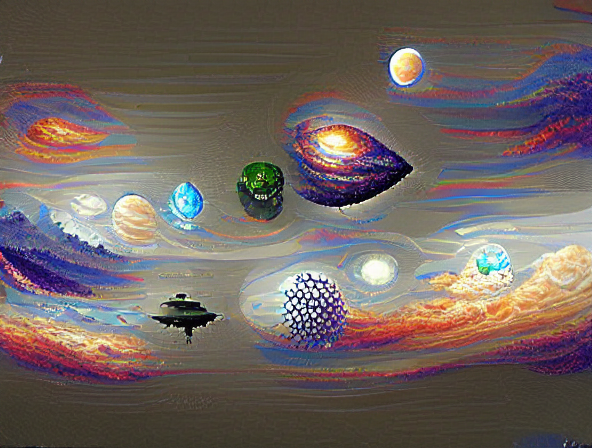 Arte digital original realizado por mis indicaciones
con (Original digital art made by my indications
with) AI art generator starryai
Cuando los universos estaban recién dibujándose sobre el lienzo de la vida, la pintora asignada para esta faena fue conocida como Voluntad. Ella era la fuerza espontánea que ha prevalecido detrás de cada latido en cada matiz. A ella se le confirió una orden directa desde lo más profundo del Entramado de la Existencia, erigir un gran Espejo en el centro de todos los Universos.
Y así lo hizo, este Espejo fue conocido como el Espejo de la Conciencia. Mientras este Espejo fuera reconocido por cada ente de cada Universo, el balance estaría garantizado.
La pintora Voluntad conoció al latir primordial, el silencioso Motivo y a su hermano gemelo, que era tan parecido, que siempre eran confundidos. Incluso hoy en día, hay quién le cuesta diferenciar uno del otro, este fue conocido como Sueño. Y sólo eran distinguidos porque uno era callado y el otro elocuente.
Voluntad y Motivo se enamoraron, eso estaba en su naturaleza, y de su unión nacieron dos, un hijo y una hija. Al mayor le colocaron Impulso y a la más pequeña Reflexión, y aunque generalmente hermana y hermano estaban un poco en desacuerdo, en cómo llevar las cosas, ambos le iban dando un entretenimiento a cada universo, y formaron las bases de lo que sería el epicentro llamado placer o dolor.
Se apareció el Archimago, que gustaba viajar entre los Universos, y le dijo a Voluntad y a Motivo que parecía que el equilibrio estaba por perderse. Les preguntó si sentían que algo faltaba. Y diciendo esto, el Archimago se desapareció.
Y en efecto, Voluntad y Motivo se percataron que faltaba algo para mantener el balance, pero no sabían exactamente qué era; así que fueron a preguntarle a Reflexión, porque ella tenía una prodigiosa capacidad de conectarse con la sabiduría interna de las cosas.
Reflexión buscó y buscó, pero no logró encontrar una respuesta completa, sólo descifró una pista, un fragmento, por lo que le pidió ayuda a su tío, Sueño.
Este se extendió por casi todos los Universos sin lograr precisar lo que faltaba. Así que regresó, y sugirió ir con ese fragmento al único sitio que había evitado ir, a ese lugar donde nadie de los presentes había querido estar jamás.
When the universes were just being drawn on the canvas of life, the painter assigned to this task was known as Will. She was the spontaneous force that has prevailed behind every beat of every hue. To her was conferred a direct command from deep within the Lattice of Existence, to erect a great Mirror at the center of all Universes.
And so she did, that Mirror was known as the Mirror of Consciousness. As long as this Mirror was recognized by every entity in every Universe, balance was guaranteed.
The painter Will knew the primordial beat, the silent Motive and his twin brother who was so similar, that they were always confused, even today there are those who find it difficult to differentiate one from the other, this one was known as Dream. And they were distinguished because one was quiet and the other eloquent.
Will and Motive fell in love, that was in their nature, and from their union two were born, a son and a daughter. The older one was given Impulse and the younger one Reflection, and although generally sister and brother disagreed a little on how to run things, both gave entertainment to each universe, and formed the basis of what would be the epicenter called pleasure or pain.
The Archmage, who liked to travel between the Universes, appeared and told Will and Motive that it seemed that the balance was about to be lost. He asked them if they felt that something was missing. Saying this, the Archmage disappeared.
And indeed, Will and Motive realized that something was missing to maintain the balance, but they did not know exactly what it was; so they went to ask Reflection, because she had a prodigious ability to connect with the inner wisdom of things.
Reflection searched and searched, but was unable to find a complete answer, she only deciphered a clue, a fragment, so she asked her uncle, Dream, for help.
He reached out to almost all the Universes without being able to pinpoint what was missing. So he returned, and suggested going with that fragment to the one place he had avoided going, to that place where no one present had ever wanted to be.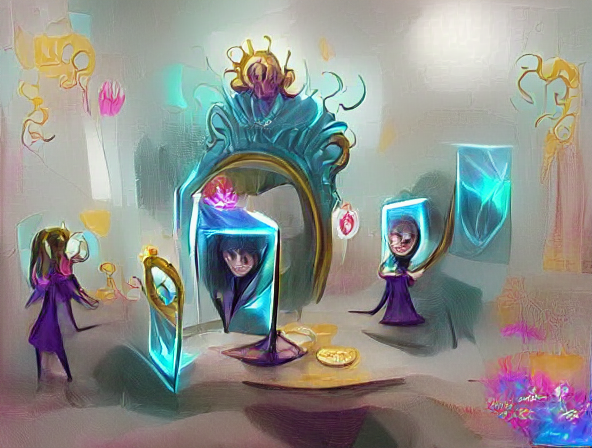 Arte digital original realizado por mis indicaciones
con (Original digital art made by my indications
with) AI art generator starryai
Todos se quedaron en silencio, pero Impulso que tenía un carácter firme y temerario, se propuso para ir hacia ese sector al que todos preferían ni siquiera nombrar.
Voluntad le advirtió a su hijo que si se dejaba hechizar por ese lugar, podía correr el riesgo de desaparecer.
Inmediatamente, Impulso tomó el fragmento y ya estaba allí, en el reino dominado por el Placer y el Dolor, la innombrable Tierra conocida como Oblivion, cuya gobernante, implacable, extendía su influjo sobre cada agujero negro capaz de devorarse hasta la luz, al menos eso creía ella, a tal punto de creerse tener el único reino real de todo. Esta Reina fue muy popular, tanto que actualmente todavía tiene múltiples seguidores, ella fue conocida como Ignorancia.
Impulso le preguntó si ella sentía que algo le faltaba, a lo que ella respondió con un "nada siento, todo lo sé", Impulso insistió, pero esta rechazó contribuir, esa era su naturaleza. Así que Impulso optó por mostrarle el fragmento que Reflexión había logrado extraer.
Él era frenético y, sin que se diera cuenta la reina Ignorancia, logró darle el fragmento, y esta al verlo, ipso facto, se desvaneció debido a que se reconoció a sí misma en la pequeña pieza, pues ese fragmento era realmente un trozo del Espejo de la Conciencia. Y en su lugar, apareció un nuevo monarca, conocido como Conocimiento.
Este le reveló a Impulso qué era exactamente lo que faltaba, que debía decirle a Reflexión que regresara ese fragmento, porque ya todo estaba por ser completado. Le explicó que cada Universo deberá tener eso que falta en igual cantidad, eso será su más preciado tesoro, un regalo cósmico, porque sólo podrá ser tenido en un breve interludio. Con eso comenzará a ser percibida la canción del espacio, la música de la vida, su nombre será Presente, pero habrá quien se confunda y crea que lo ido o lo por venir será ese Presente, por lo que la gran mayoría lo conocerá por su nombre más común, Tiempo. Al oír esto, Impulso se alegró y regresó con los demás.
Mientras, el Archimago que sonriente miraba a lo lejos, sacó un pequeño recipiente de cristal y dijo, "comenzaste, Ahora". Y se desvaneció. Fin.
Everyone remained silent, but Impulse, who had a firm and reckless character, proposed to go to that sector that everyone preferred not to even name.
Will warned her son that if he allowed himself to be bewitched by this place, he could run the risk of disappearing.
Immediately, Impulse took the shard and was already there, in the realm dominated by Pleasure and Pain, the unnamable Earth known as Oblivion, whose ruler, implacable, extended her sway over every black hole capable of devouring even the light, at least so she believed, to the point of believing herself to have the only real kingdom of all. This Queen was very popular, so much so that today she still has multiple followers, she was known as Ignorance.
Impulse asked her if she felt that something was missing, to which she responded with "I feel nothing, I know everything", Impulse insisted, but she refused to contribute, that was her nature. So Impulse opted to show her the fragment that Reflection had managed to extract.
He was frantic and, unnoticed by Queen Ignorance, he managed to give her the fragment, and when she saw it, ipso facto, she vanished because she recognized herself in the small piece, for that fragment was really a piece of the Mirror of Consciousness. And in its place, a new monarch appeared, known as Knowledge..
He revealed to Impulse what exactly was missing, that he should tell Reflection to return that fragment, because everything was about to be completed. He explained to him that each Universe must have that which is missing in equal quantity, that will be its most precious treasure, a cosmic gift, because it can only be had in a brief interlude. With that, the song of space will begin to be perceived, the music of life, its name will be Present, but there will be those who will be confused and believe that what is gone or what is to come will be that Present, so the great majority will know it by its more common name, Time. Hearing this, Impulse was glad and returned to the others.
Meanwhile, the smiling Archmage looking off into the distance, pulled out a small crystal bowl and said, "You started, Now." And he vanished. The end.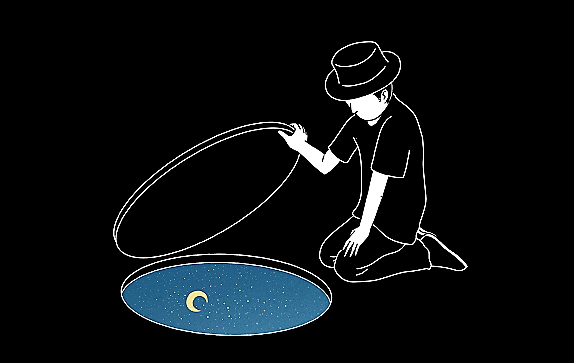 Pixabay
Gracias por la bondad de pasar por acá y regalarme un interludio de tu tiempo, un trozo de tu devenir. Son bienvenidas todas tus impresiones.
Hasta una próxima oportunidad.
Thank you for the kindness of stopping by and giving me an interlude of your time, a piece of your future. All your impressions are welcome.
See you next time.