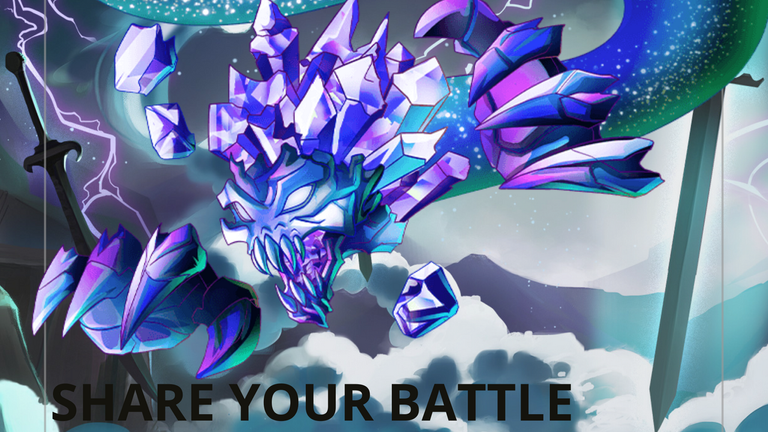 When the cosmos was borne into creation and the stars were placed into the heavens, everything had its place and travellers crossed the known worlds by the shapes they had joined together in the sky. As centuries passed, some of these stars were destroyed, either striking other objects or simply their light dying away, obliterated into tiny pieces. Meteors lit up the night for evermore, tracing lines in the blackness as they shot through the sky.
Astronomers have studied this phenomenon for many years and attribute the trailing light to a gathering of crystal dust upon the meteor. A crystal that holds great value when it falls to the land and is acquired by the people. But then chaos arrived, angry that mortals should benefit from such riches thrown from the heavens. Uul breathed life into these dead rocks and created the Gem Meteor, a creature that soars through the sky and flings crystal shards from its body at anyone unfortunate enough to get in its way. These crystalline missiles splinter and crack upon impact, ricocheting into everything nearby and inflicting devastating damage. Sometimes the meteorites descend into such a frenzy that they become completely indiscriminate about who or what they fire their shards at.
Lorcan peered up at the night sky. Pulling the shemagh away from his mouth, he breathed in the cold air. The stars were unusually bright this night and he could trace the plough easily in the blackness between them. Glancing back at the spice train behind him, he waved them on and started down a long dune. The trading post was close.
He wasn't even halfway down the slope when a cry arose from behind. Men shouting for people to take cover and to look out from above. He crouched beside his camel and stared wide-eyed at the sky, desperately looking for any danger. But all he could see was a shooting star, trailing above them. Then to his astonishment it turned in the air and started to descend on their position. Moments later the crystal shards came and all chaos was let loose.
Explosions lit up the trading caravan, bright flashes of light as crystal missiles were indiscriminately flung in all directions. Screams of the wounded and dying filled the night air, and panicked animals struggled to break free of their harnesses to escape the disorder. Lorcan managed to glimpse two white burning eyes and a mouthful of long fangs as the hostile creature flew by. And then it was gone again, as quickly as it had come, flying away through the night sky until it was merely a shimmering line across the blanket of night. But when Lorcan looked to his people again, they were in complete disarray, many of them lying dead on the cold sands.

The Stats of the Gem Meteor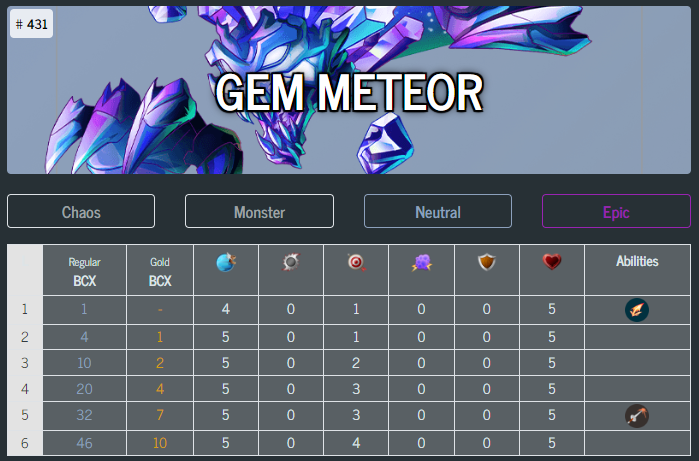 The Gem Meteor is a five mana cost ranged attack monster with good stats and Scattershot ability. He will attack random targets in the battles. He will receive the Piercing ability on level five, which makes him a bit stronger against armored monsters.
---
Scattershot : This monster's attacks hit a random enemy target.
Piercing : If Melee or Ranged attack damage is in excess of the target's Armor, the remainder will damage the target's Health.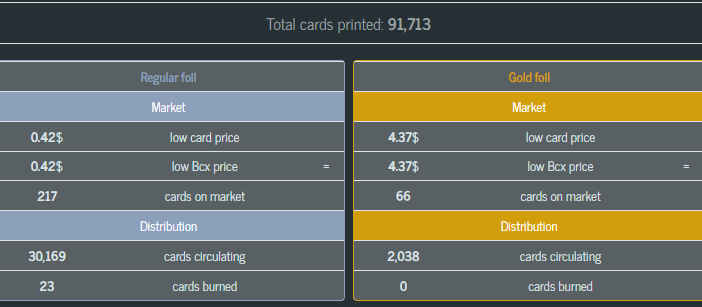 This card is very cheap amongst the other epic cards and it is a en Epic. This card is not so popular to worth buying the gold foil version of it at the moment.

Battle Ruleset

Aim True: Attacks always hit their target.
Explosive Weaponry: All Monsters have a Blast ability.
---
This is high mana ruleset and only three color can play.

My Lineup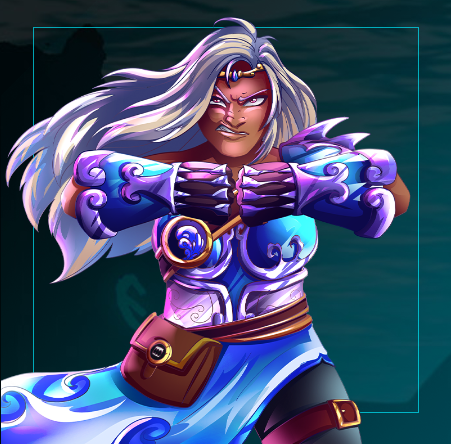 Kelya Frendul gives one armor and one speed to all friendly monsters. His cost is four mana. He is one of the best summoner within the Water Splinter in the modern game set.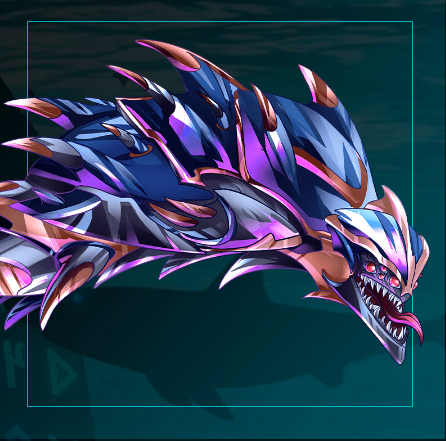 The Diemonshark is a eight mana cost rare melee monster with Trample ability on level one. He has big health and six armor. He will get the Enrage ability on level four, therefore when he is damaged, his stats will be increased. I used him as a tank in this battle , because of his high speed and trample.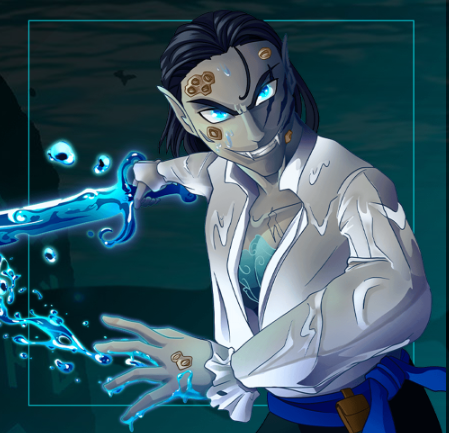 The Tide Biter is an epic melee creature with Reach ability on level one. He will attack the enemy tank from the second position. He will receive the Reflection Shield ability on level three, which means that this monster is immune to the Magic Reflect, Blast, Thorn and Return Fire abilities. His mana cost is only three mana, so it is a good monster to choose in low mana battles.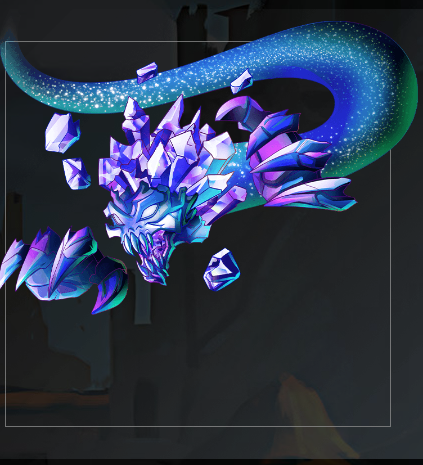 The Gem Meteor is an epic ranged attack monster with high speed and Scattershot ability on level one. He is the Monster of the week. I choosed him for this battle, because in this ruleset he had Blast ability like everybody and his Scattershot is very useful in this ruleset. He will attack the enemy backline as well with his random shots.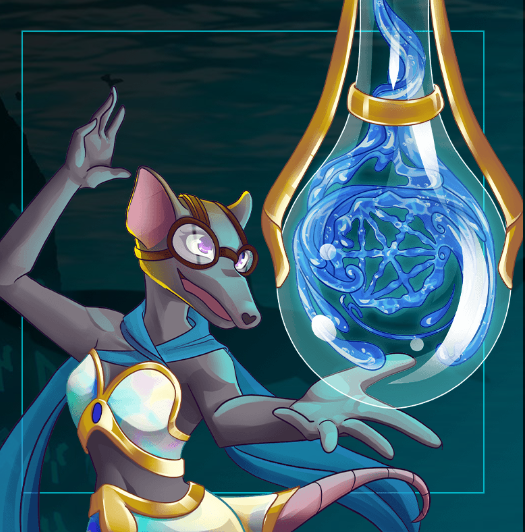 The Venari Wavesmith is a rare magic attack monster with Protect ability. That ability is very good, because he gives two armor to every friendly creatures, which makes them to sustain much more damage.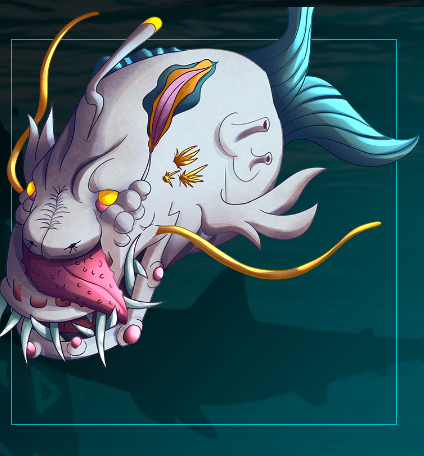 The Deeplurker is a common melee attack monster with Opportunity ability. He has big health and attack on level one, but his most important ability is Poison on level six. His stats will be increased as well on level six to justify why he is a good buy or rent on this level. He will attack his target with the lowest health.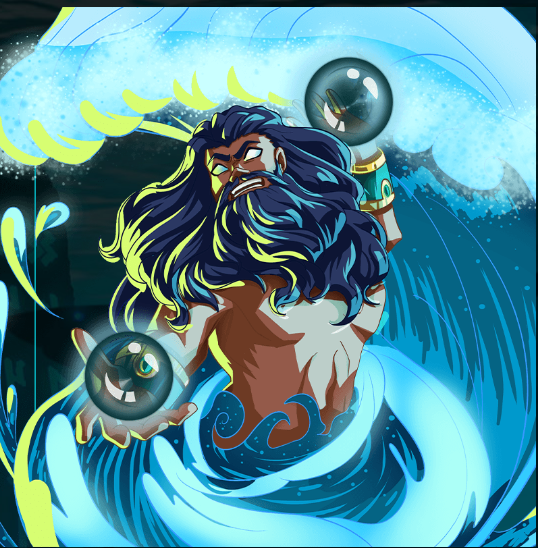 The Djinn Oshannus is my favorite legendary magic attack creature within the Water cards. He has 10 health, five speed and two magic attack with Void ability on level one. We can use him as a main or off-tank as well.

The Battle
---
The ruleset in this battle was that everybody got Blast and Aim True abilities, therefore I choosed the Water Splinter with Kelya Freandul, because Kelya and the Venari Wavesmith gives armor to all friendly creatures. The armor will protect from the Blast ability.
I used the Tide Biter to protect my backline with his Reflection Shield ability. I thought the Gem Meteor with Scattershot and the Deeplurker with Opportunity would be very useful in this ruleset.
The Djinn Oshannus closed the Backline, because he is a massive monster with two magic attack.
Please click on the picture, when you want see the battle.👇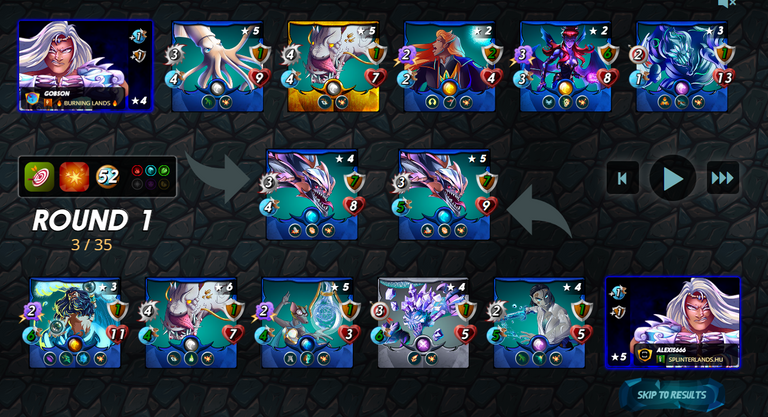 My strategy did not work, because my opponent choosed Kelya with Water deck as well, but he used a lot of better suited monster than me.
He used the Wave Brood with Taunt ability at the back of his backline and that monster took all the damage to himself. Next to the Wave Brood he used the Runemancer Kye and she had the Life Leech ability, which stole health to herself in every round.
The River Hellondale resurrected the first monster who died in the battle.
I lost this battle, because I couldn't kill my opponent backline and I didn't have enough damage against his Wave Brood and Runemancer Kye.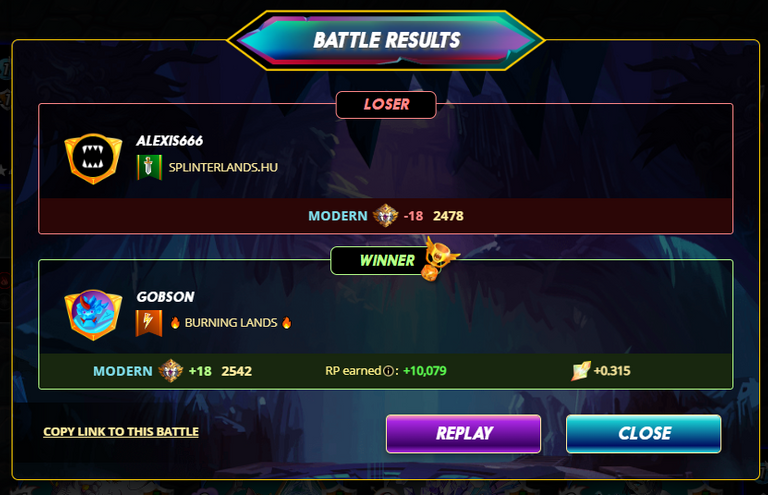 Do you like the Gem Meteor? Why or why not?
He is not a bad creature, but his Scattershot ability will not always bring the victory to me. His stats are very good, but he is not good when you want focus the damage on one monster. I recommend to use him especially if everbody has Blast in the battle thanks to the ruleset.👍

If you want a free legendary card, please check out my giveaway posts following this link.