Hello Friends,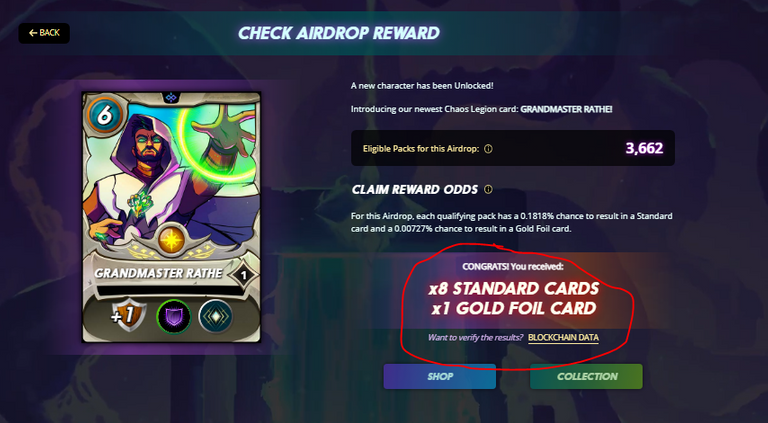 This was suppose to be a blog I should have shared earlier when we got the airdrop of Grandmaster Rathe, but, I couldn't do so as I got busy with my work!!!!
Anyways, here I am sharing the details of the most awaited airdrop (it's almost atleast 3 to 4 months since last airdrop?) and finally we had this earlier this week and I am fortunate to get a Gold Foiled version along with 8 regular cards!!!
The 3.6K+ packs I had purchased, entitled me a minimum of 6 regular foiled cards, but, the expectation was exceeded to get 2 more regular cards and a bumper offer of a gold foiled edition too :)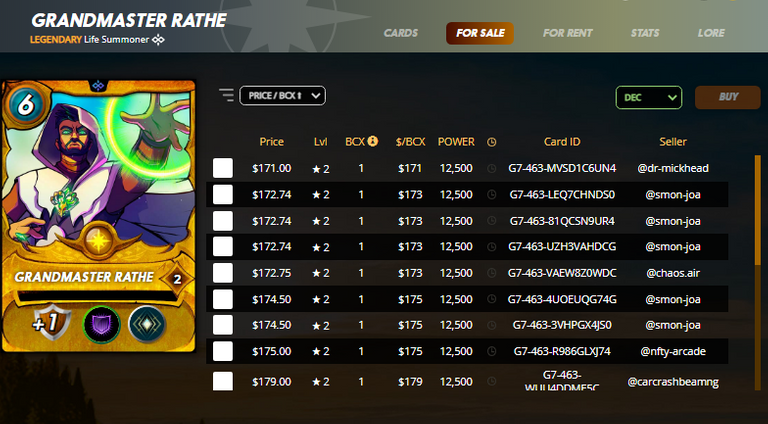 Right now, as we can see in above screenshot, the Gold Foiled edition is trading around $170 and this may come down owing to still people getting these cards thru regular packs and once the packs sold out, the price may pick up.
With the additional abilities to what other Life Splinter summoners have, this is suppose to be the better option with abilities of void armor and amplify being induced to all the monsters it summons, this will give more strength to those monsters with huge armors as the vulnerability against magic monsters is nullified with void armor ability and monsters like Shieldbearer can live longer and keep protecting the monsters to follow.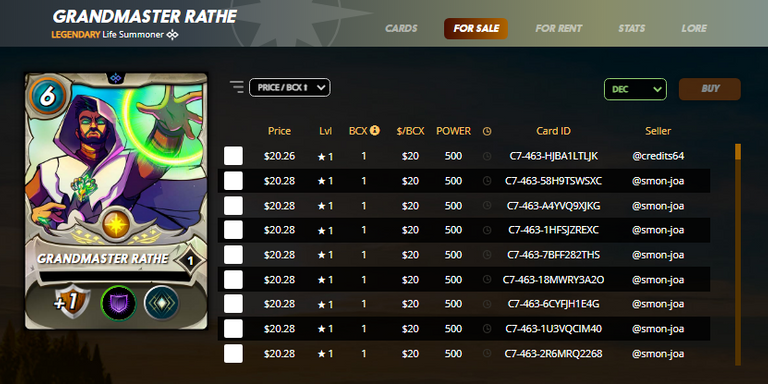 While the Gold Foiled edition is still consolidating, the regular version cards will still be under purchase as the monster's abilities are advantageous, the price of regular foil summoner is around $20 and this will surely be gonna go up once the packs are sold out just like in case of GF version.
In addition to the abilities, this summoner also costs 1 MANA less compared to earlier Legendary summoners like Chanseus The Great and Yodin Zaku and all.

While these are still early days with this new summoner, but, we can clearly see the price of monsters from Life splinter going up in order to accumulate more monsters with armor as those will be advantageous with this new summoner and can be a threat against even the magic monsters.
The purchase of packs is still on as for as I am concerned and I aim to purchase atleast few more hundreds of packs before the next airdrop and hopefully, we will have even more better ones like Yodin Zaku or Byzantine Kitty or Scarred Llama Mage.

Well that is what I wanted to share in this blog, the expectations were exceeded in terms of cards and I just hope the price to exceeds expectations soon, so that, the Splinterlands makes me a Millionaire again :)
Thanks all and congratulations on the airdrops you might have got and I hope it will give a you better gaming experience in Splinterlands :)
Thanks and Have a good day :)

Join the new Official Telegram for Splinterlands via link given below to participate in contests and have fun.
---
Not yet signed up for Splinterlands?
You can join using my referral link: splinterlands.io and get some monsters from me :)