Hello Friends,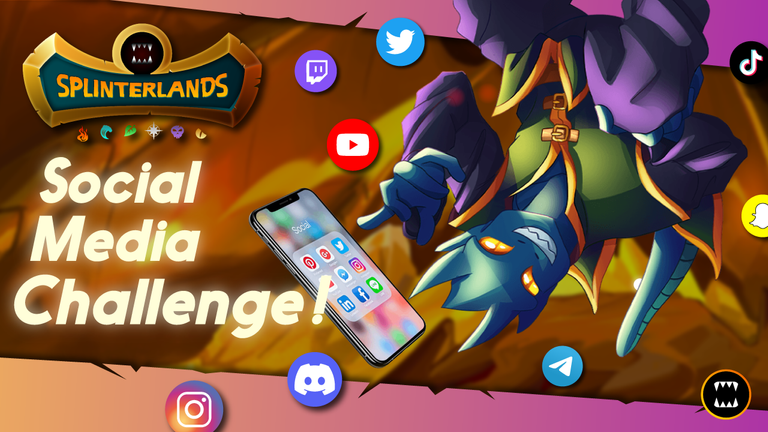 https://peakd.com/hive-13323/@splinterlands/splinterlands-weekly-curation-challange-september-21-2022
It's been a busy week for Splinterlands team as well as players with as many as 3 projects having either releases or pre-sale.
Riftwatchers was the First to go with 5 million packs getting sold out in just 1 minute and then the Tower Defense seeing almost the same kind of response!!!
Then there was the Runi whitelisting and that wasn't different either and all the 2000 slots got reserved within minutes and that shows the popularity of Splinterlands among the players inspite of the so called Bear market!!!!
Among all these, there was the Legendary summoner airdrop by Splinter as 10 million packs have been sold in this week and Conqueror Jacek being the latest airdrop.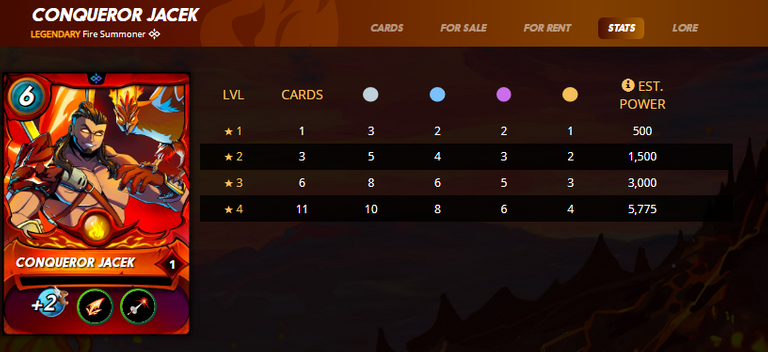 The Conqueror Jacek being the Second of the Legendary summoner airdrops with Grandmaster Rathe being the First One and Conqueror Jacek is from the Fire Splinter family and adds the much required piercing ability to the awesome Fire monsters we have such as Magnor, Grum Flameblade and others.
Especially for Magnor with Trample ability on, can be even more dangerous with Stampede rule set to just wipe out the opponent's monsters One after the other with piercing ability provided by Conqueror Jacek.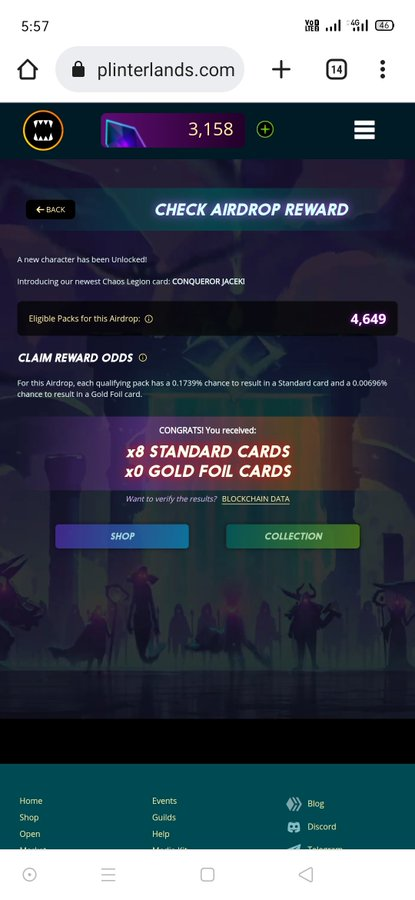 Well, with Grandmaster Rathe, I was fortunate to have got a Gold foiled version along with regular foil Ones and that made me to purchase more than 1000 packs after that last airdrop and I was hoping for atleast another gold foiled version with Conqueror Jacek.
But, to my disappointment, I have to be content with 8 regular foiled Ones as those were the guaranteed ones for the 4.6K+ packs I had purchased by the time airdrop happened.
I think luck wasn't in my favor in this case as I saw many people getting 1 regular foiled and 1 gold foiled or better than the cards I got, but, as I said, I think luck wasn't on my side this time.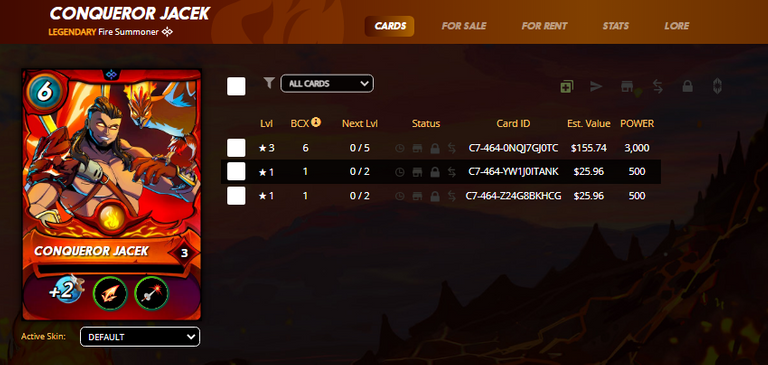 The 8 cards airdropped to me were enough to get the Conqueror Jacek to level 3 as shown above and I need 3 more with 2 spare Ones I have right now to max it out and based on my experience, I can fancy to get it maxed it out soon as I keep buying packs as and when I have about $400 worth Crypto with me!!!
Each of these summoners coming up in Splinterlands giving more abilities and making the battles even more interesting, but, inspite of all these, we can still say, Yodin Zaku is the best among all and our quest for another Yodin Zaku kind of summoner will continue with the next card to be airdropped which may take some time considering the recent pre-sales and the just completed 10 million pack sale for Chaos Legion.

My Impressions With Conqueror Jacek: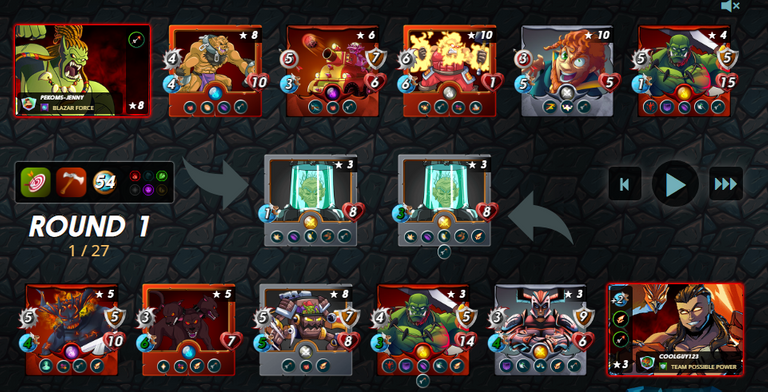 https://splinterlands.com?p=battle&id=sl_7dfa48e95e082e08aebecf97b4db23a1&ref=coolguy123
Well, no doubt, the new summoner adds more tooth to the Fire splinter with additional abilities of piercing and Scattershot in addition to +1 melee attack, the new summoner with 6 MANA cost instead of 7 unlike the Untamed summoners, can be more useful to utilize the additional extra 1 MANA to plan for better monsters and makes the battles interesting and in the battle I just shared above, I would have ended up on losing side without the piercing ability as the opponent had Grum Flameblade placed last on his lineup and it could have just kept wiping out the monsters with bloodlust ability it has.
With still 4 more Legendary summoners to be airdropped, there is still scope to buy few more Chaos Legion packs and keep improving on the chances of receiving the Gold Foiled edition hopefully in the upcoming airdrops!!!

It was fun battling it out with Conqueror Jacek and we keep battling and looking forward to more such additions to Splinterlands!!!
With Riftwatchers packs opening enabled in 2 days, there are more interesting things to continue in Splinterlands and I can't wait to open the 100+ Riftwatchers packs I could afford and just hoping for some interesting cards from those 500+ cards :)
I am wishing you all happy Sunday and have interesting battles in Splinterlands!!!!!
Thanks and Have a good day :)

Join the new Official Telegram for Splinterlands via link given below to participate in contests and have fun.
---
Not yet signed up for Splinterlands?
You can join using my referral link: splinterlands.io and get some monsters from me :)