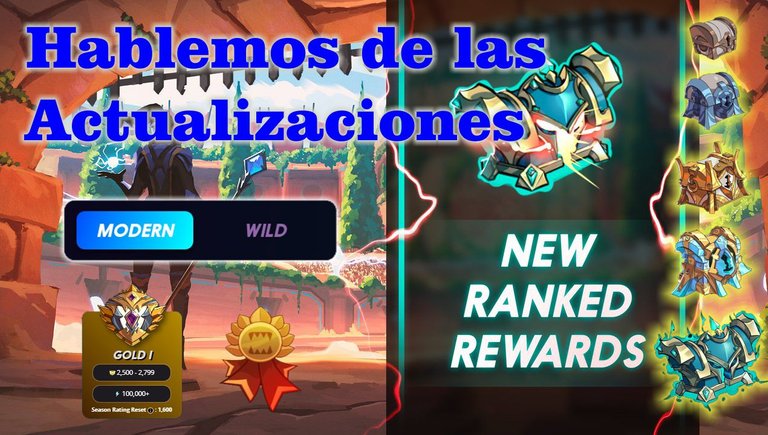 Saludos comunidad, últimamente se han notado varias actualizaciones en el juego, es bueno notar que el equipo de #Splinterlands está trabajando fuertemente en llevar este juego a otro nivel, aún que los cambios han sido bastante rápidos realmente es un poco difícil llevarles el ritmo, pero bueno ahora les trago esta información, para que se puedan adaptar de una manera más rápida a todos estos cambios, espero les ayude y les sea de mucha utilidad.
Greetings community, lately several updates have been noticed in the game, it is good to note that the Splinterlands team is working hard to take this game to another level, even though the changes have been quite fast it is a bit difficult to keep up with them, but Well, now I'm sharing this information with you so that you can adapt more quickly to all these changes. I hope it helps you and is very useful to you.

Los primeros cambios se pueden observar al entrar al juego, cambia la interfaz por completo y el diseño pero esto no es solo un cambio en la aparecíais del juego, añadieron nuevas funciones, las más notable es para elegir entre dos modalidades de juego está el modo WILD al que ya estábamos acostumbrados a jugar con el uso de todas las cartas que tiene el juego a disposición. El modo MODERN aquí si se ve un cambio bastante notable. En este modo solo está permitido usar las cartas de las últimas ediciones como Untamed, Dice y Chaos Legion. Debo confesar que a pesar de que soy un jugador relativamente nuevo me costó un poco adaptarme a este modo de juego porque siento que hay algunas cartas de las ediciones pasadas que se complementan muy bien con las nuevas ediciones pero es cuestión de adaptarse, por el momento solo juego en moderno porque la mayor parte de mi colección es de esta edición. La mejor forma para diferenciar las cartas que puede usar en este nuevo modo de juego es fijarse en los marcos de las cartas esto te ayudara a identificar su edición.
The first changes can be seen when entering the game, it changes the interface completely and the design but this is not just a change in the appearance of the game, they added new functions, the most notable is to choose between two game modes is the mode WILD that we were already used to playing with the use of all the cards that the game has available. The MODERN mode here if you see a pretty noticeable change. In this mode, it is only allowed to use cards from the latest editions such as Untamed, Dice, and Chaos Legion. I must confess that even though I am a relatively new player, it took me a while to adapt to this game mode because I feel that there are some cards from past editions that complement the new editions very well. Still, it is a matter of adapting, for the moment I only play modern because most of my collection is from this edition. The best way to differentiate the cards you can use in this new game mode is to look at the frames of the cards, this will help you identify your edition.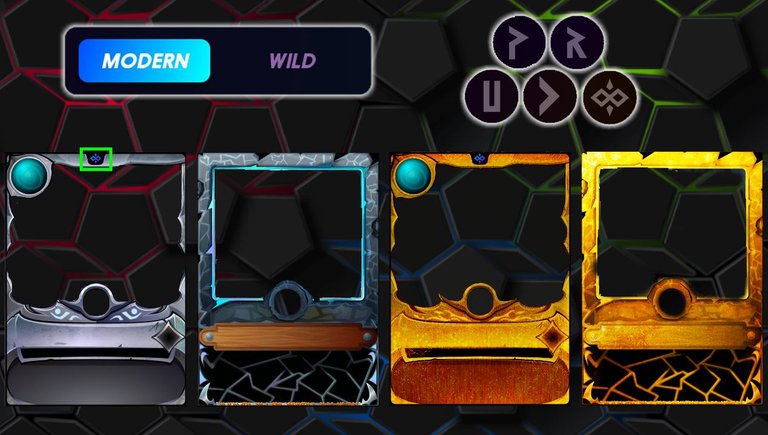 Otro punto es que además de los cambios de los diferentes escudos para ambos modos de juego está la reducción del Colección Power necesario para estar en una liga. En el modo WILD no hay variación, mientras que para el modo MODERN se redujo a la mitad la cantidad de CP para estar en una determinada liga. Un punto bastante favorable sobre todo para los nuevos que en su mayoría compramos cartas de la edición de Chaos Legion que es la más económica actualmente en el mercado pero su poder de colección es bastante bajo.
Another point is that in addition to the changes of the different shields for both game modes there is a reduction of the Collection Power needed to be in a league. In WILD mode there is no variation, while for the MODERN mode the amount of CP to be in a certain league was halved. A very favorable point, especially for the new ones, who mostly buy cards from the Chaos Legion edition, which is the cheapest currently on the market, but its collection power is quite low.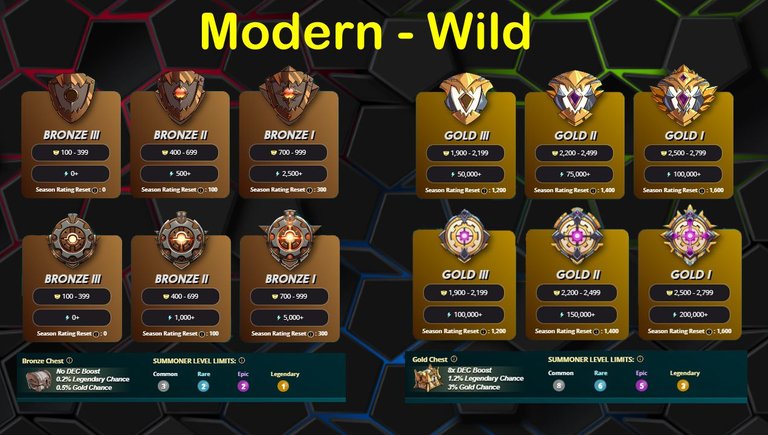 También cambiaron lo que son las Focus diarias y la forma de obtener los puntos para los cofres diarios ya que todas las batallas clasificatorias generan puntos así uses o no el focus, ahora si usas el focus es un bono extra a los puntos que puedes ganar por batalla exactamente un 10% por cada carta que uses cumpliendo el focus. Aquí debo decir que es un punto bastante acertado por parte del equipo de Splinterlands, esto permite a los jugadores concentrarse más en ganar las batallas que en solo farmiar puntos y además le da más diversidad al juego, sobre todo con los nuevos focus que añadieron para hacer uso de determinadas habilidades es como un nuevo modo de juego al que nos debemos adaptar por aquí te dejo una imagen que espero te pueda ayudar a adaptarte más fácil a estos nuevos focus.
They also changed what the daily Focus is and the way to obtain the points for the daily chests since all the qualifying battles generate points whether or not you use the focus, now if you use the focus it is a bonus to the points that you can earn for battle exactly 10% for each card you use fulfilling the focus. Here I must say that it is a very successful point by the Splinterlands team, this allows players to focus more on winning battles than just farming points and also gives the game more diversity, especially with the new focus they added for making use of certain skills is like a new game mode to which we must adapt, here I leave you an image that I hope can help you adapt more easily to this new focus.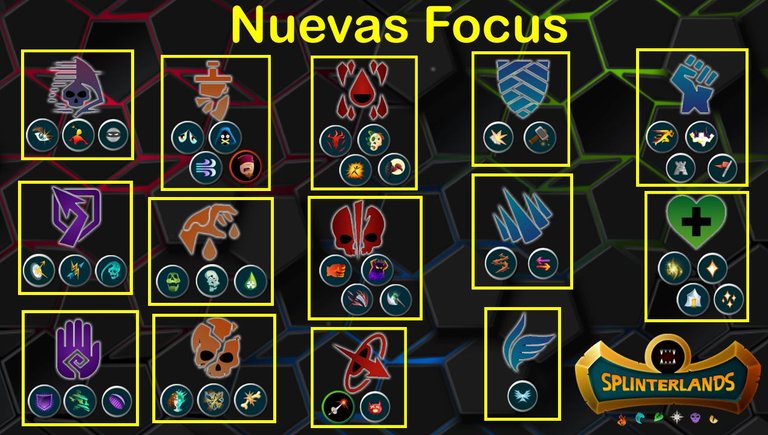 Creo que estos son los cambios más importantes hasta el momento también por aquí te dejo este video en español donde hablo de una manera más amplia de todos estos cambios y de las nuevas recompensas como los méritos.
I believe that these are the most important changes so far. Also here I leave you this video in Spanish where I speak in a broader way about all these changes and the new rewards such as merits.


Si eres hispano y quieres unirte a un clan haz click aqui
@fallen.angels
Si aún no tienes Cuenta de Splinterlands regístrate aquí
Splinterlands https://splinterlands.com?ref=elfino28
My social networks
Hive: @elfino28
https://twitter.com/ElFinoNFT
https://www.instagram.com/ElFinoNFT
https://www.youtube.com/user/KBI93X
telegram https://t.me/ElFinoNFT