Since the legion of Chaos arrived in
Splinterlands
, it has taken me so long to win the battles that sometimes I spend a couple of days without even opening the game on my computer, and this is why it takes me so long to climb the leagues to get some extra chests at the end of the season; and it is that although my points only allow me to reach silver II, this last season it has been possible for me to reach silver III, but I have already found some combinations that have helped me not to suffer so much in battle, well I was literally winning a game for every 10 battles I lost, and I don't think that even happened to me when I started playing the game in mid-2018.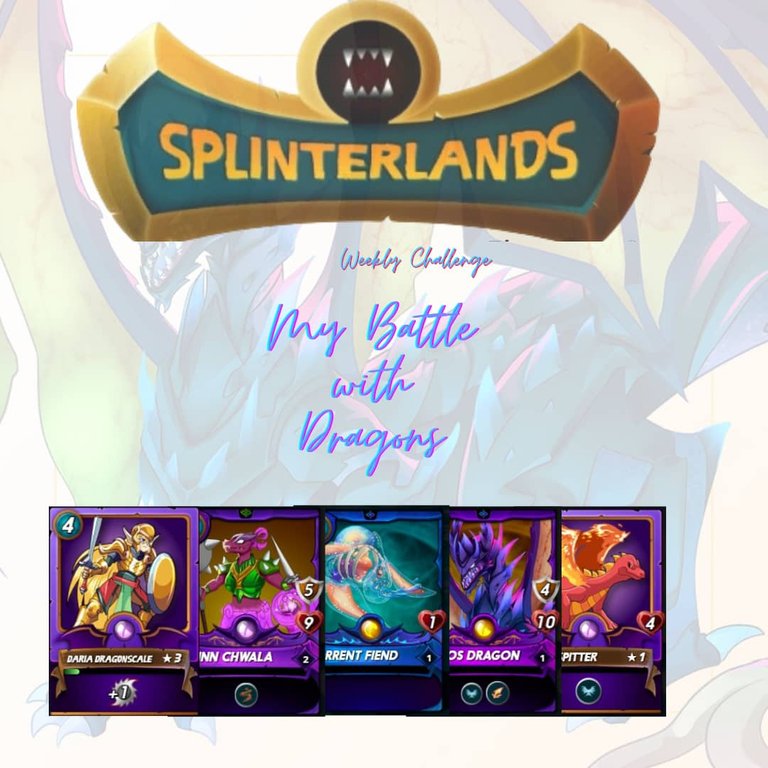 One of my favorite combinations undoubtedly includes the dragon splinter, and it is that the versatility of the summoners of this splinter to be able to summon monsters from any of the other splinters plus the monsters of their own tribe rarely score a losing number , although I must say that it was happening to me that I lost even with these combinations. Recently with some inclusions in my water team, they have made my game combining dragons + water quite effective, although I must say that the combination of dragons + earth is also very good, and I always make the decision at the last moment depending on what to rule and amount of mana you have to use in each battle. This will be my first post sharing my strategies (not that they are the best) in a #WeeklyChallenge.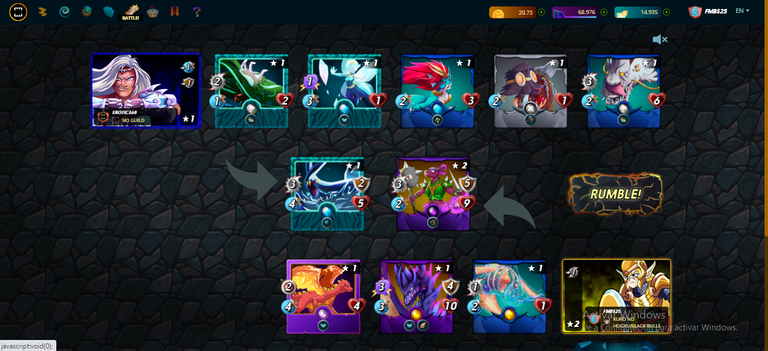 You can watch this battle here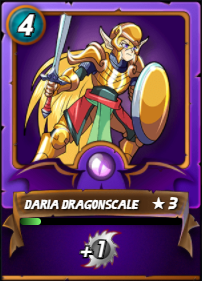 This week the challenge is based on fights with dragons, which as I have already mentioned is my favorite splinter, and I love DARIA DRAGONSCALE, even more than Selenia Sky (yes, though I know older players love her more than any other summoner), and the fact that she gives my monsters an extra melee attack point is one of my favorites
Splinterlands
,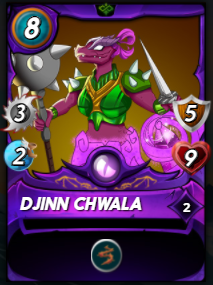 My favorite tank to use with the dragon splinter is DJINN CHWALA, and he has the Thorns ability, which returns damage to all melee attacks and which you can easily finish with an enemy without much effort, although it is not always as effective as I wish.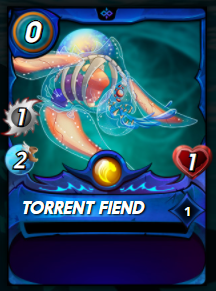 As I mentioned at the beginning of this post, one of my favorite combinations for the dragon splinter is the water team, and the TORRENT FIEND has become one of my favorites since although It has little life and usually dies in the first round, it is a card that I can use as a sacrifice, because by placing it in the second position it ensures that the next monster is not affected as much in the first round, besides it does lose a turn to one of the opposing monsters.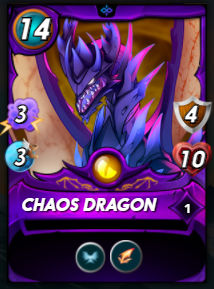 One ​​of my new favorite mages on the dragon team is the CHAOS DRAGON, and although I don't always use it, because when I use the water team as a complement to the dragons I usually use the RULER OF THE SEA, this time I wanted to use this mage who, in addition to having a good attack and good speed for a mage, has a good amount of life and also has 4 extra shield points, added to this is the fact that he can dodge attacks already that it is a flying monster, and its Scattershot ability that does random attacks is not the best but it is always effective, the mana consumption of this dragon is designed for high mana consumption fights, however there are times when I I risk and I end up winning.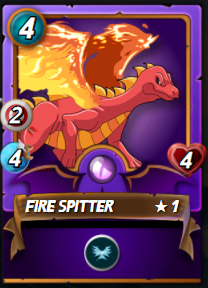 As an archer with the dragon team I like to use the FIRE SPITTER most of the time, which, although it doesn't have great ranged attack power, has a decent speed that allows it to reach the end of the battle, thanks to the ability to fly that makes him dodge attacks most of the time, and let's just say that even though I barely have him at level 1, he has a decent amount of health.

Did I mention that I love the dragon team? Ok, in case I didn't, I'll tell you again hahaha, just being able to combine the great strength that most of their monsters have with the best monsters of the other teams, is simply one of the best things they could do at
Splinterlands
. I probably would have placed RULES OF THE SEA and another melee monster like FLYNG SQUID that has the attack in second position, and the combination would have worked well, and in this case I would have also added FURIUS CHICKEN which is also one of my favorite rares since, like the TORREND FIED, although it does not have much attack and only one point of life, it serves as a distraction and is one less attack for the tank or for the magician, who in this case are the monsters with the highest amount of life and attack.

A 30 mana consuming battle I must confess, that probably if I hadn't had the amount of extra points in shields between the mage and the tank, it probably would have cost me more to win, because one of the things that plays a fundamental role in the battles are the extra points of life that we can give our monsters, and it is that KELYA FRENDUL is one of the summoners that has given me some good rolls on the battlefield, since this gives him a point of speed and one of shield all of his monster allies, sometimes giving him a real advantage. I must also point out that I am extremely excited because I am returning to the rhythm of the battles and they are no longer mopping the floor with my teams, which is something that excites me not to stop playing for long periods of time, because the truth is I love playing
Splinterlands
, but to be honest, I hate losing so many times in a row.
Images taken from the official website of Splinterlands, main image made with the help of Canva

Thank you for taking the time to read this post, if you have any questions, criticisms or suggestions I would appreciate it if you would leave them in the comment box, and remember, you can do magic wherever you are! Wow!


[ES]

Desde que llego la legión del Chaos a
Splinterlands
, me ha costado tanto ganar las batallas que en ocasiones paso un par de días sin siquiera abrir el juego en mi computador, y es por esto que me cuesta tanto subir de ligas para poder obtener algunos cofres extras en el final de temporada; y es que aunque mis puntos no me permitan más que llegar a plata II, esta última temporada es que ha sido posible que llegara a plata III, pero ya he encontrado algunas combinaciones que me han ayudado a no pasar tanta pena en la batalla, pues literalmente ganaba una partida por cada 10 batallas perdidas, y creo que eso no me paso ni siquiera en mis inicios en el juego a mediados del 2018.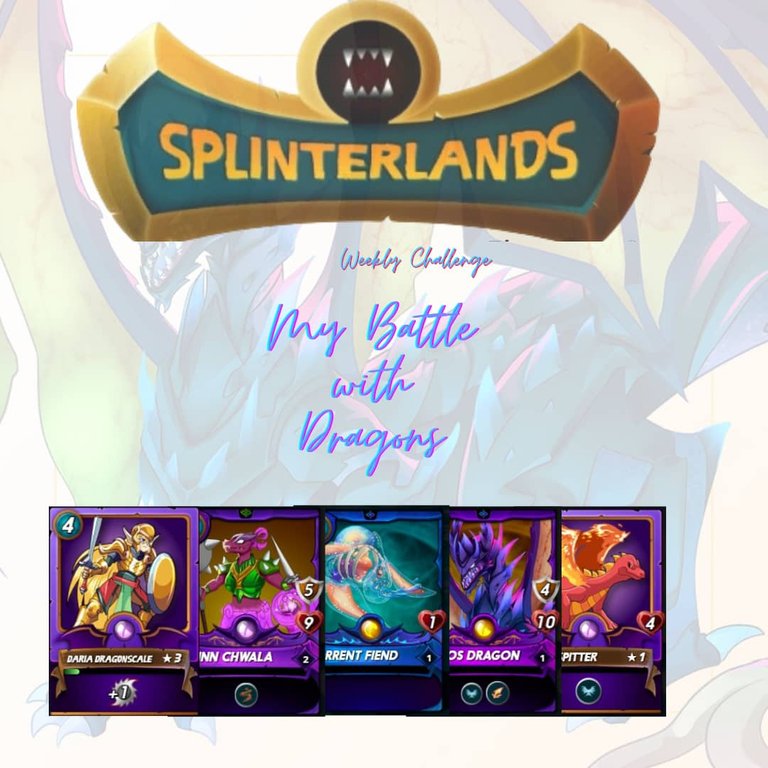 Una de mis combinaciones favoritas incluye sin duda alguna el splinter de dragones, y es que la versatilidad de los invocadores de este splinter al poder invocar a monstruos de cualquiera de los otros splinter más los monstruos de su propia tribu pocas veces se anotan un numero perdedor, aunque debo decir que me estaba pasando que perdía inclusive con estas combinaciones. Recientemente con algunas inclusiones en mi equipo de agua, han hecho de mi juego combinando dragones + agua algo bastante efectivo, aunque debo decir que la combinación de dragones + tierra también es muy buena, y siempre tomo la decisión al último momento dependiendo de que reglar y cantidad de mana tenga que utilizar en cada batalla. Esta será mi primera publicación compartiendo mis estrategias (que no es que sean las mejores) en un #WeeklyChallenge.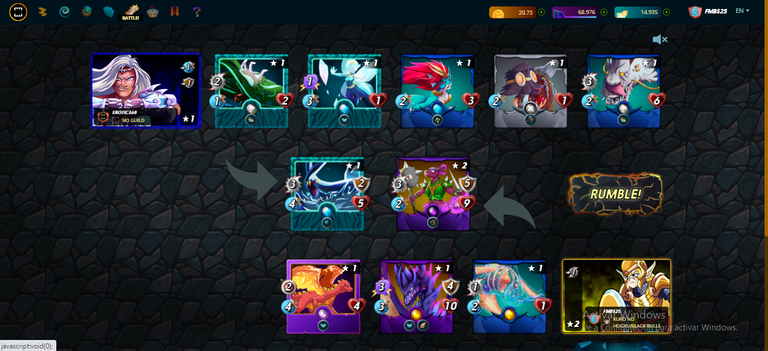 Puedes ver esta batalla aqui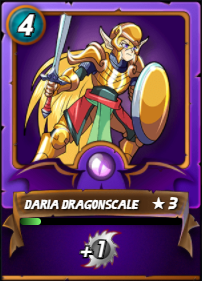 Esta semana el reto se basa en peleas con dragones, que como ya lo he mencionado es de mi splinter favorito, y es que amo a DARIA DRAGONSCALE, incluso más que a Selenia Sky (sí, aunque sé que los jugadores antiguos la aman a ella más que a otro invocador), y es que el hecho de que le dé a mis monstruos un punto extra de ataque cuerpo <a a cuerpo es de mis favoritas
Splinterlands
,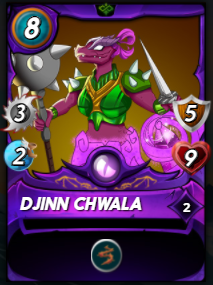 Mi tanque predilecto para usar con el splinter de dragones es DJINN CHWALA, y que tiene la habilidad de Espinas, que devuelve el daño a todos los ataques cuerpo a cuerpo y con lo que fácilmente puedes acabar con un enemigo sin mucho esfuerzo, aunque no siempre es tan efectiva como lo deseo.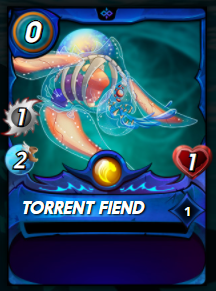 Como les comentaba al principio de esta publicación, una de mis combinaciones predilectas para el splinter de dragones es el equipo de agua, y el TORRENT FIEND se ha convertido en uno de mis favoritos ya que aunque tiene poca vida y muere en la primera ronda por lo general, es una carta que bien puedo usar como sacrificio, pues al colocarla en la segunda posición me asegura que el monstruo siguiente no se vea tan afectado en la primera ronda, además de que hace perder un turno a uno de los monstruos contrarios.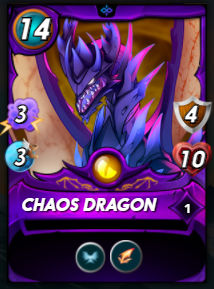 Uno de mis nuevos magos favoritos en el equipo de dragones es el CHAOS DRAGON, y aunque no siempre lo utilizo, pues cuando utilizo el equipo de agua como complemento de los dragones suelo utilizar al RULER OF THE SEA, esta vez quise utilizar a este mago que además de tener buen ataque y buena velocidad para un mago tiene una buena cantidad de vida y además tiene 4 puntos extras de escudo, aunado a esto está el hecho de que puede esquivar los ataques ya que es un monstruo volador, y su habilidad de Scattershot que hace ataques aleatorios no es de las mejores pero siempre es efectivo, el consumo de mana de este dragón está diseñado para peleas de gran consumo de mana, sin embargo hay ocasiones en las que me arriesgo y termino ganando.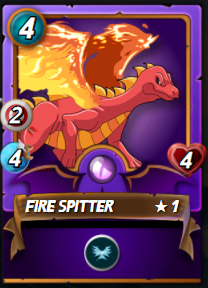 Como arquero con el equipo de dragones me gusta utilizar la mayor parte del tiempo al FIRE SPITTER, que, aunque no tiene un gran poder de ataque a distancia tiene una rapidez decente que lo hace llegar hasta el final de la batalla, gracias a la habilidad de volar que lo hace esquivar los ataques la mayoría de las veces, y digamos que aunque apenas lo tengo nivel 1, tiene una cantidad decente de vida.

¿Ya les comenté que amo el equipo de dragones? Ok, por si no lo hice, se los vuelvo a decir jajaja, el solo hecho de poder combinar la gran fuerza que tienen la mayoría de sus monstruos con los mejores monstruos de los demás equipos, es sencillamente una de las mejores cosas que pudieron hacer en
Splinterlands
. Probablemente habría colocado al RULES OF THE SEA y a otro monstruo cuerpo a cuerpo como FLYNG SQUID que tiene el ataque en segunda posición, y habría resultado bien la combinación, y en este caso habría también añadido a la FURIUS CHICKEN que es también de mis raras favoritas ya que al igual que el TORREND FIED aunque no tiene mucho ataque y apenas un solo punto de vida, sirve como distracción y es un ataque menos para el tanque o para el mago que en este caso son los monstruos con mayor cantidad de vida y ataque.

Una batalla de 30 de mana de consumo que debo confesar, que probablemente de no haber tenido la cantidad de puntos extra en escudos entre el mago y el tanque, probablemente me habría costado más ganar, porque una de las cosas que juega un papel fundamental en las batallas son los puntos extra de vida que podamos darle a nuestros monstruos, y es que KELYA FRENDUL es uno de los invocadores que me han dado unas buenas revolcadas en el campo de batalla, ya que este le otorga un punto de velocidad y uno de escudo a todos sus monstruos aliados, lo que en ocasiones genera una verdadera ventaja. Debo además acotar que estoy sumamente emocionada pues estoy volviendo a retomar el ritmo de las batallas y ya no están trapeando el piso con mis equipos, lo cual es algo que me entusiasma a no dejar de jugar por largos periodos de tiempo, pues la verdad es que me encanta jugar
Splinterlands
, pero soy sincera, odio perder tantas veces seguidas.
Imágenes tomadas de la página web oficial de Splinterlands, imagen principal hecha con ayuda de Canva

Gracias por tomarse el tiempo de leer este post, si tiene alguna pregunta, crítica o sugerencia, te agradecería que la dejaras en el cuadro de comentarios, y recuerda, ¡Puedes hacer magia donde quiera que vaya!



Created by @robinsonlgil



---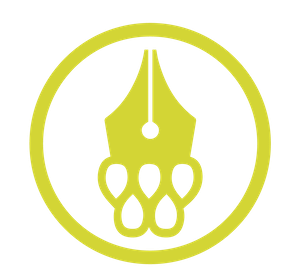 Come and support @Cervantes as Witness in https://peakd.com/me/witnesses
---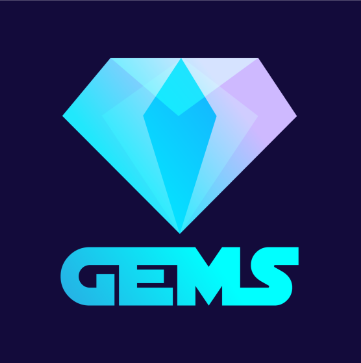 Join
@gems-community
's
Discord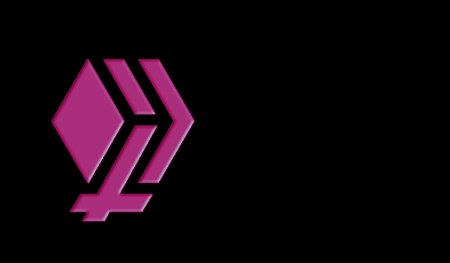 Created by @derangedvisions