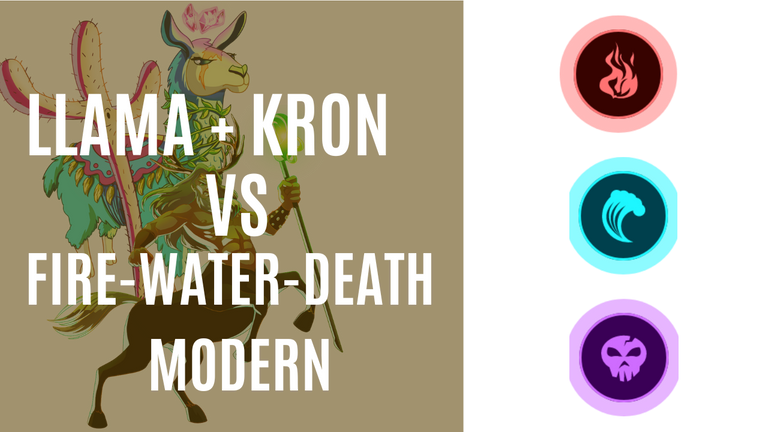 ESPAÑOL
Hola amigos estamos en una nueva entrega del post social con un tema interesante acerca de cómo derrotar a la LLAMA + KRON con un maná limitado de 17 y en liga Bronce, sin duda es un tema controversial que se ha tratado muchas veces sin embargo con la nueva actualización de separación de ligas entre WILD y MODERN hay que crear nuevas estrategias para no sufrir.
Así que en mi afán por empezar a ser un jugador competitivo he investigado cómo vencer a esta estrategia poderosa pero solo con cartas Modern que es donde me desenvuelvo,vamos a ello.
ENGLISH
Hello friends we are in a new installment of the social post with an interesting topic about how to defeat the FLAME + KRON with a limited mana of 17 and in Bronze league, no doubt it is a controversial topic that has been discussed many times but with the new update of separation of leagues between WILD and MODERN we must create new strategies to avoid suffering.
So in my eagerness to start being a competitive player I have investigated how to beat this powerful strategy but only with Modern cards which is where I operate, let's do it.
FUEGO MODERN
Para el primer tipo que es Fuego, intentamos con el invocador Tarsa.
En primera posición colocamos una de las cartas más infravaloradas del juego como es VENARI HEATSMITH que con su habilidad de VOID ARMOR es quien logra retener los ataques de KRON.
En segunda posición, una carta que no pensé que usaría nunca AGANJU con su habilidad de REACH le permite atacar desde la segunda posición pero su maná bajó de 1 es lo que la hace imprescindible para esta formación.
Aquí debe ir una carta muy importante como es el SCAVO IRELING que simplemente repara la armadura de VENARI.
En cuarta posición necesitamos una carta que haga daño y URAEUS es la correcta ya que hace 2 de daño pero con el buff de TARSA hará 3 de daño.
Finalmente en última posición colocamos a SERPENTINE SPY con el fin de hacer aún más daño.
Recordar que para poder vencer a la LLAMA + KRON hay que hacer al menos 7 de daño por ronda ya que KRON se cura con 6, lo importante es resistir cada ataque mientras realizamos 7 de daño y en cada turno ir consumiendo de a poco su vida hasta poderlo derrotar.
El video en cuestión es de mi autoría y pueden visitar mi canal de donde podrán encontrar muchas estrategias que las iré compartiendo por aquí.
For the first type which is Fire, we try with the summoner Tarsa.
In first position we place one of the most underrated cards of the game as VENARI HEATSMITH who with his VOID ARMOR ability is the one who manages to hold back the attacks of KRON.
In second position, a card that I didn't think I would ever use AGANJU with his REACH ability allows him to attack from second position but his mana went down from 1 is what makes it essential for this formation.
Here must go a very important card as is the SCAVO IRELING that simply repairs the armor of VENARI.
In fourth position we need a card that does damage and URAEUS is the right one as it does 2 damage but with the TARSA buff it will do 3 damage.
Finally in last position we place SERPENTINE SPY in order to do even more damage.
Remember that in order to defeat the FLAME + KRON you have to do at least 7 damage per round since KRON heals with 6, the important thing is to resist each attack while we do 7 damage and in each turn gradually consume his life until we can defeat him.
The video in question is of my authorship and you can visit my channel where you can find many strategies that I will be sharing here.
---
WATER MODERN
Aquí la estrategia es muy similar a la del fuego, buscamos una carta con VOID ARMOR , reparar el escudo y hacer el máximo daño posible. No encontré una estrategia con KELYA ya que necesitamos hacer al menos 7 de daño y usar a KELYA perdemos 1 de maná, aunque sin duda debe haber alguna estrategia que desconozco pero apenas la encuentre la estaré comunicando por aquí.
Las cartas utilizadas son:
Here the strategy is very similar to that of fire, we look for a card with VOID ARMOR, repair the shield and do as much damage as possible. I did not find a strategy with KELYA since we need to do at least 7 damage and using KELYA we lose 1 mana, although there must be some strategy that I do not know but as soon as I find it I will be communicating it here.
The cards used are:
---
| CARD | RARITY | cEDITION | LEVEL |
| --- | --- | --- | --- |
| BORTUS | RARE | UNTAMED | 2 |
| TIDE BITER | EPIC | REWARDS | 2 |
| SCAVO HILERING | COMMON | CHAOS | 3 |
| URAEUS | EPIC | REWARDS | 2 |
| ICE PIXIE | RARE | UNTAMED | 2 |
| TWO GUN PETE | LEGENDARY | DICE | 1 |
DEATH MODERN
Entonces para cada estrategia la idea se la misma como explico a continuación:
Una carta con VOID ARMOR.
Reparar el escudo.
Causar al menos 7 de daño.
Aquí resulta algo peculiar que podemos usar el invovador de OWSTER ROTWELL el cual otorga reflect a todas mis cartas causando daño cada vez que se recibe un ataque mágico.
So for each strategy the idea is the same as I explain below:
A card with VOID ARMOR.
Repair the shield.
Cause at least 7 damage.
Here it is something peculiar that we can use the OWSTER ROTWELL invoker which gives reflect to all my cards causing damage every time a magic attack is received.
---
| CARD | RARITY | EDITION | LEVEL |
| --- | --- | --- | --- |
| OWSTER ROTWELL | RARE | DICE | 2 |
| MARROW'S GHOST | COMMON | DICE | 3 |
| SCAVO HILERING | COMMON | CHAOS | 3 |
| URAEUS | EPIC | REWARDS | 2 |
| WEIRDING WARRIOR | EPIC | CHAOS | 2 |
| SOUL STRANGLER | RARE | CHAOS | 2 |
---
END THE POST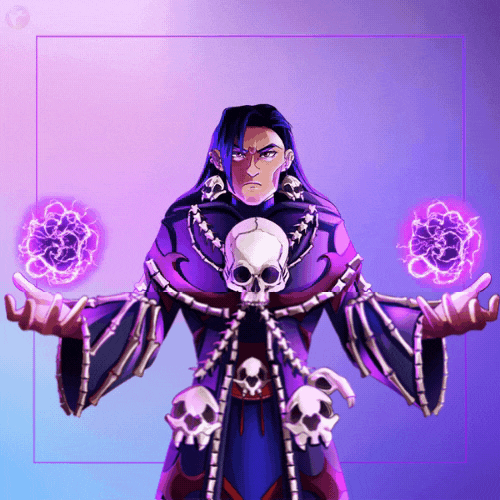 ---




In our clan @fallen.angels we have innovative ideas to benefit everyone, see the next post, you will not regret it Information Here
All info & images are copyright Splinterlands and Splintercards with the help of Photoshop.
The separators were obtained from the Post 1 edited in photoshop