Hello everyone in the Splinterlands community! / Hola a todos en la comunidad de Splinterlands!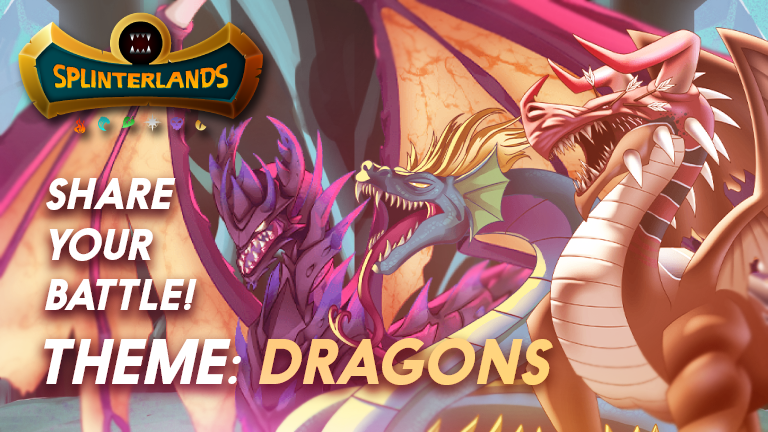 English Version:
Today I want to share with you this new battle for the weekly challenge, where the main cards will be the dragon type, creatures that, as I have said so many times, are not my favorites, hahaha. For this challenge I acquired a new card to vary my strategy a bit, Naga Assassin, a creature with distant damage, which also has a very low mana requirement for its summoning, also having a very good speed.
I supplemented my dragons with my fire cards, creating a very tough build with fair to good damage, but going up against a ground-type deck, I couldn't fully exploit the abilities of my cards.
If you want to see the complete battle, here is the link: see battle.
Without much else to add, this was the formation I used in battle:
Versión en Español:
Hoy quiero compartir con ustedes esta nueva batalla por el reto semanal, donde las cartas protagonistas serán las de tipo dragón, unas criaturas, que como tantas veces ya he dicho, no son mis favoritas, jajaja. Para este reto adquirí una nueva carta para variar un poco mi estrategia, Naga Assassin, una criatura con daño lejano, que además cuenta con un requerimiento de maná para su invocación muy bajo, contando también con una velocidad muy buena.
Complemente mis dragones con mis cartas de fuego, creando una formación muy resistente y con un daño entre regular y bueno, pero al enfrentarme contra un mazo de tipo tierra, no pude explotar al máximo las habilidades de mis cartas.
Si quieren ver la batalla completa, aquí les dejo el link: ver batalla.
Sin mucho más que agregar, está fue la formación que utilice en la batalla:

My Formation for this battle / Mi Formación para esta batalla:
As a Summoner / Como Invocador: Drake of Arnak.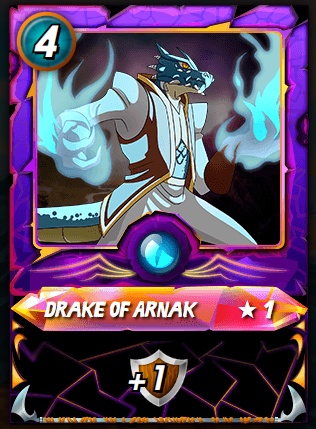 I chose this summoner for the usual reasons, unlike my other summoner, this one gives me some sort of buff, aside from costing one more mana point.
Escogí a este invocador por las razones de siempre, a diferencia de mi otro invocador, este me da algún tipo beneficio, más allá de que cuesta un punto de maná más.
---
In First Position / En Primera Posición: Gloridax Soldier.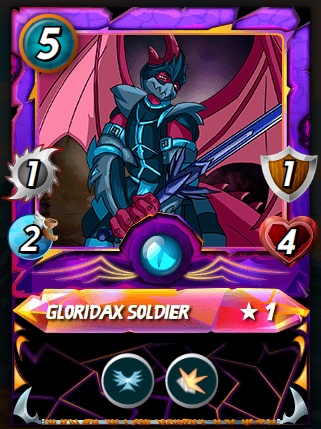 Although it is not the best option to be the tank of my team, I wanted to use my dragon-type cards a little more, this creature also has Flying and Shield, two abilities that in another battle context, can make it a difficult opponent to deal with.
Aunque no es la mejor opción para ser el tanque de mi equipo, quise utilizar un poco más mi cartas de tipo dragón, además está criatura cuenta con Volador y Escudo, dos habilidades que en otro contexto de batalla, lo pueden hacer un rival difícil de vencer.
---
In Second Position / En Segunda Posición: Fineas Rage.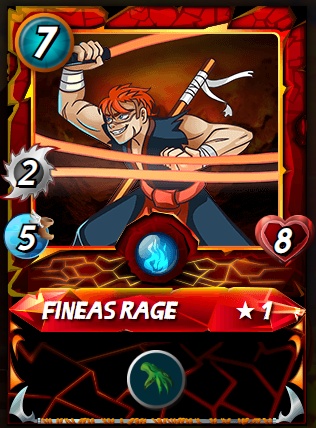 Despite its high cost, this card is one of the most used by me, it has a decent attack, a very good speed and good health points, but it also has the Reach ability, which allows it to attack from the second line.
Pese a su alto costo, está carta es una de las más utilizadas por mí, cuenta con un ataque decente, una muy buena velocidad y buenos puntos de salud, pero además cuenta con la habilidad Alcanzar, que le permite atacar desde segunda línea.
---
In Third Position / En Tercera Posición: Tenyii Striker.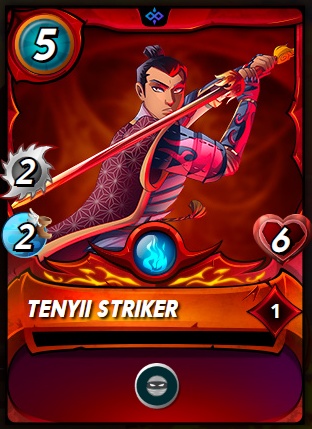 My last really resistant card will be this one, located here since in case of falling in first position, it can resist more than one blow, something very difficult for the rest of my cards.
Mi última carta verdaderamente resistente será está, situada aquí ya que en caso de caer en primera posición, pueda resistir más de un golpe, algo muy difícil para el resto de mis cartas.
---
In Fourth Position / En Cuarta Posición: Serpentine Spy.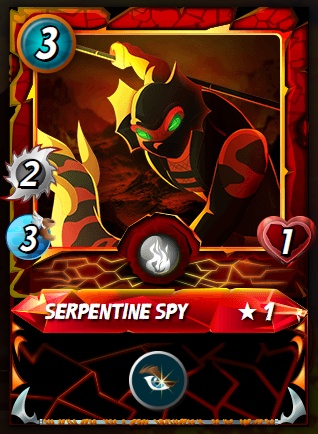 In none of my formations using fire cards can this card be missing, since beyond its few points to summon, it has a good attack and Chance, which allows it to attack the weakest rival card.
En ninguna de mis formaciones usando cartas de fuego puede faltar está carta, ya que más allá de sus pocos puntos para invocar, tiene un ataque bueno y Oportunidad, lo que le permite atacar a la carta rival más débil.
---
In Fifth Position / En Quinta Posición: Naga Assassin.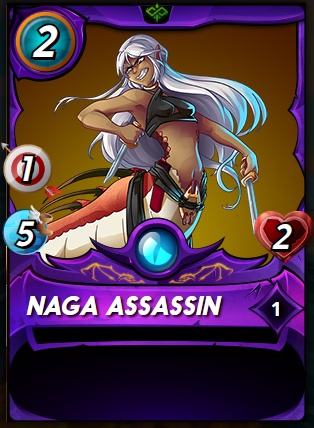 Taking advantage of the few points I had left at the end, I decided to use them to summon two cards with far damage and few health points, to go maybe for a more complex card, and this was one of them.
Aprovechando los pocos puntos que me quedaron al final, decidí utilizarlos para convocar dos cartas con daño lejano y pocos puntos de salud, a irme tal vez por una carta más compleja, y esta fue una de ellas.
---
And in Last Position / Y en Última Posición: Goblin Fireballer.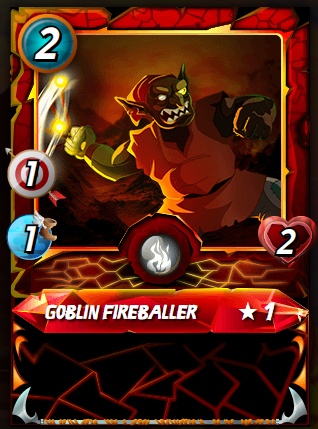 Finally, I played this card thinking about the previous ones, besides the fact that if I faced any rival card with Furtivo, I could take advantage of the shield point granted by my summoner, clearing at least one hit.
Por último, jugué está carta pensando en los anterior, además de que si enfrentaba alguna carta rival con Furtivo, podía aprovechar el punto de escudo otorgado por mi invocador, despejando al menos un golpe.

It's time for battle! / ¡Es hora de la batalla!
We had 28 mana points for summoning, and as a condition there were none. There was also no limitation with the type of cards to be used.
Teníamos 28 puntos de maná para invocación, y como condición no había ninguna. Tampoco hubo limitante con el tipo de cartas a utilizar.

As I had already mentioned, my opponent played with a land-type formation, and just like me, he concentrated almost all his mana in a few cards, although very strong and difficult to beat, although he would have done much better if he had allocated something more to strengthen your second line.
Como ya lo había mencionado, mi oponente jugó con una formación de tipo tierra, y de igual forma que yo, concentró casi todo su maná en pocas cartas, aunque muy fuertes y difíciles de vencer, aunque le hubiera ido mucho mejor si hubiera destinado algo más para fortalecer su segunda línea.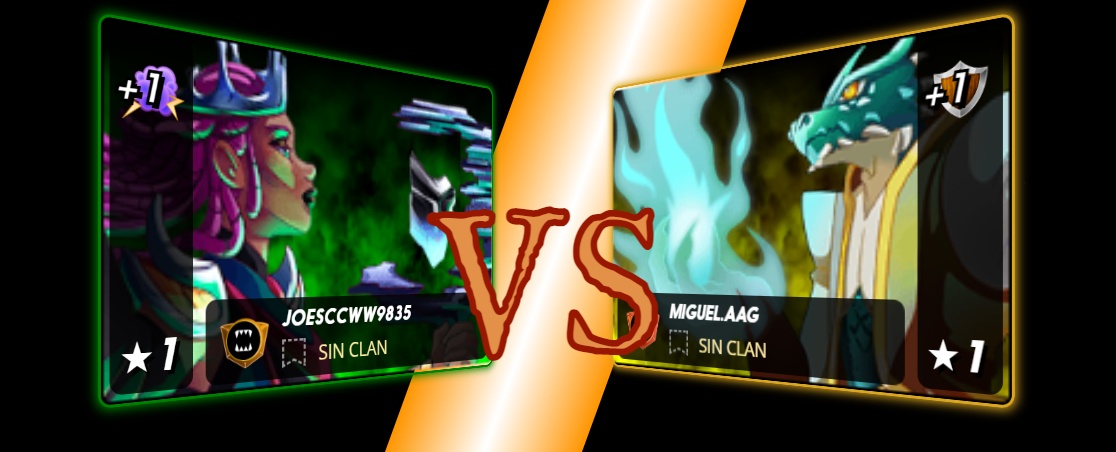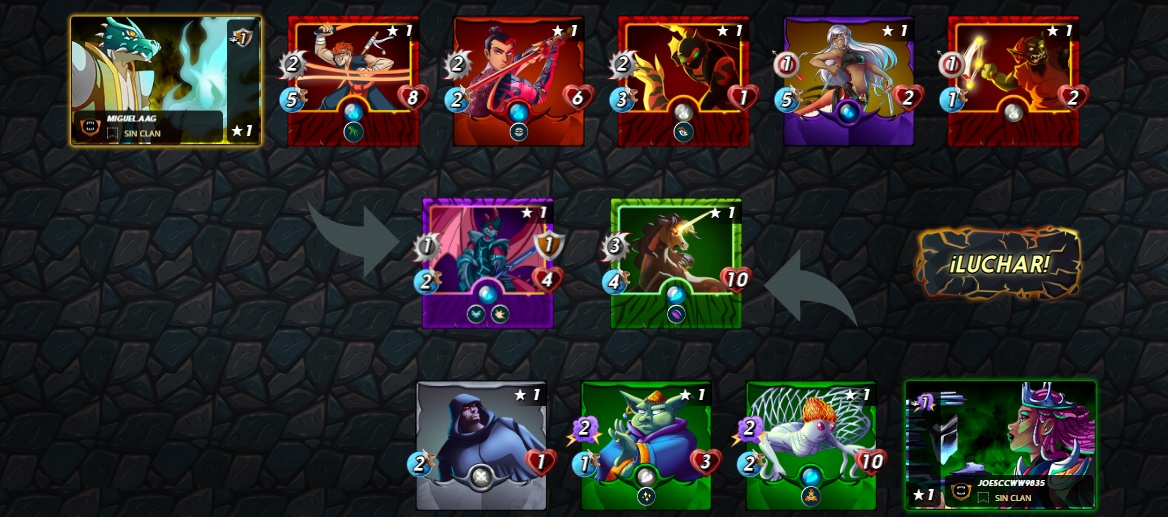 At the end of the summoners' and monsters' effects, my opponent's cards received their increase in magic power, while my cards received a shield point.
Al final de los efectos de los invocadores y los monstruos, las cartas de mis rival recibieron su aumento en el poder mágico, mientras que mis cartas recibieron un punto de escudo.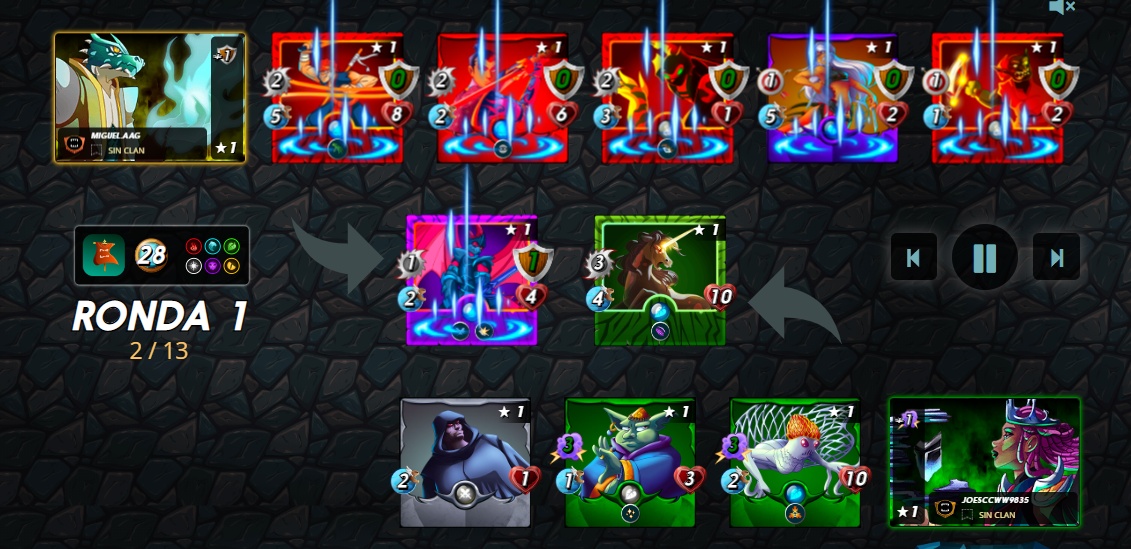 The first round was somewhat frustrating, I lost my tank while his Unicorn Mustang finished without any damage thanks to Heal the Tank. The only positive thing was that his Mycelic Slipspawn had taken considerable damage.
La primera ronda fue algo frustrante, perdí a mi tanque mientras que su Unicorn Mustang terminó sin ningún daño gracias a Sanar al Tanque. Lo único positivo fue que su Mycelic Slipspawn había recibido un daño considerable.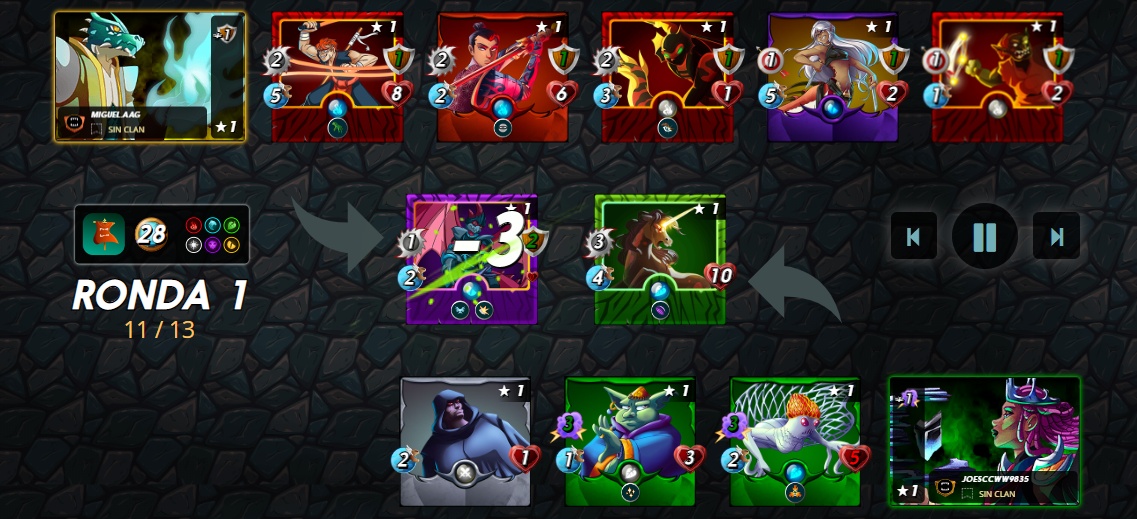 In the second round I had the same impression, although his most resistant charge fell, my Fineas Rage ended up badly hurt, while the opposing tank had regained full health.
En la segunda ronda tuve la misma impresión, pese a que su carga más resistente cayó, mi Fineas Rage terminó muy lastimado, mientras que el tanque rival había recuperado nuevamente toda su salud.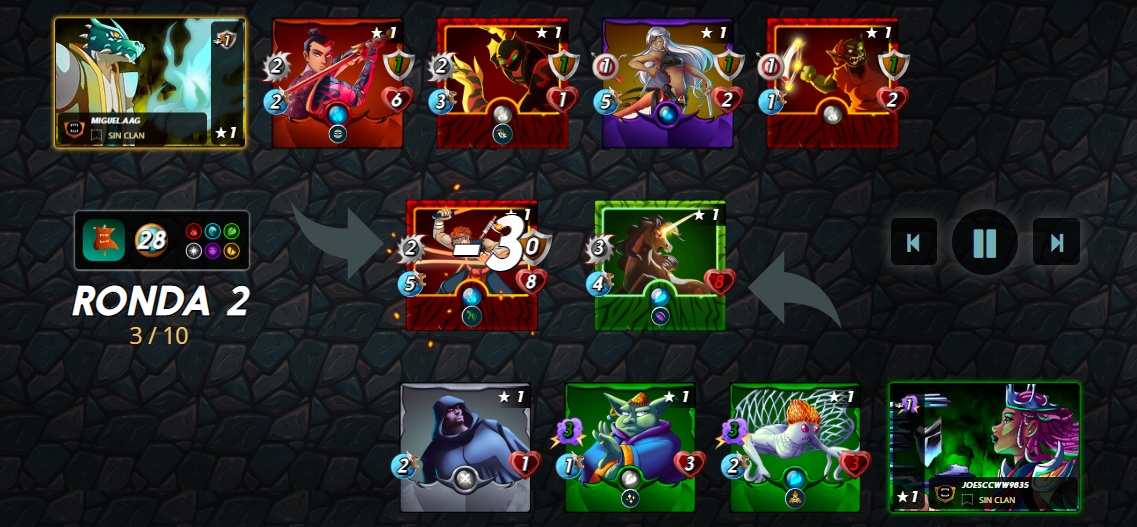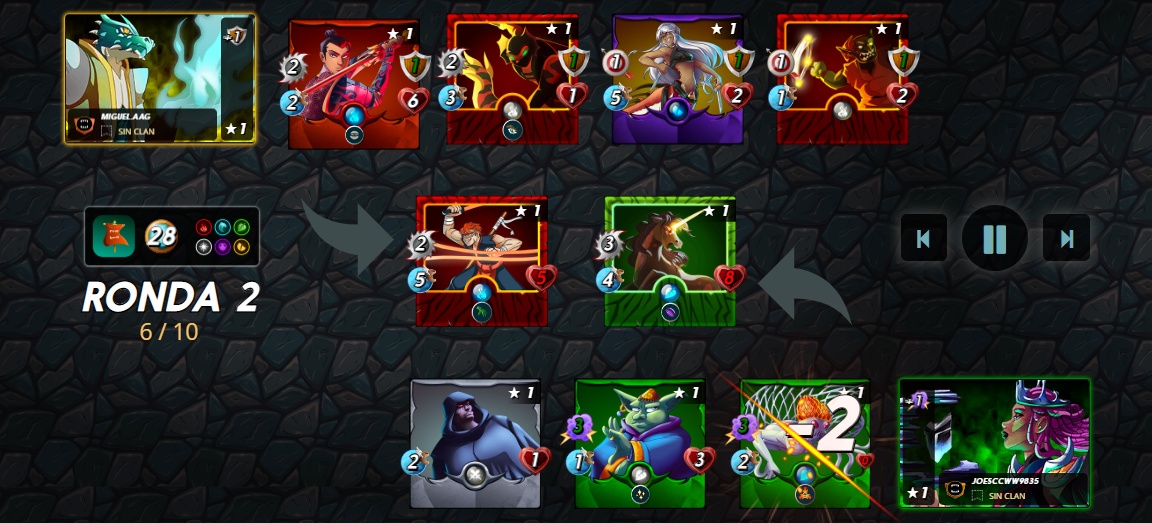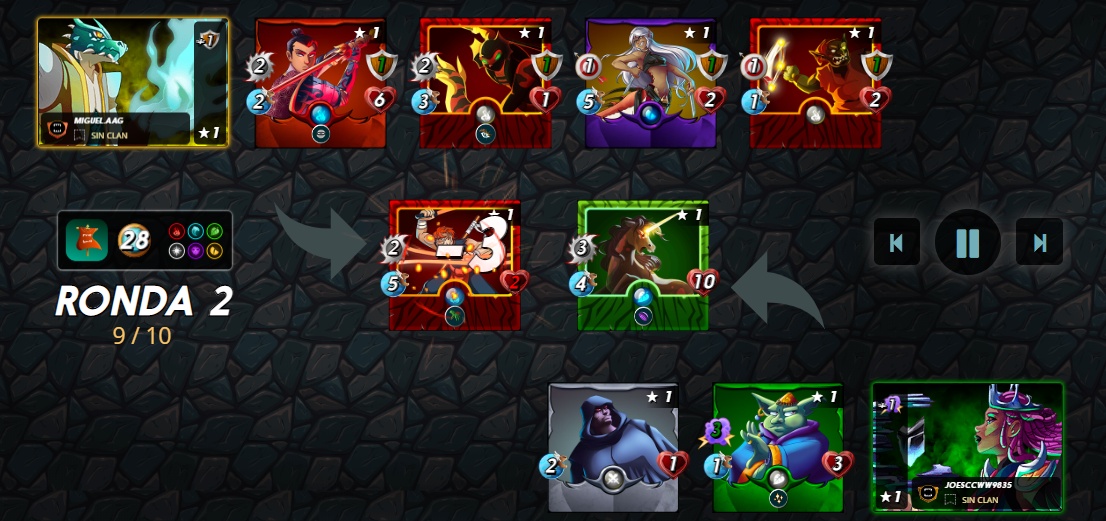 In the third round our cards began to fall, despite a moment of luck when avoiding an attack, Fineas Rage succumbed, but my biggest achievement was to leave his Goblin Psychic very touched.
En la tercera ronda empezaron a caer nuestras cartas, pese a un momento de suerte al evadir un ataque, Fineas Rage sucumbió, pero mi mayor logró fue dejar muy tocado a su Goblin Psychic.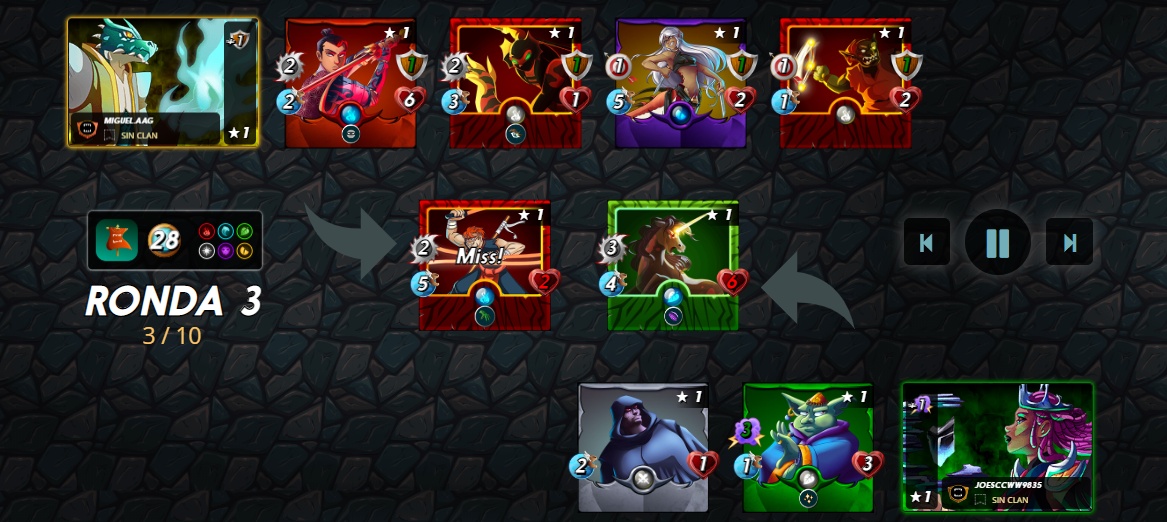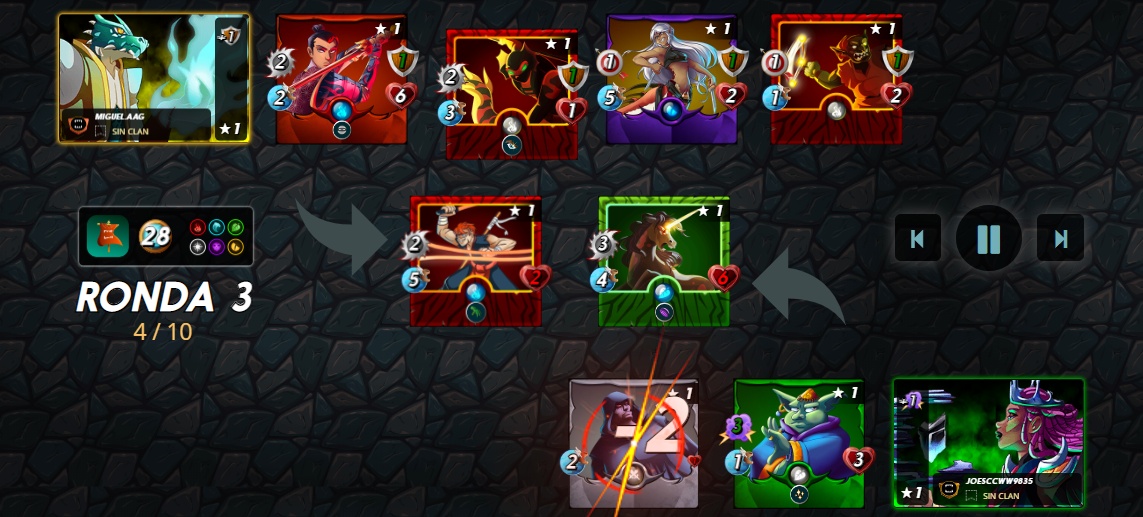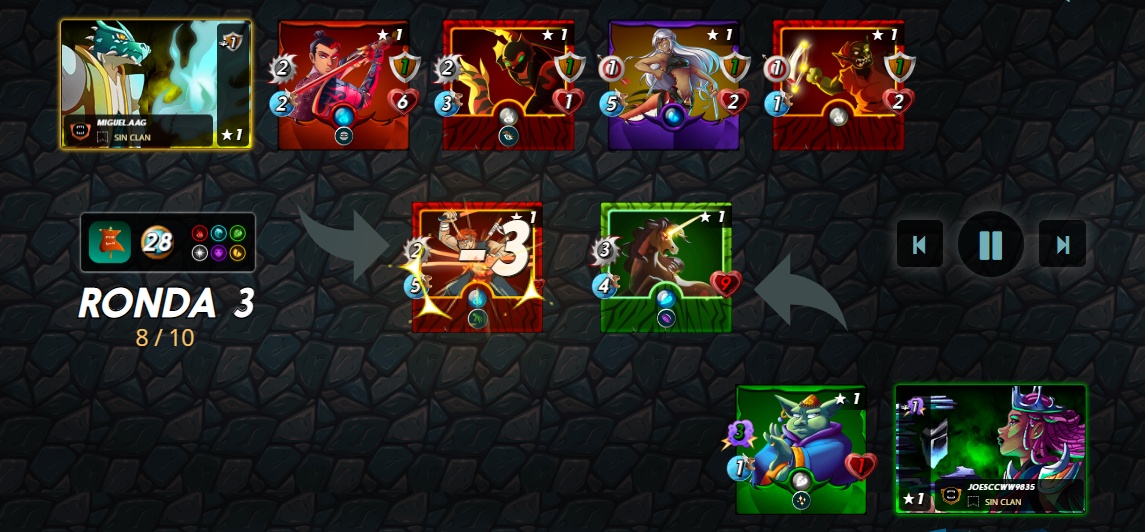 Beating his Goblin Psychic was game over, so there were only a few more attacks left to declare my victory.
Al vencer a su Goblin Psychic se acabó la partida, por lo que ya solo faltaban unos pocos ataques más para decretar mi victoria.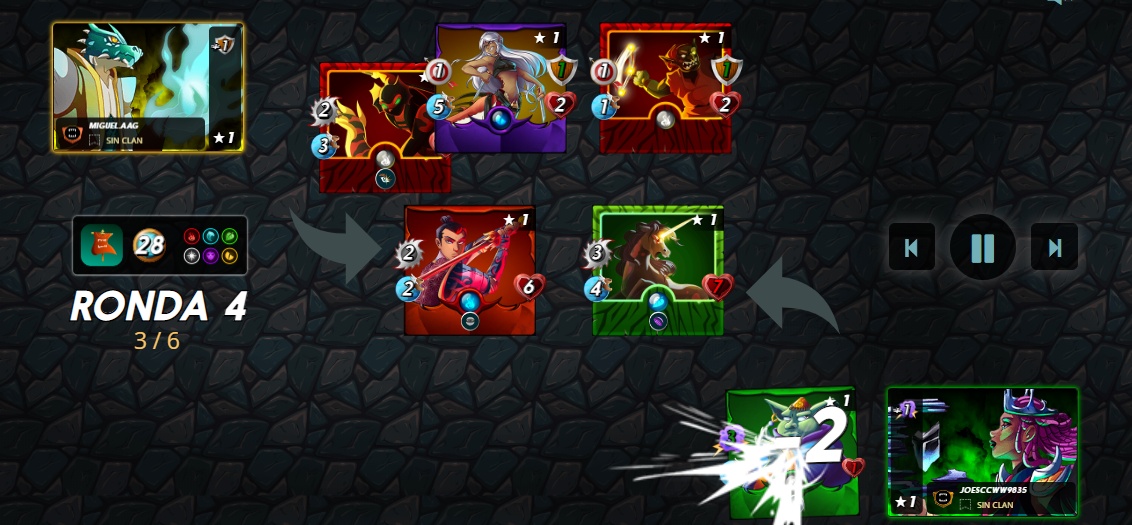 Unicorn Mustang would only resist one more turn without the possibility of recovering his health, finally closing this battle.
Unicorn Mustang solo resistiría un turno más si la posibilidad de recuperar su salud, cerrando por fin esta batalla.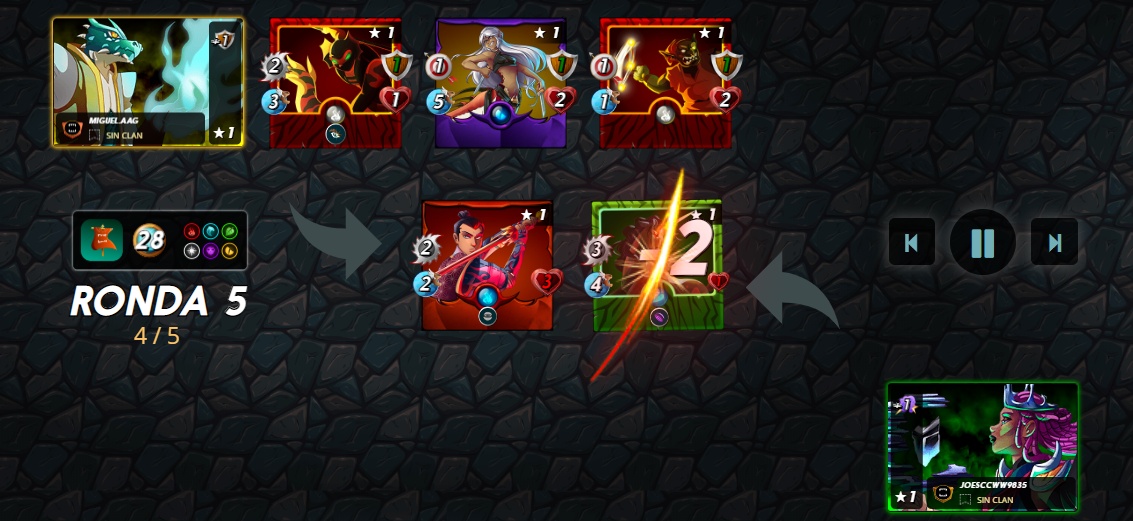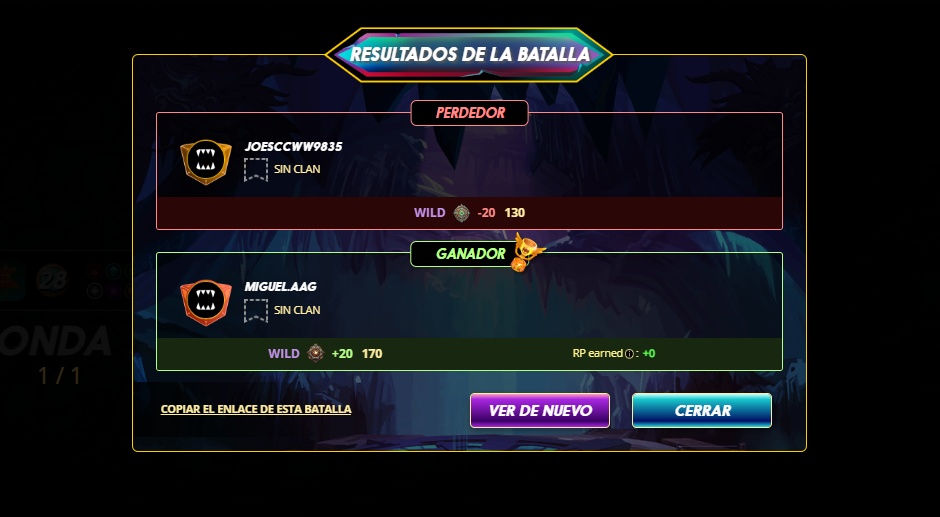 This was my entry for the weekly challenge using my dragon-type cards, creatures that despite their great strength, are not my favorites, although knowing how to combine them with the other types, they can become very interesting.
As I have said so many times, my main weakness when using this deck is the little variety of cards I have, having to rely more on the second type I choose, although over the months, I have been acquiring more cards to play. all this a little more interesting, jajaja.
I hope you liked this battle, if you want to see it complete, here is the link again: see battle.
I will be aware of the challenge next week, greetings and thanks for this idea! @splinterlands
Esta fue mi entrada para el reto semanal utilizando a mis cartas de tipo dragón, criaturas que pese a su gran fuerza, no son de mis preferidas, aunque sabiéndolas combinar con los demás tipos, pueden llegar a ser muy interesantes.
Como ya lo he dicho tantas veces, mi principal debilidad al usar este mazo es la poca variedad de cartas que tengo, teniendo que ampararme más en el segundo tipo que escoja, aunque con el paso de los meses, he ido adquiriendo más cartas para hacer todo esto un poco más interesante, jajaja.
Espero les haya gustado esta batalla, si quieren verla completa, aquí les dejo el link nuevamente: ver batalla.
Estaré pendiente del reto de la próxima semana, saludos y gracias por esta idea! @splinterlands