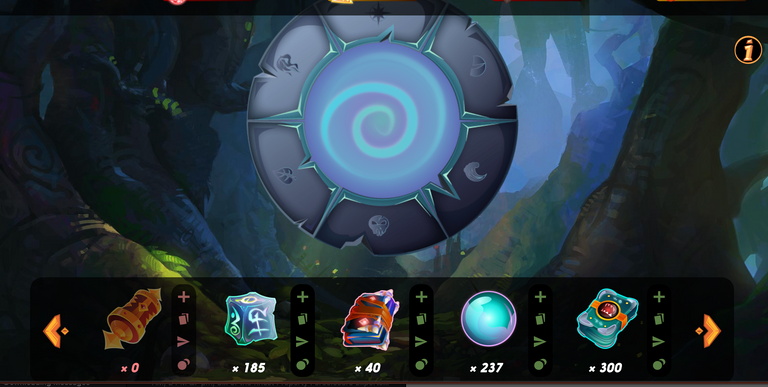 Being a participant of Splinterlands since the original launch of the now highly rare Alpha cards have made me learn of the effectiveness of the economic mechanics built by the development team. The deflationary nature and scarcity reality of the cards in the ecosystem has been amazing to watch since the beginning back in 2018. Even though individual cards experienced this same value growth, packs were demonstrated to increase in value even more so. One thing I learned early on is that you can never have enough packs on reserve!
I missed out on holding on to any Alpha packs which increased in price after they sold out so I started to buying extra packs starting with Beta. At every opportunity I had, mostly with fiat, I would buy extra packs and hold them as I would opt to hold them once my Collection got to a point were the randomness of getting cards needed would not make sense which made me opt to buying cards for maximizing the level of the cards. I bought a large amount of packs for both Kickstarters which really got me started but every time a new edition would come, like Orbs and Dice, I would also buy them to hold.
As expected, this speculation on my part worked as all sold out packs trade for much higher prices in the 3rd party markets. This investment aspect allowed me to benefit from the price increases last year. It was a "no brained" to let some go at these prices as it also allowed me to continue building my Collection with the new Chaos Legion Edition. With the packs sold over the last year, I have been able to complete my playing card set and receive a full pay back of my prior purchases from fiat. However, it still left me with a large amount of unopened packs and prices have since come down.
The demand for packs have slowed given the recent downturn in prices as well as the amount of new Chaos Legion packs available which have proven to be fairly balanced for competing even in the Wild format. However, the declines in price and the fact that I no longer need to extract value, I have refocused my effort on the future for my Collection. After months of thinking about my options and only selling few except for Untamed, I decided to open most of my packs (leaving some on inventory for nostalgia).
The continued growth and development of the game has provided me interesting options for my expanding Collection. Playing is advantageous once again with updated rewards. Renting also continues to be an easy way to benefit passively from your Collection. However, I believe that the best is yet to come with lands probably being the best utility for cards in the future. Since I have a playing set, I need to get my Collection expanding to prepare for cards to support my Lands. Although resources needed are still unknown, I am sure that the scarcity aspects of the mentality from the team will persist and make it difficult for there to be enough cards to optimize the map of the upcoming lands.
It was also an easy decision to make at the end as I can always recall how much I love opening packs. While this amount is tough to open individually, opening in bulk will surely be fun! Stay tuned for the results of opening over 500 packs of old sold out packs! Would you have made the same decision? Do you think I end with more or less value from opening them? Time will tell!

Discord: @newageinv#3174
Chat with me on Telegram: @NewAgeInv
Follow me on Twitter: @NAICrypto
The following are Affiliate or Referral links to communities and services that I am a part of and use often. Signing up through them would reward me for my effort in attracting users to them:
Start your collection of Splinterlands today at my referral link
Expand your blogging and engagement and earn in more cryptocurrencies with Publish0x! Sign up here!
My go to exchanges are Bittrex and Coinbase; get bonuses for signing up!
The future of the internet is here with Unstoppable Domains! Sign up for your own crypto domain and see mine in construction at newageinv.crypto!
Always open to donations!
ETH: newageinv.eth
BTC/LTC/MATIC: newageinv.crypto
DISCLAIMER: The information discussed here is intended to enable the community to know my opinions and discuss them. It is not intended as and does not constitute investment advice or legal or tax advice or an offer to sell any asset to any person or a solicitation of any person of any offer to purchase any asset. The information here should not be construed as any endorsement, recommendation or sponsorship of any company or asset by me. There are inherent risks in relying on, using or retrieving any information found here, and I urge you to make sure you understand these risks before relying on, using or retrieving any information here. You should evaluate the information made available here, and you should seek the advice of professionals, as appropriate, to evaluate any opinion, advice, product, service or other information; I do not guarantee the suitability or potential value of any particular investment or information source. I may invest or otherwise hold an interest in these assets that may be discussed here.