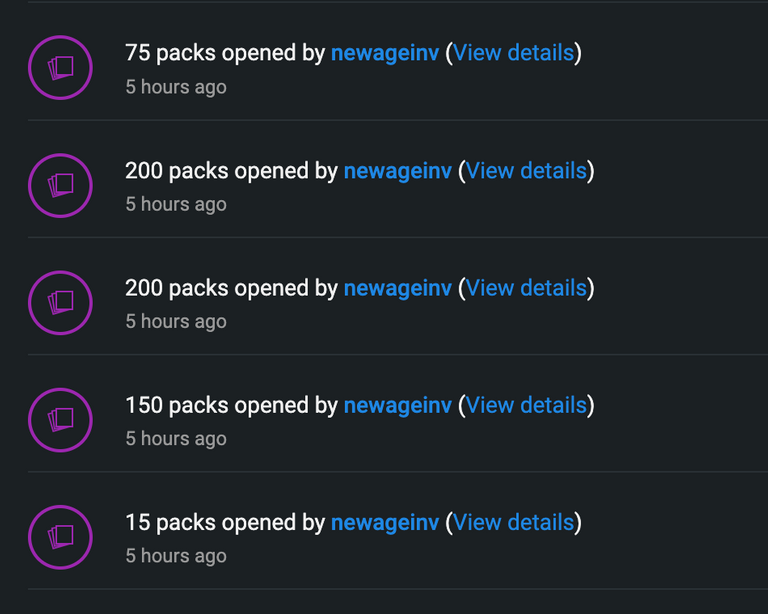 I finally executed the big decision! I have opened over 500 packs of sold out packs across Untamed, Dice, Orbs, and Beta Editions! This post is to share the results and see whether it was a good or bad idea and even if that can still be determined at the moment given the evolving utility of assets in the ecosystem. It was sort of a tough decision until the very end considering the underlying values under consideration!
One of the main reasons of my decision at the time was the expected value from these packs according to Splintercards which has continued to be a great resource for the community. While I was not considering selling any of the cards revealed, the gap between HIVE Engine value and expected value were interesting to consider whether selling in the open market. However, given the recent declines in demand and price as well as the large availability of Chaos Legion packs, the liquidity in the markets pushed me to open them instead. Here is an overview of the details (at the time of opening):
| Edition | HIVE Engine Value | Splintercards Expected Value |
| --- | --- | --- |
| Beta | $71.80 | $121.76 |
| Orbs | $63.89 | $87.82 |
| Dice | $39.13 | $25.62 |
| Untamed | $31.99 | $25.57 |
Before opening, I made sure I had enough potions on my account to ensure that I increased my chances for both Legendary and Gold Foil cards which are exponentially more valuable for these older Editions. It is an additional investment well worth it given the increased in expected values by using them. Luckily, I had a healthy balance on them given the many Seasons and Reward chests I have gotten them in. After doing so, I proceeded to open all packs with the results as presented below (at the time of opening):
| Edition | Amount | HIVE Engine Value | Expected Value | Actual Value |
| --- | --- | --- | --- | --- |
| Beta | 275 | $19,745 | $33,484 | $9,204 |
| Orbs | 200 | $12,778 | $17,564 | $3,072 |
| Dice | 150 | $5,970 | $3,843 | $2,582 |
| Untamed | 15 | $480 | $390 | $174 |
I opted not to add these values up so I would not get too disappointed with the results as luck was not really with me. I recognize that the values are so skewed by high valued cards but the variance was large than I would have expected. The main reason of these results is the fact that I did not get one single Gold Foil Legendary which are the cards that skew the value of packs and expected values. However, I have been lucky in the past and I normally expected to get only one for every 700 packs so probably expected in hindsight.
Despite these results, I am not unmotivated by the future as I immediately start to work on combining some to create cards for the rental market in the short term. I also believe that these latest additions to my Collection will be use for my future land empire I hope to achieve in the ecosystem. It may not even be enough for my needs consider the amount of Tracts I have and will need to manage!

Discord: @newageinv#3174
Chat with me on Telegram: @NewAgeInv
Follow me on Twitter: @NAICrypto
The following are Affiliate or Referral links to communities and services that I am a part of and use often. Signing up through them would reward me for my effort in attracting users to them:
Start your collection of Splinterlands today at my referral link
Expand your blogging and engagement and earn in more cryptocurrencies with Publish0x! Sign up here!
My go to exchanges are Bittrex and Coinbase; get bonuses for signing up!
The future of the internet is here with Unstoppable Domains! Sign up for your own crypto domain and see mine in construction at newageinv.crypto!
Always open to donations!
ETH: newageinv.eth
BTC/LTC/MATIC: newageinv.crypto
DISCLAIMER: The information discussed here is intended to enable the community to know my opinions and discuss them. It is not intended as and does not constitute investment advice or legal or tax advice or an offer to sell any asset to any person or a solicitation of any person of any offer to purchase any asset. The information here should not be construed as any endorsement, recommendation or sponsorship of any company or asset by me. There are inherent risks in relying on, using or retrieving any information found here, and I urge you to make sure you understand these risks before relying on, using or retrieving any information here. You should evaluate the information made available here, and you should seek the advice of professionals, as appropriate, to evaluate any opinion, advice, product, service or other information; I do not guarantee the suitability or potential value of any particular investment or information source. I may invest or otherwise hold an interest in these assets that may be discussed here.