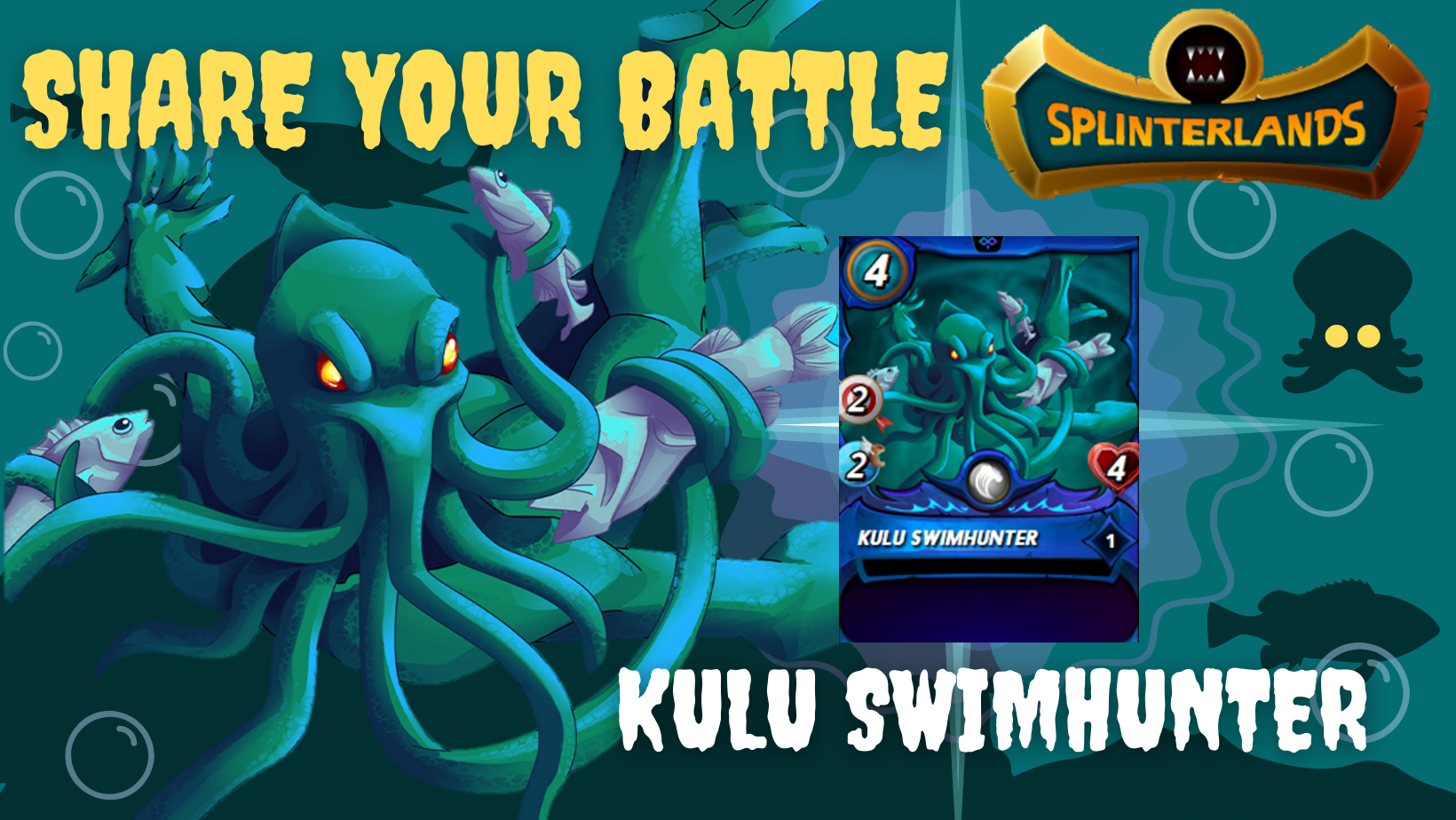 Hello to all the readers of 🌎 and Hivers, I'm back again with the weekly community challenge of Splinterlands, which is to show off in a battle with a card called: KULU SWIMHUNTER.
If you want to know and participate in the Splinterlands weekly challenge I leave you the following link
Holaaa a todos los leyentes del 🌎 y Hivers, vuelvo de nuevo con el reto semanal de comunidad de Splinterlands, el cual es mostrar en una batalla con una carta llamada: KULU SWIMHUNTER
Si quiere conocer y participar del reto semanal de Splinterlands les dejo el siguiente link

Let's talk about KULU SWIMHUNTER / Hablemos de KULU SWIMHUNTER
KULU SWIMHUNTER is a Water element card, which has a common rarity and a Ranged attack. It belongs to the new edition of Splinterlands "Chaos Legion".
It is a card with 10 levels, in which it does not gain any extra abilities as we commonly see, but only its ranged attack, which increases along with its speed, and health, as it levels up.
It has relatively low mana despite its medium speed, attack and health. It is a good choice for ranged attacks when fighting with the Water element, although it has no extra abilities that give it any advantage over the enemy.
KULU SWIMHUNTER es una carta del elemento Agua, la cual tiene una rareza de tipo común y su ataque es a DISTANCIA o Ranged. La cual pertenece a la nueva edición de "Chaos Legión" de Splinterlands.
Es una carta con 10 niveles, en los cuales no adquiere ninguna habilidad extra como comúnmente vemos, sino solo su ataque a distancia, que va aumentando conjunto a su velocidad, y salud, conforme va subiendo de nivel.
Posee un mana relativamente bajo a pesar que tiene una velocidad, ataque y salud medio. Es una buena opción para ataques a distancia cuando se pelea con el elemento Agua, a pesar que no tiene habilidades extras que otorguen alguna ventaja frente al enemigo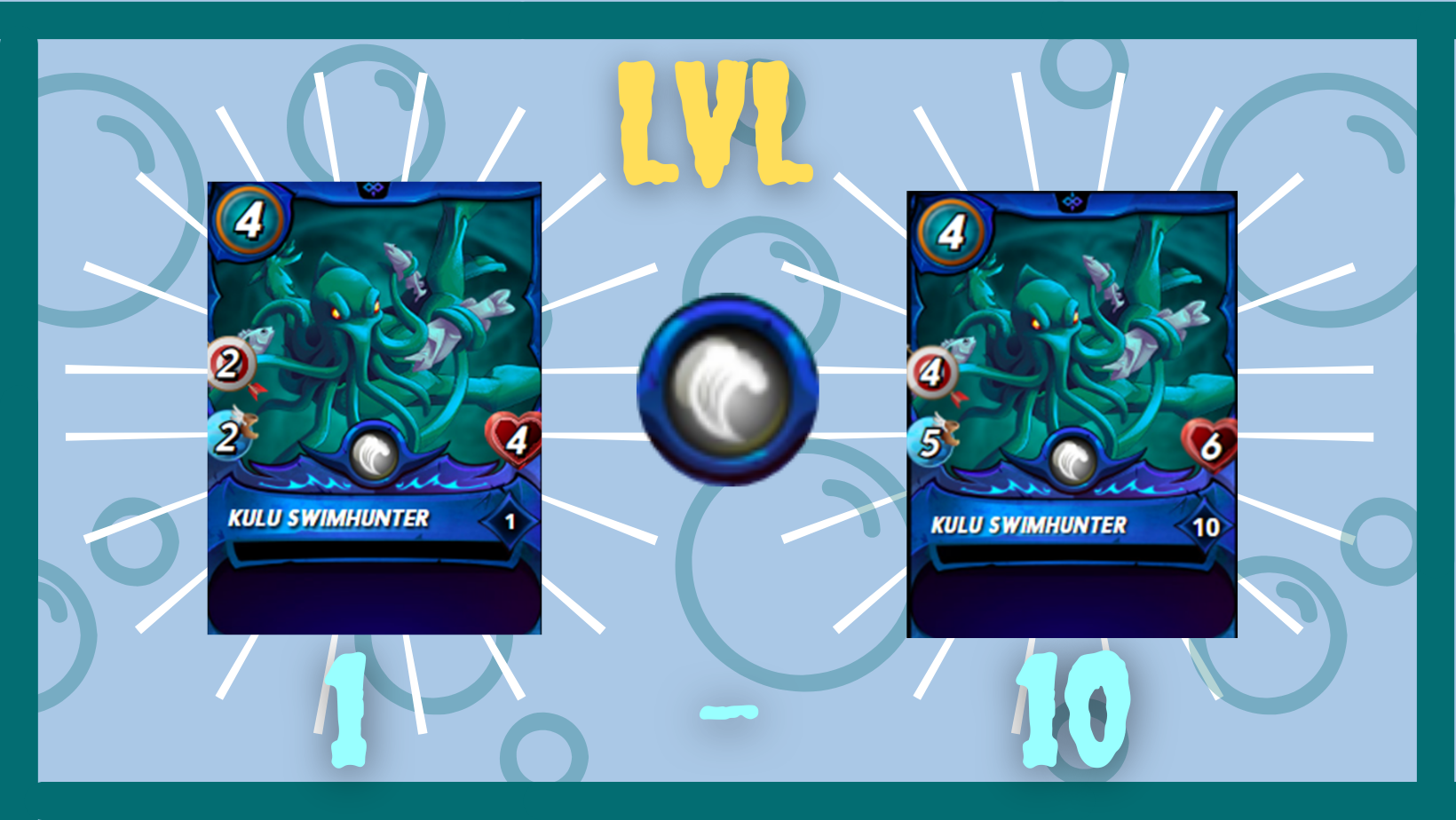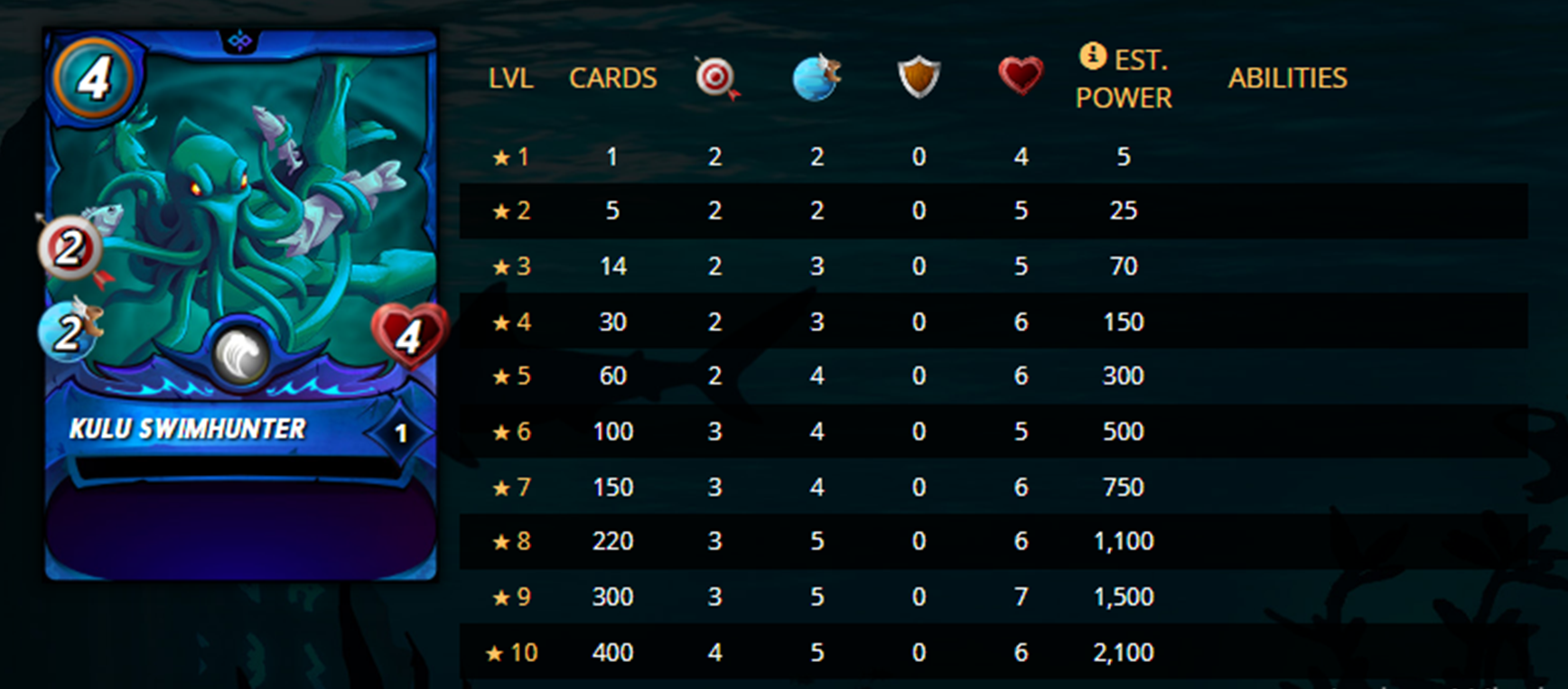 Market price / Precio en el Mercado
In the Splinterlands Internal Market, cards vary in price. For example, a level 1 KULU SWIMHUNTER card is costing approximately 0.093 to 0.99 $.
Higher level cards will cost a higher value, for example:
Level 2: $1.00
Level 3: 1.80 $.
Level 7: $16.00
Level 10: $34.99
Prices in the market are often not very objective, as it can be observed that many sellers overprice a specific type of card, so the best strategy is to look carefully for cards with realistic values in the market.
En el Mercado interno de Splinterlands , las carta varían de precio . Por ejemplo, una carta de nivel 1 de KULU SWIMHUNTER está costando aproximadamente entre 0.093 a 0.99 $.
Cartas de mayor nivel, costaran un mayor valor, por ejemplo:
Nivel 2: 1.00 $
Nivel 3: 1.80 $
Nivel 7: 16.00 $
Nivel 10: 34.99 $
Los precios muchas veces en el mercado no son muy objetivos, ya que se puede observar que muchos vendedores sobrevaloran un tipo de carta en específico, por eso la mejor estrategia es buscar cuidadosamente cartas con valores realista dentro del mercado.

What to use for the challenge of the week? / ¿Qué utilice para el desafío de la semana?
This week, I used a card KULU SWIMHUNTER level 1, which belongs to the Spellbook of the Spilnterlands account I own.
This monster has the following characteristics:
Speed: 2
Ranged Attack: 2.
Health: 4
Mana Points: 4
As I mentioned before, this card doesn't have an extra ability or advantage over its enemies, but despite that, it has a speed, attack and average health, which I think is excellent to use in battles. It also has a relatively low mana of 4 points, especially for low scoring battles.
Esta semana, utilicé una carta KULU SWIMHUNTER nivel 1, la cual pertenece al Spellbook de la cuenta de Spilnterlands que poseo.
Este monstruo tiene las siguientes características:
Velocidad: 2
Ataque a Distancia o Ranged: 2
Salud: 4
Puntos de Mana: 4
Como anteriormente he mencionado esta carta no posee una habilidad extra o ventaja frente a sus enemigos, pero a pesar de ello, posee una velocidad, ataque y vida media, que para mí particularmente me parece excelente para usarla en batallas. También posee un mana relativamente bajo de 4 puntos, especial para batallas de bajo puntaje.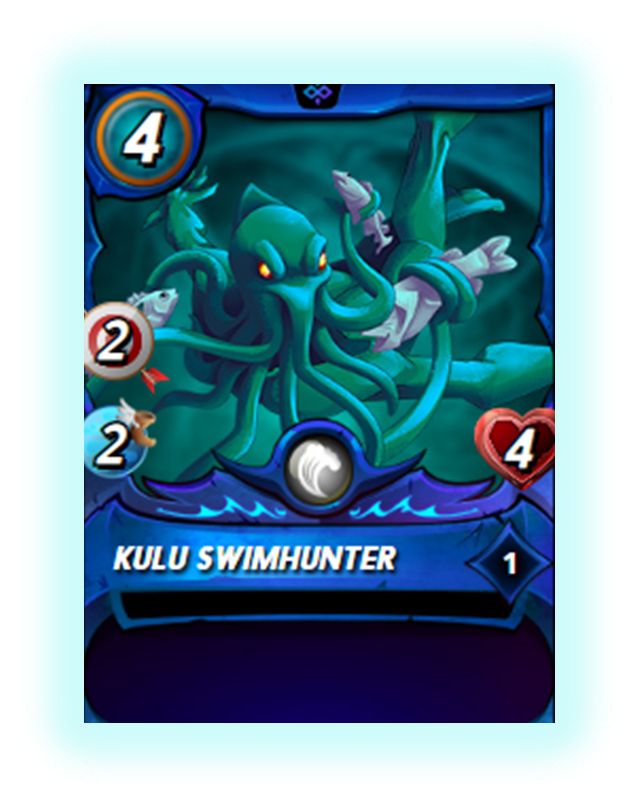 Cards used for battle / Cartas usadas para la batalla
The cards used for this week's battle are as follows:
For my team I used the element WATER , and I used the Summoner from Splinterlands called: KELYA FRENDUL. This has the ability to give + 1 SPEED and PROTECTION to all the monsters in my team.
I also used other cards such as:
🌊 SERPENT OF ELD.
🌊 DEEPLURKER.
🌊 KULU SWIMHUNTER.
🌊 ♪CREEPING OOZE♪
My opponent uses the element FIRE, and as Summoner a: TARSA. Which gives +1 point of HEALTH and BODY TO BODY ATTACK , to the cards belonging to his opponent , as I also use to:
🔥 RADIATED SCORCHER.
🔥 LIVING LAVA
🔥 SERPENTINE SPY
🔥 *TENYII STRIKER *
🔥 *SCAVO CHEMIST *
Las cartas utilizadas para la batalla de esta semana son las siguientes:
Para mi equipo utilice el elemento AGUA , y use al Summoner de Splinterlands llamado: KELYA FRENDUL. Este tiene la habilidad de dar + 1 de VELOCIDAD y PROTECCION a todos los monstruos de mi equipo.
También utilice otras cartas como son:
🌊 SERPENT OF ELD
🌊 DEEPLURKER
🌊 KULU SWIMHUNTER
🌊 CREEPING OOZE
Mi oponente utilizo el elemento FUEGO, y como Summoner a: TARSA. El cual da +1 punto de SALUD y ATAQUE CUERPO A CUERPO , a las cartas pertenecientes a su contrario , como también uso a:
🔥 RADIATED SCORCHER
🔥 LIVING LAVA
🔥 SERPENTINE SPY
🔥 TENYII STRIKER
🔥 SCAVO CHEMIST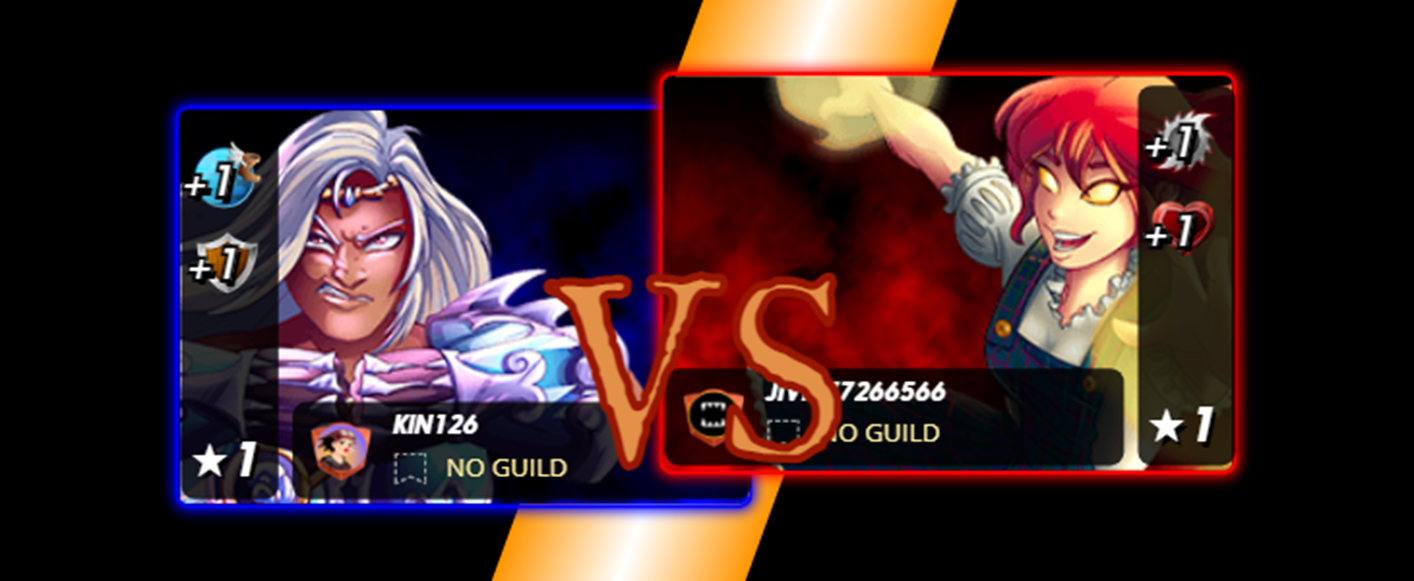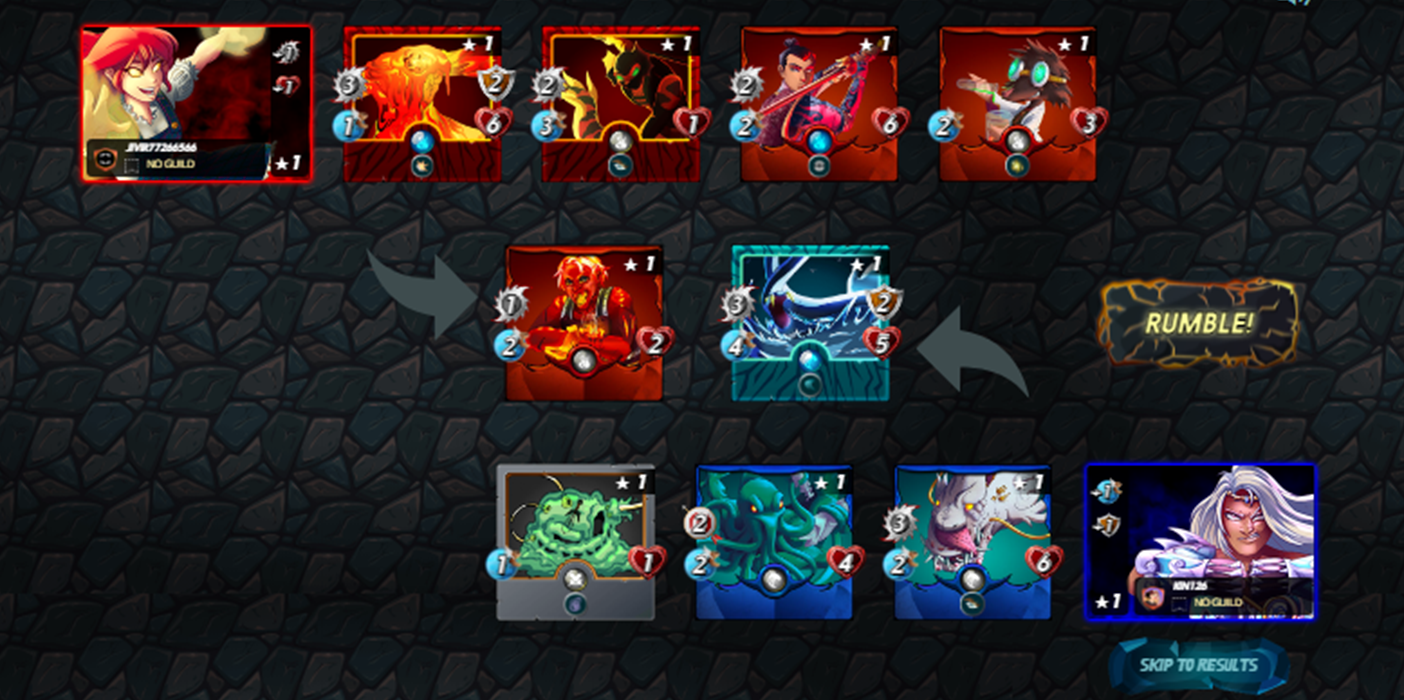 The Battle / La Batalla
It was a 5 Round battle in which I show below:
Fue una batalla de 5 Rondas, la cual muestro a continuación: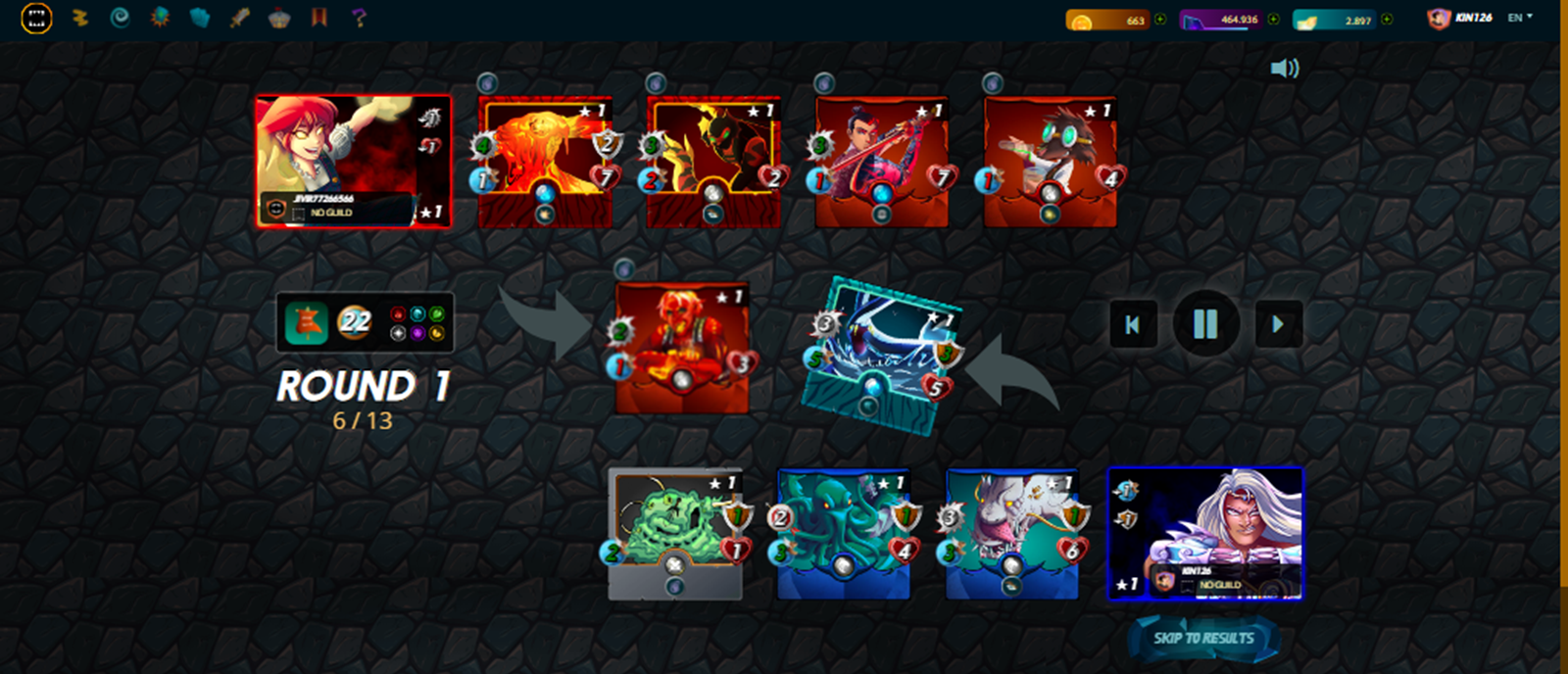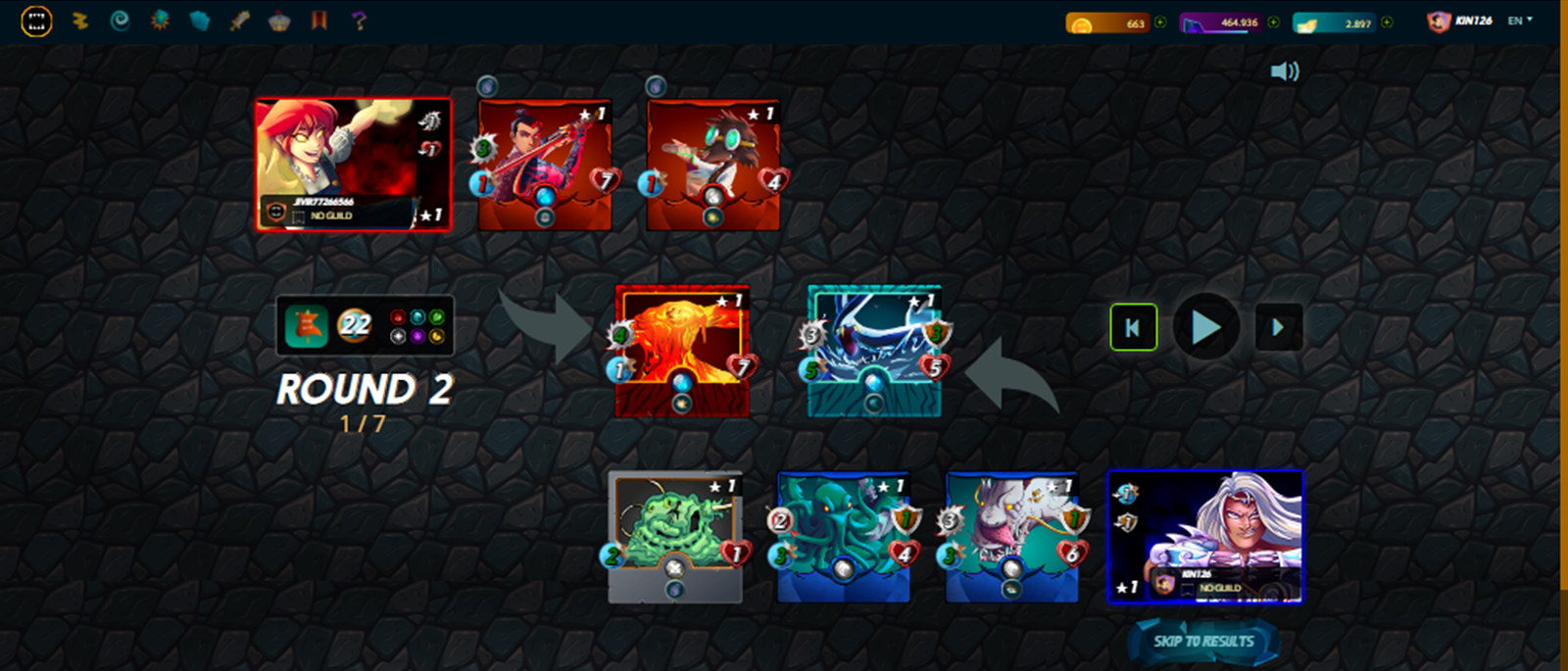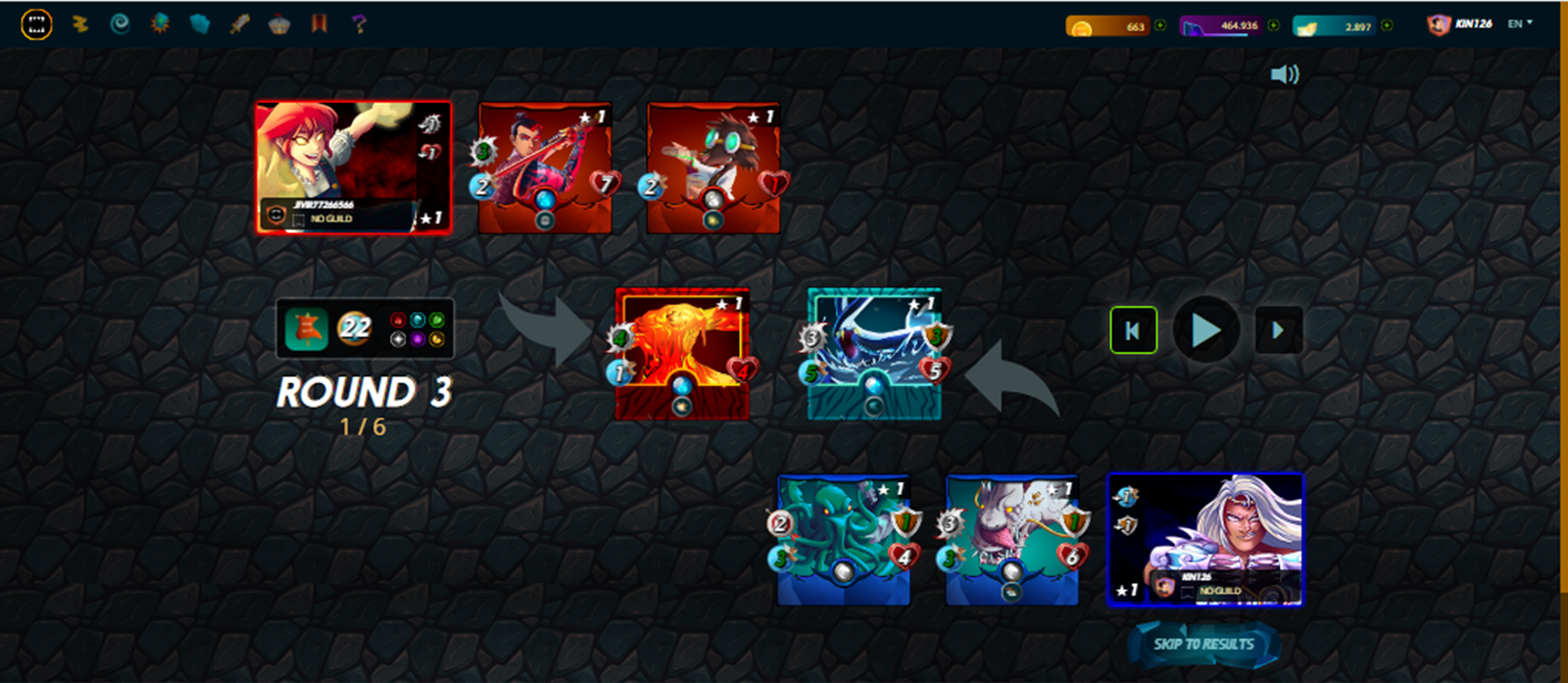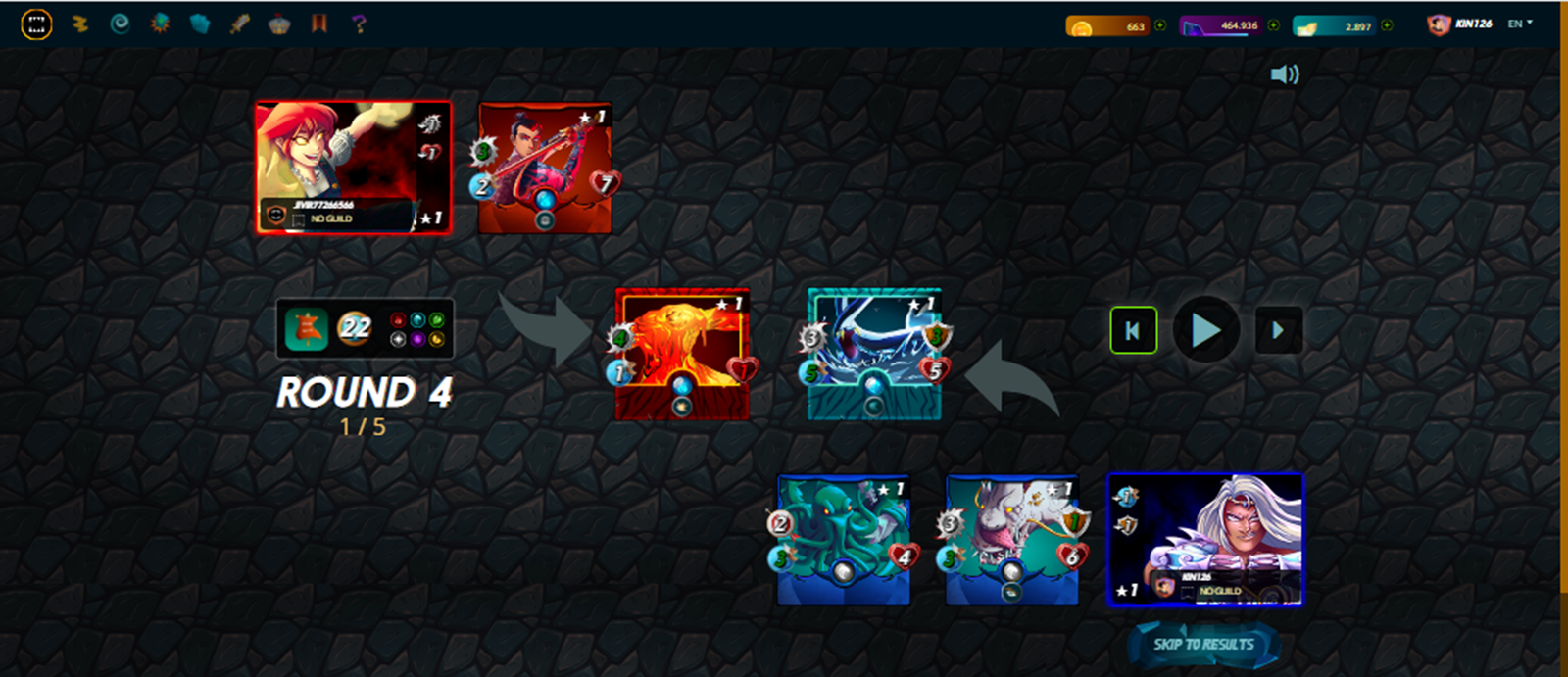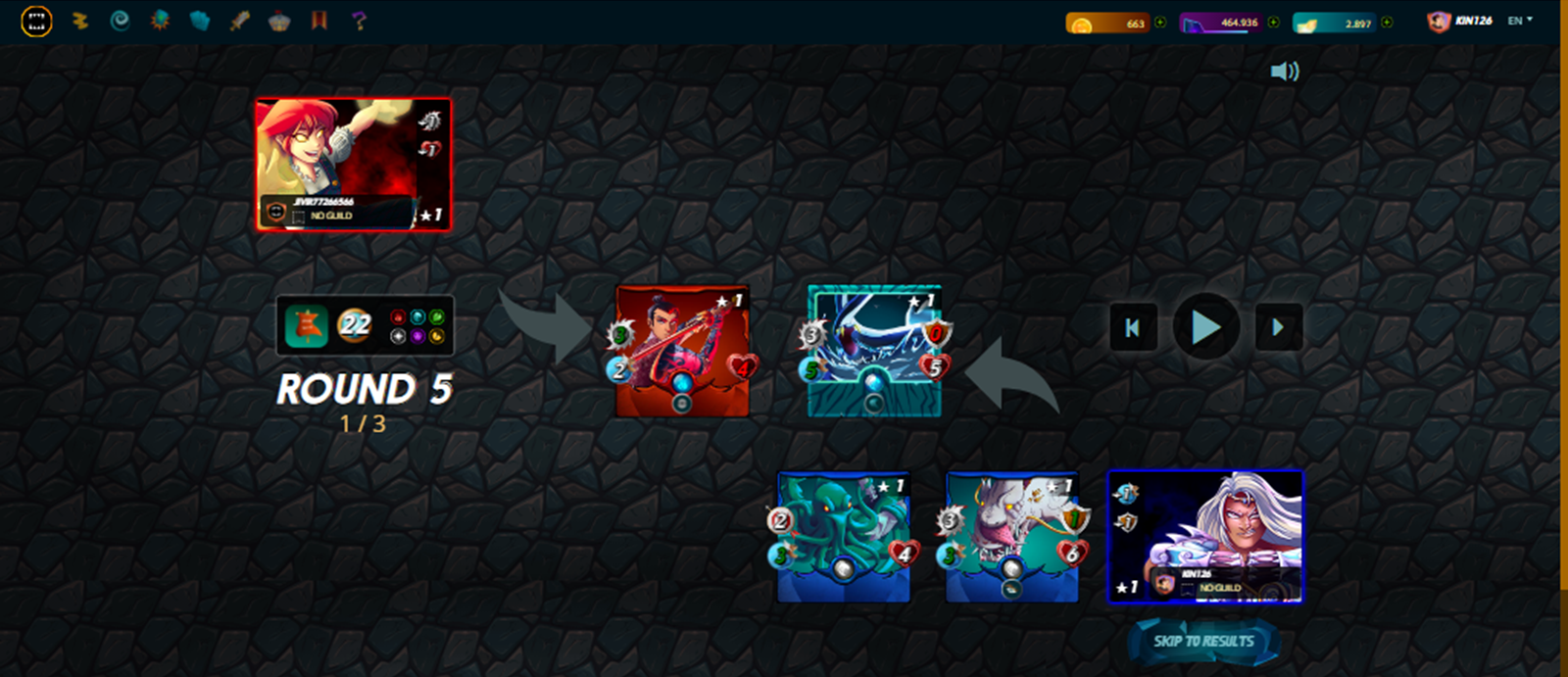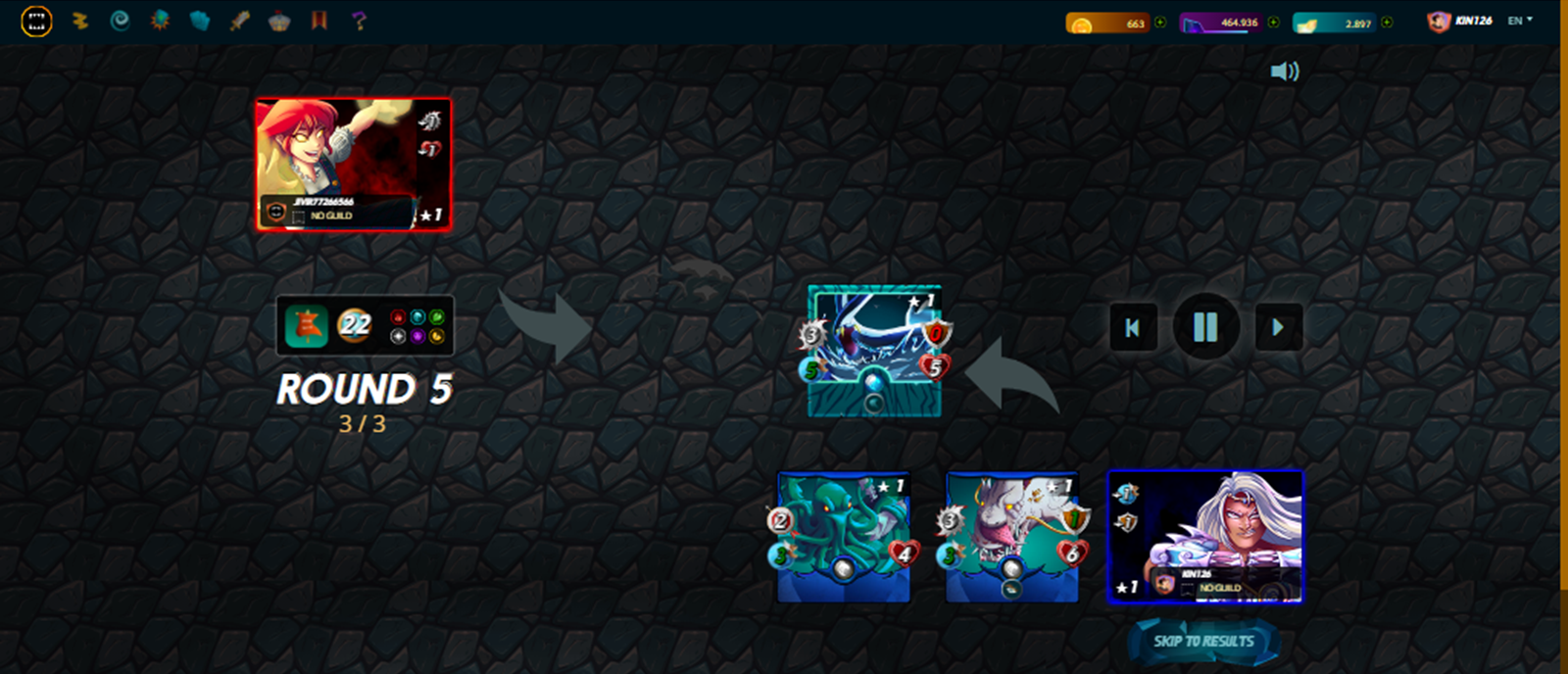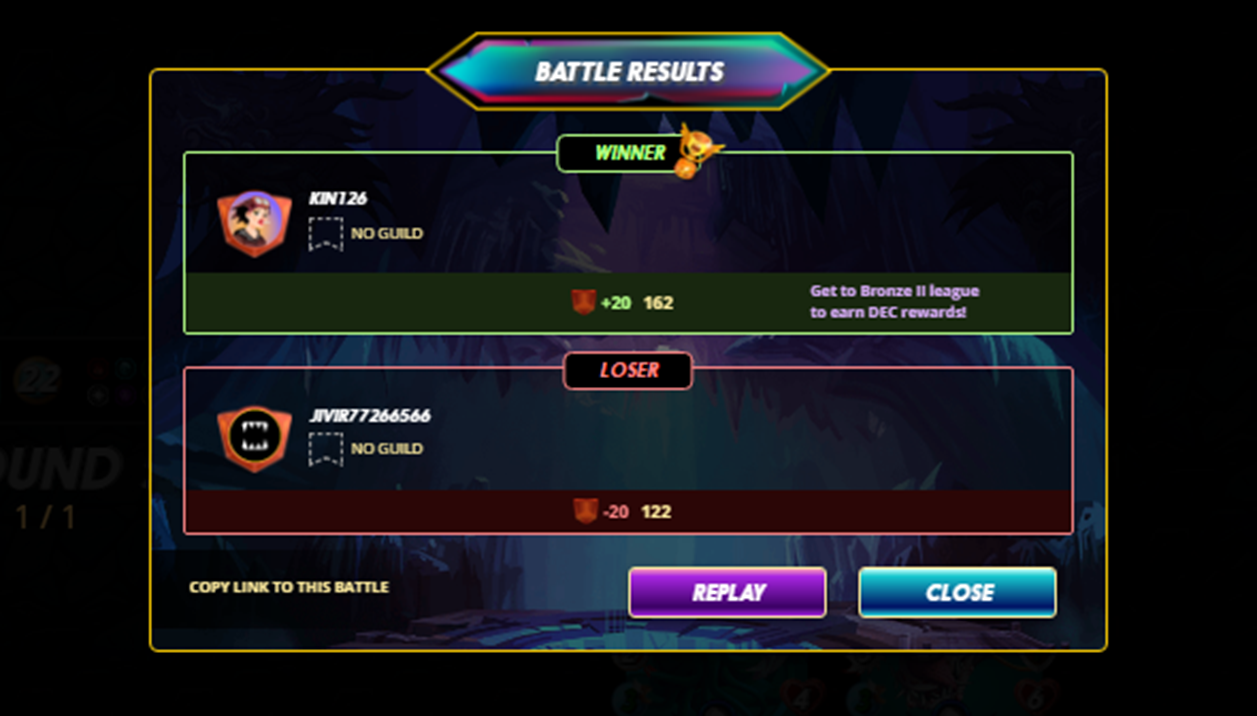 This was a 22 mana battle, being a mid-level mana scoring matchup. It was a relatively easy battle for my team, as the Summoner KELYA FRENDUL added speed to my team members and the monster CREEPING OOZE removed -1 speed from the enemy team members. Thanks to that, I was able to attack the enemy team more effectively.
As you can see I was able to effectively attack my enemy, winning this battle with 3/4 of the monsters I chose for the battle.
The battle can be seen through the following link
Esta fue una batalla de 22 de mana, siendo un enfrentamiento de puntaje de mana nivel medio. Fue una batalla relativamente fácil para mi equipo, ya que el Summoner KELYA FRENDUL añadió velocidad a los integrantes de mi equipo y el monstruo CREEPING OOZE quito -1 de velocidad a los integrantes del equipo enemigo. Gracias a eso, pude atacar más efectivamente al equipo enemigo.
Como pudieron observar pude atacar efectivamente a mi enemigo, ganando eta batalla con 3/4 de los monstruos que elegí para la batalla.
La batalla se puede observar a través del siguiente link

*Friends now I bid you farewell ☺️, see you next time. Byeeeeeeeeee 👋.
Amigos ahora me despido de ustedes ☺️, nos vemos en una próxima ocasión. Byeeeeeeee 👋.

Author of Images and Separators: @ross92/ Autor de Imágenes y separadores : @ross92
Resources used / Recursos utilizados
Microsof Power Point
Canva app
Images from Splinterlands / Imágenes de Splinterlands