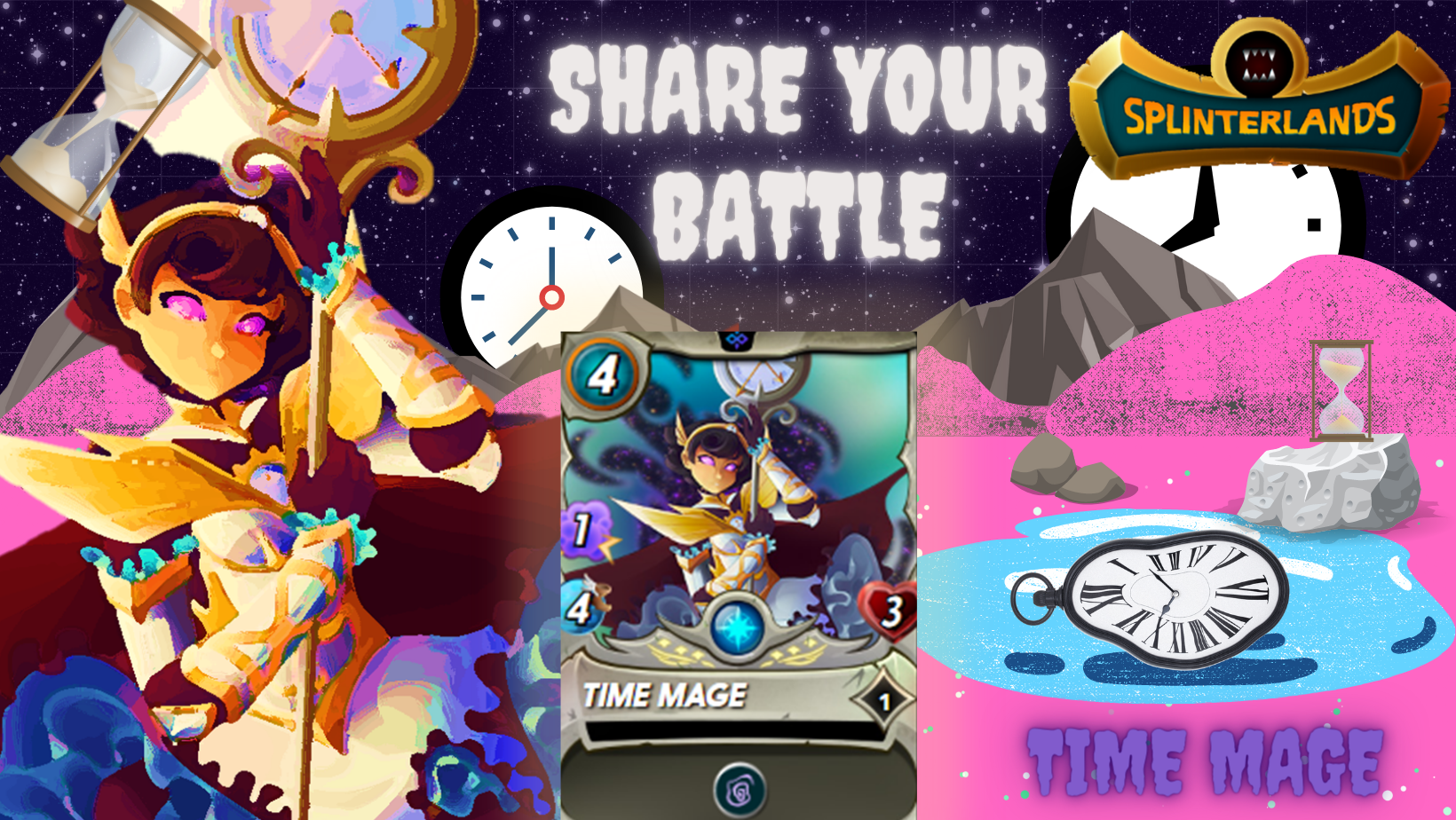 Hello to all the hivers ☺️ and other 🌎 readers, I am very happy to be back with the Splinterlands weekly community challenge, which is to show in a battle with the card called : TIME MAGE.
If you want to know and participate in the Splinterlands weekly challenge I leave the following link
Holaaa a todos los hivers ☺️ y demás leyentes del 🌎, estoy muy contenta de volver con el reto semanal de comunidad de Splinterlands, el cual es mostrar en una batalla con la carta llamada : TIME MAGE
Si quiere conocer y participar del reto semanal de Splinterlands les dejo el siguiente link

Let's talk about TIME MAGE / Hablemos de TIME MAGE
The Monster of this challenge TIME MAGE , is a rare card belonging to the element of life, being its attack MAGIC. It belongs to the cards of the collection "Chaos Legion" of Splinterlands.
It has 8 levels, in which the skills are acquired as follows:
1-4 SLOW
4-8 RUST
It is a card with excellent speed from its first levels. It also has a medium health level, although its magic attack is low. It has a relatively low mana, so it can be used in almost any type of battle. But not only those are its advantages, but it has abilities like SLOW and RUST (which we will talk about next) gives it an extra advantage on the battlefield.
El Monstruo de este reto TIME MAGE , es una carta rare perteneciente al elemento vida , siendo su ataque MAGICO. Pertenece a las cartas de la colección "Chaos Legión" de Splinterlands.
Tiene 8 niveles, en los cuales las habilidades se adquieren de la siguiente manera:
1-4 SLOW
4-8 RUST
Es una carta con excelente velocidad desde sus primeros niveles. También tiene una salud nivel medio, aunque su ataque mágico es bajo. Tiene un mana relativamente bajo, por lo que puede ser usada en casi todo tipo de batalla. Pero no solo esas son sus ventajas, sino que tiene habilidades como SLOW y RUST (de la cual hablaremos a continuación) le otorga una ventaja extra en el campo de batalla.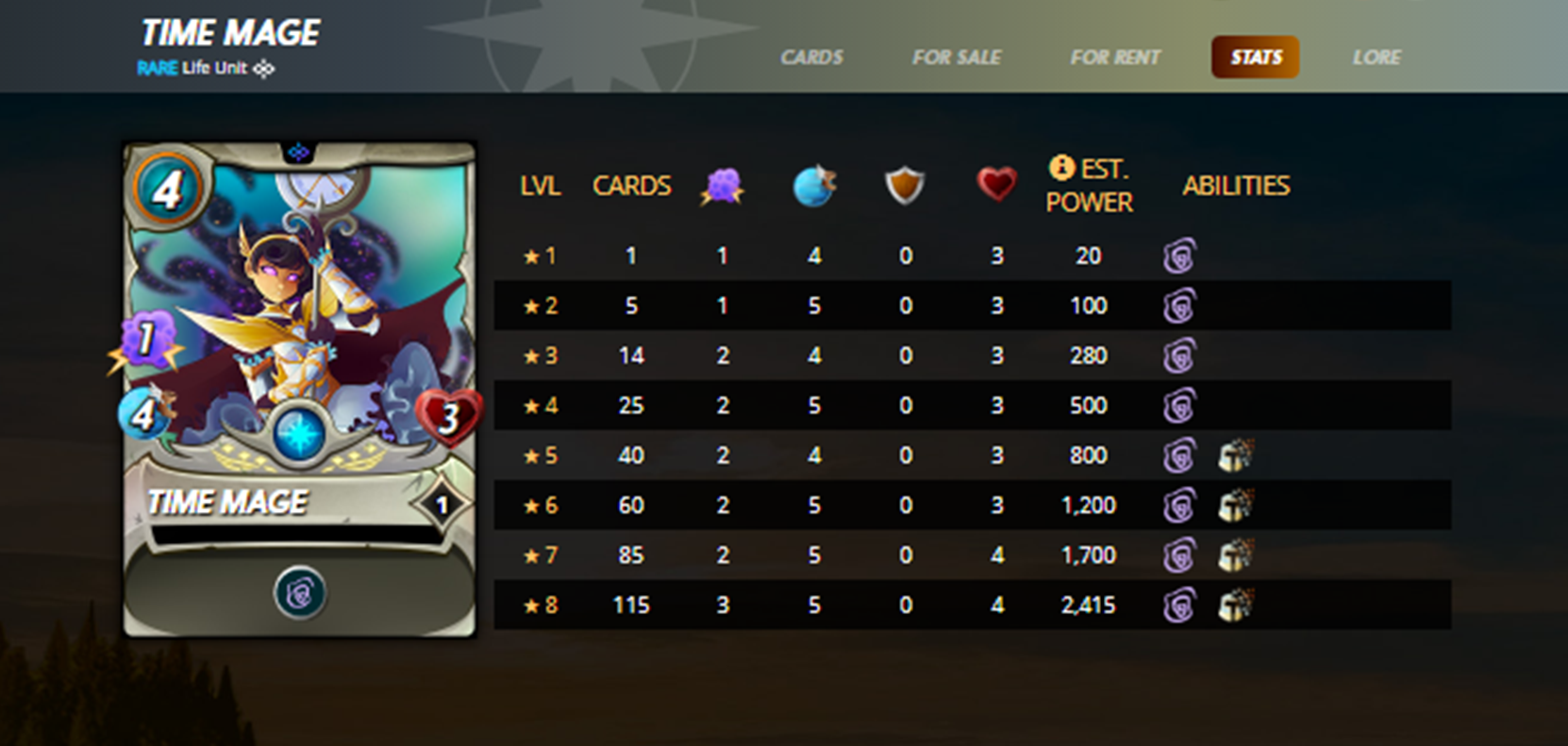 Skill / Habilidad
SLOW
One of my favorite skills in the game is this one, since it subtracts speed to all participants of the opposing team. Thus giving a great advantage when attacking, because if our team has more speed than the opponent we can attack first. Therefore this is one of the skills that I try to include in my battles regularly.
Unas de mis habilidades favoritas en el juego es esta, ya que resta velocidad a todos los participantes del equipo contrario. Dando así una gran ventaja a la hora de atacar, ya que si nuestro equipo queda con más velocidad que el contrario podemos atacar primero que ellos. Por ello esta es una de las habilidades que trato de incluir en mis batallas con regularidad.

RUST
The RUST skill allows you to reduce the armor of all monsters of the opposing team. It is really a great advantage because it decreases the protection of the opposing team, so you can defeat them with less attacks. Although I don't use it that much, it is really useful especially when using a Summoner or Monster that adds protection to your team, as it practically nullifies their effectiveness.
La habilidad de RUST permite reducir la armadura de todos monstruos del equipo contrario. Realmente es de gran ventaja ya que disminuye la protección del equipo contrario, de tal modo que puedes derrotarlos con menos ataques. Aunque no la uso tanto, realmente es de gran utilidad sobre todo cuando utilizan un Summoner o Monstruo que agrega protección a su equipo, ya que prácticamente anulan su efectividad.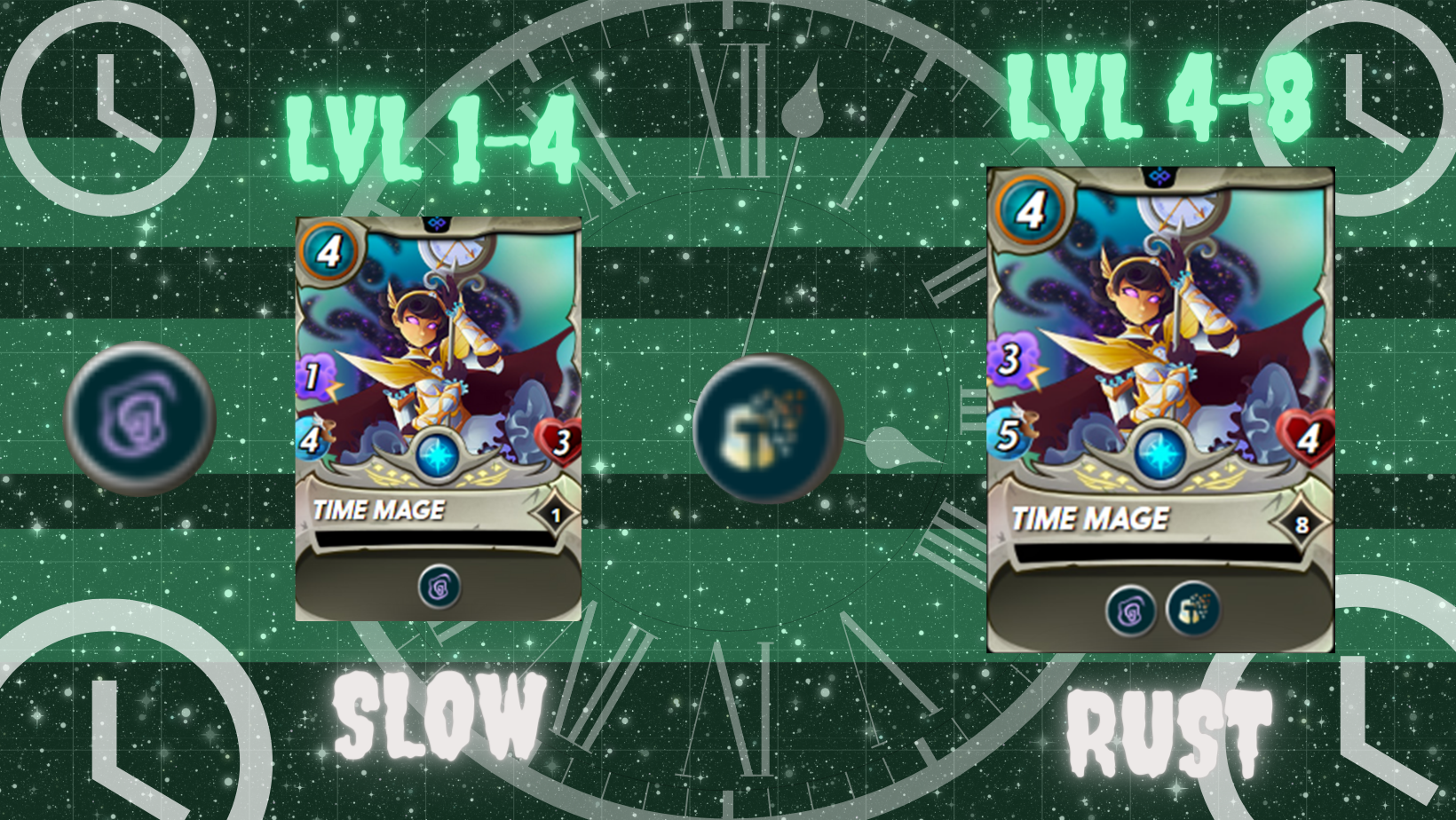 Market price / Precio en el Mercado
Currently in the Splinterlands Internal Market, the prices of this specific card vary. An example of the different prices we can find are as follows:
Level 1 Card: 0.40 - 0.46 💵
Letter Level 2: 2.29 - 2.72 💵
Letter Level 3: 5.40 - 2.72 💵
Letter Level 5: 18.19 💵
Prices in the market are often not very objective, as it can be observed that many sellers overprice a specific type of card, so the best strategy is to look carefully for cards with realistic values in the market.
Actualmente en el Mercado interno de Splinterlands , los precios de esta carta en específico varían. Un ejemplo de los distintos precios que podemos encontrar son los siguientes:
Carta Nivel 1: 0.40 – 0.46 💵
Carta Nivel 2: 2.29 – 2.72 💵
Carta Nivel 3: 5.40 – 2.72 💵
Carta Nivel 5: 18.19 💵
Los precios muchas veces en el mercado no son muy objetivos, ya que se puede observar que muchos vendedores sobrevaloran un tipo de carta en específico, por eso la mejor estrategia es buscar cuidadosamente cartas con valores realista dentro del mercado.

What to use for the challenge of the week? / ¿Qué utilice para el desafío de la semana?
For this week's challenge, I used a card TIME MAGE level 1, which belongs to the Spellbook of the Splinterlands game.
This monster has the following characteristics:
Speed: 4
Magic Attack: 1 Health: 3.
Health: 3
Mana Points: 4
It is one of my favorite cards when battling with the life element, since it has a great speed, low mana, medium health and above all for its SLOW ability. I like to include in my battles cards with this ability, as it gives you a lot of advantage when attacking the enemy, subtracting speed to the opposing team.
Para el del desafío de la semana, utilicé una carta TIME MAGE nivel 1, la cual pertenece al Spellbook del juego de Splinterlands.
Este monstruo tiene las siguientes características:
Velocidad: 4
Ataque Mágico: 1
Salud: 3
Puntos de Mana: 4
Es una de mis cartas favoritas al batallar con el elemento vida, ya que tiene una gran velocidad, un mana bajo, salud nivel medio y sobre todo por la habilidad de SLOW. Me gusta incluir en mis batallas cartas con esta habilidad, ya que te da mucha ventaja al atacar el enemigo, restándole velocidad al equipo contrario.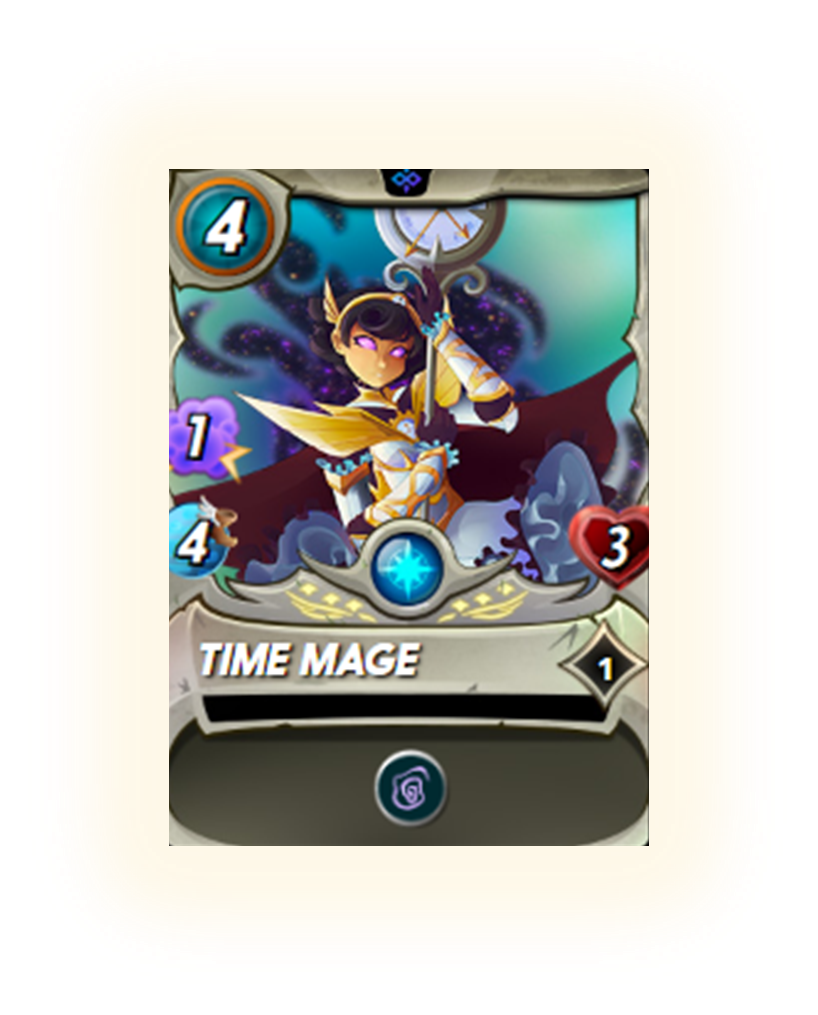 Cards used for battle / Cartas usadas para la batalla
The cards used for this week's battle are as follows:
For my team I used the element LIFE, and used the Summoner from Splinterlands called: MOTHER KHALA. This has the ability to give + 1 HEALTH to all the monsters in my team.
I also use other cards such as:
🎇SHIELDBEARER .
🎇STITCH LEECH *
🎇CELESTIAL HARPY *
🎇* TIME MAGE*
🎇VENARI CRISTALSMITH *
🎇CREEPING 00ZE*
My opponent I use the element DRAGON and DEATH, and as Summoner to DRAKE OF ARNAK: Which increases +1 point of PROTECTION or ARMOR, to the cards belonging to his team, as I also use:
☠️CURSED WINDEKU.
☠️RIFTWING.
☠️UNDEAD BADGER *
☠️LIFE SAPPER *
☠️SILENT SHA-VI
Las cartas utilizadas para la batalla de esta semana son las siguientes:
Para mi equipo utilice el elemento VIDA, y use al Summoner de Splinterlands llamado: MOTHER KHALA. Este tiene la habilidad de dar + 1 de SALUD a todos los monstruos de mi equipo.
También utilice otras cartas como son:
🎇SHIELDBEARER *
🎇STITCH LEECH *
🎇CELESTIAL HARPY *
🎇 TIME MAGE*
🎇VENARI CRISTALSMITH *
🎇CREEPING 00ZE*
Mi oponente utilizo el elemento DRAGON y MUERTE, y como Summoner a DRAKE OF ARNAK: El cual aumenta +1 punto de PROTECCION o ARMADURA, a las cartas pertenecientes a su equipo, como también uso a:
☠️CURSED WINDEKU
☠️RIFTWING *
☠️UNDEAD BADGER *
☠️LIFE SAPPER
☠️*SILENT SHA-VI *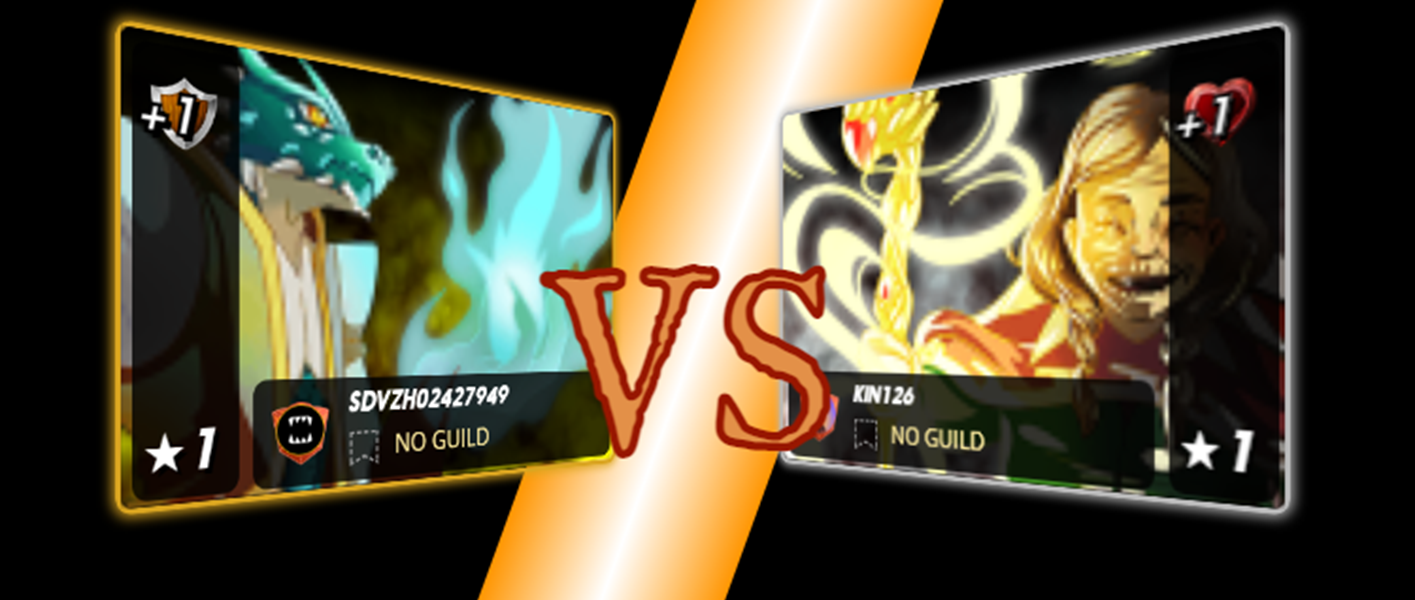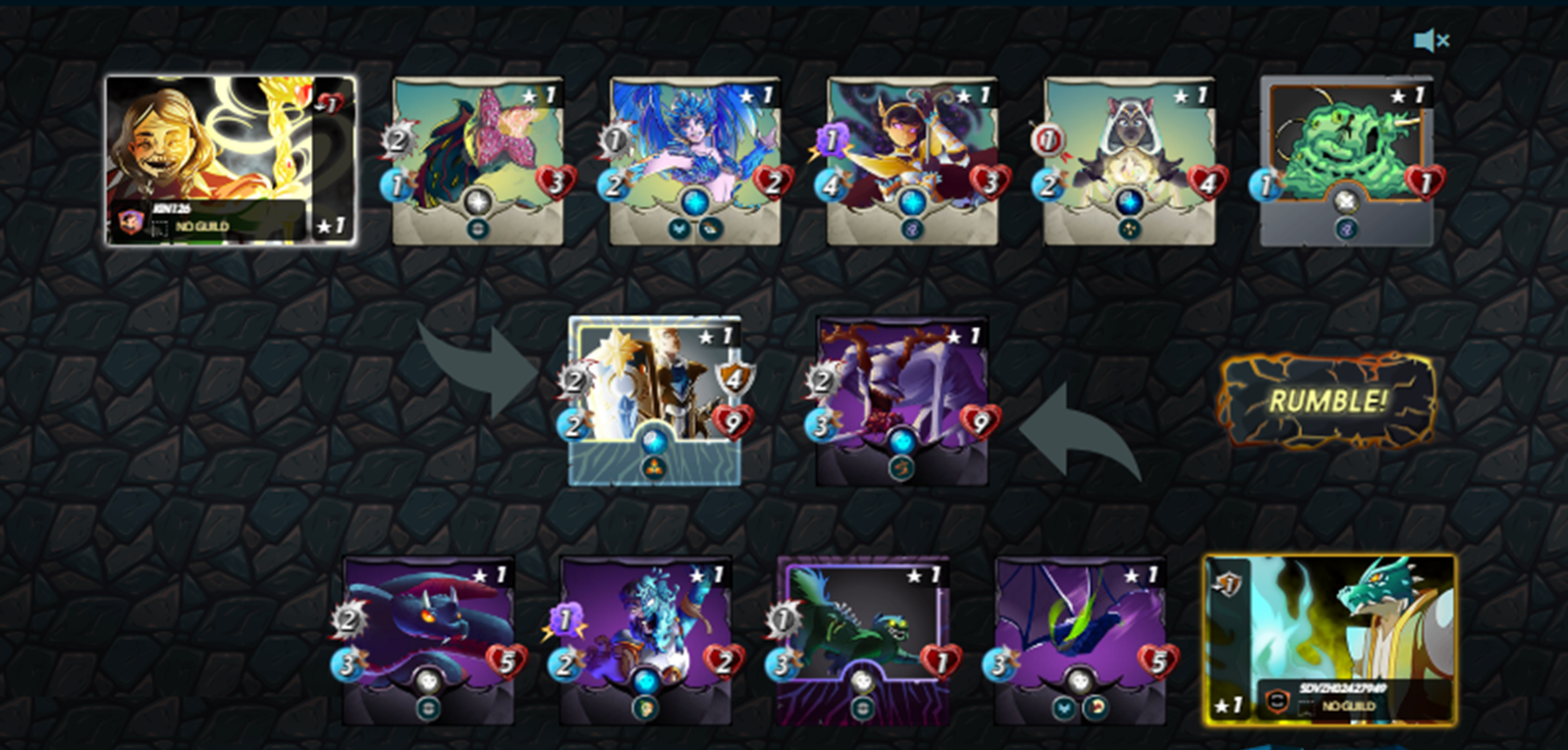 The Battle / La Batalla
It was a 6 Round battle in which I show below:
Fue una batalla de 6 Rondas, la cual muestro a continuación: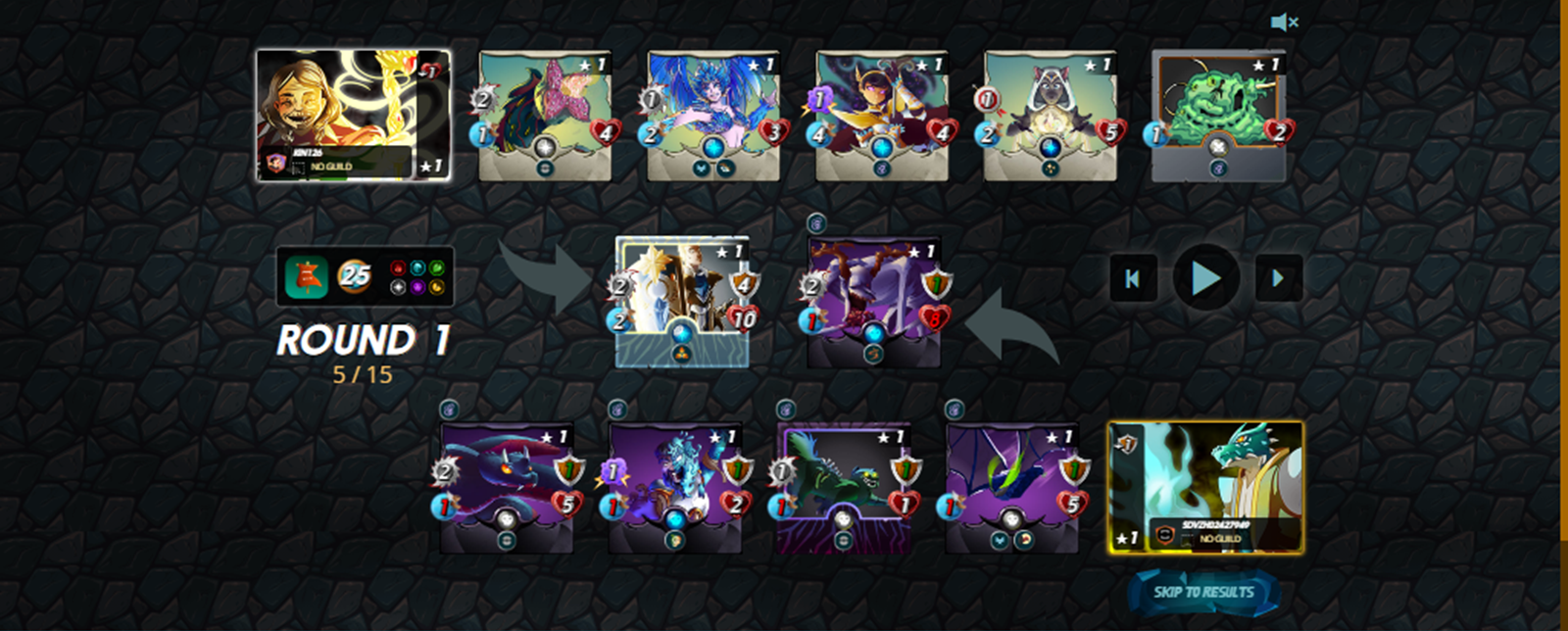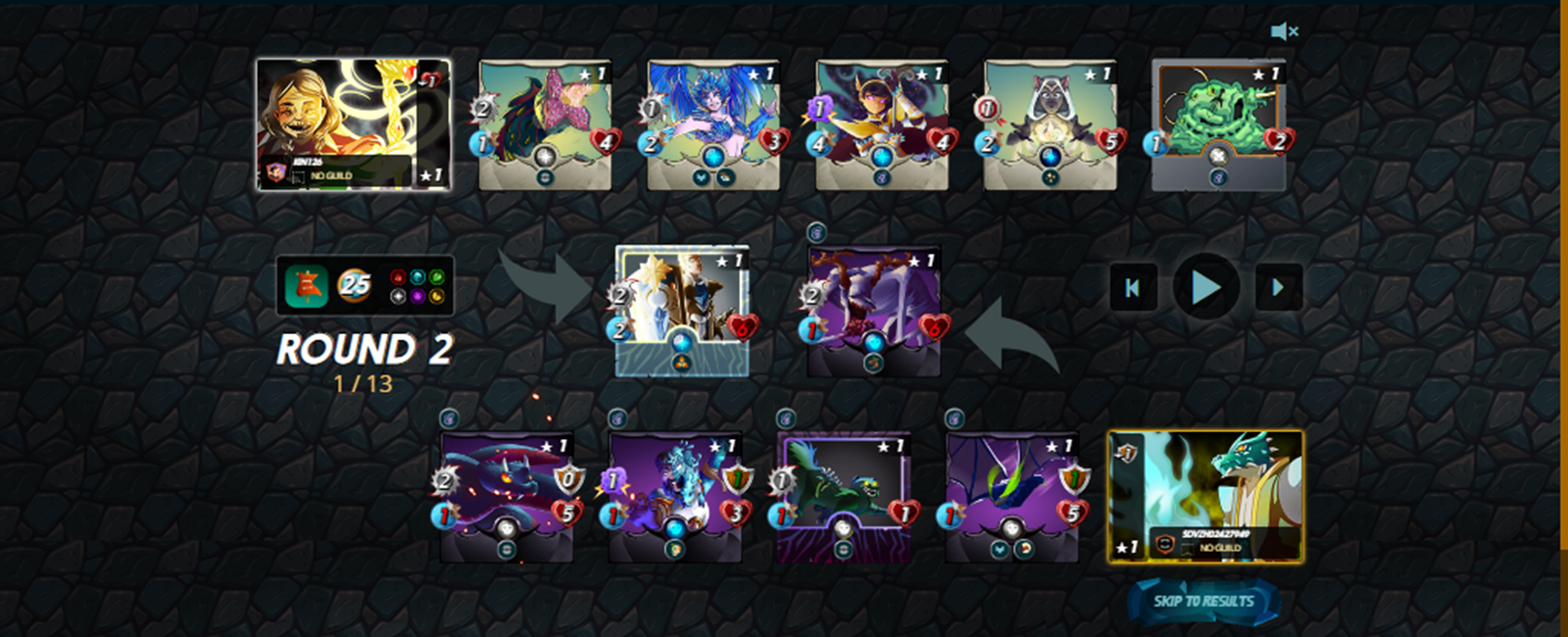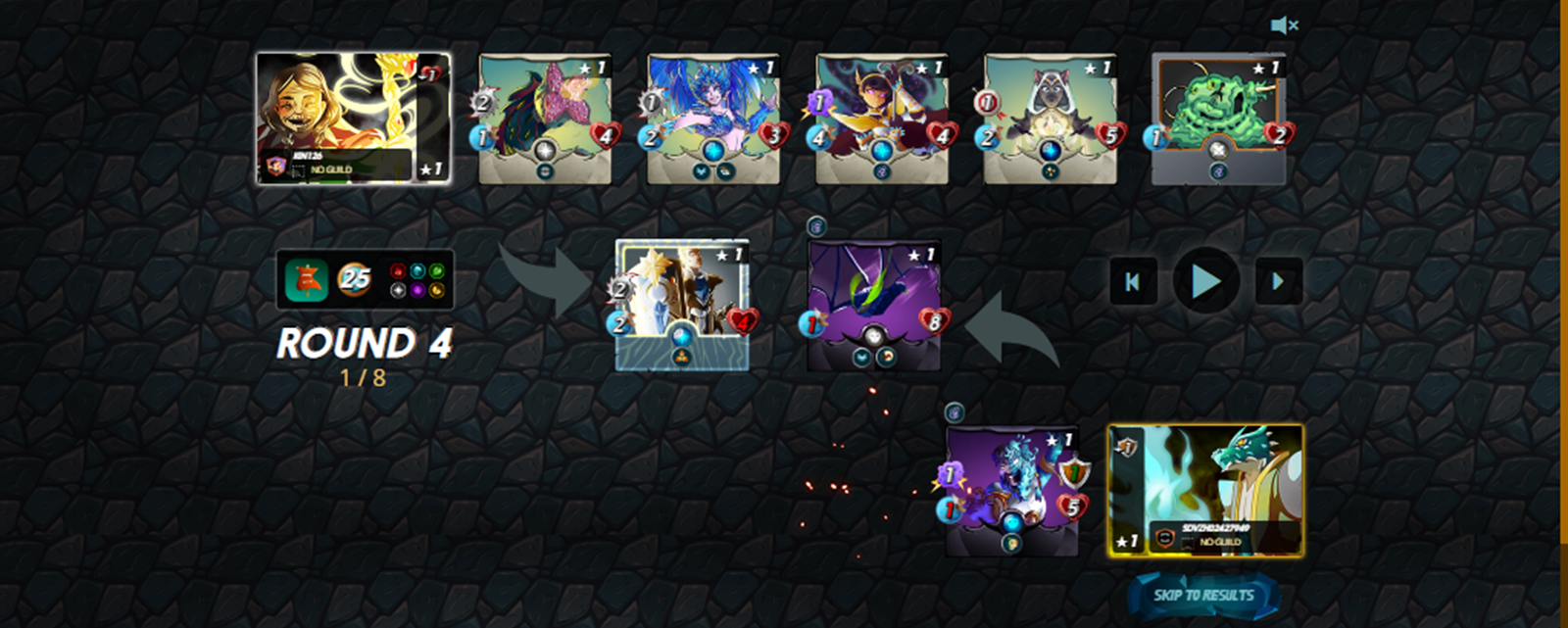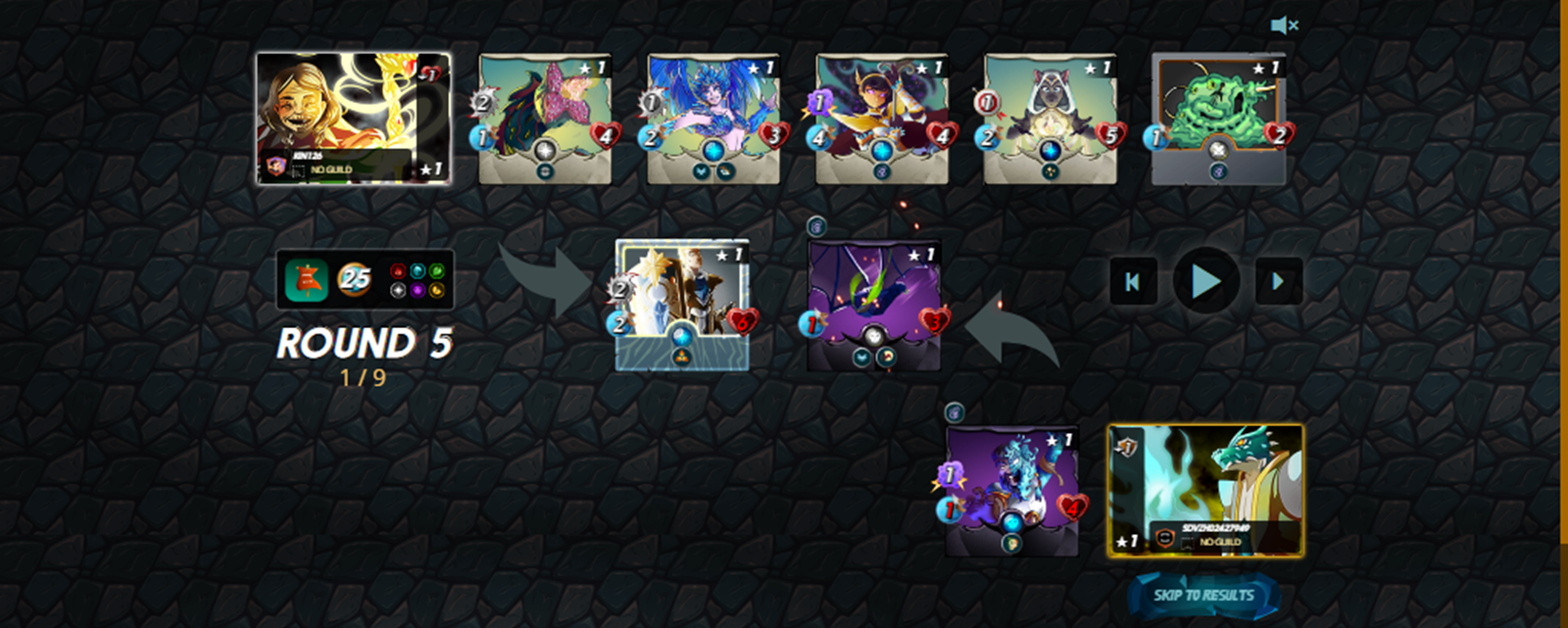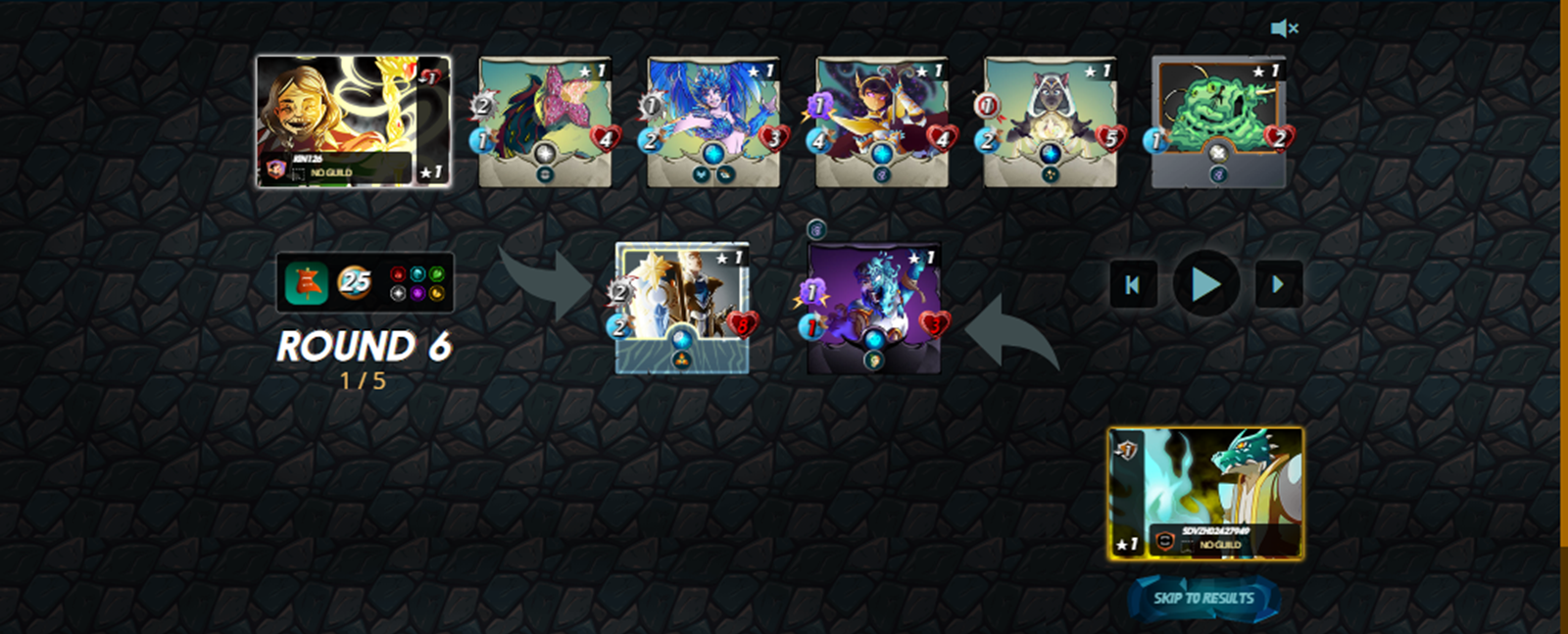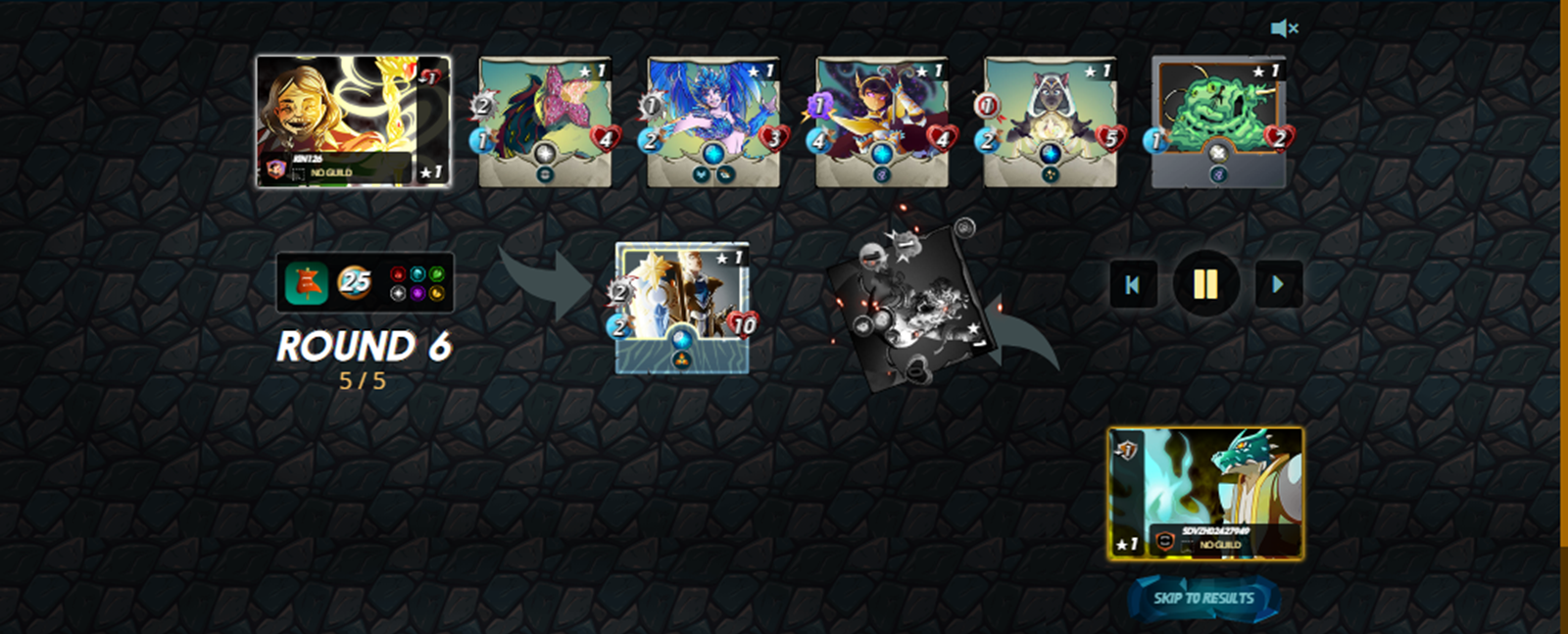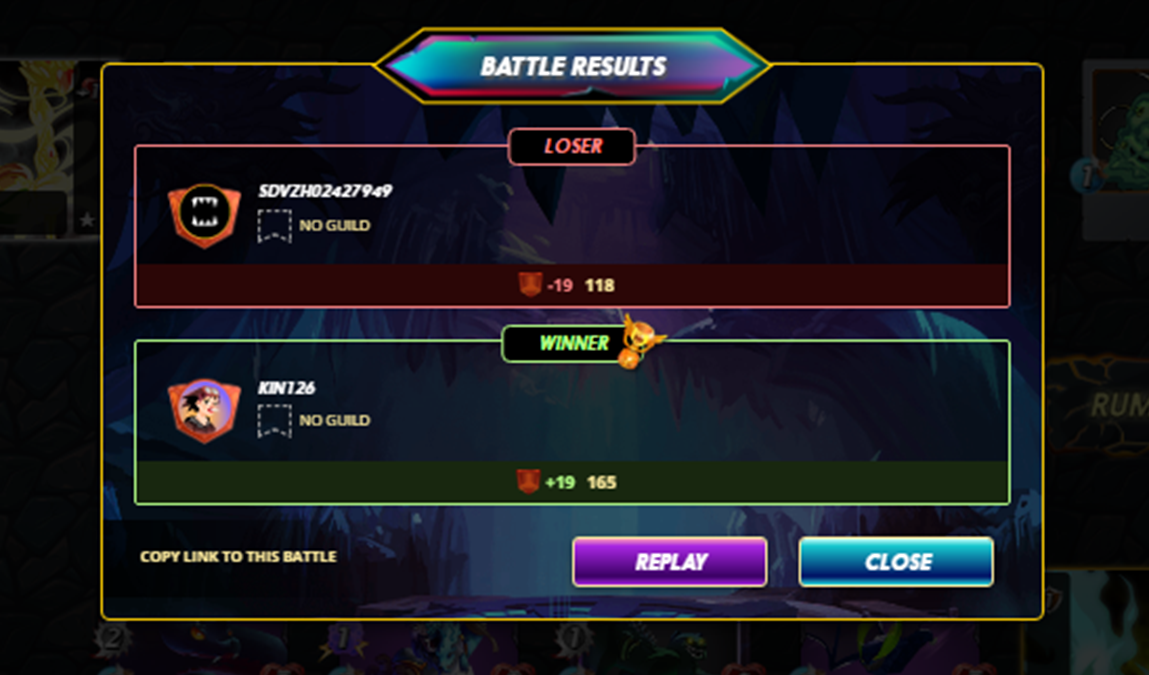 It was a battle of 25 mana points, which had excellent enemies, with good skills. But my main advantage over them was speed. Although the opposing team initially had good speed, the challenge card of the week TIME MAGE and CREEPING OOZE subtracted speed points to them, so it gave me the advantage of attacking first than them. Also in my team I had the VENARI CRISTALSMITH with the TANK HEAL ability that added health every round to my Tank SHIELDBEARER.
And so I was able to effectively attack my enemy, winning this battle with 6/6 of the monsters I chose to battle.
The battle can be seen through the following link
Fue una batalla de 25 puntos de mana, la cual conto con excelentes enemigos, con buenas habilidades. Pero mi principal ventaja sobre ellos fue la velocidad. Aunque el equipo contrario en un principio tenían buena velocidad, la carta del desafío de la semana TIME MAGE y CREEPING OOZE restaron puntos de velocidad a ellos, por lo que me dio la ventaja de atacar primero que ellos. También en mi equipo conté con la VENARI CRISTALSMITH con la habilidad TANK HEAL que añadió salud en cada ronda a mi Tank SHIELDBEARER.
Y así pude atacar efectivamente a mi enemigo, ganando esta batalla con 6/6 de los monstruos que elegí para la batalla.
La batalla se puede observar a través del siguiente link

Friends now I bid you farewell ☺️, see you next time. Byeeeeeeeeee 👋.
Amigos ahora me despido de ustedes ☺️, nos vemos en una próxima ocasión. Byeeeeeeee 👋.

Author of Images and Separators: @ross92/ Autor de Imágenes y separadores : @ross92
Resources used / Recursos utilizados
Microsof Power Point
Canva app
Images from Splinterlands / Imágenes de Splinterlands