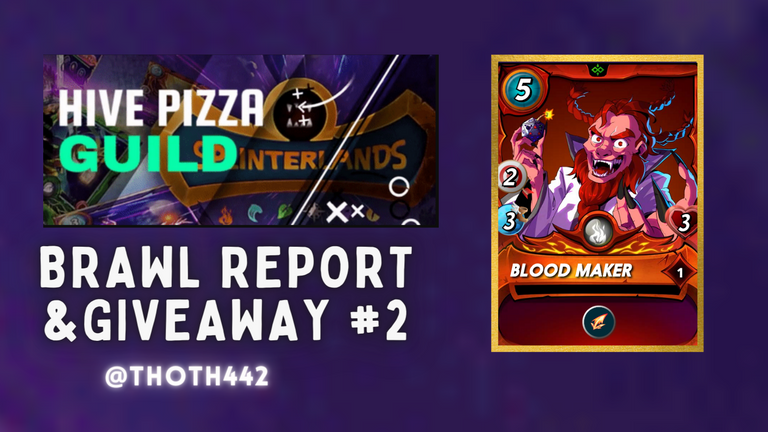 Introduction
I can't believe it's already the end of June and only a day away from the end of the Splinterlands season. Time flies when you're having fun, and my first-month playing Splinterlands and exploring the Hive Universe has been super fun!
As a new Hiveland citizen, this has been a month of many new experiences. One of the best has been joining the Pizza Guild Discord Server.
Here I have found some of the most creative, kind, funny, and inspiring people. Through this server, I joined my first Splinterlands Guild, and got to start participating in brawls.


This post will begin with a brief background of my Splinterlands experience and where I am in the game. Then we'll move on to my second brawl with the Hive Pizza Guild: PIZZA 1 The Stuffed Crust. Last, we'll finish off this post with my 2nd card Giveaway.

Thoth's Brief Splinterlands History & Lessons Learned
I started playing Splinterlands at the end of May 2022. Last season was my first real season, and I earned Bronze chests. Attracted by more significant rewards and low rental prices made my way up to the Diamond League. As a new player, I have a small low-level card pool and entirely relied on renting for power and cards to play at that level. I was excited to start earning Diamond chests!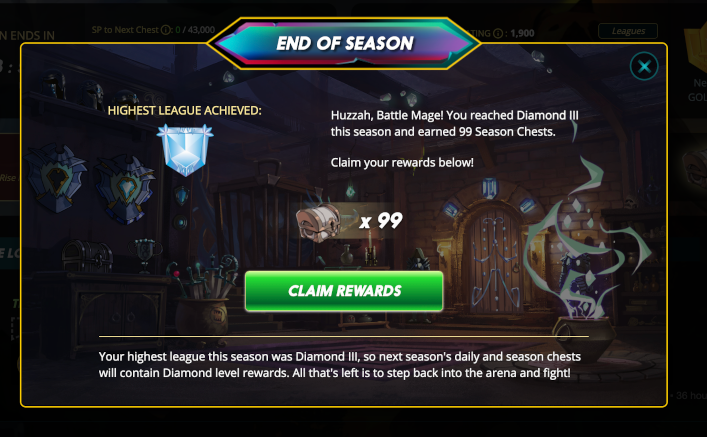 Unfortunately, I didn't foresee the significant price increase in power at the end of the season and didn't have enough DEC to rent back up to Diamond League on the last day. So this season, I started in Silver, earning Diamond chests. And yes, it's was as tedious as you think to start in that situation.😆
I made it worse. I was so excited to start earning Diamond chests I started playing immediately at the start of this current season—another newb error. The competition at the beginning of the season is STIFF, with everyone trying to climb ranks. I spent a lot of frustrating playtime on that first day, losing battles and burning my Energy Capture Rate. Had I waited even 24 hours, rentals would have been cheaper, competition lighter, and more efficient gameplay.
After a few sessions, I persevered and made my way back up to Gold 1. My current rank is 2,800+, but I don't plan to pull the trigger for Diamond League this season. The value of Diamond chest rewards is ok, but I am starting to find it stressful, renting so much power to play. I spend between 800-1,200 DEC on rentals for a 24-hour session. Recently I've got some good pulls and made back the value of my rentals.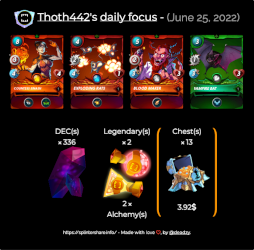 But as in the case above, sometimes the value comes back in cards, not DEC. I've also got some meager value pulls. So... I'm not sure renting in Diamond is sustainable unless I'm willing to sell some of my reward cards for DEC, which I don't think I am.
As it stands, I plan to move my way down in league to play more comfortably with my owned cards and lower priced rentals. I'll be earning Gold Chests next season, so with the new rewards system, thinking I'll see what it's like earning Gold chests in Silver league. Any thoughts and advice on this is more than welcome in the comments.
Lessons Learned
There will likely be price increases on the rental market at the end of the season.
Wait 24 hours or more to let the competition this out before playing at the start of a new season.

Guild Brawl Report


In this Brawl I played Fray 2 with Novice League level caps and all cards playable from Chaos Edition. I enjoyed playing within these parameters because it allowed me to approach each battle with options to choose from multiple splinters. I own many level 1 Chaos cards and could cheaply rent what I don't have. This was a nice departure from the usual single splinter focus when trying to rent in higher leagues.



Before entering my teams for the Brawl, I took stock of my current Chaos Edition Cards to assess what monsters I would need to rent. I own two Summoners, Obsidian and General Sloan, so I wanted to pick up Thaddius and Keyla and have the option to play from four Splinters.
At the same time, our Pizza Guild Hall channel on Discord was talking about some must have cards for battles, specifically the importance and utility of the zero mana fiend cards. So I went to PeakMonsters and picked up the following: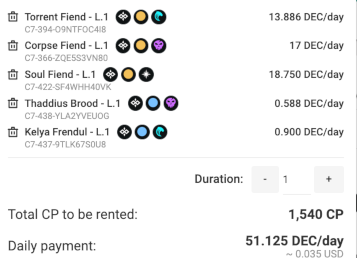 In hindsight, I should have also rented more of the Legendary and Epic cards from the Chaos collection to have more options in battles.
I won two out of seven brawls. That isn't great, I made some mistakes which I look forward to reviewing. But I'm generally happy with how things turned out.
In my shared battles below, I title each Brawl with the name of the Gladiator card my opponent uses so we can take a macro look at my opponent's strategy. Also, to begin familiarizing myself with the Gladiator cards as they seem to be a crucial component of successful Brawls.
There are a few noticeable trends in the above matches. All my opponents use one Gladiator card and all the Gladiator cards had the Bloodlust ability, gaining +1 to stats with each kill. Chimney Wallstop seems to be popular for seemingly good reason. I can't express how excited I am to buy and open my first Gladius pack. I should be able to afford one after my next Brawl!
Lessons Learned
I rushed the preparation stage and should have spent more time planning what cards to rent. I should have rented more legendary and epic cards for more options. I also rushed my battles because I was nervous. I need to take a deep breath and take it slow.

Gladiator cards look awesome, and seem to be essential for Brawls.
Courage!


Giveaway
Thank you to everyone who read and participated in my 1st Brawl Report & Giveaway post. The Winner of Giveaway #1 will be announced in my Brawl Report Next week. At the time of writing, there is still time to sign up for that Giveaway as well. I received a lot of really good feedback on my posted brawl losses and feel much more confident going in to my next brawl.
In continued celebration of these new adventures, this week, I'll be giving away: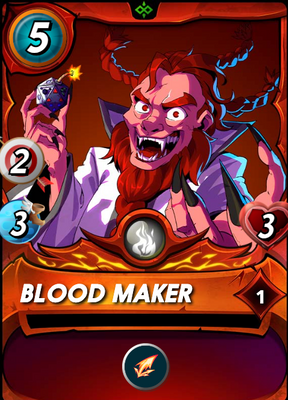 To enter the giveaway:
Leave a comment with your username. Nothing else is required. But, any tips or advice related to brawls, or comments/critique on my shared battles and post are much appreciated.
Likes and follows are also appreciated but not required.
I will use the Hive Random Winner Picker after this post pays out, and announce the winner in a future brawl report.

Conclusion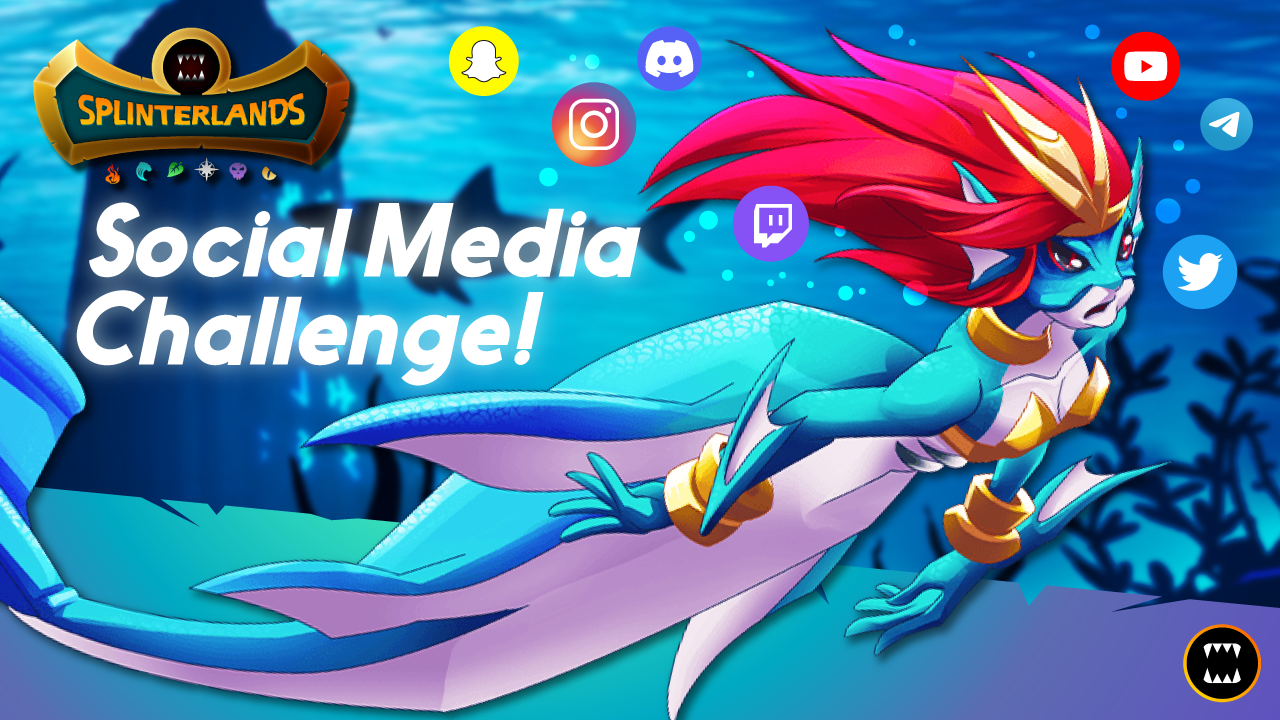 I am also submitting this post as part of the weekly Splinterlands Social Media Challenge . So if you Tweet, you are welcome to follow me here on Hive and on Twitter. I will follow you back and look forward to growing this game and community together.


Thanks so much for reading.
Peace, Thoth442
End Notes & Links:
🔥Still not playing Splinterlands? Click Here to Play Splinterlands.
🍕Are you a part of the Pizza Guild yet? Join the Pizza Guild Discord Server
All PIZZA related images com from the #pizza-art-n-assets channel on the Pizza Guild Discord.
🌓Until next time friends. Rest is revolutionary, take care of yourself. 🌗