Walking along a wooded trail, I stopped for a moment to drink some water, then I put the container in my backpack and when I was about to continue walking, I saw a small spider coming down from a tree using a spider's web thread, just a few centimeters to my left at the level of my face.
Caminando por un sendero boscoso, me detuve un momento para beber agua, luego guardé el recipiente en el morral y cuando iba a seguir caminando, vi a escasos centímetros a mi izquierda a la altura de mi cara, una pequeña araña que iba descendiendo de un árbol usando un hilo de telaraña.
I let it go down a little further and with one of my fingers I grabbed the thread and made the spider land on my hand. The spider started walking on my hand and I captured several photographs of it.
Deje que bajara un poco más y con uno de mis dedos agarré el hilo e hice que la araña se posara en mi mano. La araña empezó a caminar en mi mano y le capturé varias fotografías.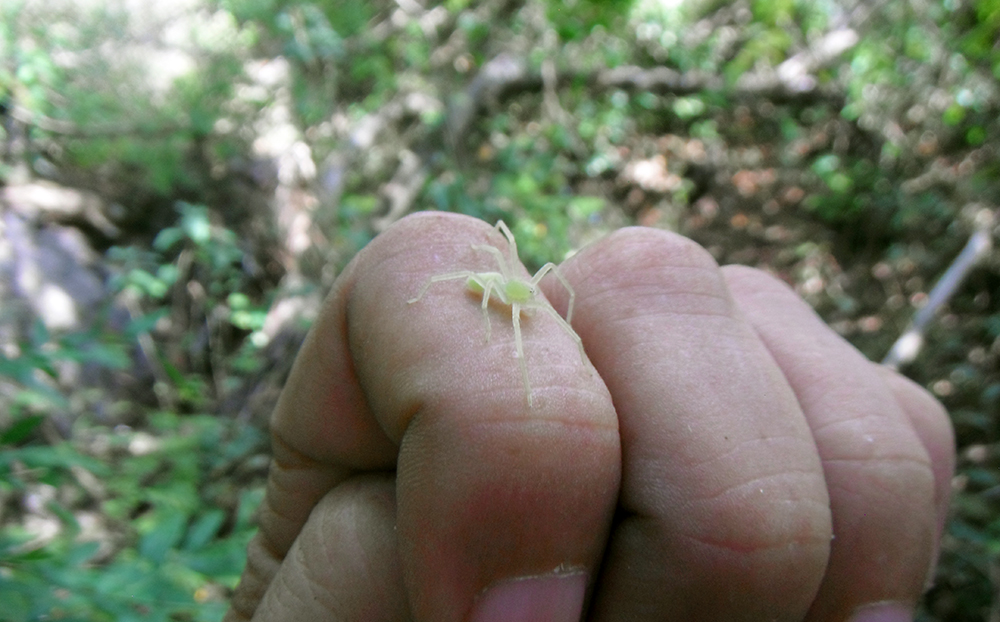 The spider is a species of the family Sparassidae. That family is distributed worldwide in tropical and subtropical regions. The neotropical species of Sparassidae amount to approximately 159 species, distributed in twenty four genera.
La araña es una especie de la familia Sparassidae. Esa familia está distribuida por todo el mundo en regiones tropicales y subtropicales. Las especies neotropicales de Sparassidae suman aproximadamente 159 especies, distribuidas en veinticuatro géneros.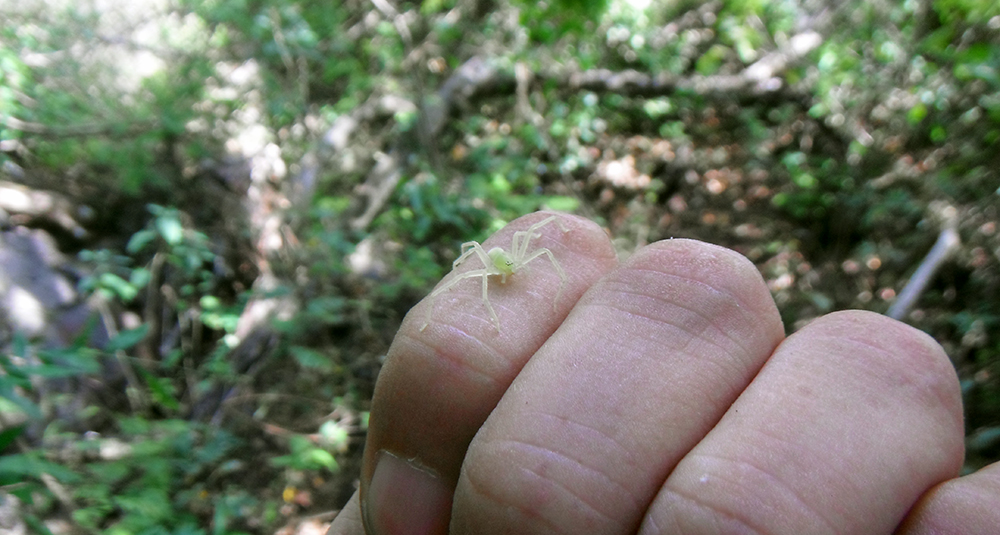 The spider is most likely the species Micrommata virescens. It is a small spider, the total length of males is approximately 7 to 10 millimeters, females are larger and the total length is approximately 12 to 16 millimeters. The opisthosoma, sometimes referred to as the abdomen, in males may measure approximately 5 millimeters and in females approximately 9 millimeters.
Es muy probable que la araña sea la especie Micrommata virescens. Es una araña pequeña, la longitud total de los machos es de aproximadamente entre 7 y 10 milímetros, las hembras son más grandes y la longitud total es de aproximadamente entre 12 y 16 milímetros. El opistosoma, a veces denominado como abdomen, en los machos puede medir aproximadamente 5 milímetros y en las hembras aproximadamente 9 milímetros.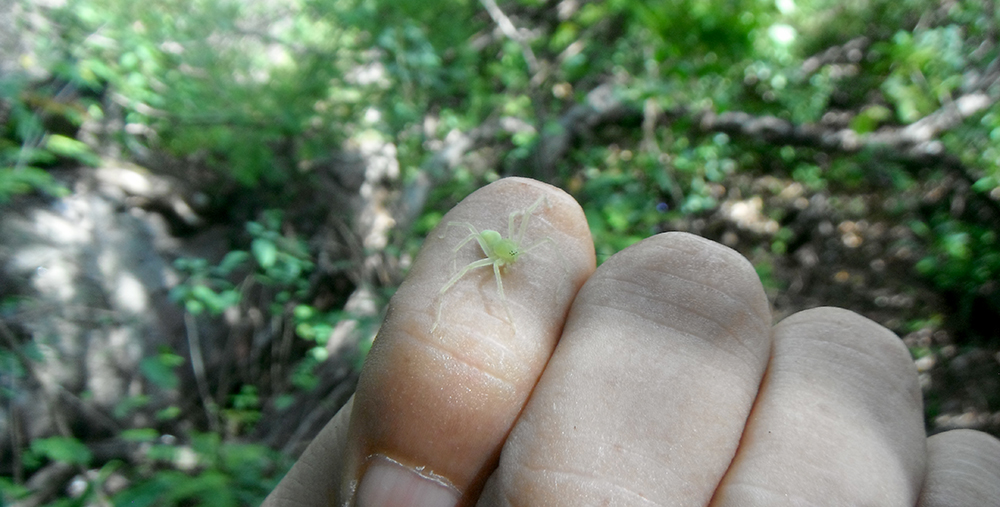 In the male, the carapace and legs are a dull, rather dark green, the opisthosoma is slim and has a reddish-brown central band at the top, the sides are reddish. In the female, the carapace and legs are bright emerald green, the opisthosoma is lighter green and the upper part has a central band of more intense green near its base.
En el macho, el carapacho y las patas son de un verde apagado, bastante oscuro, el opistosoma es delgado y en la parte superior tiene una banda central de color marrón rojizo, los lados son rojizos. En la hembra, el carapacho y las patas son de color verde esmeralda brillante, el opistosoma es de color verde más claro y en la parte superior tiene una banda central de color verde más intenso cerca de su base.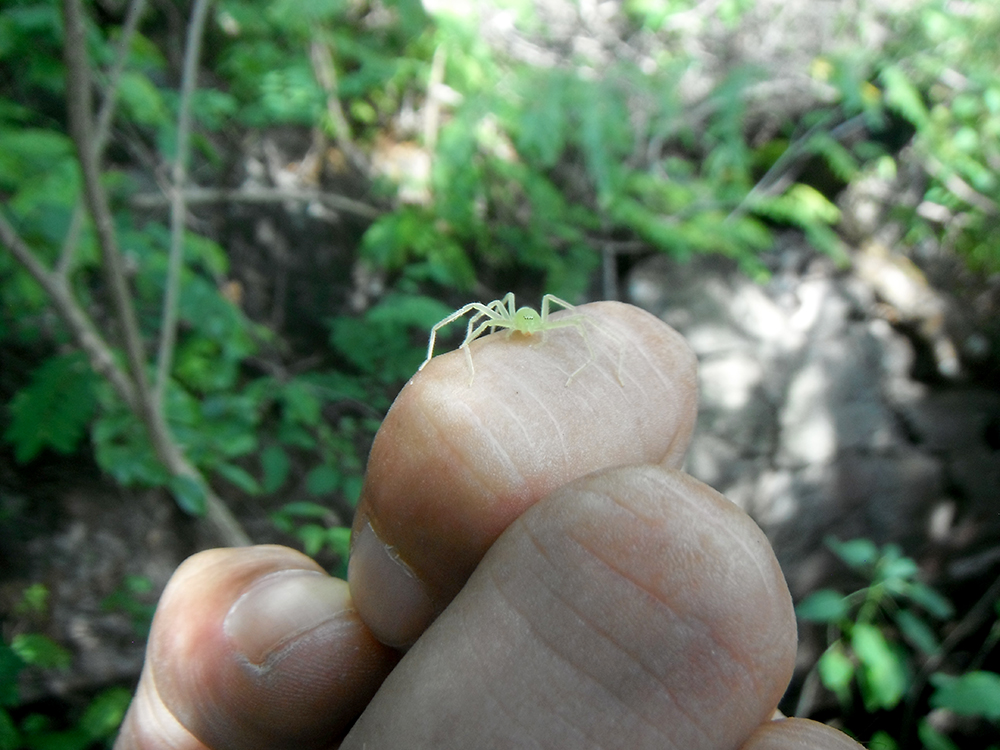 It should be noted that there are pigments known as bilins that are blue or green in color. The green coloration of Micrommata virescens is the result of a bilin known as micromatabilin, which is present in the hemolymph and interstitial tissues of the spider.
Cabe destacar que existen unos pigmentos conocidos como bilinas que son de colores azules o verdes. La coloración verde de Micrommata virescens es resultado de una bilina conocida como micromatabilina, la cual se encuentra presente en la hemolinfa y los tejidos intersticiales de la araña.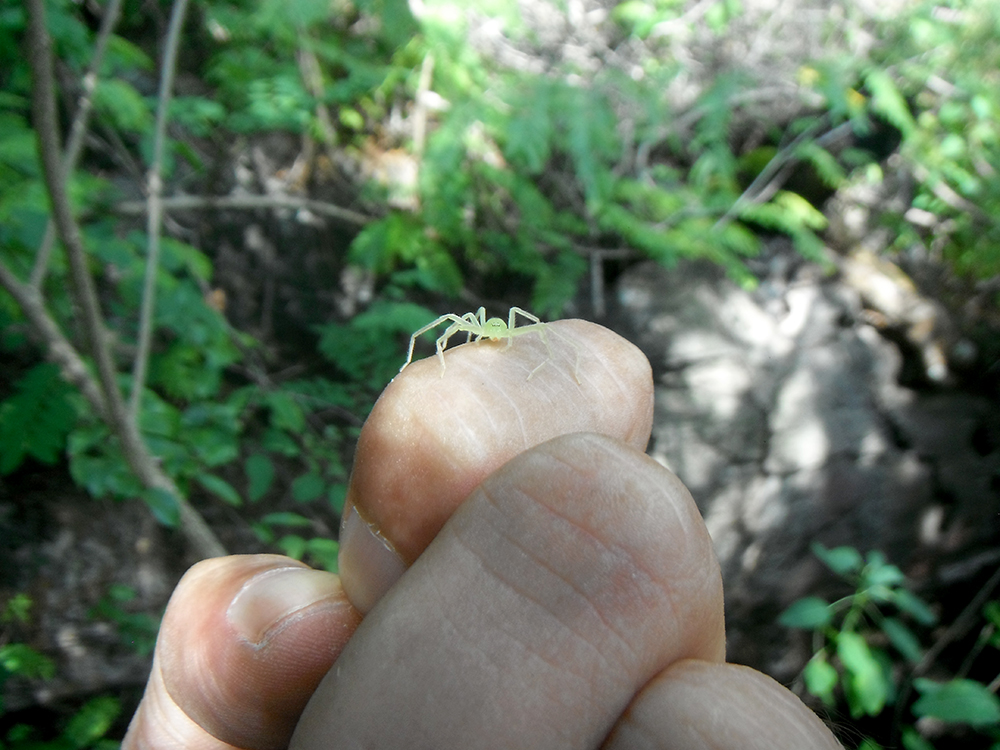 The green color of this spider provides camouflage in environments where vegetation remains green. In general, this species, like other species of the genus, lives among vegetation and moves by running and jumping with great skill. However, it should be noted that the habitat of the species of the Sparassidae family is varied and they can be found in tropical rainforests and deserts.
El color verde de esta araña le sirve como camuflaje en ambientes cuya vegetación se mantiene verde. En general esta especie, como otras especies del género, vive entre la vegetación y se desplaza corriendo y saltando con mucha habilidad. No obstante, es de hacer notar que el hábitat de las especies de la familia Sparassidae es variado y se pueden encontrar en selvas tropicales y en desiertos.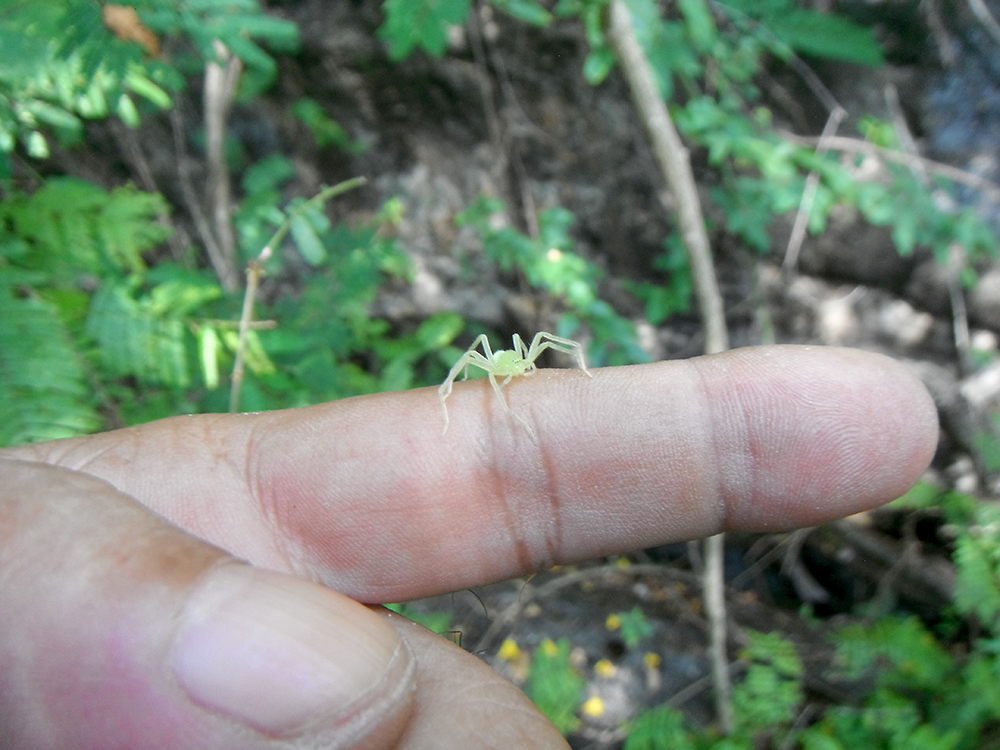 Most spiders of the family Sparassidae are nocturnal hunters, actively hunting their prey. Many build silken shelters among vegetation, under bark, in caves, under rocks and even construct tubes under desert sand, and because they have large scopulae on their legs, that is, "hairs" at the ends of their legs, they can walk nimbly along walls and ceilings, entering human constructions, where they feed on cockroaches and other insects.
La mayoría de las arañas de la familia Sparassidae son cazadoras de hábitos nocturnos, que cazan activamente a sus presas. Muchas construyen refugios de seda entre la vegetación, bajo cortezas, en cuevas, debajo de piedras e incluso construyen tubos bajo la arena del desierto, y como poseen en sus patas amplias escópulas, es decir, "pelos" en las terminaciones de sus patas, pueden caminar ágilmente por paredes y techos, introduciéndose en construcciones humanas, donde se alimentan de cucarachas y otros insectos.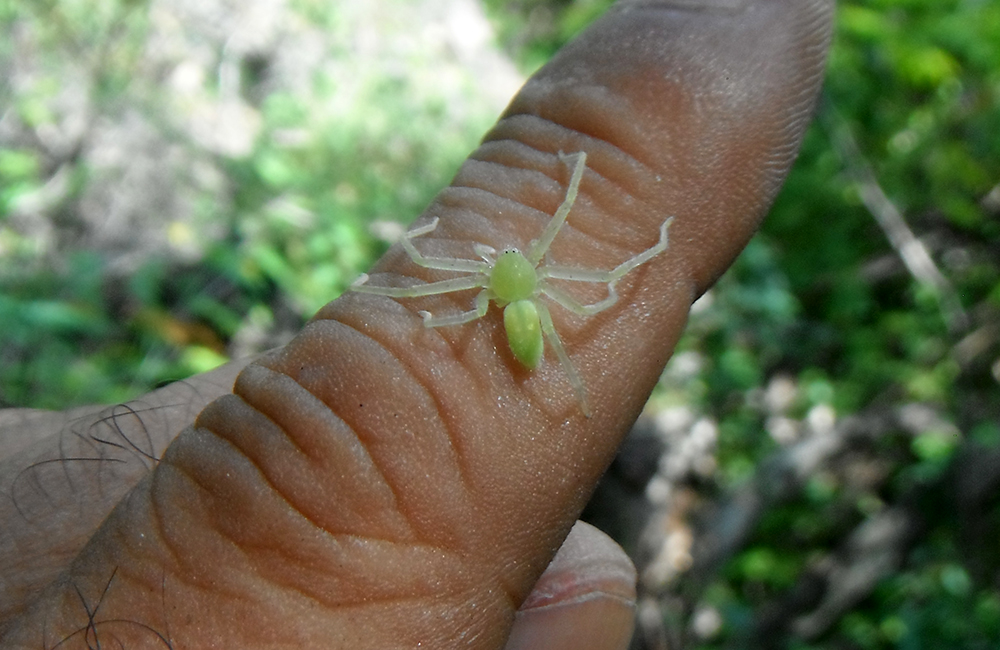 In the case of Micrommata species, spiders are diurnal hunters, and move over the ground and herbaceous vegetation in search of prey.
En el caso de las especies de Micrommata, las arañas son cazadoras diurnas, y se desplazan sobre el suelo y la vegetación herbácea en busca de presas.

Finally, the female of Micrommata virescens folds with the help of some silk threads some leaves of different species of grasses and builds a large bag that it covers inside with white silk, and then encloses itself inside with its egg cocoon.

Finalmente comentar que la hembra de Micrommata virescens repliega con ayuda de algunos hilos de seda algunas hojas de distintas especies de hierbas y construye una gran bolsa que recubre en su interior con seda blanca, y después en su interior se encierra con su capullo de huevos.

References - Referencias

Images captured with Fujifilm FinePix Z90 digital camera.

Imágenes capturadas con cámara digital Fujifilm FinePix Z90.