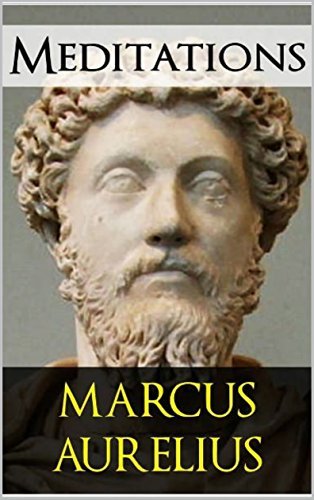 Before the 10 phrases of Meditations of Marcus Aurelius I will tell you a little who was this character and what is stoicism.
Marcus Aurelius was a Roman emperor and Stoic philosopher who lived during the second century A.D. He was born in the year 121 in the city of Rome and died in 180. He was the son of a Roman officer and grew up in a wealthy family. During his youth, he studied philosophy and received a rigorous education, including instruction in grammar, rhetoric, literature, mathematics and philosophy.
In his youth, Marcus Aurelius joined the Stoic school of philosophy, which advocated the importance of living a virtuous life and accepting events with resignation and serenity. This philosophy influenced him profoundly and helped him face the challenges and difficulties he encountered throughout his life.
Marcus Aurelius assumed the office of emperor in 161, after the death of his predecessor, Antoninus Pius. During his reign, he faced numerous challenges, including internal rebellions, foreign invasions and disease. Despite these obstacles, he managed to maintain peace and stability in the Roman Empire for a period of more than two decades.
One of Marcus Aurelius' most important achievements during his reign was his fight against corruption and injustice in the Empire. As a Stoic philosopher, he believed that virtue and morality were the basis of a just and stable society. Therefore, he made efforts to promote virtue among citizens and to combat injustice and corruption.
In his work "Meditations," written in the form of a diary, Marcus Aurelius reflects on the challenges and difficulties he encountered throughout his life, as well as the values and principles he upheld as a Stoic philosopher. In these reflections, he addresses themes such as virtue, humility, tolerance, resignation and the importance of accepting events with serenity and wisdom.
In addition to his philosophical work, Marcus Aurelius is known for his political and military legacy. During his reign, he led numerous military campaigns against foreign invaders, thus protecting the boundaries of the Roman Empire. He also made efforts to foster peace and stability in the Empire, and to combat corruption and injustice.
Now you have a minimal idea of who Marcus Aurelius was, here are the phrases that can help you face the day to day life, it should be noted that Meditations were personal diaries of this famed Stoic philosopher:
1- "Our life is what our thoughts make it."
2- "Do not be anxious about the future, or you will lose the present, without which there is no future."
3- "It is not what happens to you that affects you, but how you react to it."
4- "The purpose of life is to live it with wisdom, justice and discipline."
5- "If you are indifferent to everything else, you will be a happy man."
6- "What matters is not so much what happens, but how you react to it."
7- "The only way to live a life of happiness is to live it with wisdom and discipline.
Antes de las 10 frases de Meditaciones de Marco Aurelio te voy a contar un poco quien era este personaje y que es el estoicismo.
Marco Aurelio fue un emperador romano y filósofo estoico que vivió durante el siglo II d.C. Nació en el año 121 en la ciudad de Roma y murió en 180. Fue el hijo de un oficial romano y creció en una familia acomodada. Durante su juventud, estudió filosofía y recibió una educación rigurosa, incluyendo enseñanzas en gramática, retórica, literatura, matemáticas y filosofía.
En su juventud, Marco Aurelio se unió a la escuela filosófica estoica, que defendía la importancia de vivir una vida virtuosa y de aceptar los acontecimientos con resignación y serenidad. Esta filosofía lo influenció profundamente y lo ayudó a enfrentar los desafíos y dificultades que encontró a lo largo de su vida.
Marco Aurelio asumió el cargo de emperador en el año 161, después de la muerte de su predecesor, Antonino Pío. Durante su reinado, enfrentó numerosos desafíos, incluyendo rebeliones internas, invasiones extranjeras y enfermedades. A pesar de estos obstáculos, logró mantener la paz y la estabilidad en el Imperio romano durante un período de más de dos décadas.
Uno de los logros más importantes de Marco Aurelio durante su reinado fue su lucha contra la corrupción y la injusticia en el Imperio. Como filósofo estoico, creía que la virtud y la moralidad eran la base de una sociedad justa y estable. Por lo tanto, hizo esfuerzos por promover la virtud entre los ciudadanos y por combatir la injusticia y la corrupción.
En su obra "Meditaciones", escrita en forma de diario, Marco Aurelio reflexiona sobre los desafíos y dificultades que encontró a lo largo de su vida, así como sobre los valores y principios que defendía como filósofo estoico. En estas reflexiones, aborda temas como la virtud, la humildad, la tolerancia, la resignación y la importancia de aceptar los acontecimientos con serenidad y sabiduría.
Además de su obra filosófica, Marco Aurelio es conocido por su legado político y militar. Durante su reinado, lideró numerosas campañas militares contra los invasores extranjeros, protegiendo así los límites del Imperio romano. También hizo esfuerzos por fomentar la paz y la estabilidad en el Imperio, y por combatir la corrupción y la injusticia.
Ahora ya tienes una mínima idea de quien fue Marco Aurelio, aquí las frases que pueden ayudarte a enfrentar el día a día de la vida, cabe destacar que Meditaciones eran diarios personales de este afamado filosofo estoico:
1- "Nuestra vida es lo que nuestros pensamientos la hacen."
2- "No te angusties por el futuro, o perderás el presente, sin el cual no hay futuro."
3- "No es lo que te sucede lo que te afecta, sino cómo reaccionas ante ello."
4- "El propósito de la vida es vivirla con sabiduría, justicia y disciplina."
5- "Si eres indiferente a todo lo demás, serás un hombre feliz."
6- "Lo que importa no es tanto lo que sucede, sino cómo reaccionas ante ello."
7- "La única forma de vivir una vida digna es vivirla con consciencia y conocimiento."
8- "No te preocupes por lo que los demás piensan de ti, lo importante es lo que tú piensas de ti mismo."
9- "No permitas que tus pensamientos te controlen, controla tus pensamientos."
10- "Si buscas la felicidad en cosas externas, nunca la encontrarás, la felicidad sólo puede ser encontrada en ti mismo."
Translated with www.DeepL.com/Translator (free version)