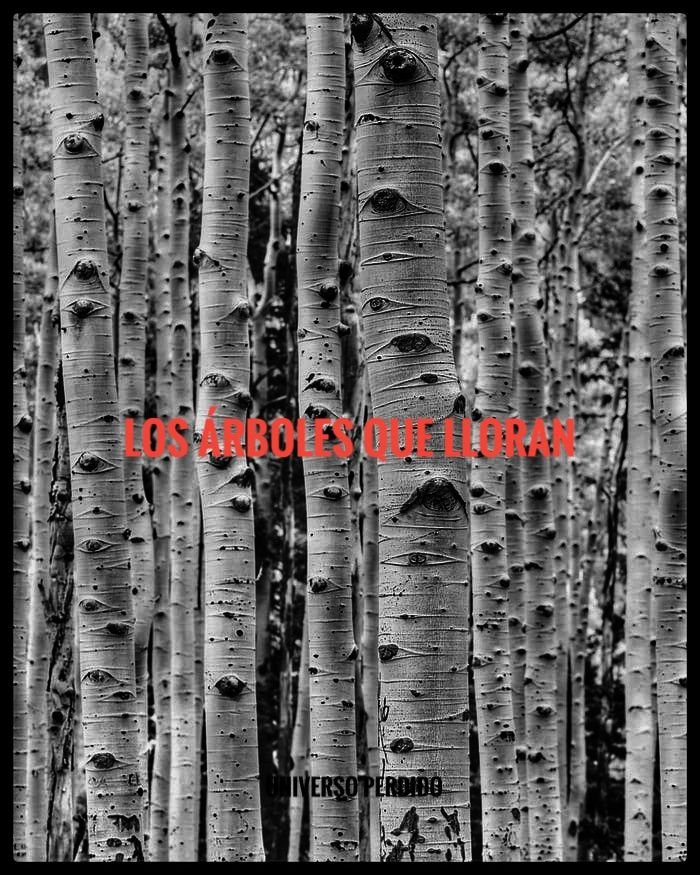 Fuente de la imagen
---
«Las cosas funcionan mal si les falta la caricia de la piel humana».
«Things work badly if they lack the caress of human skin».
---
— José Saramago
---

---
E S P A Ñ O L
LOS ÁRBOLES QUE LLORAN
Cuando era niño y cada noche antes de dormir, mi madre me contaba una historia antes de caer en sueños. Parecían leyendas mitológicas de tiempos pasados, que repercuten fuertemente en la naturaleza del presente. El hombre mismo vive junto a estos mitos, que se encuentran caminando sobre los senderos de lo tangible. Pero estas son historias para otro día, porque lo que estoy apunto de contar, fue algo que viví en carne propia.
Después de contarme una historia, mi madre terminaba con la frase: «No mires por la ventana a los troncos de los árboles». Por alguna razón yo le obedecía, pues en mi imaginación era una advertencia tan real como las sábanas que me cubrían. Por alguna razón ella no quería que mirase allí, pero, sabía que algún día, la curiosidad me obligaría a romper las reglas.
Cada noche era igual, ella me contaba una historia y al final terminaba con la advertencia. Después de varios años, mi curiosidad no había despertado, hasta esa noche, en el que el viento golpeaba diferente a mi ventana, y su silbido como un lamento pronunciaba mi nombre una y otra vez.
Tenía miedo por supuesto, ¿quién no lo tendría? Y más estando solo en la oscuridad, a merced de algo que solo se asomaba como un espectro. Esa noche no sé si estaba soñando, pero la voz que me invocaba se hacía más grave e intensa. Por un momento pensé que había divisado un rostro por la ventana, pero creo que me equivoqué.
Y entonces, por causa de un efecto mágico, me levanté de la cama y me posé sobre la ventana; había roto la regla que mi madre cada noche me impuso. Miré hacia los árboles pero una neblina los cubría. La extraña atracción no se detenía y me dispuse a investigar los sonidos que de allá provenían.
Me puse una chaqueta; la más abrigadora, era la noche más fría del año, lo cual era bastante singular en aquella zona del país. Sentía un poco de miedo, pero al menos ya estaba cerca, así que temblando —y con mis facultades casi dañadas—, atravesé la neblina para ver el misterio que resguardaban aquellos árboles.
Sus troncos estaban ennegrecidos, quizás por efecto de la humedad o el intenso frío. Pude notar con más detenimiento las aberturas que tenían en el centro. Eran como dos ojos enormes y les escurrían una especie de líquido oscuro, espeso y brillante. La sustancia tenía mal olor y pude escuchar con repugnancia el sonido rastrero que hacía sobre la superficie de la corteza.
Una persona normal quizás hubiera huido, pero yo, ya no era normal en ese momento. ¿acaso somos expectadores de cosas fantásticas todos los días? ¿Podríamos sobrellevarlas? Yo no lo creo, y los árboles tampoco lo creyeron, por lo tanto, uno de ellos me pinchó con una de sus ramas y me echó para atrás. El hecho me espantó demasiado, lo suficiente como para salir corriendo de allí y resguardarme en la seguridad de mi casa.
Nunca le conté a mi madre lo sucedido, me hubiera castigado de saberlo. Al día siguiente, sigiloso y con mucha cautela, fui de nuevo hacia los árboles. Parecían normales esta vez, sin ninguna distinción aparente. Miré un poco más y encontré una pequeña planta que brotaba en el centro. Mis ojos se quedaron intranquilos y, al mirar con más detenimiento, atisbé sorprendido que el pequeño tronco llevaba mi rostro, y comenzó a llorar.
FIN
E N G L I S H
THE WEEPING TREES
When I was a child and every night before going to sleep, my mother would tell me a story before falling asleep. They sounded like mythological legends of times past, which have a strong impact on the nature of the present. Man himself lives alongside these myths, which are found walking on the paths of the tangible. But these are stories for another day, because what I am about to tell you was something I experienced firsthand.
After telling me a story, my mother would finish with the phrase: "Don't look out the window at the tree trunks". For some reason I obeyed her, for in my imagination it was a warning as real as the sheets that covered me. For some reason she didn't want me to look there, but, I knew that someday, curiosity would force me to break the rules.
Every night it was the same, she would tell me a story and at the end it would end with the warning. After several years, my curiosity had not awakened, until that night, when the wind beat differently at my window, and its whistling like a lament pronounced my name over and over again.
I was afraid of course, who wouldn't be? And more so being alone in the dark, at the mercy of something that only loomed like a specter. That night I don't know if I was dreaming, but the voice that invoked me became deeper and more intense. For a moment I thought I saw a face through the window, but I think I was wrong.
And then, by some magical effect, I got out of bed and perched on the window; I had broken the rule my mother imposed on me every night. I looked up at the trees but a mist covered them. The strange attraction did not stop and I set out to investigate the sounds coming from there.
I put on a jacket; the warmest one, it was the coldest night of the year, which was quite unique in that part of the country. I was a little afraid, but at least I was close, so shivering -and with my faculties almost impaired-, I went through the fog to see the mystery that those trees guarded.
Their trunks were blackened, perhaps due to the effect of the humidity or the intense cold. I could notice more closely the openings they had in the center. They were like two huge eyes and they were leaking a kind of dark, thick and shiny liquid. The substance had a foul odor and I could hear with disgust the crawling sound it made on the surface of the bark.
A normal person might have run away, but I was no longer normal at that moment. Are we the spectators of fantastic things every day? Could we cope with them? I didn't think so, and the trees didn't think so either, so one of them poked me with one of its branches and pushed me back. It scared me too much, enough to run out of there and into the safety of my house.
I never told my mother what happened, she would have punished me if she had known. The next day, stealthily and very cautiously, I went to the trees again. They looked normal this time, with no apparent distinction. I looked some more and found a small plant sprouting in the center. My eyes became uneasy and, looking more closely, I glimpsed in surprise that the little trunk bore my face, and began to weep.
THE END


Relatos anteriores | Previous stories

---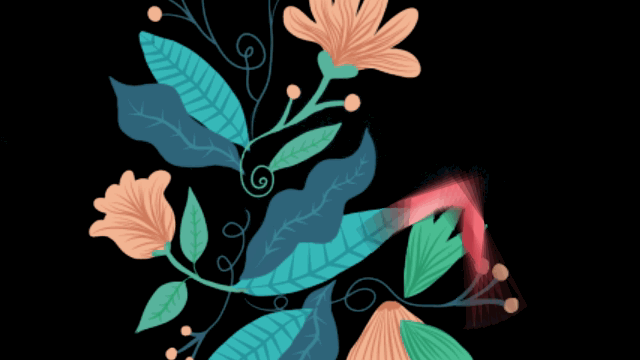 ---
¿Eres escritor? ¿No encuentras un lugar adecuado para colocar tus trabajos literarios? Unete a Literatos, una comunidad en Hive donde puedes publicar tus cuentos, poemas, ensayos literarios y novelas inéditos de tu propia autoría.
---

GIF elaborated by @equipodelta