In terms of overall value, this pick for the Titans is really great. Roger McCreary was a borderline first rounder to many, and he was personally my twenty-second favorite player overall! Getting him at number thirty-five is two picks in a row the Titans got great value in my humble opinion. Two picks in a row that they picked one of my favorite players.
The Titans defense was really strong last season, and that was an amazing sight. The secondary was fine, but just fine for the most part. They also got injured quite frequently, like pretty much every other position group.
If I were being painfully honest, the Titans secondary is mostly safety heavy. The Titans have some good corners, but I'd say the team is pretty thin there. Kristian Fulton is above average when healthy, Elijah Molden has been a nice surprise. 2021 first rounder Caleb Farley has been injured and really hasn't played much.
I'm optimistic about the team's secondary if they can manage to stay healthier than last year, but still, adding fresh, younger and hopefully higher level talent into the mix at cornerback was a pretty clutch move. There's simply so many good receivers in the NFL nowadays, you really can never have enough cornerbacks.
I think McCreary can come in and play a lot right away and put a lot of pressure on some of the other Titans corners who are sort of in 'prove it/on the bubble' years in terms of their longevity on the Titans and even in the league in general.
This dude is TALENED! Roger is the guy who loves baked beans with a bunch of sugar! LOL I still need to try that.
Read my thoughts about Roger McCreary HERE!!!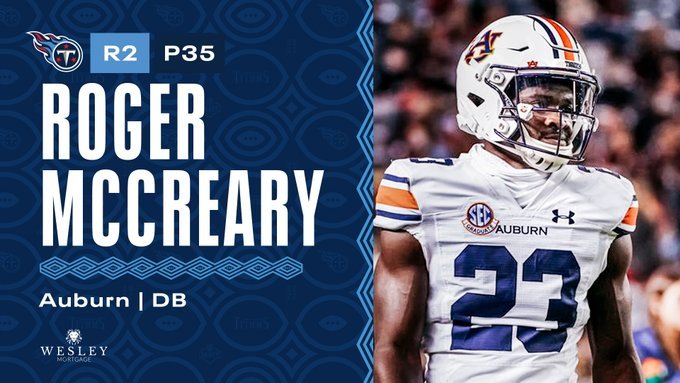 I'm hoping McCreary can help the Titans defense maintain their dominant level of play from 2021, and perhaps elevate it even higher!