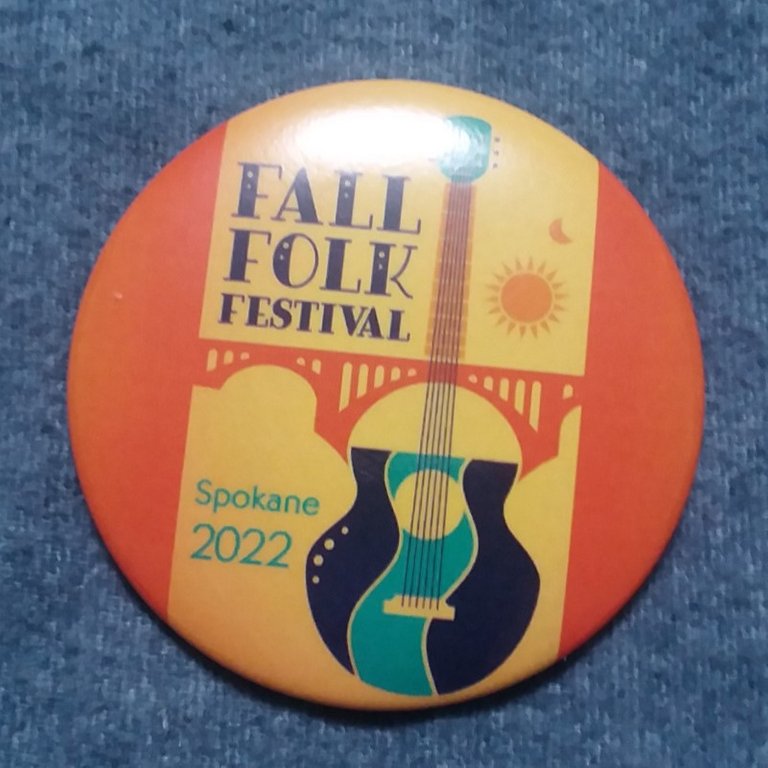 Now that the pandemic panic is winding down, regional cultural activity is making a resurgence. I was able to venture into the sordid depths of Spokane to the Fall Folk Festival at the Spokane Community College Lair Student Center. If you are in the Inland Northwest and reading this post in time, try visiting the second day's performances!
There were more masked hypochondriacs than I expected, but fewer than I feared. The crowd was much more than I like regardless of contagion concerns though. I'm not inclined toward road rage, but people blocking foot traffic enrage me on a deeply disturbing level. GET YOUR FAT *** OUT OF THE ******* AISLE! Part of this overcrowding is due to the condensed nature of the event. There are fewer stages this year, and thus fewer rooms to spread out the audience. The merchant tables are also arranged almost as if the intent is to obstruct traffic as much as possible.
Despite the lower number of stages and simpler schedule this year, there was no way to see everything and get a good feel for the various performances.I caught the last song from Yang Xu, who played traditional Chinese guzheng in the Sasquatch room. Then, I navigated the length of the building through the crowd bought some coffee at the bistro. Not really feeling the music there, I headed all the way back toward the main Lair stage only to see a "No drinks allowed" sign on the auditorium door
****!
I crossed the crowded central hall to hear Safar play some middle eastern/mediterranean fusion music while drinking my bean brew. There was an instrumental piece first, followed by some tunes accompanying a belly dancer who roamed the aisle.
After I finished by coffee, I tried to re-enter the Lair and catch the Angus Scott Pipe Band. The room was packed, and a volunteer was monitoring where any empty seats could be found. I only managed to hear their last song. If you've hard one pipe band play Scotland the Brave, you've heard 'em all, but it was still fun. I love bagpipes.
The Scottish Country Dancers performed after that, and I admit my philistine sense of aesthetics found little to enjoy in pre-recorded audio or the mostly old fossils engaged in coordinated skipping about on stage. I wanted to see musicians playing live music! Leaving has to wait until that was over, though.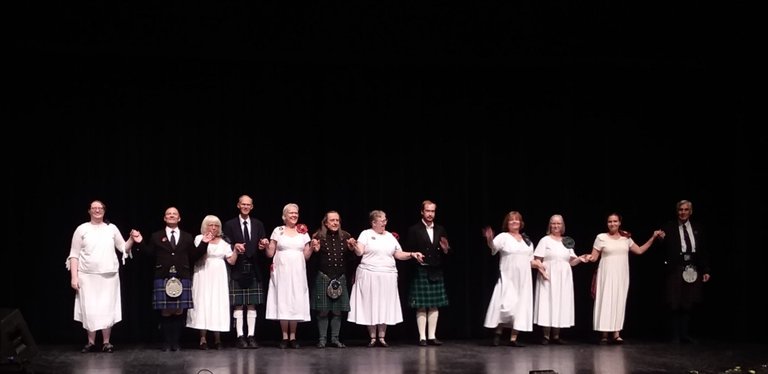 My next destination was the literal underground music scene, downstairs in a room called "Underground" where Steve Schennum played "songs you'll never hear on the radio," a wonderful set of equal-opportunity subversiveness.
The next hour or so was spent wandering around and trying to find something that suited me to little avail, although some distractions from family and friends helped pass the time, so it wasn't a complete waste. I saw a Bulgarian dance troupe performing some traditional dances, again sadly to pre-recorded music. It was interesting, though.
The last concert I saw all the way from start to finish was Crooked Kilt, performing as the original trio without other members for reasons not made clear during the concert. That was a blast! These guys are a lot of fun, and while all are good, I was particularly impressed by Carla's fiddling chops. These YouTube videos may not properly convey what I saw on stage, but they are better than my miserable cell phone camera and microphone!
Live music is a lot of fun, and the variety of world music influences are worth the visit if you can manage to schedule this event. If you missed out, and you are in the region, start planning for next year!

HIVE | PeakD | Ecency
If you're not on Hive yet, I invite you to join through PeakD. If you use my referral link, I'll even delegate some Hive Power to help you get started.