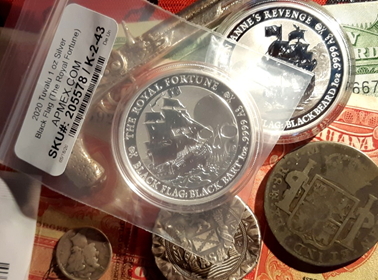 P

" Blackbirds tend to like Shiny Things" ~ The Bloody Raven
Another gift from my Sister Stacker @silversaver888 I will be unveiling and by the title of this article you already know what it is and for my #piratesunday shtick. With my usual rant, Canadian retailers never seem to get the good bullion coins before anyone else in the world, so my Sis sent this lovely Black Flag Series ship, the Royal Fortune Captained by the infamous Bartholomew Roberts or otherwise known as "Black Bart."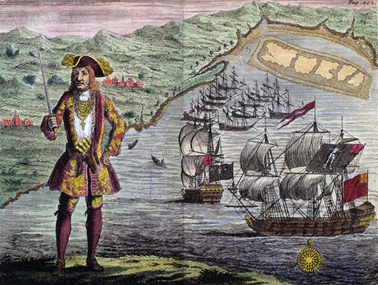 W

1724 Roberts with the Royal Fortune and Ranger ,by B. Cole under Public Domain
Getting to the Bloody Coin
2020 Tuvalu The Royal Fortune 1 Dollar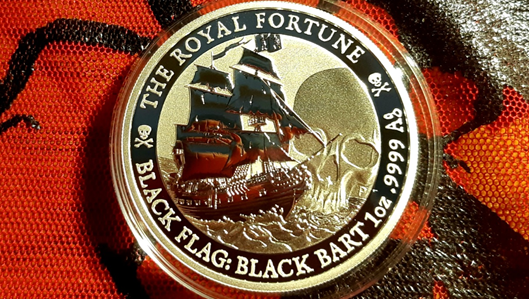 Reverse: The Royal Fortune, flying the flag of Black Bart
Legend; THE ROYAL FORTUNE P BLACK FLAG: BLACK BART 1 oz .9999 Ag
40.9 mm Diameter
0.9999 Fine Silver
As history records Captain Roberts commanded other versions of ships of the same name;
A Sloop originally the Royal Rover is renamed the Fortune.
Replaced by a captured 16 gun Brigantine and renamed the Fortune.
Only to be replaced with a captured 26 Gun French frigate he named Good Fortune then renamed Royal Fortune, the first of several ships of that name.
Another notable version is the captured the 52 gun French warship of Governor Florimond Hurault de Montigny also renaming it the Royal Fortune. Give Bart some credit for consistency.
Then followed by the captured Royal Navy Frigate Onslow was converted to become the fourth Royal Fortune name.
2020 Tuvalu The Royal Fortune 1 Dollar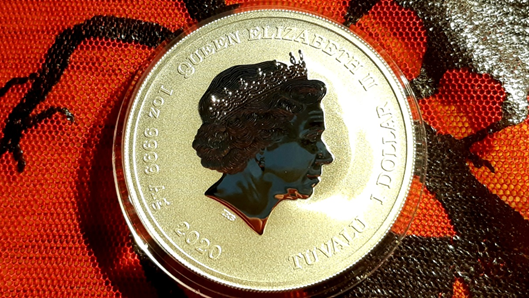 Obverse: Queen Elizabeth II Facing Right
Legend; QUEEN ELIZABETH II IRB 1 oz. 9999 Ag 2020 TUVALU 1 DOLLAR
Edge Reeded
Mintage of 15,000
Perth Mint
Santos Bay 1719 : Before Sunrise
Captain Roberts grasped the rigging and stood tall on the rail overseeing the last of chest stowed into the the open hold. His sharp eyes then scans to and fro, his mind alert to any change in the situation aboard the captured 40 gun Portuguese ship the Sagrada Familia. He makes a quick gaze up at the Portuguese flag to assess the wind quality and direction then shed his over sized officer's frock coat casting it into the sea revealing his favored crimson Damask waistcoat and britches. There was no further need to continue their ruse.
His crew, grim faced men began to give way to smiles and wide grins as they make ready for open sea feeling more certain that Captain Roberts was right.
This will put to end any ill notion in Captain Robert's lack of experience, instead proved a very capable and cunning man. Their successful escape will put to rest the ghost of Captain Davis as a blessing in disguise and now all the men will now undoubtedly follow this new Captain.
It seemed miracle that they managed to seize the man-of-war and then the Sagrada without alerting the other warship anchored to her port quarter. It all depended on speed and silence. The two man-of-war ships, each with 70 guns were charged with guarding the Portuguese merchant fleet. The pirates would be at a clear disadvantage if they got into a fight. With the captured crew of the Sagrada secured below deck the officer of the Portuguese Warship was hauled aboard, and with his sword Captain Bart calmly persuading his counterpart to point out the treasure ship.
And a little extra surprise with the Gift
1939 Winged Liberty One Dime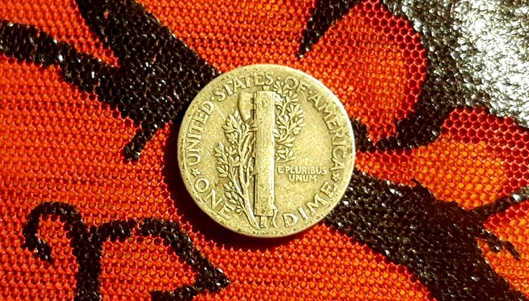 Reverse: Fasces, Olive branch, motto: E • PLURIBUS UNUM
Legend; UNITED • STATES • OF • AMERICA* ONE DIME *
Silver .900, 2.5g
17.9mm diameter, 1mm Thick
The plan may be bold and daring but this was far different that the usual prey, while Captain Roberts had been so far successful with lightly armed vessels, this is more easily deemed a reckless fool's adventure. It was just yesterday when Captain Bart finally put down his tea cup and said in his usual outspoken style, "Gentlemen, the greater the guns, the richer the ships!", then laid out his plan before the crew.
In the beginning few nodded in approval many others seemed doubtful.
His confidence spoke more than his words and when the time came the vote passed by a slim margin.
Now the deed is almost done.
"I believe this is where we part ways my Captain, give my regards to your king Joseph I" said Roberts, as he twirled the tip of his mustache with his left hand and with his right sword hand prodded the Portuguese Captain plunging into the Sea.
Captain Roberts slipped down from the silent Sagrada Familia onto the deck and bellowed, "Full Sail, and take her out the Bay in good speed." The crew rushed to their rigging stations, the sails fall and flutter briefly before pulled taunt by the outgoing breeze.
1939 Winged Liberty One Dime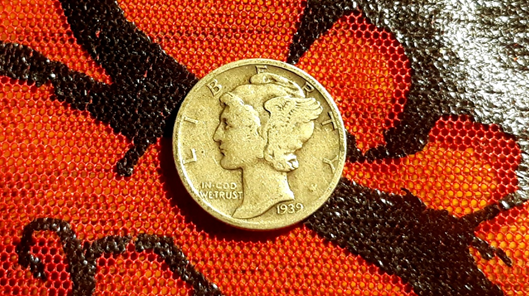 Obverse: Liberty facing Left, LIBERTY, In God we Trust, 1939, W
KM#140, Schön# 133
Mintage of 67,749,321
The ship began to pull away from the Sagrada. "Put yer back into it Lads!" The Scottish Quartermaster followed the Captain down to the open cargo hold. The weathered oak chests rested upon the hold floor.
Bart drew his pistol and fired freeing the lock from it's heavy latch. Many hungry eyes gathered around the hold staring in awe as Roberts kicked open the chest lid revealing the golden glow. Roberts knelt down as if in prayer, cupped his hands and dug them deep into the treasure of King Joseph of Portugal. He slowly stood and lifted his hands high and let the glistening golden coins fall through his fingers in a glimmering golden cascade.
"In these chests my friends is 40,000 gold Moidores and to each of my brethren a share of this treasure and tonight we celebrate!" Roberts stared at the faces of the gathered men and then grinned, "But first we fly! Hoist the Black Flag! Back to your stations!"
The crew roared in approval and scampered back to their stations.
"Hoist th' black flag lads, on th' double!", echoed the quartermaster.
"I want to let these fellows know who just robbed them. Leave these chests in view Monty. I shall be at the Stern to bid our sleepy hosts a farewell."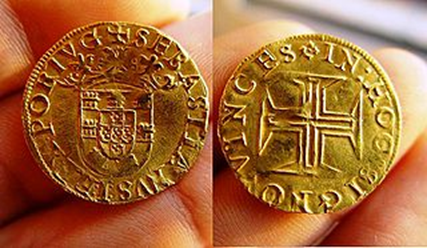 The Moidore is the gold coin first produced and circulated in 1677 to as late as 1910 in Portugal and her Colonies as her empire grew and then diminished. The face value states 4000 Reals, The Real being the currency unit of Portugal since 1430 up to 1911 when it changed to the Escudo following the Republican revolution.
Roberts smiled as flag unfurled in the early morning sun.
Instead of his spyglass he picked up is teacup and stepped to the stern behind the steersman. He could see the harried crews of the Escort ships finally alerted. His Man-of-war Counterpart hauled aboard from the sea. Two escorts managed to weight anchor and began to give chase. One ship turned slowly bringing her forward Chaser guns to bear.
Twin puffs of smoke rose from the Escort's fore Chaser guns followed by twin booms.
Two Geysers rose simultaneous close to the stern but a miss nevertheless.
It will be ninety seconds before they could fire again but his trusty nimble little ship will be well underway before they could get their sails up. Roberts pressed the cup to his lips, "Blast, this tea is cold."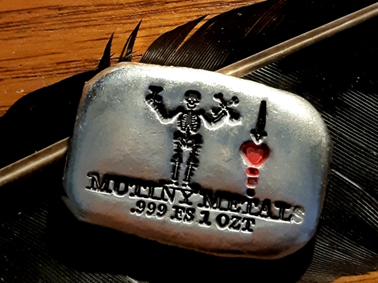 ! Bonus Silver ! From a favorite Pirate Silver artisan, Mutiny Metals is this fine [one oz. bar](
https://mutiny-metals.myshopify.com/products/pirate-flag-of-black-bart-1oz-fine-silver-first-strike
) of one of Black Bart's Black flags. Funny how Captain Roberts has different flags yet insist his ship is always Royal Fortune but the Captain likes to be generally consistent.
My thoughts of the Black Flag: Royal Fortune
Awesome, awesome, awesome! So to borrow a phrase by my generous sister, #ILIKEITALOT
Thank you, thank you, thank you @silversaver888! For both coins!
And, the Bloody Raven's take
"Aye….ditto. There be a tip of me Tricorn hat t' Ole Bart when I get underway on th' Storm Crow II."
So, I hope you enjoyed this very special feature...
And Thank you for stopping by my Pirate Blog this Sunday.


The #piratesunday tag is the scurvy scheme of Captain @stokjockey for #steemsilvergold and #ssg-community pirates to proudly showcase their shiny booty and plunder for all to see. Landlubbers arrrh…welcomed to participate and be a Pirate at heart so open yer treasure chests an' show us what booty yea got!
References
1. My own pictures shot with a Samsung SM-A530W
P. Image under Pixabay
R. Clip art from 123RF
W. Wiki Commons
Wiki: Bartholomew Roberts

R


"Et lux in tenebris to serve laboro, sum sicarius" "I work in the shadows to serve the Light, I am an Assassin"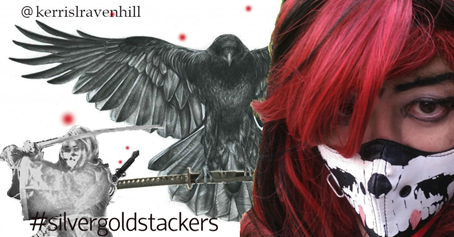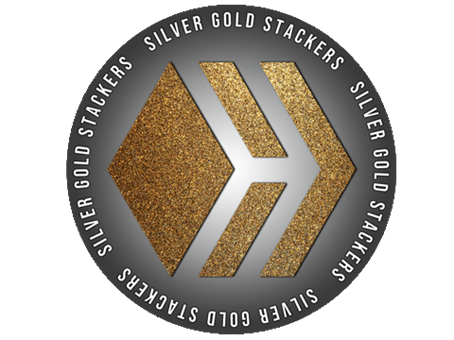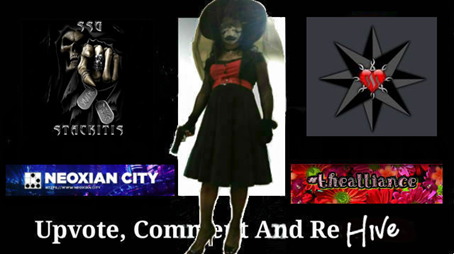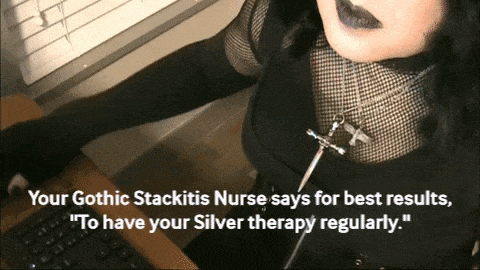 Banner by @thekittygirl