In this article series, I selected to feature the coins from Vatican City that depicts the four cardinal virtues. Last week, I showed the coin with cardinal virtue of prudence.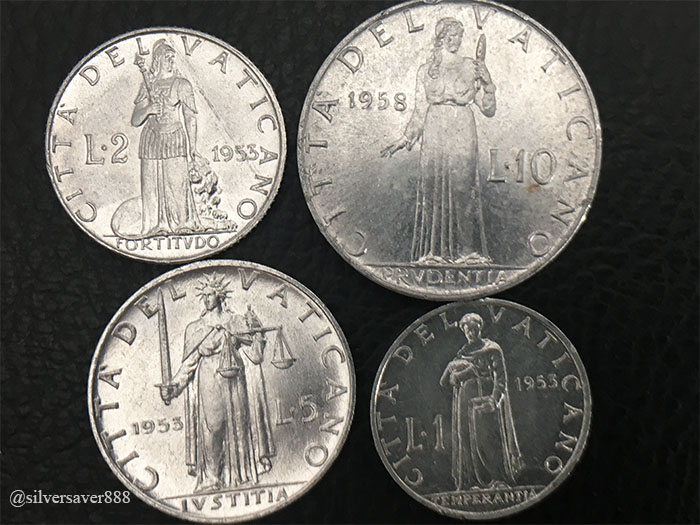 ---
Today, we will look at a second Vatican City coin that depicts the cardinal virtue JUSTICE.
1953 5 Lire - Pivs XII Vatican City
Standard Circulating Coin minted from 1951 to 1958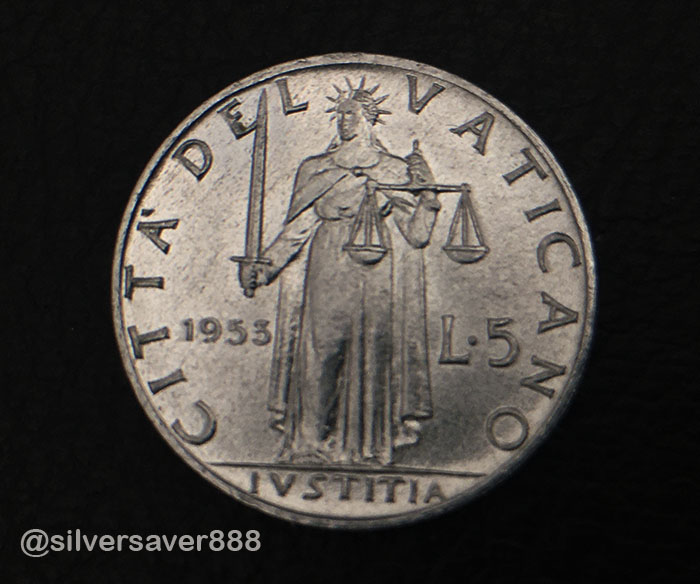 ---
The reverse of the coin shows the figure of
Justice
(Latin: Iustitia) standing with sword and scales. Lady Justice is holding a sword as a representation of the power and strength of justice. Lady Justice is also holding a scale that represents the balance and fairness of justice. Lady Justice originates from the personification of Justice in
Ancient Roman art known as Iustitia who is equivalent to the Greek goddesses Themis.
---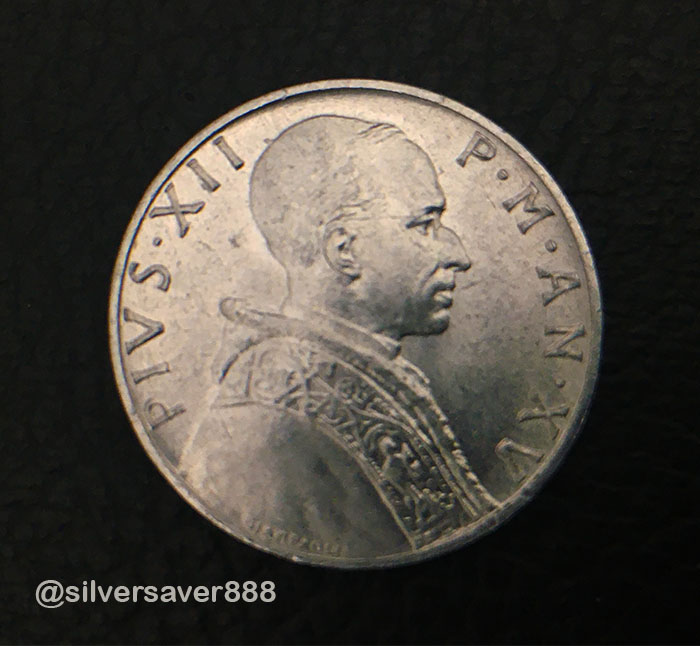 Obverse: Pope Pius XII facing right.
---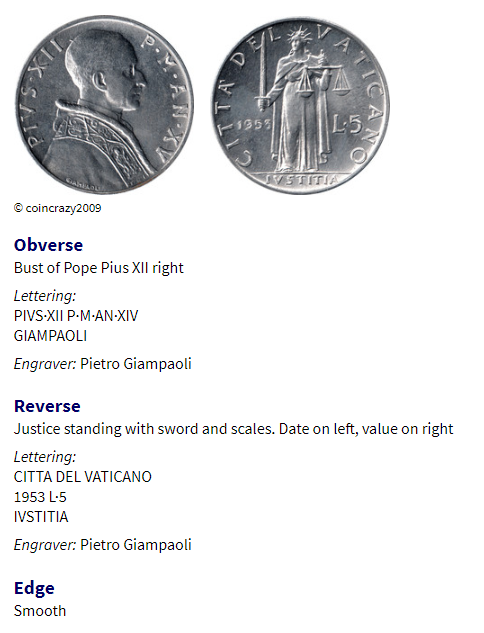 Source
---
♥.•:¨¨:•.♥.•::•.♥.•:¨¨*:•.♥
A virtue is a habitual disposition to do good.
Among all the virtues, there are four that play a pivotal role and accordingly are called
cardinal.
Prudence, which disposes the practical reason to discern in every circumstance one's true good and to choose the right means of achieving it.
Justice, which consists in the firm and constant will to give others their due.
Fortitude, which ensures firmness in difficulties and constancy in the pursuit of the good.
Temperance, which moderates the attraction of the pleasures of the senses and provide balance in the use of created foods.
Source
---
In Christian moral theology, Justice is a quality or habit which perfects the will and inclines it to render to each and to all what belongs to them. The object of the virtue of justice is the other person's rights, whether natural or bestowed by Church or State. Justice requires that all persons should be left in the free enjoyment of all their rights. The rights which belong to every human being inasmuch as he is a person are absolute and inalienable.
Source
---
This is the second installment of four articles featuring coins that depict the Cardinal Virtues. I hope to see you again when I show the other two coins.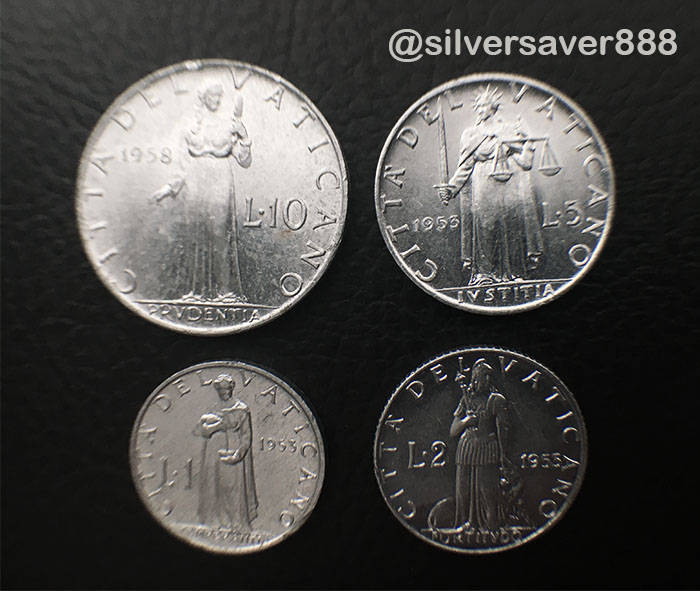 😍#ilikeitalot!!!😍
#worldcoinwednesday is hosted by @silverd510, a tag that may be used by anyone to show coins from the different world mints.
All photos and gif by @silversaver888
♥.•:¨¨:•.♥.•::•.♥.•:¨¨*:•.♥
---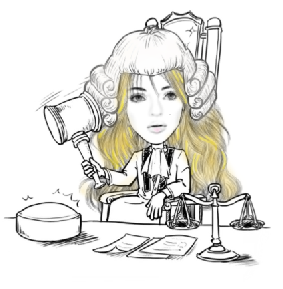 Thank you for stopping by to view this article.
I post an article daily, and I hope to see you again soon!
Hugs and Kisses 🤗💕💋!!!!
---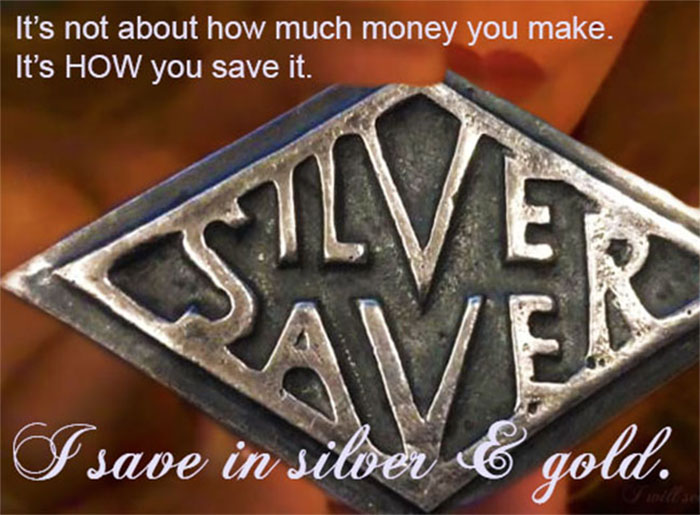 ---

Thank you to @thekittygirl for this banner and for including the Silver Saver Bar in this banner!
---
#TeamUSA is a growing community of quality-content people from the United States or those living here. Check us out on Discord!


---

---

HiveGlitch.gif Created by @derangedvisions