I was mystified when I checked my mailbox yesterday, There was a small padded envelope inside, but I hadn't ordered anything. At first, I thought it had been placed in my box by mistake, But, my name was on the label.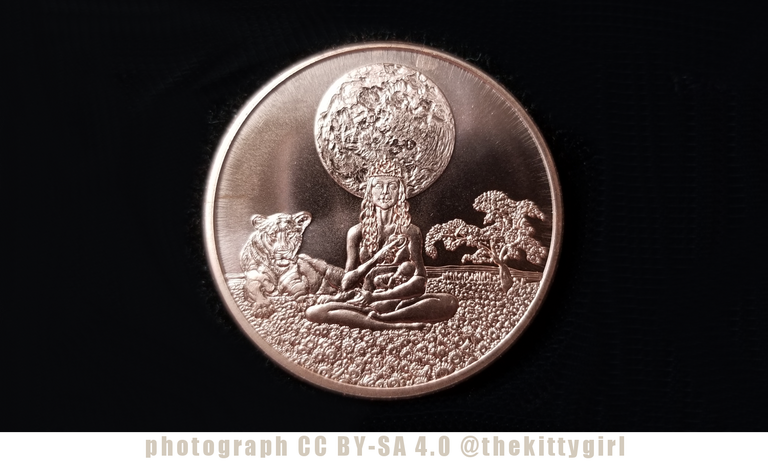 When I finally removed all the tape and cardboard and other packing materials, I was greeted by a shiny copper round! Then, I remembered that @silversaver888 had said something about sending one to me! That day had been so busy, however, that I didn't think any more about it.
This is a lovely piece titled "Queen Within" and she was sending it to celebrate our founding of the LadiesOfHive community on the Hive blockchain this week! It's a special place on-chain for women to gather and share with one another.
Of course, I had to research this item, as I usually do with most of my acquisitions. I learned that this is a very limited edition piece, as only 1,650 were produced! Even the .999 fine silver version had a limited mintage of 2,631, so that makes this a very rare round, indeed! This round is part of a multi-year series called the Conscientia series and was produced by Golden State Mint. I also learned that there is a similar piece available with masculine imagery.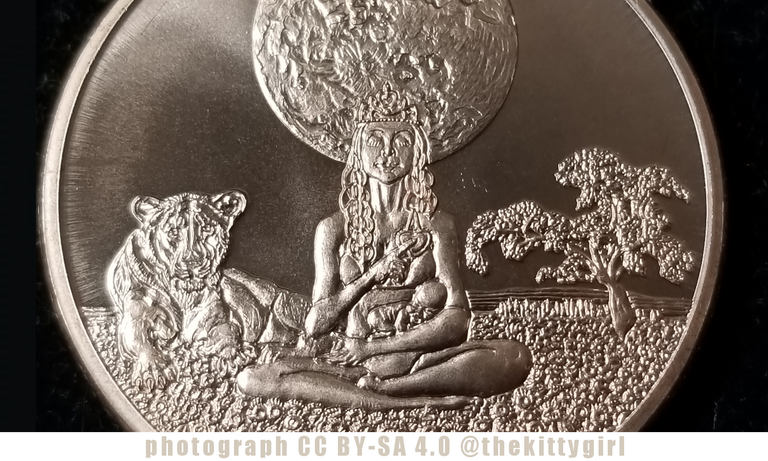 The majority of the silver and copper in my collection consists of feminine imagery, so this piece will be very much at-home with the others! Her companions will be Selene, Laxmi, Minerva, Thalassa, Lady Liberty, Brittania, the Trivium Girls, Freedom Girl, and many other female figures.
The imagery on the Queen Within depicts a woman seated in a field of flowers, eyes closed in contentment. She wears a crown on her head as a symbol of her power while a baby sleeps at her left arm. A lioness rests beside her, and a Tree of Life can be seen in the distance on the other side of her. A beautiful Full Moon hangs in the sky behind her.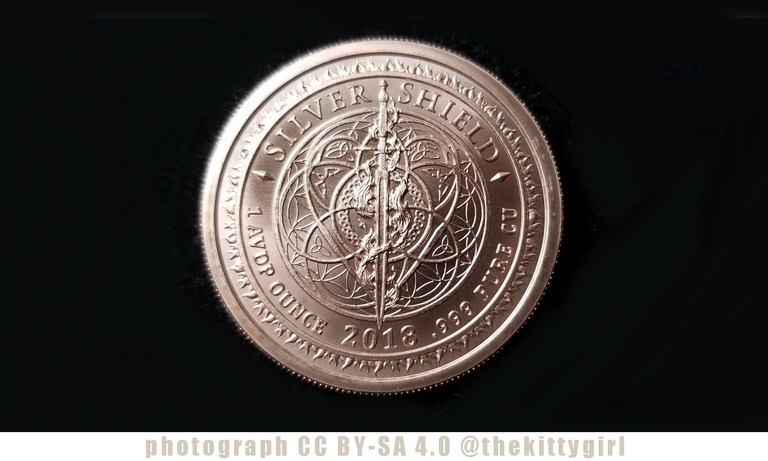 As with all rounds designed by Silver Shield, their very artistic logo appears on the reverse: a flaming sword superimposed over a heart superimposed over a triquetra. There are flames all around the outside. "SILVER SHIELD" is stamped above, while "1 AVDP OUNCE .999 PURE CU" is stamped below. The year of minting, 2018, appears in the bottom-center. As a lovely finishing touch, the edge of the round is reeded.
THANK YOU, @silversaver888, for sending me this lovely gift! I appreciate it and the sentiment behind it so very much! 🤗

 😊
SOURCES
   1 Lone Star Precious Metals Exchange (LSPMEX)






to learn more about either of these projects, please visit: @heyhaveyamet or @theterminal

13-Sep-2020