---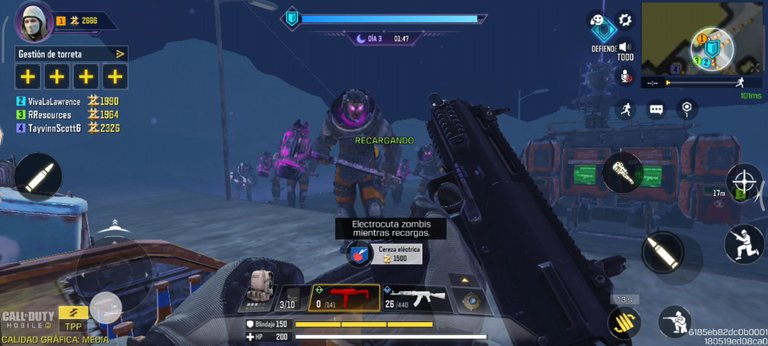 English
I was curious to know this game mode that apparently is for a limited time, in a previous game I did not quite understand the mechanics in this type of games, but after a day of survival I understood everything, basically we must during the day walk around the area in search of weapons, ammunition and grenades to help us survive the visit of the zombies at night, on several occasions for more than I looked, the amount of ammunition ended up being insufficient for the huge number of zombies that were appearing, which represents a fairly high survival challenge.
Español
Tenía curiosidad por conocer este modo de juego que al parecer esta por tiempo limitado, en una partida previa no terminaba de comprender la mecánica en este tipo de partidas, pero al cabo de un día de supervivencia comprendí todo, básicamente debemos durante el día caminar por toda la zona en busca de armas, municiones y granadas que nos ayuden a sobrevivir la visita de los zombies por la noche, en varias ocasiones por más que buscaba, la cantidad de municiones terminaban siendo insuficientes para la enorme cantidad de zombies que iban apareciendo, lo que representa un reto de supervivencia bastante alto.
---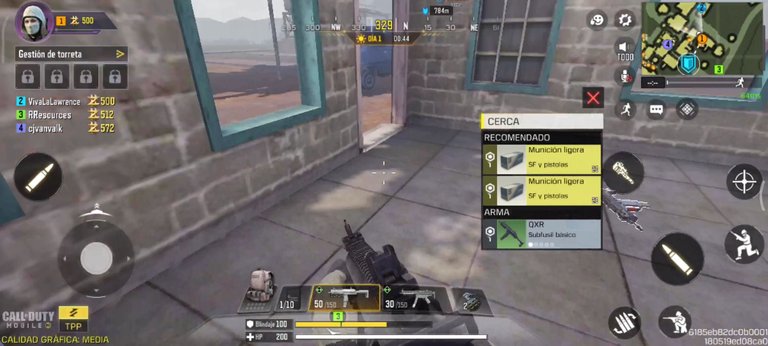 On several occasions I was lucky and ended up collecting enough ammunition, although honestly they always end up being insufficient, as the nights go by, more zombies approach the control center and despite being a cooperative game mode, it becomes almost impossible to cope with so many enemies.
I could see that some of the other players in the game placed some automatic weapons that helped a lot, I still don't know how to place this type of weapons but as soon as I know I will do it too, since the zombies are distracted by attacking this automatic weapon and not the control center.
En varias ocasiones corrí con un poco de suerte y terminaba recolectando bastantes municiones, aunque sinceramente siempre terminan siendo insuficientes, a medida que van pasando las noches, más zombies se acercan al centro de control y a pesar de ser un modo de juego cooperativo, se hace casi imposible dar abasto ante tanto enemigos.
Pude observar que algunos compañeros de la partida colocaron unas armas automáticas que ayudaban bastante, aún no sé como poner este tipo de armas pero apenas lo sepa lo haré también, ya que los zombies se distraen atacando a esta arma automática y no al centro de control.
---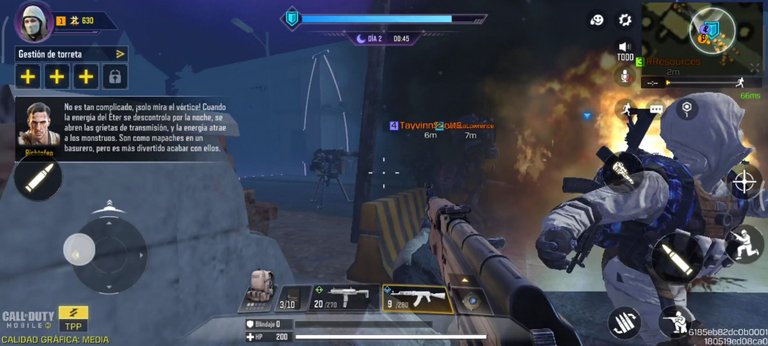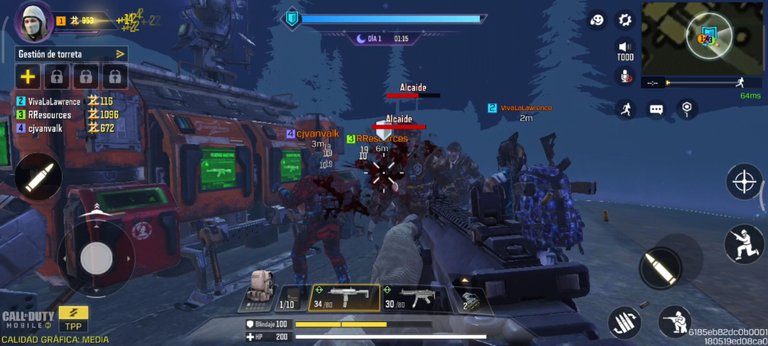 Grenades are usually a good resource when there are a lot of zombies, but finding them is a bit difficult, I think I even managed to collect only three of them on one occasion.
This Zombie mode is perhaps much cooler than I think it is, I just need to understand some things better and be more efficient in the search for weapons. Some of the enemies that appeared were giant zombies with some kind of axe in their hands, these were quite difficult to defeat, and I'm not really sure, but I think that when we killed some of them, they released ammunition for us.
Las granadas suelen ser un buen recurso cuando hay muchos zombies, pero encontrarlas es algo difícil, creo que incluso en una ocasión llegué a recolectar solo tres de ellas.
Este modo Zombie quizás sea mucho más genial de lo que creo, solo me falta comprender mejor algunas cosas y ser más eficaz en la búsqueda de armamento. Algunos de los enemigos que aparecían eran zombies gigantes con una especie de hacha en sus manos, estos eran bastante difíciles de vencer, y no estoy muy seguro, pero creo que al matar a algunos de ellos, soltaban municiones para nosotros.
---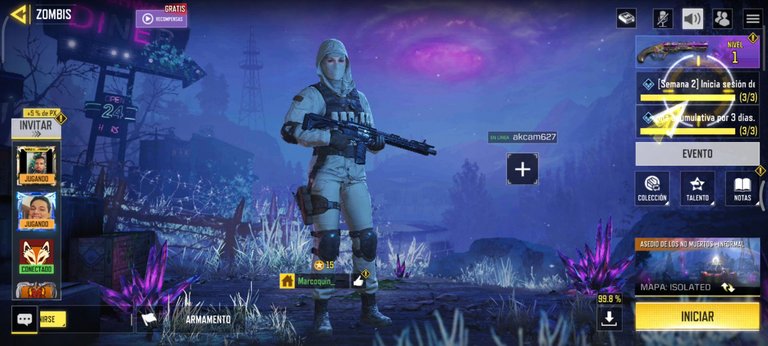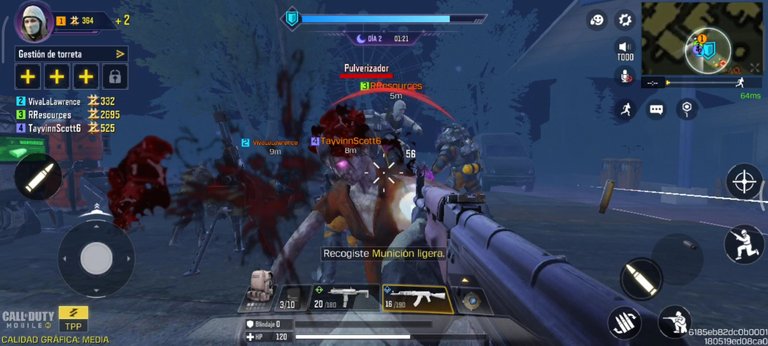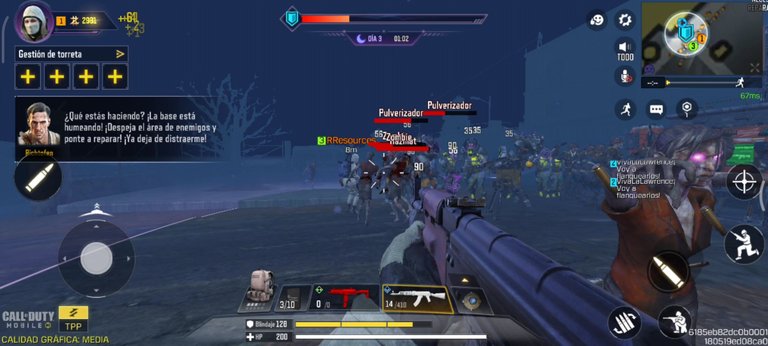 We managed to survive for only three days, I do not know if this is too much or too little, or how many days must be completed to register a victory, the truth is that already on the third day the difficulty was very high or at least I had those feelings.
I still prefer the Battle Royale, the alternative modes are good but they do not end up convincing me in terms of gaming experience, perhaps for this and some other reasons, some people have migrated to other video games of the same genre. I hope you can enjoy the gameplay, I don't think I'm very good but I try to do my best in the game I'm presenting you. See you in a next opportunity.
Logramos sobrevivir solo durante tres días, no sé si esto sea mucho o poco, o cuanto días se deban completar para registrar una victoria, lo cierto es que ya en el tercer día la dificultad era muy elevada o al menos tuve esas sensaciones.
Sigo prefiriendo el Battle Royale, los modos alternativos son buenos pero no terminan de convencerme en cuanto a la experiencia de juego, quizás por esto y algunas razones más, algunas personas han migrado a otros videojuegos del mismo género. Espero que puedan disfrutar del gameplay, no creo ser muy bueno pero trate de hacer lo mejor en la partida que les estoy presentando. Nos vemos en una siguiente oportunidad.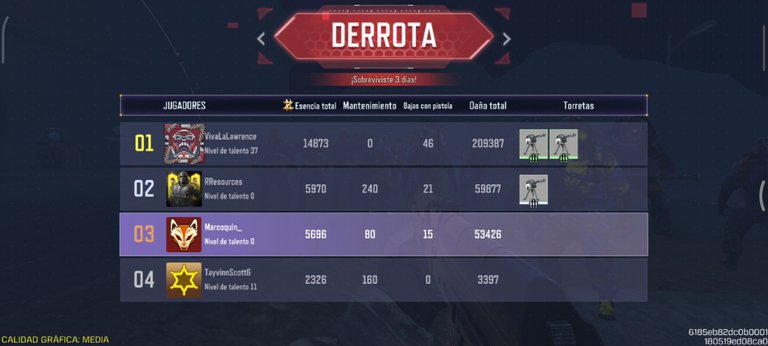 Source of images || Fuente de imágenes
---
1 - 2


---
---
▶️ 3Speak