I've got a date this weekend, and it's not with Faith; Don't worry, I'm not cheating on my wife, it's a date with guns...Ok, there'll be a girl too...Take it easy folks, it's a friend y'all, just a friend.
I received a text from said friend today asking if I could take her shooting and, never one to let down the ladies, I said yeah of course. It seems she's had a hard week at work and feels the need for a little stress-relief and one of the best ways to do that is to get out and shoot some guns at the range. Trust me on that, it works.
I've taken this friend once before and she loved it, despite not being into guns at all, and so I suppose she figured why not blast a few hundred rounds down range and then go for some breakfast with the G-dog? Who wouldn't wanna do that?!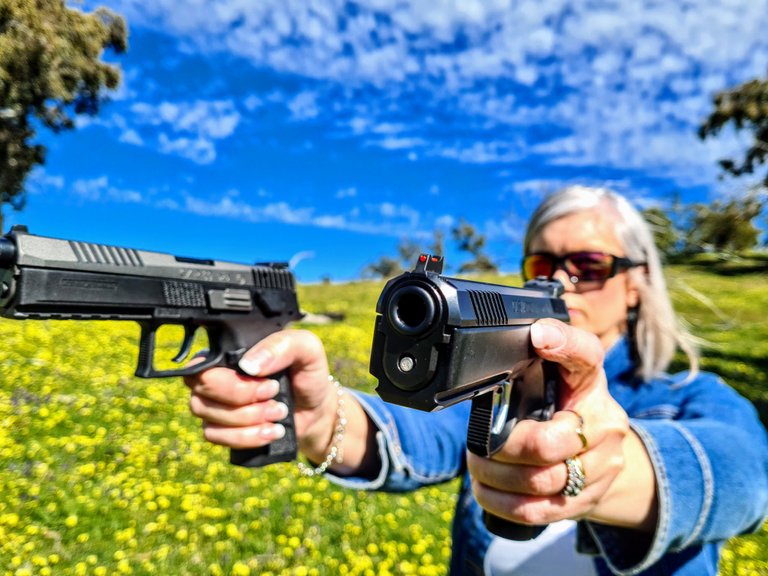 The plan is to hit the range early, she is embarrassed about shooting in front of others and there'll be few people there early, if anyone, and after some initial re-familiarisation with the handgun, safety and technique I'm going to get her into some run and gun drills. This means she'll be shooting and moving, shooting and moving; No running mind you, she's not experienced enough for that. She'll have a lot of fun though as I plan to use the village complex we have at the range so she can clear rooms as she moves through...It's a lot of fun; Pop up targets and all.
I'll get her double-tapping targets and working on her accuracy and speed over an hour or two and she'll send 300 rounds or so down range. She's paying for them at 0.25c/round so it will cost her $75 and she'll get to shoot a couple of different handguns I bring for her. I'm pretty sure that'll alleviate some stress; Positive actually.
Afterwards we're going to grab some breakfast and coffee and chat away about whatever, probably her wedding plans I guess...I'll be interested because she's a friend, and it's something that's important to her; Maybe I should say I'll seem interested though. 🤣
You can see Faith brandishing a couple of my handguns in this post, but she's not coming to the range because she's still in a bit of pain from her operation, but the plan is she'll meet us for breakfast; That depends on how she feels though.
So, that's my Saturday morning plans this week, *helping a friend shrug off some work-pressures through a fun morning at the range.
Do you guys do anything to relieve stress that builds up over the week and to help you find your central point? It's important you know...We can't all run at a hundred miles an hour all the time; Even the fastest race cars have to pull into the pits for service sometimes and, for humans, managing stress is very important.
So, what do you do? Read, listen to music, sing, do art, gardening, photography, diy projects, cooking or hobbies of some other kind?
Tell me about it, about how you destress; interested.
---
Design and create your ideal life, don't live it by default - Tomorrow isn't promised.
Be well
Discord: galenkp#9209