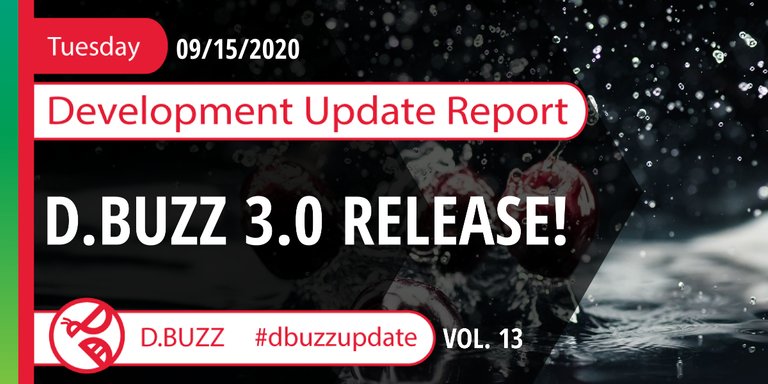 ---
D.Buzz Weekly Development Update Report
Vol.13
---
Hello D.Buzz Friends,
Welcome to a brand-new dawn, D.Buzz 3.0 release is here and up on our public testing server!
You can log into our public testing server, RIGHT NOW with your Hive Keychain and use 3.0 with all the new features, Bells and whistles. All actions will be published to the blockchain, 3.0 is fully functional.
☑️ However - Do Note : that there may be an occasional bug that pops up or an issue as we're still testing this release before we push it to the main site.
We felt this was the best to ensure our stable version Located at https://d.buzz/ could always be used without bugs, and for those who would like to get on the bleeding edge of what's coming out, then you can use ...
---
---
After our testing on Next.D.Buzz, we will push those updates to D.Buzz ensuring a smooth transition and update to all future releases. Then we will publish the next batch of future updates on Next.D.Buzz for Public testing. And the cycle will go on.
Here is a diagram illustrating the flow that we will have for future feature releases.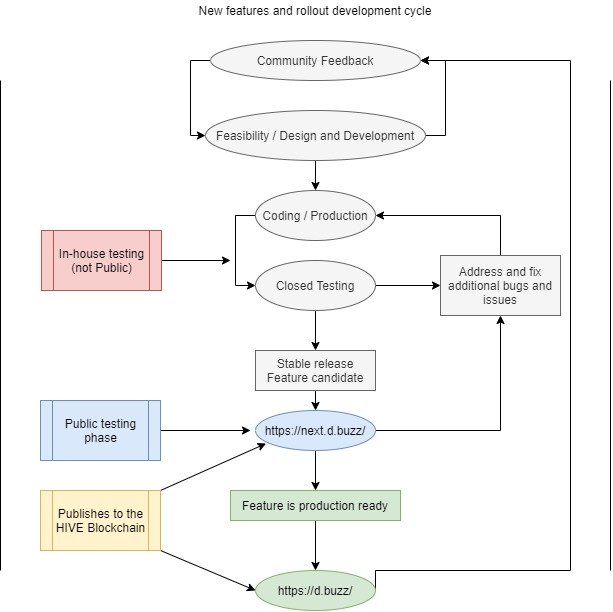 Both Next.D.Buzz and D.Buzz you can use at anytime, just the Next.D.Buzz may have bugs as we public test new features. :)
---
Next.D.Buzz, features released this week.
Image Upload
Hive Keychain login
Posting Key Login
Desktop View (full)
New Themes
Cleaner interface
Faster loading and processing!
☑️ NOTE: The mobile viewing format for Next.D.Buzz Is not quite ready yet, as such you will only have access mobile viewing on D.Buzz. We should have mobile viewing sorted out in less than a week.
Thank you for taking the time to read this update please let us know what you think the comments below.
---
Update Notes Complete
---
What do you think of these updates?
Are you happy with the overall growth and direction we are taking with D.Buzz?
Let us know in the comments below
As always...
The team at D.Buzz, is highly dedicated to the growth and development of the HIVE blockchain and our platform. We welcome any feedback from the community to help further growth of D.Buzz, or how we can further the growth of HIVE.
Over and out.
---
---
Is a censorship-resistant short form microblogging platform that empowers you to share your thoughts in 280 characters or less.
Censorship resistant and built for the community with love.
---
We strive to have a fun and neutral stance on topics. If you have any concerns with the content, please contact @jacuzzi, who writes and generates the content for our articles, or the @dbuzz team for clarification.
---


---