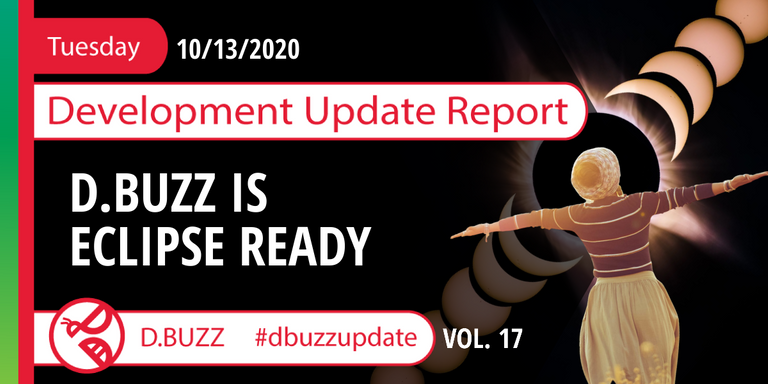 ---
D.Buzz Weekly Development Update Report
Vol.17
---
Hey D.Buzz crew,
With one day to go till the Eclipse Hard Fork update, tensions are running high. In the past, their has been a few challenges that make hard forks... err... Ummm... exciting? 🙃
But you know what, we are not worried. 😎 The programmers working on the HIVE Hard Fork are EPIC. @blocktrades is a DAM POWER HOUSE of development, @guiltyparties backing up visions with solid code, @crimsonclad dropping lines of programming like it was a sick rap beat. With people and teams like this... and more developers at the keyboards, our trust and faith in this update is at all-time high.
In house, the crew at D.Buzz has been working for the last 2 weeks ensuring that D.Buzz will be Hard Fork ready! @coffeebender and @postnzt our 2 lead developers are pushing it to the limit as they are in it to win it!
We are so prepared, Boy Scouts look to us as inspiration. We have developed, not 1, but 2 DIFFERENT code bases to support whatever may happen in the next 24 hours. Drop the MIC and sew on a merit badge, lets DO THIS!!!
As the clock ticks down till go time, sleep well friends and get ready for the new start. Feel free to use Next.D.Buzz for posting, next week we should be rolling out the updates to our main platform. Join us on our Discord channel HERE and ask us any questions you might have.
All that said, we still have updates for today as well. 😀 Check em out below. 💪
---
Next.D.Buzz
Version-Release: 3.2.2-dev
---
*NOTE : These features and updates are published to Next.D.Buzz testing server. Updates to the main site "D.Buzz" will start after the Eclipse Hard Fork.
Both sites work.
D.Buzz : Stable fully functional site.
Next.D.Buzz : Public testing server for new features and updates that will be pushed to the stable site when ready.
---
Fixes
---
Add d.buzz hyperlink to post and replies
Fixed twitter embed
Fixed home feed empty state
Fixed delay in fetching contents and reply
Change trending icon
---
Progress Report
The Eclipse
---
D.Buzz is ready for the hard fork and running tests in preparation for the eclipse tomorrow.
---
Update Notes Complete
---
What do you think of these updates?
Are you happy with the overall growth and direction we are taking with D.Buzz?
Let us know in the comments below
As always...
The team at D.Buzz, is highly dedicated to the growth and development of the HIVE blockchain and our platform. We welcome any feedback from the community to help further growth of D.Buzz, or how we can further the growth of HIVE.
Over and out.
---
---
Is a censorship-resistant short form microblogging platform that empowers you to share your thoughts in 280 characters or less.
Censorship resistant and built for the community with love.
---
We strive to have a fun and neutral stance on topics. If you have any concerns with the content, please contact @jacuzzi, who writes and generates the content for our articles, or the @dbuzz team for clarification.
---


---