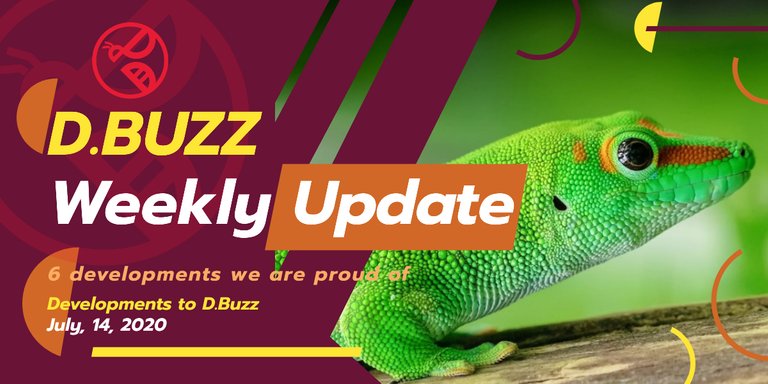 D.Buzz Weekly Project Update from D.Buzz (Vol.4).
The story of the tortious and the hair. The epic race between something fast and something slow. You know the story. What bugs me about the story is that no other animals ever raced the two. So we're left with either moving fast and passing out or moving too slow. :/
I want to think that we ( D.Buzz ), that we are moving at gecko speed. Meaning we are not as fast as a rabbit and will pass out, but then we are also not as slow as a turtle and will take forever. Our project moves at the speed of the gecko. Fast and steady. That's good for me. What do you think?
With this analogy in mind, let's move onto the updates for D.Buzz This week. I will unofficially name this our gecko week.
---
Updates for 7/14/2020:
---
1.
Payouts and displaying them.
The team implemented a way to display pending payout amounts viewable by opening a Buzz. Now you'll know how much those 280 characters are worth!
---
2.
Nobody likes 404 errors, so we did some housekeeping and fixed broken links.
---
3.
Some people said they would like to have a way to delete stuff; we rolled out a delete feature. Don't worry, your Buzz's still are censorship-resistant, unless you censor them.
---
4.
We like to watch videos as much as you do, so we fixed that video embed bug.
---
5.
We are currently testing an edit feature (not yet uploaded/its in testing). So if you happen to mistype you can now have "Piece of mind", oh edit that " peace of mind". (<- see what I did there?)
---
6.
Another exciting update in testing and to be rolled out soon is the long-awaited Filter Post By Hashtag (not yet uploaded /on testing).
---
As always:
We are committed to the forward momentum of our platform and building a more robust HIVE ecosystem. If there are any updates, you would like us to focus on, or a bug you may have found, please post below.
Till next time. :D
---
D.Buzz over and out.
---
P.S