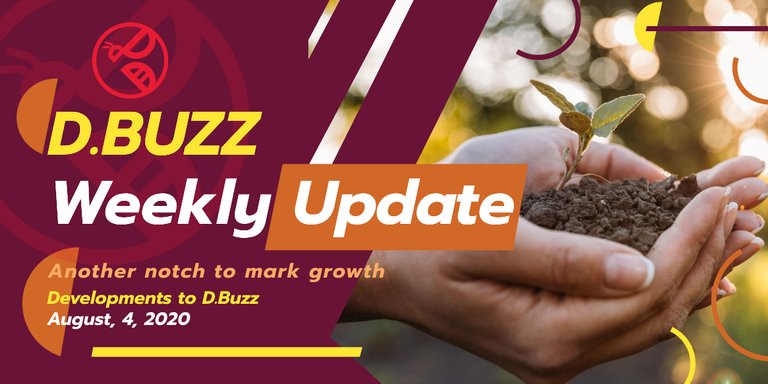 D.Buzz Weekly Project Update from D.Buzz (Vol.7).
Hello Guys and Gals,
As a child growing up, my parents had a wooden column in our kitchen. At the start of August each year before my sisters and I went to school, they make a little notch for our height. When I go back home to visit my parents, I look at these notches and remember those moments.
I like to think of our weekly Project updates in the same type of way. Notches on a wooden column, to record the growth of our platform, and as a remembrance of where we have been.
This week we make another notch, and we grow a little more!
Let's dive into the ongoing growth of D.Buzz this week.
---
Updates for 8/4/2020:
---
1.
Our code wizards are truly remarkable.
After many tireless hours of refracturing they tell me the major refactor of the viewing post module to fix missing posts & notifications is completed and, uploaded on 07/30/2020.
---
2.
A few of you have mentioned this is an issue, and we have now addressed it. We have fixed sorting of post's comments and replies. This was uploaded on 07/30/2020.
---
3.
We also added in this ease-of-use update, we added link (view full context) for parent post when viewing replies. This was uploaded on 07/30/2020.
---
4.
May seem like a small one but it was an achievement for us than the least. We optimized display of user profile. This was uploaded on 07/31/2020.
---
What do you think of these updates?
Are you happy with the overall growth and direction we are taking with D.Buzz?
let us know in the comments below
As always...
The team at D.Buzz, is highly dedicated to the growth and development of the HIVE blockchain and our platform. We welcome any feedback from the community to help further growth of D.Buzz, or how we can further the growth of HIVE.
D.Buzz over and out.
---
---
Do you know what D.Buzz is?
D.Buzz is a censorship-resistant short form micro blogging platform that empowers you to share your thoughts in 280 characters or fewer.
If you haven't tried it, give it a buzz today!
@jacuzzi is the content creator of the graphics and text in this article. We strive to have a fun and neutral stance on topics. If you have any concerns with the content, please contact @jacuzzi or us for clarification.
---

---