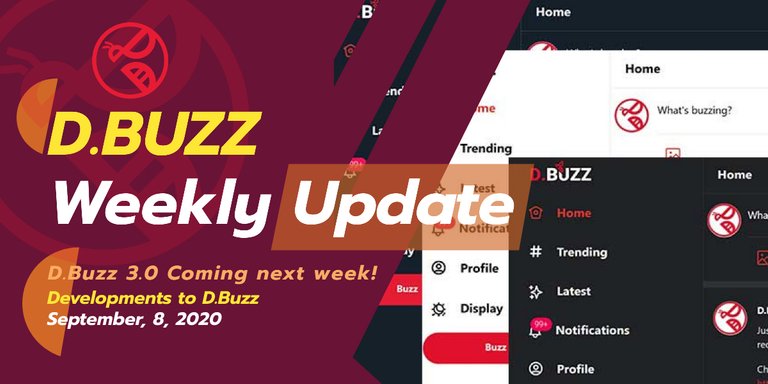 ---
D.Buzz Weekly Project Update
Vol.12 | 9/08/2020
---
Hello D.Buzz Friends,
Today we have some exciting news for you. We will be rolling out D.Buzz 3.0 NEXT TUESDAY! Yes that is correct, the revised, updated and streamlined, Micro blogging starship that is D.Buzz 3.0 is just about ready to set sail.
Our code team has been toiling nonstop for the past several weeks in getting this totally revised D.Buzz experience ready for you.
Today, I have been cleared to share with you some additional features that will be rolled out with this release next week.
Let's get to the updates for this week for D.Buzz.
---
Updates Notes for 9/08/2020:
---
Enhancements

Making it Better
---
Everyone is a big fan of dark mode, but with this release we will have not one or two color modes, but 3! Nightshade, Daylight, and Grant color modes will be available for you to choose from upon launch.
Here is how wicked they look!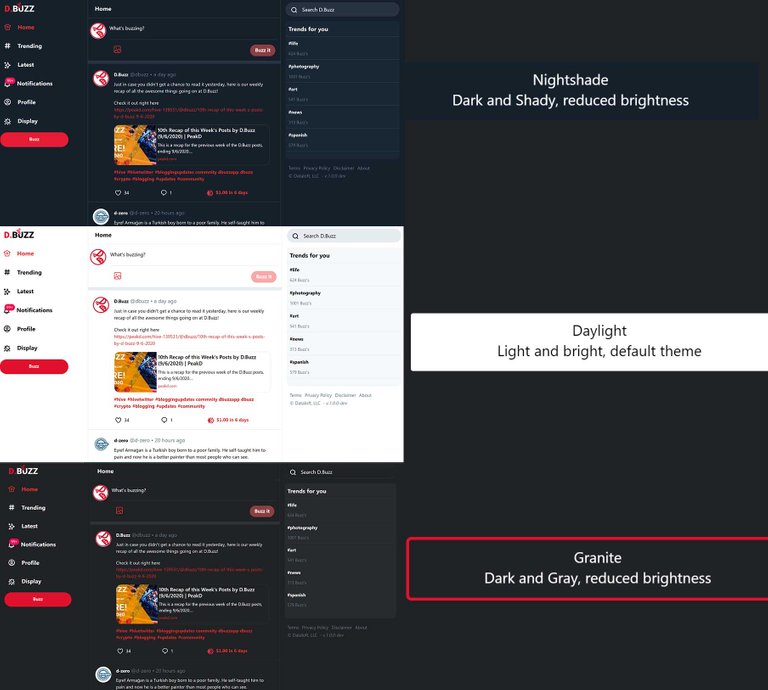 Further, our mobile view is being worked on now, and we should have our mobile app ready to go shortly after this release.
Some other features coming in this release are:
Hive Key chain login! Yes if you have Hive Key chain on your browser, logging in is now a breeze and super easy.
Posting Key Logins. To enhance security and reduce phishing attempts you can now log in with your posting key.
Better UI with fewer bugs and is a bit more intuitive and clean. Just take a gander at this beauty right here. If it was a swimming pool I'd be jumping into my screen.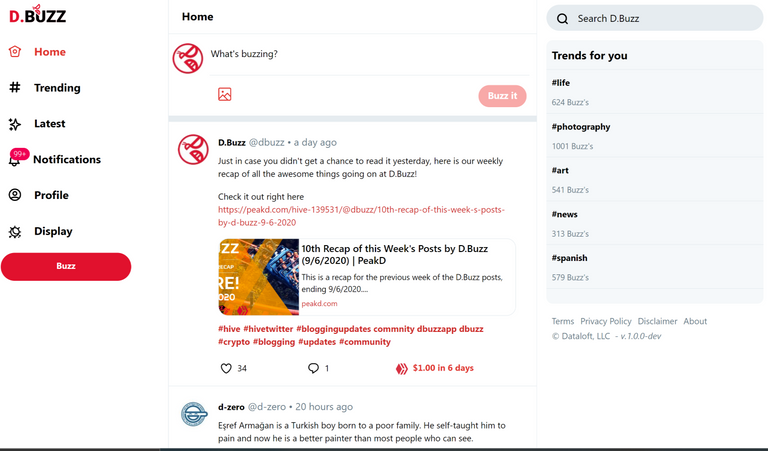 Last but not least embedded image uploads directly inside a Buzz!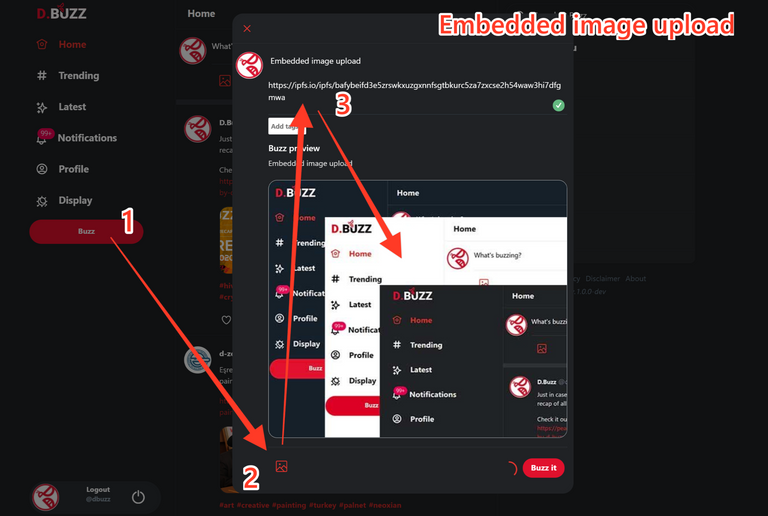 Click the "Buzz" button
Click the little image tag, and select the image you wish to upload.
Your image will be uploaded and IPSF location added to you buzz! You can see the preview of your buzz right below with the image rated go.
How awesome is that I think very!
All of this and more will be rolled out in seven days (*Bearing no crazy issues) with our Tuesday update announcement next week. Are you excited? I sure am!
---
Are you a video blogger?
Would you like to do an advanced video preview of D.Buzz 3.0?
If so hit us up on discord and let's talk. :)
---
Update Notes Complete
---
What do you think of these updates?
Are you happy with the overall growth and direction we are taking with D.Buzz?
Let us know in the comments below
As always...
The team at D.Buzz, is highly dedicated to the growth and development of the HIVE blockchain and our platform. We welcome any feedback from the community to help further growth of D.Buzz, or how we can further the growth of HIVE.
Over and out.
---
---
Is a censorship-resistant short form microblogging platform that empowers you to share your thoughts in 280 characters or less.
Censorship resistant and built for the community with love.
---
We strive to have a fun and neutral stance on topics. If you have any concerns with the content, please contact @jacuzzi, who writes and generates the content for our articles, or the @dbuzz team for clarification.
---


---