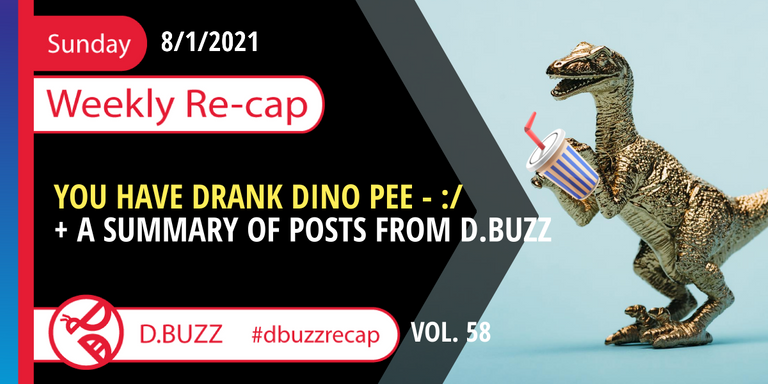 ---
Recap of this Week's Posts by D.Buzz
For the week ending on : (8/1/2021) | Vol.58
---
What's Buzzing Friends...
Every week we like to start our Saturday recap with a strange and interesting fact. Something peculiar to get your mind wondering before getting caught up all the posts you might have missed. This week we have interesting thought to keep your head spinning.
It's no surprise that we as humans, drink a whole lot of water. The Mayo Cinic states about 11.5 for woman and 15.5 cups of water for men per day is good. That is a lot of water.
But we are not the only things on this planet that drinks water, or that DID drink water. That brings us to today's interesting thought. You probably have and did drink dinosaur pee in your life already, and didn not even realize it.
Dinosaurs lived on earth for about 186 million years, in contrast to our human 200,000 years or so. In this time the multitudes of dinosaurs have drunk a lot of water, and that's a lot of pee. So the probability of you drinking molecules that have been in the guts and inside of a dinosaur then peed out, is actually quite high.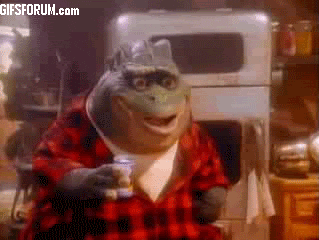 Yup, you drank Dino pee... :/
If you are curious about this dino thing, this is a great article (HERE) you can read. However if you just happy to accept this fact, well that is Dino-rrific! But whatever side of the fence you fall on, doesn't matter because the weekly update from D.Buzz is here for you to enjoy with 0 pee in it.
---
Last Sunday
Here's a link to the previous recap post from last Sunday. >> 7/25/2021 <<
---
Monday
Okay you have the opportunity to ride an elevator with anybody, who would it be what would you talk about? Let us know in a buzz for a chance to win 15 $HIVE!
---
Tuesday
Learn about the newly formed Entrep compound. a physical location in the Philippines built for entrepreneurs, and the NEW main offices for D.Buzz
---
Wednesday
Splinterlands is awesome! Will be doing more with this platform soon so let's talk about it!
---
Thursday
@janettbrito76, an all-around cool person that you should have been your friend list. Check out why we nominated them as the community highlight of the week!
---
Friday
Friday motivational 30-Day blogging post video! Weekly video to keep you motivated to keep posting!
Read it here:
---
Saturday
We can gain inspiration from our community of people posting on D.Buzz! Learn about the authors we've awarded this week with a tip in HIVE at the link, and get inspired! Who knows, you may be rewards this upcoming week too!.
---
Thanks for spending your Sunday with us at D.BUZZ!
Thanks for being an active reader here on our blog.
As we move forward, we aim to build a strong community.
If you have any suggestions on what we can do better, please let us know.
See you all Monday!
---
---
Is a censorship-resistant short form micro blogging platform that empowers you to share your thoughts in 280 characters or fewer.
Censorship resistant and built for the community with love.
---
We strive to have a fun and neutral stance on topics. If you have any concerns with the content, please contact @jacuzzi, who writes and generates the content for our articles, or the @dbuzz team for clarification.
---
D.Buzz Online At:
Join us on discord at : https://discord.gg/BKg5Ptg9ss