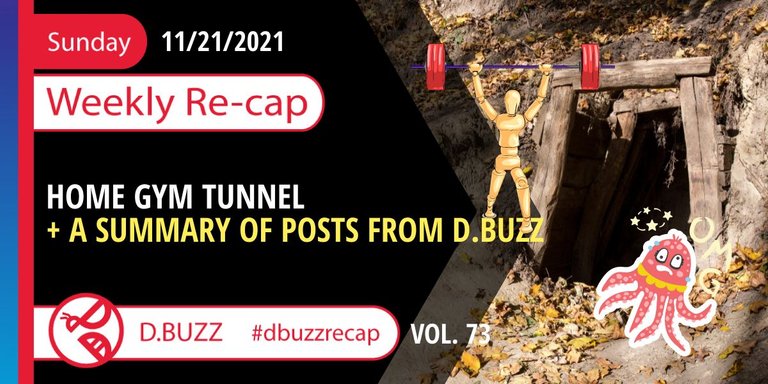 ---
Recap of this week's posts by D.Buzz
For the week ending on 11/21/2021 | Vol. 73
---
What's buzzing, friends!
You know what they say - exercise is necessary to stay healthy!
With that being said, there are many unique ways you can get exercise. Everyone can find ways to get exercise by doing unique things. One way to get exercise is to hire a personal trainer who will workout with you while you are at home. If you want to save money, try walking outside in your neighbourhood. This is a free way to increase your heart rate and get in some exercise. If you're looking for an outdoor workout, try jogging in the park. Running is also a free form of exercise to get in shape.
However, if you are Harrison G. Dyar, entomologist at the Smithsonian Institute, you really like to dig into your exercise.
In 1917, A group of workers were digging the foundation for the luxurious Pelham Courts apartments, in Washington DC when they stumbled across a unique find. It was a tunnel 22 feet under the ground.
None of the locals knew about the tunnel system that stretched on and on. Many speculations flew, from Confederate war usage, bootleggers storing alcohol in the tunnels, to even perhaps a secret laboratory. What was even more peculiar was how the walls were finished, which were in almost an artistic fashion, praised even by architects.
After a couple of days, the mosquito expert from the Smithsonian Institute, who was at the time living in California, admitted to being the tunnel digger. He admitted that for exercise, from 1906 until 1916, he would dig and dig. When he relocated to California, he continued this trend of digging.
It's really quite a fascinating way to stay in shape and story, that we recommend you give it a read on architectofthecapital.org. Before you head off, put on your mining cap and descend into this week's summary of articles from D.Buzz!
Modern mining indeed!
---
Last Sunday
Here's a link to the previous recap post from 2 Sundays ago. >> 11/7/2021 <<
---
Monday
The third challenge for this November is to apply a fun mustache on a cat or dog image provided, and will randomly select one of the entries to win 15 HIVE! NICE!
---
Tuesday
D.Buzz We want to dream with you. Learn about some of the underlying technology we will employ when we develop version 4 of D.Buzz, and contribute your own ideas to what you want to see developed!
---
Wednesday
The Epic Smile Maker D.Buzz round-up post pics of the week. Discover some great content you might have overlooked!
---
Thursday
@robertdouglass is a very cool guy that is helping to promote the growth of music. We recommend you learn more about this author at the link.
---
Friday
Check out a summary of some of the best travel posts from around Hive in this Roundup guest post.
---
Saturday
So many moments, so many memories worth keeping and sharing. Check out the memories and moments that received an on-the-spot reward from our rewards team!
---
Thanks for spending your Sunday with us at D.BUZZ!
Thanks for being an active reader here on our blog.
As we move forward, we aim to build a stronger community.
If you have any suggestions on what we can do better, please let us know.
See you all on Monday!
---
---
A censorship-resistant short-form microblogging platform that empowers you to share your thoughts in 280 characters or fewer.
Censorship-resistant and built for the community with love.
---
We strive to have a fun and neutral stance on topics. If you have any concerns with the content, please contact @jacuzzi who writes and generates the content for our articles, or the @dbuzz team for clarification.
---
D.Buzz Online At:
Join us on Discord at https://discord.gg/BKg5Ptg9ss