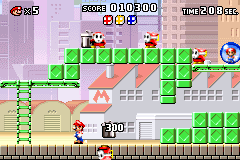 ---

---
Most of you probably know of the quintessential classic Donkey Kong, which sent Nintendo into heavens after becoming one of the most notable smash hits in the earliest times of videogames and the first golden era of arcades. A simple game where you had to jump over barrels to reach the top and save the princess...several times. And Mario wasn't as good as jumping as he is now.
And while the plumber's rise to fame would be cemented by the classic Super Mario Bros platformers, there were a few games that tried to revisit the original concept with a modernized twist.
But first, the STORY!
Donkey Kong wants to steal Mario's Mini Toys.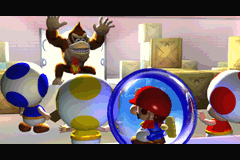 No seriously, he watched a commercial of it on TV and then decided to start stealing all of them from the factory because he wanted them so much, which is why Mario has to chase him.
Yes, it is in the game.
Not a manual-only thing, not something you read in GameFAQs, not a rumor about you could unlock Waluigi in Super Mario 64 DS. It is in the game.
For a video game story, and even for Mario standards, you have to admit that it is really funny to say it out loud, but that's what the few cutscenes at the beginning tell you about why are you even doing all of this in first place.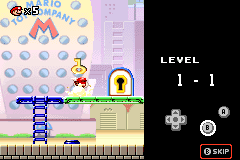 Most if not each level has a brief cutscene showing you how to maneuver your favorite plumber in these levels, like doing side backflips, doing a handstand into a high jump, grabbing and throwing keys, ladders, poles, etcetera...and these are simple enough to let you know "HEY, DO THIS TO DO THAT" but also leave the levels themselves as a test of how well you understood that.
You know, like making the first levels sort of tutorials, but also giving you a mini-tutorial so that the levels don't have to be literal tutorials talking you down every step in the way. It is a GBA game after all, so they did have to come up with something ingenious anyways for a small portable.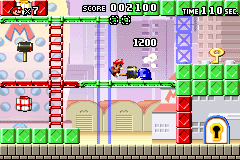 There are colored switches and gimmicks that are introduced as you keep playing, but the general idea is that you have to use whatever you can in order to reach a key and then take it back into a closed door, which will then lead you to another level where you only have to reach a Mini Mario capsule instead to finish. Between these two areas in each level, you can find three gift boxes.
Find all three of them and...BOUNS ROUND
cough
I mean...BONUS ROUND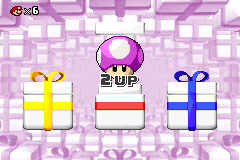 And they are...only for extra lives. But hey, the game DOES keep track of whether you got all of these in a stage, so if you might have that perfectionist/collectionist itch of get em all, the game will remember that...so there might be something for getting all in every stage awaiting for you!
If you have ever played and enjoyed (as you should have if you did) the Game Boy Donkey Kong game, also known as Donkey Kong 94, then you'll definitely enjoy this one a lot too, since it is a game that pretty much takes on similar steps as that did with the whole focus on Mario's mobility in stages filled with hazards in a room/vertical area instead of only sidescrolling levels.
Though while no Mario since the original Donkey Kong has been as fragile as him, do NOT overestimate Mario's durability in these games. If you didn't catch the hint of Mario having a dizzy animation if falling from a certain height, then him dying from falling even higher than that will send you the message.
And there's many more ways to die in this game.
But in any case, this is a game that is definitely perfect for trips in any portable device you have that can run this game (which makes sense considering it was made for the GBA in first place), intuitive with what it does and yet interestingly challenging in the platforming and gimmick challenges this game can throw you. Overall a little package balanced in Mario and Donkey Kong silliness alike.
And then there's Mario vs Donkey Kong 2, which I owned and played A LOT as a kid...but is literally a different type of game than what you see here, so that will be a topic for another day.
---
Thanks for reading! If you want to see me talk about any other known or unknown GBA gem, then let me know in the comments to check it out!
---

---
Spanish translation with DeepL. All screenshots were captured by myself.
---
Español
---
Seguramente la mayoría de ustedes conocen el clásico por excelencia Donkey Kong, que lanzó a Nintendo a los cielos tras convertirse en uno de los exitazos más notables de los primeros tiempos de los videojuegos y de la primera época dorada de los salones recreativos. Un juego sencillo en el que había que saltar por encima de barriles para llegar a la cima y salvar a la princesa... varias veces. Y Mario no era tan bueno saltando como ahora.
Y aunque el ascenso a la fama del fontanero se cimentaría con los clásicos juegos de plataformas Super Mario Bros, hubo algunos juegos que intentaron retomar el concepto original con un giro modernizado.
Pero primero, ¡la HISTORIA!
Donkey Kong quiere robar los minijuguetes de Mario.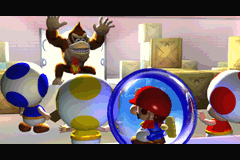 No, en serio, vio un anuncio suyo en la tele y luego decidió empezar a robarlos todos de la fábrica porque los quería mucho, y por eso Mario tiene que perseguirle.
Sí, está en el juego.
No es algo exclusivo del manual, no es algo que leas en GameFAQs, no es un rumor sobre que se podía desbloquear a Waluigi en Super Mario 64 DS. Está en el juego.
Para ser la historia de un videojuego, e incluso para los estándares de Mario, tienes que admitir que es muy gracioso decirlo en voz alta, pero eso es lo que te cuentan las pocas escenas del principio sobre por qué estás haciendo todo esto en primer lugar.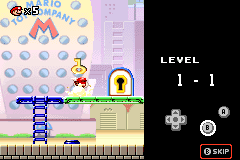 La mayoría de los niveles, si no todos, tienen una breve escena que te muestra cómo maniobrar a tu fontanero favorito en ellos, como hacer volteretas laterales, pararte de manos para saltar alto, agarrar y lanzar llaves, escaleras, postes, etcétera... y son lo bastante sencillas como para que sepas "Oye, haz esto para hacer aquello", pero también dejan que los propios niveles sean una prueba de lo bien que lo has entendido.
Ya sabes, como si los primeros niveles fueran una especie de tutorial, pero también te dieran un minitutorial para que los niveles no tuvieran que ser tutoriales literales que te explicaran cada paso del camino. Al fin y al cabo, es un juego de GBA, así que tenían que inventar algo ingenioso para una portátil pequeña.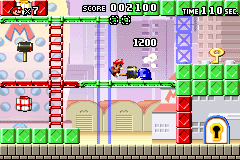 Hay interruptores de colores y trucos que se van introduciendo a medida que sigues jugando, pero la idea general es que tienes que usar todo lo que puedas para alcanzar una llave y luego llevarla a una puerta cerrada, que te llevará a otro nivel en el que sólo tienes que alcanzar una cápsula de Mini Mario para terminar. Entre estas dos zonas de cada nivel, puedes encontrar tres cajas regalo.
Encuéntralas las tres y... BOUNS ROUND
cough
Quiero decir... RONDA BONUS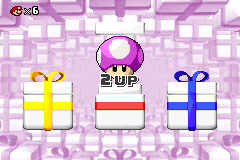 Y estas rondas bonus te dan... solo vidas extra. Pero oye, el juego SÍ lleva la cuenta de si las has conseguido todas en una fase, así que si tienes ese detalle perfeccionista/coleccionista de conseguirlas todas, el juego lo recordará... ¡así que puede que te espere algo por conseguirlas todas en cada fase!
Si alguna vez has jugado y disfrutado (como es lógico) al Donkey Kong de Game Boy, también conocido como Donkey Kong 94, seguro que este también te gustará, ya que es un juego que sigue prácticamente los mismos pasos que aquel, centrándose en la movilidad de Mario en fases llenas de peligros en una habitación/área vertical en lugar de en niveles de desplazamiento lateral.
Aunque ningún Mario desde el Donkey Kong original ha sido tan frágil como él, NO sobrestimes la durabilidad de Mario en estos juegos. Si no captaste la insinuación de que Mario tiene una animación de mareo si cae desde cierta altura, que muera al caer incluso más alto que eso te enviará el mensaje.
Y hay muchas más formas de morir en este juego.
Pero en cualquier caso, este es un juego que es definitivamente perfecto para los viajes en cualquier dispositivo portátil que tiene que puede ejecutar este juego (lo cual tiene sentido teniendo en cuenta que se hizo para la GBA en el primer lugar), intuitiva con lo que hace y sin embargo interesante reto en el juego de plataformas y trucos desafíos este juego te puede lanzar. En general, un pequeño paquete equilibrado en Mario y Donkey Kong tonterías por igual.
Y luego está Mario vs Donkey Kong 2, que tuve y jugué MUCHO de niño... pero es literalmente un tipo de juego diferente al que ven aquí, así que ese será un tema para otro día.
---
Muchas gracias por leer! Si quieres verme hablar de otra joya, sea conocida o desconocida de GBA, hazmelo saber en los comentarios para echarle un vistazo!
---

---
Traducción al español hecha con DeepL. Todas las fotos capturadas por mí.